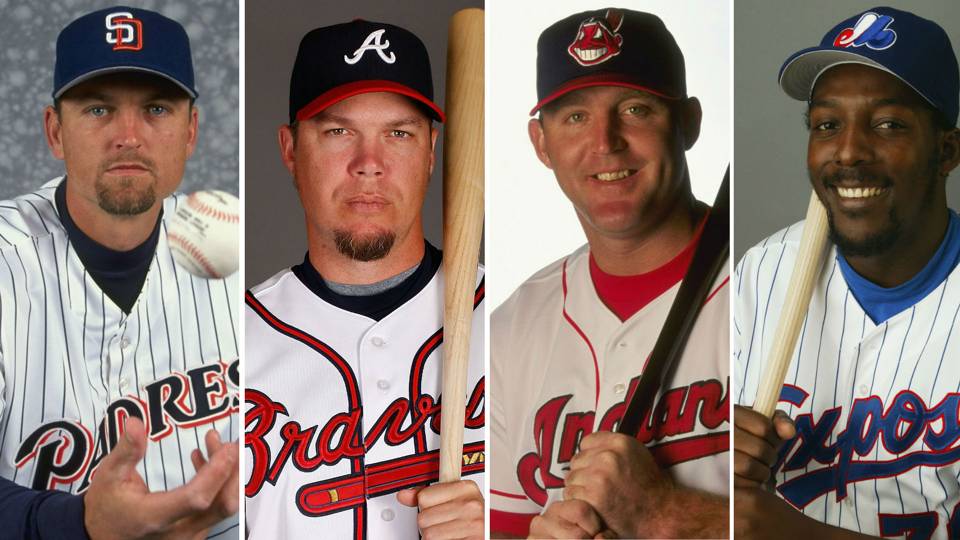 Left to right: Trevor Hoffman, Chipper Jones,
Jim Thome and Vladimir Guerrero.
Yesterday, there were 4 new players elected to the Baseball Hall of Fame by the Baseball Writers Association of America:
* Larry Wayne Jones Jr., a.k.a. Chipper Jones, 3rd base, Atlanta Braves, 468 home runs, 8-time All-Star, 1995 World Champion, 1999 National League Most Valuable Player. Received 97.2 percent of the vote.
* Vladimir Guerrero, right field, Montreal Expos and Los Angeles Angels, 449 home runs, 9-time All-Star, 2004 American League MVP. Never won a Gold Glove, but was known for having a great arm. 92.9 percent.
* Jim Thome, 1st base, several teams but mainly Cleveland Indians, 612 home runs, 5-time All-Star, made postseason 9 times with 5 different teams. 89.8 percent. And...
* Trevor Hoffman, pitcher, San Diego Padres, 601 saves, a National League and former major league record, a 7-time All-Star. 79.9 percent.
These men got the necessary 75 percent of the vote. They will join the Veterans Committee honorees: Detroit Tigers pitcher Jack Morris and shortstop Alan Trammell; the winner of the Ford Frick Award for broadcasters, Bob Costas; and the winner of the J.G. Taylor Spink Award for sportswriters, former Cleveland Indians beat writer Sheldon Ocker, as inductees into the Hall of Fame this Summer.
I'm not familiar with Ocker's work, but I can't give a good reason why any of these 8 men shouldn't have been elected.
The following got at least 50 percent, but less than 75 -- which, historically, suggests that they will get in via the Writers eventually, but should they?
* Edgar Martinez, designated hitter, Seattle Mariners, 70.4 percent. .312 lifetime batting average, 7-time All-Star, AL batting title 1992 and 1995, RBI leader 2000. But only 2,247 hits, and only 309 home runs. Not a good runner. Not a fielder at all. A one-dimensional player. There is not a good argument for Edgar. NO.
* Mike Mussina, pitcher, Baltimore Orioles and New York Yankees, 63.5. Won 270 games and struck out 2,813 batters in the 5-man-rotation era, and pitching as a righthander in 2 ballparks, Camden Yards and the old Yankee Stadium, that were very friendly to lefthanded hitters. This is an easy one. YES.
* Roger Clemens, pitcher, Boston Red Sox and New York Yankees, 57.3. You know he has the stats. The question is, how much of that was due to performance-enhancing drugs. Since he is the one man accused of it who has actually beaten the rap in a court of law, the answer is, "Until you can prove otherwise, none of it." YES.
* Barry Bonds, left field, Pittsburgh Pirates and San Francisco Giants, 56.4. You know he has the stats. The question is, how much of that was due to performance-enhancing drugs. Since he is the one man accused of it who has actually been convicted, in a court of law, of a charge relating to it, the answer is, "Enough of it." NO. Or, to put it another way: Until Clemens is a YES, Bonds is a NO; once Clemens is officially a YES, then I will drop all objections to Bonds also being a YES.
* Curt Schilling, pitcher, several teams, 51.2. 3,116 strikeouts, 6 All-Star berths, and 3 World Series rings should be enough. But he won just 216 games, his career ERA of 3.46 is high for a Hall of Fame starting pitcher, and there will always be that question of whether he used steroids. After all, he pitched on 3 of the most steroid-riddled World Champions, the 2001 Arizona Diamondbacks and the 2004 and 2007 Boston Red Sox. Until other PED-suspected, or even proven, players get in, my answer is NO.
Omar Vizquel got 37 percent. He should get in. Larry Walker got 34. He's a borderline case. Fred McGriff got 23. He should have been in years ago. Manny Ramirez got 22. No, he cheated.
Hideki Matsui, Johnny Damon and Johan Santana were among those who dropped off the ballot because they failed to get at least 5 percent. Santana does not have the stats. Damon is a borderline case. Matsui is a NO, unless you believe his career in Japan should be considered, in which case he should be a YES -- in which case, Hideo Nomo should also be considered. This will not be an issue for Ichiro Suzuki, as he has the numbers in the U.S. alone.