This coming Friday, the Calgary Stampeders open the Canadian Football League season, visiting the defending Champions, the Ottawa Redblacks. Their 1st home game is the following Thursday, also against Ottawa.
Before You Go.
Aside from Edmonton's Rogers Place and Commonwealth Stadium, no major league sports venue in North America is further north than the Stampeders' McMahon Stadium. This is Summer, but the legendary Canadian cold might still be a factor: While the
Calgary Herald
is predicting that temperatures will be in the low 70s by day, they're predicting the low 50s by night. At the least, long sleeves will be in order. Add in a 40 percent chance of rain, and it might actually be chilly.
This is Canada, so you will need your passport. You will need to change your money. At this writing, C$1.00 = US 75 cents, and US$1.00 = C$1.33. And I advise you to call your bank and let them know that you will be in a foreign country, so they won't see credit or debit card purchases from a foreign country pop up and think your card has been stolen.
Also, remember that they use the metric system. A speed limit of 100 kilometers per hour means 62 miles an hour. And don't be fooled by the seemingly low gas prices: That's per liter, not per gallon, and, in spite of Canada being a major oil-producing nation, you'll actually be paying more for gas up there. So, in order to avoid both confusion and "sticker-shock," get your car filled up before you reach the border.
Calgary is in the Mountain Time Zone, so they are 2 hours behind New York and New Jersey. Adjust your timepieces accordingly.
And this is very important: If you need to go to the bathroom, don't ask anyone where the "bathroom" is. Ask for the "washroom."
Tickets.
The Stampeders (or "Stamps" for short) averaged 27,474 fans per home game last season, about 77 percent of capacity. A bit less than you might expect from a pro football team. Tickets might not be hard to get.
In the lower level, midfield seats are $107, sideline seats are $87 or $66. In the upper level, midfield seats are $57, and corner seats are $36. Those price are in Canadian dollars. There are no end zone seats, except club seating.
Getting There.
It's 2,385 miles from Times Square to downtown Calgary (158 miles from the closest border crossing, at Babb, Montana). It would be natural if your first thought would be to fly.
If you're driving, you'll need to get into New Jersey, and take Interstate 80 West. You'll be on I-80 for the vast majority of the trip, through New Jersey, Pennsylvania and Ohio. In Ohio, in the western suburbs of Cleveland, I-80 will merge with Interstate 90. From this point onward, you won't need to think about I-80 until you head home; I-90 is now the key, through the rest of Ohio and Indiana.
Just outside Chicago, I-80 will split off from I-90, which you will keep, until it merges with Interstate 94. For the moment, though, you will ignore I-94. Stay on I-90 through Illinois, until reaching Madison, Wisconsin, where you will once again merge with I-94. Now, I-94
is
what you want, taking it into Minnesota and the Twin Cities.
However, unless you want to make a rest stop actually in Minneapolis or St. Paul, you're going to bypass them entirely. Take Exit 249 to get on Interstate 694, the Twin Cities' beltway, until you merge with Interstate 494 to reform I-94. Crossing Minnesota and North Dakota, you'll take Exit 211 to Montana Route 200, and take that up to the town of Circle. There, you take Montana Route 13 until it splits and forms Montana Route 25. After just 6 miles, that takes a right turn in the town of Wolf Point, and then a quick left to U.S. Route 2 West. In Shelby, you'll leave US-2 for Interstate 15, and take that to the Canadian border.
Presuming you don't do anything stupid that makes Customs officials keep you out of Canada, I-15 will become Alberta Provincial Route 4. At Lethbridge, you'll turn onto Provincial Route 3 West. Take Provincial Route 23 to Provincial Route 519 to Provincial Route 2. From Route 2, take Exit 245 for Southland Drive, make a left on Southland, and then a quick right onto Blackfoot Trail. A left on 42nd Avenue and a right on MacLeod Trail, and you'll be at the edge of downtown Calgary, with the Saddledome on your right.
If you do it right, you should spend about an hour and a half in New Jersey, 5 hours and 15 minutes in Pennsylvania, 4 hours in Ohio, 2 and a half hours in Indiana, an hour and a half in Illinois, 2 and a half hours in Wisconsin, 4 and a half hours in Minnesota, 6 hours in North Dakota, 7 and a half hours in Montana, and 6 hours and 45 minutes in Alberta. That's 42 hours. Throw in rest stops, and we're talking closer to 56 hours -- 2 and one-third days. You'd have to really love both driving and hockey, and not mind cold weather, to do that.
Taking Greyhound takes 70 hours, and you have to transfer in Buffalo, Toronto and Winnipeg. Round-trip fare is $589, but it would drop to $564 with advanced purchase. The
Greyhound station is at 850 16th
Street NW at Bow Trail.
Forget the train: You'll have to switch from Amtrak to VIA Rail Canada in Toronto, take a train to Edmonton, and then take a bus to Calgary. Round-trip, it would take 8 days.
No, the train is no good.
So flying is easily the best way to get there. You can fly Air Canada from Newark to Calgary and back, nonstop, for $1,058. Yeah, kind of expensive. Calgary International Airport was originally named McCall Field, after Frederick McCall, a Canadian flying ace of World War I.
On October 14, 2016, President Obama finally ended the ban on bringing Cuban cigars into America. This also applies to rum, for which Cuba is also renowned. It is still considerably easier to buy these items in Canada than in America, but, now, you can bring them back over the border.
Once In the City.
At 1.2 million people, Calgary is the 3rd-largest city in Canada, behind Toronto and Montreal, and ahead of Vancouver and Edmonton. However, like most of Canada's larger cities, the huge amount of land area contained within its city limits means it has almost no suburbs, and its metropolitan area gives it only 1.4 million, 4th behind Toronto, Montreal and Vancouver -- but still ahead of national capital Ottawa and Provincial capital Edmonton.
Founded in 1882 at the confluence of the Bow and Elbow Rivers, there is some dispute as to the origin of the name, although both accepted versions are Scottish in origin. Some say it's from the Gaelic meaning "beach of the meadow," or "pasture." Others say it comes from the words the Vikings brought to northern Scotland's Hebrides, meaning "cold garden."
The Bow River and, east of its bend, Memorial Drive separate Calgary addresses into North and South, while Centre Street separates them into East and West. The sales tax in the Province of Alberta is 5 percent, and it doesn't go up in the City of Calgary. The city has buses and a light rail system nicknamed CTrain, and a single fare is $3.00 (which works out to about $2.25, so it's less expensive than New York's). The city has no freeway "beltway."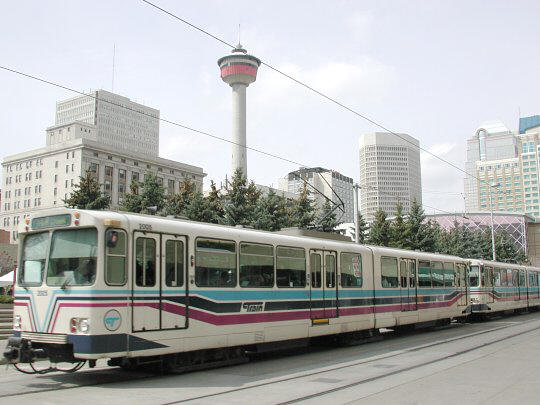 CTrain downtown, with Calgary Tower in the background
The drinking age in Alberta is 18. Postal Codes in the Province start with the letter T. The Area Code is 403, with 587 and 825 as overlays for the entire Province.
Going In.
Home to the Stampeders since 1960, McMahon Stadium is part of the University of Calgary athletic complex. It was named for a pair of brothers who donated to finance its construction, Frank and George McMahon. The address is 1817 Crowchild Trail NW, at 23rd Avenue, about 4 miles northwest of downtown. Banff Trail on C-Train. If you drive in, parking is a whopping $60 -- so you might not want to drive in.
The University of Calgary sports complex,
including Foothills Stadium (L) and McMahon Stadium (R)
Its current capacity is 37,317. Temporary seating raised it to 60,000 so that it could host the Opening and Closing Ceremonies of the 1988 Winter Olympics. The field runs (more-or-less) north-to-south, and has been artificial since 1975, with the Astroturf being replaced by FieldTurf in 2006.
The stadium hosted the Grey Cup in 1975, 1993, 2000 and 2009. The University of Calgary Dinos (yes, named for dinosaurs) have won Canada's national college football title, the Vanier Cup, in 1983, 1985, 1988 and 1995. (They haven't won any hockey titles.) The stadium hosted the Opening and Closing Ceremonies for the 1988 Winter Olympics, the Calgary Boomers of the old North American Soccer League (who only lasted 1 season, 1981), and an NHL Heritage Classic between the Flames and the Canadiens in 2011, which the Flames won, 4-0.
In Spring 2018, the Canadian Premier League, Canada's attempt at a "top flight" soccer league, will begin play, and it is expected that Calgary will have a team, playing out of McMahon Stadium.
UPDATE: The League will debut in Spring 2019, and will be home to Cavalry FC, with a 5,000-seat stadium being built at Spruce Meadows, 18011 Spruce Meadows Way SW, about 12 miles south of downtown. Free shuttles will bring fans to the stadium from the Somerset-Bridlewood C-Train station.
Adjacent to McMahon Stadium, the 6,000-seat Foothills Stadium went up in 1966, and is the home of the University of Calgary baseball team. It was home to several minor league teams, including the Calgary Expos, who won Pioneer League Pennants there in 1979 and 1981. The Pacific Coast League's Calgary Cannons won Division titles in 1985, 1987, 1989 and 1991, but never won a Pennant. 2255 Crowchild Trail NW.
Food.
This map can tell you more than I can.
Team History Displays.
For most of their history, the Stamps were underachievers. Founded in 1945, after the manpower drain of World War II killed off the old Calgary Bronks, they won the Grey Cup in only their 4th season, 1948, going 12-0 and winning both rounds of the Playoffs. This remains the only perfect season in the history of Canadian professional football.
Then they won only 1 more over the next 43 seasons, in 1971. (And that one was an epic, with late 4th-quarter a slip and fumble on wet artificial turf dooming the Toronto Argonauts.) Then came the dawn of a new era, and they won in 1992, 1998, 2001, 2008 and 2014, 5 titles in a span of 23 seasons. They reached the Final again last season, losing to the Ottawa Redblacks. However, there is no display for these titles in the fan-viewable areas of the stadium. (UPDATE: They reached the Final again in 2017, losing to the Argonauts.)
The Stampeders have 7 retired numbers: 5, running back and defensive back Harry Hood; 10, running back Willie Burden; 13, placekicker Mark McLoughlin; 18, receiver Allen Pitts; 22, receiver Tom Forzani; 55, linebacker Wayne Harris; and 75, Stu Laird. There is no display in the stadium for these numbers.
Wayne Harris
There are 19 Stampeders in the Canadian Football Hall of Fame. They are:
* From the 1948 Grey Cup: Running back and defensive back Paul Rowe, who had previously played for the Calgary Bronks; and running back and defensive back Norman "Normie" Kwong, the 1st Asian-ancestry player in the CFL, and later a Lieutenant Governor of Alberta. Hood is not in the Hall, but also played for this team.
* From between the 1948 and 1971 titles: Running back and defensive back Dave Wylie, running back Earl "the Earthquake" Lunsford, guard and defensive end Tony Pajaczkowski, offensive and defensive tackle Don Luzzi.
* From the 1971 Grey Cup: Harris, Quarterback and defensive back Jerry Keeling, slotback Herm Harrison, defensive tackle John Helton, defensive back Larry Robinson (no connection to the hockey player of the same name).
* From between the 1971 and 1992 titles: Burden. Forzani is not in the Hall, but also played for this team.
* From the 1992 Grey Cup: Pitts, "Builder" Tony Anselmo, quarterback Doug Flutie, linebacker Alondra Johnson. McLoughlin and Laird are not in the Hall, but also played for this team.
* From the 1998 Grey Cup: Anselmo, Pitts, Johnson, quarterback Dave Dickenson, slotback Terry Vaughn. McLoughlin is not in the Hall, but also played for this team.
* From the 2001 Grey Cup: Anselmo. McLoughlin is not in the Hall, but also played for this team. Dickenson was with the NFL's San Diego Chargers at the time, but returned.
* From the 2008 Grey Cup: Anselmo, Dickenson.
No one from the 2014 Grey Cup is yet eligible as a player, although Dickenson had become the team's offensive coordinator, and is now its head coach.
In 2006, TSN (The Sports Network, Canada's version of ESPN) selected the 50 Greatest CFL Players. From the Stampeders, they chose Flutie (1), Harris (9), Pitts (10), Helton (12), Kwong (34) and Vaughn (45).
Stuff.
The Stamps Store is on the East Side of the stadium, and they usual fan gear can be found there. Due to the team's Western heritage, there may be cowboy hats with the team's logo on it.
There don't seem to be any notable books about the Stampeders, but the CFL did produce a DVD:
CFL Traditions - Calgary Stampeders Special Edition, which goes up to the 2001 Grey Cup.
During the Game.
You are not Edmonton Eskimos fans. You will not be wearing Esks gear. Therefore, you will almost certainly be safe.
The Stampeders have traditionally worn red, and their helmet logo, reflecting their being named for the world's largest rodeo, the Calgary Stampede, is of a galloping horse, identical to the logo of Southern Methodist University (SMU) in Dallas.
Justine Tyrell
Justine Tyrell is the Stamps' regular National Anthem singer. Of course, since this is a CFL game, she will be singing "O, Canada," and not "The Star-Spangled Banner." "Ye Men of Calgary" is their fight song. Just as the Flames had the 1st mascot in the NHL, the Stamps had the 1st mascot in the CFL, Ralph the Dog, introduced in 1975 (even earlier than the Flames' Harvey the Hound, in 1983). Although maybe he gets around too much.
You dog... or should that be, "You sick puppy"?
After the Game.
Canada does not have much of a problem with crime, and while football fans like to drink, Stampeders fans will probably leave you alone. Just don't praise the Edmonton Eskimos, and you should be safe.
Across Crowchild Trail from the stadium, there's Nick's Steakhouse & Pizza, Big T's BBQ & Smokehouse, Saigon Y2K Vietnamese Restaurant, and a Dairy Queen. If none of that is to your liking, you should probably just head back downtown.
If your visit to Calgary is during the European soccer season (we are now in the off-season, it starts up again in mid-August), the best soccer pub in town is The Pig & Duke, 1312 12th Avenue SW, about 2 miles west of downtown. Bus 7.
Sidelights.
As with the other major cities of Canada, Calgary's 1st sport is hockey, but it's more than that.
* Shaw Millennium Park and site of Mewata Stadium. This skatepark was built on the site of the 1st home of the Stampeders (1945-59), and, before that, the Calgary Bronks from 1935 to 1940. The Stamps won their 1st Grey Cup while playing there.
Built in 1906, on the Bow River, next to the Mewata Armory, it seated only 10,000 people, and was demolished in 1999. 1220 9th Avenue SW, at 11th Street, just west of downtown. Downtown-West Kirby station on C-Train.
* Scotiabank Saddledome. Originally the Olympic Saddledome, the current Calgary arena was built in 1983 for the Flames and as the centerpiece of the 1988 Winter Olympics.
555 Saddledome Rise SE, across Olympic Way from the Stampede Corral, site of the world's largest rodeo, the Calgary Stampede. It's about a mile and a quarter southeast of the downtown shopping district. Victoria Park-Stampede station.
With the Oilers moving into a new arena 3 months ago, and the Detroit Red Wings doing so next Autumn, the Saddledome will be the 2nd-oldest arena in the league, behind Madison Square Garden. For the moment, the Flames organization says it has a plan to replace the Dome, called CalgaryNEXT. The proposed location is on the south bank of the Bow River, at 1910 Pumphouse Road SW, about 2 miles west of downtown, light rail to Sunalta. But, at the rate the project is progressing, the target date of the 2020-21 NHL season looks much too optimistic, and the team has said that if they don't get it, they'll move.
* Stampede Corral. Home to the Calgary Stampede, the world's largest rodeo, since 1950, the Flames played here from their 1980 move from Atlanta until the Saddledome opened across the street in 1983. At just 6,475 seats, it was too small to be their long-term home, but with the Saddledome already planned, they could afford to wait. Several minor-league hockey teams had used it before the Flames arrived. 10 Corral Trail SE at Olympic Way. (There are no plans to build a new arena to replace the Saddledome.)

The closest Major League Baseball team to Calgary is the Seattle Mariners, and they're not close: 673 miles away. The closest NBA team, the Portland Trail Blazers, is even further away: 775 miles. Don't count on Calgary ever getting a team in either sport: Population-wise, its metro area would rank dead last in each, 31st. The closest Major League Soccer team is the Vancouver Whitecaps, 604 miles.
But according to
an article in the May 12, 2014 New York Times
, the most popular NBA team in Calgary is easily the Los Angeles Lakers, well ahead of runners-up the Miami Heat and the Chicago Bulls.
While the University of Calgary is, of course, in Calgary, the University of Alberta is in Edmonton. The University of Lethbridge, 130 miles to the southeast, won the University Cup, Canada's national college hockey title, in 1994.
* Museums. Calgary's best-known museum is the Glenbow, which is both their Museum of Natural History and their Metropolitan Museum of Art. 130 9th Avenue SE at 1st Street downtown, across from the iconic Calgary Tower.
Gasoline Alley Museum at Heritage Park Historical Village sounds like a copy of the Henry Ford Museum outside Detroit, as it documents the dawn of the automobile age, with first- and second-generation automobiles and a recreated turn-of-the-20th-Century street scene -- significant because Alberta didn't turn from Territory to full Province until 1905.
visitcalgary.com
says of it, "It's probably the only time you'll ever find yourself in the thick of a traffic jam without a hint of road rage." 1900 Heritage Drive SW at 14th Street, on Glenmore Reservoir. Light rail to Heritage station, then switch to 502 bus.
Calgary has produced 2 Prime Ministers. The recently-defeated PM, Stephen Harper, represents a Calgary district (or "riding" as they'd say in Canada). The other is Richard B. Bennett, who served from 1930 and 1935, rising to power after the 1929 stock market crash but was seen as doing nothing to ease the Depression, and became the most hated man in the country's history, so much so that he left Canada for the mother country, Britain. He's the only head of government in either America or Canada who died on foreign soil, or is buried in it. As you might guess, there's no historic site in his memory, either in Calgary or in his hometown in the Province of New Brunswick.
The tallest building in Calgary, and in Canada between Toronto and Vancouver, is Brookfield Place East, a newly-completed 810-foot tower that just succeeded the 774-foot "The Bow" as the tallest. 225 6th Avenue NW.
TV shows set in Calgary are generally not shown in America, but the science fiction/Western Wynonna Earp films at Heritage Park Historical Village, kind of a "Western Williamsburg." Probably the best-known movie to use Calgary and/or its environs as a filming location was
Brokeback Mountain
.
*
Calgary is Canada's Denver, its great Western city of toughness, and its Dallas, its great Western city of excess, rolled into one. And it's a great football town, a good roadtrip for curious fans.