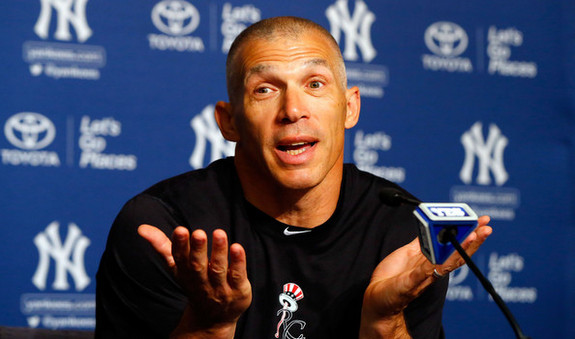 If the Yankees are forced into the American League Wild Card game because they lost the Division title by 1 game, I want you all to remember yesterday.
The Yankees are the only team that needs a relief manager from the 7th inning onward.
What is the point of having Tyler Clippard on the Yankees? Apparently, it's to be the new Scott Proctor. The old one was a bum, too.
The Yankees closed their road trip yesterday, at the Rogers Centre in Toronto, against those pesky Blue Jays. Luis Severino started, and pitched 7 innings, allowing 2 runs on 6 hits and a walk. Pretty strong.
He gave the Yankee bats what they needed to win the game. But they did not back him up. In the 4th, Aaron Judge singled, and Matt Holliday, who's been on fire lately, doubled him home. In the 6th, they got a single by Brett Gardner, a walk by Gary Sanchez, and got Gardner home on a fielder's choice by, yes, Holliday.
Other than that, here's all the Yankees got: Singles by Aaron Hicks, Didi Gregorius and Chase Headley.
Still, it was 2-2 after 7 innings. As strong as he was, Severino would have been left in by a manager who thinks for himself.
But Joe Girardi does not think for himself. He lets his pitch count and his binder do his thinking for him. He saw that Sevy had thrown 98 pitches. (Never mind that 65 of them were for strikes.) Once he saw that Sevy was knock, knock, knockin' on triple digits' door, it wasn't a question of if he would relieve him, only of with whom.
He went with Tyler Clippard. Never go full Clippard.
It was Josh Donaldson Bobblehead Day at the Rogers Centre, and Clippard served Donaldson up a nice juicy meatball. He hit it to Hudson's Bay. It wouldn't have been more explosive if it had been filmed by Michael Bay.
Naturally, the Yankees did nothing in the 9th inning. Final score:
Blue Jays 3, Yankees 2. WP: Joe Smith (2-0). SV: Roberto Osuna (13). LP: Clippard (0-3).
So the Yankees played 4 games against the Peskies, and scored 26 runs - or 6.5 runs per game - and came away with only a split. Unacceptable.
The difference is, as weak as the Yankees were hitting yesterday, they now have the firepower to snap out of it and win. And they may have the pitching to let them - if only Girardi would let them.
The fact that Girardi still has a job is ridiculous. And if the Yankees don't at least reach the AL Division Series with this lineup and the starting pitching they're getting, it will be an absolute disgrace.
It's like, as both a Yankee Fan and an Arsenal fan, a Pinstriped and a Gooner, I'm on the opposite side of the Arsene Wenger debate. The difference being that Girardi gets more credit from Yankee Fans for 1 World Championship, 3 Division titles and 5 Playoff berths than Wenger gets from Arsenal fans for 3 League titles, 7 FA Cups, and 20 qualifications for the last 16 of the Champions League.
Burn the Binder. #GirardiOut.
But I do have to give the Jays credit: After being horrible for the season's 1st 2 weeks, they have come on very strong, and are now only 1 game under .500.
*
In spite of this latest Girardi abomination, after 8 weeks of the 26-week regular season, the Yankees are still in 1st place in the AL Eastern Division, by 2 games over the Boston Red Sox, 3 1/2 over the Baltimore Orioles, and 5 1/2 each over the Jays and the Tampa Bay Rays.
In the loss column, the Yanks lead the Sox by 3, the O's by 4, the Jays by 7 and the Rays by 8. They have a game in hand on the O's, 2 on the Sox, 3 on the Jays, and a whopping 5 on the Rays.
Today is a day off, as the Yankees come home. Tomorrow night, they start a series against the Red Sox, with a surprising amount of significance, seeing as how, for the 1st time in 22 years, neither Derek Jeter nor David Ortiz will be available. Here are the projected pitching matchups, and all are 7:05 PM starts:
* Tuesday: Masahiro Tanaka vs. Drew Pomeranz.
* Wednesday: CC Sabathia vs. Rick Porcello.
* Thursday: Michael Pineda vs. David Price.
Come on you Pinstripes! Beat The Scum!
*
Days until the next Yankees-Red Sox series: 1, tomorrow night, at Yankee Stadium.
Days until the U.S. national soccer team plays again: 3, this Thursday night, at 6:00 PM local time (8:00 Eastern), against Trinidad & Tobago,
at Dick's Sporting Goods Park in the Denver suburbs, against Trinidad & Tobago. This is a World Cup Qualifier, so, unlike the lousy 1-1 draw with Venezuela in the Salt Lake City suburbs on Saturday night, this one counts. As does the game just 3 days later, on Sunday night,
against arch-rival Mexico at the Azteca Stadium in Mexico City. At the very least, the T&T game is a must-win.
Days until the Red Bulls play again: 9, a week from Wednesday night, at 8:00, in the 4th Round of the U.S. Open Cup, against New York City FC, a Hudson River Derby at Red Bull Arena in Harrison, New Jersey. Although the Red Bulls have played the new version of the New York Cosmos in the Open Cup, the American version of England's FA Cup, this will be the 1st time they've played Manchester City NYC in anything other than an MLS game.
This past Saturday night, the Red Bulls lost 1-0 away to the Montreal Impact.
Days until the Red Bulls next play a "derby": See the previous answer. They will next play the Philadelphia Union on Sunday, June 18,
at Talen Energy Stadium in Chester, Pennsylvania.
They will next play a League edition of the Hudson River Derby against
New York City FC on Saturday, June 24, at Red Bull Arena. They will next play the New England Revolution on Wednesday, July 5, at Gillette Stadium in Foxboro, Massachusetts. And they will next play the D.C. Scum on Saturday, September 27, at Red Bull Arena in Harrison, New Jersey.
Days until The Arsenal play again: That depends. If you mean any game, the Gunners, who won the FA Cup over Premier League Champions Chelsea, this past Saturday, will next play on Thursday, July 13, when they begin their preseason tour of Australia and Asia, with a game against A-League winners Sydney FC at Stadium Australia in Sydney. That's 38 days. If you mean a game that means anything, well, FIFA counts the FA Community Shield (formerly known as the Charity Shield), the annual season kickoff between the holders of the League title and the FA Cup at Wembley Stadium in London, that's on Saturday, August 5, and that's 61 days. If you mean a Premier League game, a game that actually counts for something, the season begins the following Saturday, August 12, and that's 68 days, or a little under 10 weeks. There is a chance, of course, that the TV networks could have Arsenal's match moved to the following Sunday or Monday.
Days until the next North London Derby: Unknown, since the schedule for the 2017-18 season won't be released until a week from this Wednesday. But, regardless of the teams involved, derbies are rarely played in August.
D
ays until Rutgers University plays football again: 88
,
on Friday, September 1, home to the University of Washington. A little under 3 months.
Days until East Brunswick High School plays football again: Unknown, as the 2017 schedule hasn't been released yet. I now know that high school football games have been scheduled in Middlesex County, New Jersey for Friday night, September 8. That's 95 days from now.
Days until the New Jersey Devils play again: We don't know, as the 2017-18 NHL schedule has yet to be released. The NHL season usually begins on the 2nd Friday in October, which, in 2017, would be... ugh... Friday the 13th. that's 130 days. A little over 4 months.
Days until the New Jersey Devils next play a local rival: See the previous answer, although the 1st game isn't likely to be against either the New York Rangers, the New York Islanders or the Philadelphia Flyers.
Days until the Alex Rodriguez Contract From Hell officially runs out, and the Yankees can spend his salary on new players: 148, on October 31.
Days until the next election for Governor of New Jersey: 155, on Tuesday, November 7. Just 5 months.
Days until the next Rutgers-Penn State football game: 159, on Saturday, November 11, at Beaver Stadium in State College, Pennsylvania.
Days until the next East Brunswick-Old Bridge Thanksgiving high school football game: 171, on Thursday, November 23, at 10:00 AM. Under 6 months, and thank God it's at home, at Jay Doyle's Green Grove, rather than at that purple shit pit on Route 9.
Days until the next Winter Olympics begins in Pyeongchang, Korea: 255, on February 9, 2018. A little over 8 months.
Days until the next World Cup kicks off in Russia: 374, on June 14, 2018. A little over a year, or just over 12 months. Has Bruce Arena turned our chances around? Maybe. Or maybe, with the tournament on his soil, Vladimir Putin will tell his bitch Donald Trump to tell Bruce Arena to tank the games. Maybe not. Or maybe only if we end up playing Russia. I don't think Arena will listen. If he doesn't, I hope his life insurance is paid up, because Putin has had people killed for defying him.
Days until September 2018 roster call-ups, when we can finally start to expect seeing some of these wonderful "prospects" for whom Yankee general manager Brian Cashman threw away a chance at the 2016 Playoffs: 453. Under a year and a half, or just under 15 months. Of course, we could end up seeing one of more of them sooner than that, but since most of them are at Double-A Trenton now, if that, who's kidding who?
Days until the next Congressional election: 519, on November 6, 2018. Under a year and a half, or just 17 months.
Days until the Baseball Hall of Fame vote is announced, electing Mariano Rivera: 583, on January 9, 2019. A little over a year and a half, or a little over 19 months.
Days until the Baseball Hall of Fame vote is announced, electing Derek Jeter: 948, on January 8, 2020. A little over 2 1/2 years, or a little over 31 months.
Days until the next Summer Olympics begins in Tokyo, Japan: 1,153, on July 24, 2020. A little over 3 years, or a little under 38 months.
Days until the next Presidential election: 1,615, on November 3, 2020. Under 3 1/2 years, or a little under 41 months.
Days until Liberation Day: 1,693, at noon on January 20, 2021. Under 4 years, or a little under 44 months. Note that this is liberation from the Republican Party, not just from Donald Trump. Having Mike Pence as President wouldn't be better, just differently bad, mixing theocracy with plutocracy, rather than mixing kleptocracy with plutocracy.