Next Wednesday, the Charlottetown Islanders will play the Moncton Wildcats, probably the closest thing the biggest sports team on Prince Edward Island has to a rivalry.
Before You Go.
Prince Edward Island is in Canada, so you will need a passport. And you will need to change your money. At last check, US$1.00 = C$1.32, and C$1.00 = US 76 cents. And I advise you to call your bank and let them know that you will be in a foreign country, so they won't see credit or debit card purchases from a foreign country pop up and think your card has been stolen.
The Maritime Provinces, a.k.a. Atlantic Canada, are 1 hour ahead of the Eastern Time Zone. So a game starting at 7:00 PM their time would by 6:00 our time. Adjust your timepieces accordingly.
Despite being in Canada, and an oceanfront city where wind can be an issue, and with this being winter, the weather is not expected to be all that bad. Temperatures are expected to be in the high 30s in daylight, and the high 20s at night, with some snow. Be advised that it could be slippery as well as cold.
Also, remember that they use the metric system. A speed limit of 100 kilometers per hour means 62 miles an hour. And don't be fooled by the seemingly low gas prices: That's per liter, not per gallon, and, in spite of Canada being a major oil-producing nation, you'll actually be paying more for gas up there. So, in order to avoid both confusion and "sticker-shock," get your car filled up before you reach the border.
Tickets.
The arena seats only 3,690 people, so, even for a minor-league game, tickets may be difficult to get. At least they're cheap: All adult tickets (age 13 to 64, unless with a valid student ID) are C$16.50.
Getting There.
Charlottetown, Prince Edward Island is 803 miles from Midtown Manhattan, and 271 miles from the closest border crossing, at Calais, Maine.
Flying is the fastest way to get there, but not a good way. You'd have to change planes, more likely in Toronto (500 miles west) than Montreal, and a round-trip fare on Air Canada could be over US$1,000. VIA Rail doesn't to to PEI. Greyhound does, but the schedule doesn't work out.
So it looks like you'll have to drive. Start out as if you're going to Boston: Take Interstate 95 North to New Haven. Take Exit 48, Interstate 91 North to Hartford. Take Exit 30, Interstate 84 East into Massachusetts. You'll merge with Interstate 90 East, the Massachusetts Turnpike, and take that until you reach Interstate 495, Boston's outer beltway.
But instead of continuing on the Mass Pike to Boston, take Exit 11A onto I-495 North, into Boston's northern suburbs, until you reunite with I-95 North at Salisbury, just before reaching the New Hampshire State Line. You'll cross New Hampshire and go into Maine. Take Exit 182A onto U.S. Route 1A, turn left on State Route 46, right on State Route 9, then follow this rural route all the way to Baring, where you'll meet up with U.S. Route 1. Turn left at International Avenue, and you'll reach the Border.
Don't get cute. Show your passport. If they ask for any other ID, show them that. If you have anything that could be considered a weapon, even a pair of nail clippers, it's probably best to mention that. Don't make any wiseass remarks about Canada. When they ask you your purpose for visiting Canada, tell them you' re visiting Halifax as a tourist. (That is the truth.) Presuming you don't do or say anything stupid, you should get across with no trouble.
International Avenue becomes New Brunswick Provincial Route 1. Take this to River Glade, where you'll get on the Trans-Canada Highway -- which serves as Charlottetown's "beltway." You'll take that through Moncton and to the Confederation Bridge, over the Northumberland Strait and onto Prince Edward Island. Then continue on the TCH until the exit for Kensington Road, on which the arena sits.
If all goes well, you should be in New York State (not counting Manhattan) for half an hour, in Connecticut for 2 hours, in Massachusetts for an hour and 15 minutes, New Hampshire for 15 minutes, Maine for 4 hours and 45 minutes, Customs for 15 minutes or less, New Brunswick for 3 and a half hours, and an hour and 15 minutes on Prince Edward Island (including the Bridge). Given rest stops in Connecticut, at each end of Maine, and in New Brunswick, it should take about 17 hours.
Once In the City.
The Island is named for Prince Edward, Duke of Kent and Strathearn, son of King George III of England, brother of King George IV and King William IV, and father of Queen Victoria, who was only 8 months old when he died. He lived for a time in Quebec, was the 1st member of the British royal family to visit America after its independence, and was the 1st person to publicly refer to British subjects in "British North America," British and French alike, as "Canadians."
It was his plan for a "confederation" of Canada that would be discussed long after his death. On the island named for him, the Charlottetown Conference was held in 1864, and this is why the city, named for his mother, Queen Charlotte (wife of George III), is considered "The Birthplace of Confederation," and Edward is called "Father of the Canadian Crown." Ironically, PEI did not become one of the original Provinces after Confederation on July 1, 1867, waiting until 1873, as the 7th of what is now 10 Provinces.
PEI is home to about 147,000 people, nearly half of whom, 64,000, live in the capital of Charlottetown. It was a fashionable resort in the Victorian era, and is, sort of, "Canada's Cape Cod," particularly its town of Summerside (38 miles west of downtown Charlottetown, population 16,000), even though it is nearly 700 miles from Montreal and over 1,000 miles from Toronto. (The island has a town named Toronto, a small village.)
Province House in Charlottetown, the Provincial capitol building,
site of the 1864 Charlottetown Conference, and thus "the Birthplace of Canada"
The drinking age in PEI is 19. Their Harmonized Sales Tax is 15 percent. The largest newspaper is named
The Guardian
. Postal Codes on the Island start with the letter C. Like Nova Scotia, PEI uses Area Codes 902 and 782.
The 8-mile-long Confederation Bridge, linking the Island with mainland Canada, is soon to celebrate its 20th Anniversary, as it replaced an old ferry on May 31, 1997. Charlottetown doesn't really have a "centerpoint" (or a "centrepoint"), but street addresses increase as you go north and east, and the main intersection appears to be Queen Street and Kent Street -- effectively, named for the namesakes of the City and the Province, mother and son. T3 Transit runs buses (no trains, subway or above-ground), and a single fare is C$2.25.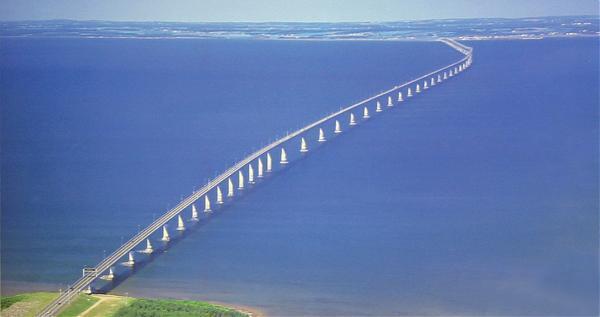 Confederation Bridge
Going In.
The Eastlink Centre is at 46 Kensington Road, at Park Street, adjacent to the Red Shores Racetrack & Casino, just northeast of downtown. It opened in 1990 as the Charlottetown Civic Centre, and naming rights were bought by Canadian communications company EastLink in 2013. Parking is C$12. Seating capacity is 3,690.
The rink is aligned north-to-south. It was home to the University of Prince Edward Island hockey team from 1990 to 2003, and the Prince Edward Island Senators (an Ottawa Senators farm team) from 1993 to 1996.
Since 2003, the arena has been home to a Quebec Major Junior Hockey League team, originally called the PEI Rocket -- formerly the Montreal Rocket, named for Maurice Richard, and playing in the arena named for him at the Olympic Park -- and known since 2013 as the Charlottetown Islanders. They are no longer a Montreal Canadiens farm team, and have no connection to the New York Islanders beyond sharing a name.
Hockey setup
The arena is also home to the Island Storm of the National Basketball League of Canada, and has hosted concerts, including by Canadian performers The Guess Who, Bryan Adams and the Tragically Hip. It also seems to have a thing for old country music singers, as both George Jones and Willie Nelson sang there. David Copperfield performed his magic act there in 2009.
Basketball setup
Food.
There are small concession stands (it's only a 3,700-seat arena, after all), including a Tim Hortons, and the Moose Light Lounge (named for a brand of Canadian-produced Moosehead beer) is behind Section 5.
Team History Displays.
In their 1st 13 seasons, the Rocket/Islanders made the QMJHL Playoffs 11 times, but only 3 times made the 2nd Round, and never the Semifinals. Thus, they have no championship banners. They have 2 retired numbers, keeping the 9 of Maurice Richard packed away even though they no longer have even their former tenuous connection to him (PEI isn't even majority-Francophone), and the 22 of

Pierre-André Bureau, who played for the Rocket from 2000 to 2005, but never reached the NHL.
The PEI Senators won Division titles in 1995 and '96, but there is no notation for this at the Eastlink Centre. That team is now the Binghamton Senators, but is about to move to Bobby Hull's hometown of Belleville, Ontario, while the Albany Devils will be moving to become the Binghamton Devils.
Stuff.
There are small souvenir stands, but no team store, no books about the team, no videos.
During the Game.
Your safety will not be an issue. Indeed, the people of PEI might be thrilled that someone from New York came to check them out. They hold auditions for National Anthem singers, and have no mascot.
After the Game.
Surprisingly, there aren't any restaurants or bars within a 5-minute walk of the arena. You may have to head back downtown for a postgame meal.
The Olde Dublin Pub, 131 Sydney Street between Queen and Great George Streets, is well-regarded. So is the Churchill Arms, around the corner from the Olde Dublin, at 75 Queen Street between Sydney and Dorchester Streets. Both show English soccer games on the weekend, and will likely show whatever European game you ask for if your visit to PEI is during the season (as we now are).
Sidelights.
Prince Edward Island is too small to generate any kind of mass culture, including sports. After all, it has just 147,000 people, about the same population as Paterson, New Jersey. Although hockey, rugby, and that classic cold-weather Canadian sport, curling, are common there, there are no professional teams in baseball or football -- either the American version or that common to Canada, with its 12 men on a side, 3 downs a series, and the 110-yard field with the 25-yard-deep end zones.
The former arena was named the Charlottetown Forum. It stood from 1930, at 229 Fitzroy Street, between Weymouth and Cumberland Streets, about halfway between the center of town and the Eastlink Centre. It was demolished in 2001, and the site is now occupied by a parking lot next to the Perfection Foods plant.
The Charlottetown Forum and the 1932 Charlottetown Abbies
The University of Prince Edward Island (UPEI) has since moved into the MacLauchlan Arena, about a mile west of the center of town. The Panthers have won 6 Conference Championships, and count Joel Ward of the San Jose Sharks among their alumni. 170 N. River Road. They've also had some success in basketball and soccer.
UPDATE: The Canadian Premier League, an attempt at a top-flight soccer league for the country, was founded in mid-2017, with the hopes of beginning play in Spring 2018. There is no plan for a stadium or team on Prince Edward Island.
Neither Elvis Presley nor The Beatles ever gave a concert on Prince Edward Island. No Island native has ever come close to being named Prime Minister.
PEI has a few museums. Province House itself is a museum, a building as historic as any in the entire country. 165 Richmond Street. The Confederation Centre of the Arts is a few doors down, at 145 Richmond Street. The Prince Edward Island Regimental Museum is on the Northumberland Strait, at Water and Haviland Streets. Outside of Charlottetown, the best-known museum on the Island is the Acadian Museum, at 23 Main Drive East in Miscouche, just outside Summerside, about 70 miles west of the capital.
The tallest building in the Province isn't very tall, just 127 feet. It's a hotel at Confederation Court Mall, 134 Kent Street, downtown. The Charlottetown Thermal Generating Station, a natural diesel oil power station, is the Island's tallest structure, at 226 feet.
The most famous structure on the Island is Green Gables, the setting of the 1908 novel
Anne of Green Gables
by Island native Lucy Maud Montgomery, whose family lived at the house and surrounding farm. 8619 Cavendish Road in Cavendish, about 25 miles northwest of downtown Charlottesville, on the Gulf of St. Lawrence. You'd have to drive.
Anne of Green Gables
has been filmed only twice: A silent film in 1919, now considered lost; and a 1934 version starring Dawn O'Day, who also filmed another in Montgomery's series,
Anne of Windy Poplars
, in 1940. A musical film version is currently in development. The other notable film taking place on the Island is
Johnny Belinda
, starring Jane Wyman and Lew Ayres in 1948.
*
Prince Edward Island is probably best visited in the Summer, when it becomes a resort. But it does have a professional hockey team, and is worth a visit.