Last night, the U.S. national soccer team played its 1st game in the 2nd tenure as their manager by Bruce Arena. It was their 1st since the firing of Jurgen Klinsmann.
Klinsmann was one of the best forwards of the 1980s and '90s. He starred in Germany for hometown club VfB Stuttgart, and also played for Internazionale in Milan, Italy; AS Monaco in the French league; Tottenham Hotspur of North London in England's Premier League; Bayern Munich back in his native Germany; and Sampdoria in Genoa, Italy. He won the UEFA Cup with Inter in 1991 and Bayern in 1996, and the Bundesliga (German league) with Bayern in 1997. With the German national team, he won the 1990 World Cup and Euro 96.
But as a manager, he is horrible. He managed Germany on home soil in the 2006 World Cup, and choked in the Semifinal. He managed Bayern in the 2008-09 season. Bayern have been known since the 1970s as a team that cheats. Germans call it "Der Bayern Dusel," or "The Bavarian Luck." The season before and the season after, Bayern won both the Bundesliga and the DFB-Pokal, the German version of the FA Cup. In Klinsi's season in charge, they won nothing.
In spite of this, when Bob Bradley was fired as manager in 2011, Klinsmann was hired. Results: He won the U.S.' continental tournament, the CONCACAF Gold Cup, in 2013, and got us to the Group Stage of the 2014 World Cup; but choked in the 2015 Gold Cup and the 2016 Copa America, finishing 4th both times.
He also had this nasty habit of winning friendlies but not matches that actually counted for something. On August 15, 2012, he guided the U.S. team to their 1st-ever win over arch-rival Mexico at the Azteca Stadium in Mexico City. Six months earlier, he'd led the U.S. to a win over Italy in Genoa.
On June 2, 2013, I was at Robert F. Kennedy Stadium in Washington for a match celebrating the 100th Anniversary of the U.S. Soccer Federation, the governing body of American soccer. Even though it was against Germany, JK managed to win, and won, 4-3... nearly blowing a 4-1 2nd-half lead. Also, it wasn't exactly the best possible German team, as Bayern and Borussia Dortmund had played in the UEFA Champions League Final the weekend before, and their players were excused from this match.
After the 2014 World Cup, he managed wins over the Czech Republic in Prague, the Netherlands in Amsterdam, and Germany in Cologne -- all friendlies.
But Belgium was there for the taking in the Round of 16 match at the World Cup, and while he pushed the game to extra time, he couldn't win it. In the 2015 Gold Cup, he embarrassed us with his team selection, and lost both the Semifinal to Jamaica and the 3rd Place Game to Panama on home soil. He lost to Mexico on home soil in another tournament that year, the CONCACAF Cup (not the same tournament).
With the 2016 Copa America on home soil, he lost to Colombia in a pathetic opening match, and the team looked totally useless in the Semifinal against Argentina and the 3rd Place Game, a rematch with Colombia. Despite reaching the Semi, the goals were 8 for our opponents, 7 for us.
He then lost qualifiers for the 2018 World Cup against Mexico at home and Costa Rica away -- last night,
The Guardian
accurately called our effort in that game "abject tosh" -- putting us last in our group in the "Hexagonal" phase of CONCACAF qualification. We were in serious danger of not qualifying for the tournament at all.
*
Klinsmann was finally fired. Bruce Arena was brought in. He is 65 years old, was born in Brooklyn, grew up in Franklin Square, Long Island, and graduated from Cornell University. He didn't have much of a playing career, but he turned the University of Virginia into a national power, winning 4 straight National Championships from 1991 to 1994. In 1996, he managed the U.S. team at the Olympics in Atlanta.
He was thus a natural to be the 1st manager of MLS' Washington club, D.C. United. He took them to the Double, the MLS Cup (the league's playoff championship) and the U.S. Open Cup (our version of the FA Cup), in 1996; the Supporters' Shield (finishing 1st place overall in the regular season) and another MLS Cup in 1997; and 1st place in the Eastern Conference and the CONCACAF Champions League title in 1998.
He was named manager of the U.S. Men's National Team (USMNT) -- after having been DCU's manager and manager of the USMNT Under-23 squad at the same time, enabling him to manage the U.S. squad at the Olympics -- and won the Gold Cup in 2002 and 2005, and took them to the Quarterfinal of the 2002 World Cup in Korea, the team's best performance since making the Semifinal of the 1st World Cup in 1930. This included the iconic "Dos A Cero" win over Mexico at Jongju on June 17.
He returned to MLS, with the Los Angeles Galaxy, winning the Western Conference in 2009, the Supporters' Shield in 2010 and 2011, and the MLS Cup in 2011, 2012 and 2014. There are 2 iconic clubs in MLS: DCU and LAG, who've won 9 MLS Cups between them, and Arena managed 5 of those.
So when Klinsmann had to go, Arena was called, and he answered. He managed the team in 2 friendlies earlier this year, both in America: A 0-0 draw with Serbia, and a 1-0 win over Jamaica. Last night, they played the next World Cup Qualifier, at Avaya Stadium in San Jose, California, home of Major League Soccer's San Jose Earthquakes, against Honduras.
Klinsmann had frozen out Clint Dempsey, probably the greatest player in U.S. history thus far (only Landon Donovan seems to throw it into question), and Arena started him. Klinsmann had also frozen out North Brunswick, New Jersey native Tim Howard, the greatest goalkeeper in U.S. history, the former Everton star now playing out the string with the Colorado Rapids. Arena started him. Klinsmann had also frozen out Dax McCarty of the Chicago Fire, the longtime New York Red Bulls star. Arena called him up, although he left him on the bench for last night. Klinsmann had also frozen out Arena's former Galaxy player Sebastian Lletget. Arena gave him a start, pairing him up top with Dempsey.
It was a bloodbath -- in our favor. Lletget scored just 5 minutes in, his 1st international goal, a rebound of a deflected shot by 18-year-old Dortmund star Christian Pulisic. In what was clearly a retaliatory foul, Lleget was hacked by a Honduran defender, and had to leave the game only 18 minutes in.
In the 27th minute, U.S. Captain Michael Bradley, the Toronto FC and former Princeton University star (and son of former Princeton and USMNT coach Bob Bradley), made it 2-0, showing a flash of brilliance that we haven't seen from him for a while. Just 5 minutes later, Dempsey made it 3-0, and the losses to Mexico and Costa Rica seemed very far away.
The Guardian
's as-it-happened coverage, which is a rare beacon of light in soccer journalism, which (especially in England) tends to be horrific and heavily biased, wrote at the half:
Three-nil to the home side, and a thoroughly impressive 45 minutes
. They snapped into tackles, passed decisively, and scored three nice goals. Honduras
have been pretty rotten, to be honest, but USA have been excellent. Bruce is working his magic already. See you shortly for the second half.
True, Honduras were bad, and would get worse. But that's not the issue. The issue is, if Klinsmann had been managing this team, it would likely have had us going through the 80s minutes at 1-1, sweating and chewing our nails, hoping not that we'd get a late winner, but that we'd avoid a stoppage-time defeat.
A mere 10 seconds after the 2nd-half kickoff, Pulisic made it 4-0. Not 3 minutes later, Dempsey made it 5. Just 6 minutes after that, Dempsey made it a hat trick. It was 6-0, and the "Kick the extra point" jokes started on Twitter.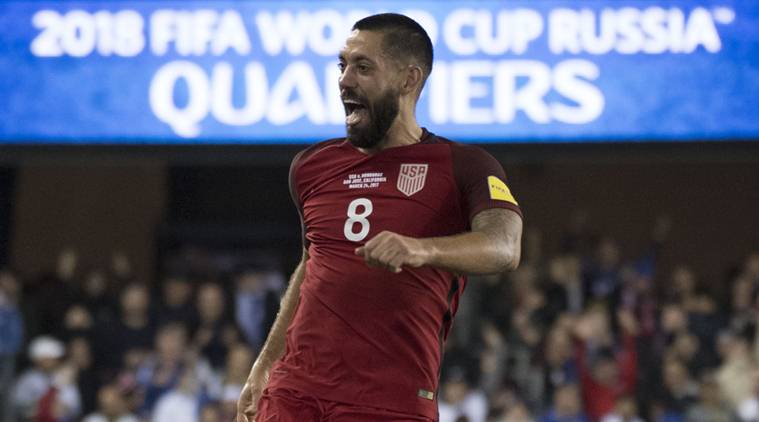 There would be no more, but it didn't matter. The only downsides were the injury to Lletget, and John Brooks apparently being ill. Both, along with Jordan Morris and Michael Orozco, also apparently injured, have been sent home, and won't play Tuesday night. Replacements have yet to be made.
Last night, a great leader made America great again. And it wasn't Donald Trump, it was Bruce Arena.
As for Jurgen Klinsmann, he can take solace in knowing that Trump and Paul Ryan, and anybody else who hates Obamacare, had a worse day than he did.
But if Klinsmann ever gets another managing job, it will be at a team with very stupid owners.
Anyway, we play again Tuesday night, against Panama, in their capital of Panama City. It is the 4th of 10 games in the qualifying process. The top 3 teams qualify. If we beat Panama, we'll be 3rd.
Thank you, Bruce.
*
Days until the Red Bulls play again: Actually, they're playing as I type this, away to Real Salt Lake. Their next game will be a week from tonight, at 8:30 PM Eastern Time, away to the Houston Dynamo.
Days until the U.S. national soccer team plays again: 3, this Tuesday night, away to Panama. It is still a must-win.
Days until the New Jersey Devils next play a local rival: 6, next Friday night,
against the New York Islanders, at the Barclays Center. The next game against the Philadelphia Flyers is the next day, Saturday, April 1, at the Wells Fargo Center. The Devils do not play the New York Rangers again during the regular season. Barring a miracle, they won't play the Rangers, or anyone else, in this season's Playoffs.
Days
until The Arsenal play again: 8, a week from tomorrow morning, at 11:00 (4:00 in the afternoon, their time), home to Manchester City.
Days until the Yankees' 2017 season opener: 8, a week from tomorrow night,
at 8:00 PM, away to the Tampa Bay Rays.
Days until the Yankees' 2017 home opener: 16, on Monday, April 10, at 1:00 PM, home to the Rays.
Days until the Red Bulls next play a "derby": 21, against
D.C. United, on Saturday, April 15, at Red Bull Arena in Harrison, New Jersey. They will next play the
Philadelphia Union on Saturday, May 6, at Talen Energy Stadium in Chester, Pennsylvania. They will next play the
New England Revolution on Saturday, May 27, at Red Bull Arena. And they will next play a Hudson River Derby against
New York City FC on Saturday, June 24, at Red Bull Arena.
Days until the next Yankees-Red Sox series: 31
,
on Tuesday, April 25, at 7:00 PM, at Fenway Park.
Days until the next North London Derby: 36
,
on Sunday, April 30, at White Hart Lane, for the last time, before Spurs' old stadium us mercifully demolished to make way for the new one. This game was moved from the 29th to accommodate the TV networks. It is also possible that Arsenal could face Tottenham again this season, in the FA Cup Final -- the result of which would absolutely be treated as a referendum on
Arsène Wenger's last season as manager. Well, maybe not if he wins it.
Days until Rutgers University plays football again:
161
, on Saturday, September 2, 2017, home to the University of Washington. A little over 5 months.
Days

until East Brunswick High School plays football again: Unknown, as the 2017 schedule hasn't been released yet. I now know that high school football games have been scheduled in Middlesex County, New Jersey on Friday night, September 8. That's 167 days from now.
Days until the next election for Governor of New Jersey:
227
, on Tuesday, November 7, 2017. A little over 7 months.
Days until the next Rutgers-Penn State football game: 218, on Saturday, November 11, 2017, at Beaver Stadium in State College, Pennsylvania.
Days until the next East Brunswick-Old Bridge Thanksgiving game:
243,
on Thursday morning, November 23, 2017, at 10:00. Under 8 months,
and thank God it's at home at Jay Doyle's grove, rather than a
t the purple shit pit on Route 9.
Days until the next World Cup kicks off in Russia:
453
, on June 14, 2018. Under a year and a half, or a little under 15 months. Has Bruce Arena turned our chances around? Or will Trump ruin them? Maybe, with the tournament on his soil, Putin will tell Trump to tell Bruce Arena to tank the games. Maybe not. Or maybe just if we end up playing Russia. I don't think Arena will listen. I hope his life insurance is paid up, because Putin kills people.
Days until the next Congressional election: 592, on November 6, 2018. Under 2 years, or a little over 19 months.
Days until the Baseball Hall of Fame vote is announced, electing Mariano Rivera:
655
, on
January 9, 2019. Under 2 years, or a little over 21 months.
Days until the Baseball Hall of Fame vote is announced,
electing Derek Jeter:
1,020
, on
January 8, 2020. Under 3 years, or a little over 33 months.
Days until the next Summer Olympics begins in Tokyo, Japan: 1,218, on July 24, 2020. Under over 3 1/2 years, or a little under 40 months.
Days until the next Presidential election:
1,320, on November 3, 2020. Under 4 years, or a little over 43 months.
Days until Liberation Day:
1,398, at noon on January 20, 2021. A little under 4 years, or a little under 46 months. Note that this is liberation from the Republican Party, not Donald Trump. Mike Pence wouldn't be better, just differently bad.