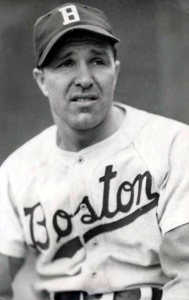 October 17, 1915, 100 years ago today:
Michael Joseph Sandlock is born in Sound Beach (now named Old Greenwich), Connecticut, making him a "New Yorker by extension." You've probably never heard of him, but today is a time to celebrate him.
A son of Polish immigrants, a switch-hitter, and usually a catcher, Mike Sandlock first played professional baseball in 1938, with the Huntington Bees, a West Virginia franchise of the Mountain State League. With the Evansville Bees of the Illinois-Indiana-Iowa League (a.k.a. the Three-I League), he batted .324 in 1941 and .306 in 1942, earning him a major league call-up to the Boston Braves. (They had experimented with calling themselves the Boston Bees after a disastrous 1935 season, hence the farm teams' names, but had switched back to Braves.)
He made his major league debut on September 17, 1942, at Braves Field in Boston, replacing Whitey Wietelman at shortstop, taking his 8th position in the batting order, and wearing Number 19. He was lucky: Instead of facing the New York Giants' starting pitcher, future Hall-of-Famer, Carl Hubbell, he batted against reliever "Fiddler" Bill McGee. And he got a hit! But 5 RBIs, including a home run, from Mel Ott made the difference, as the Giants beat the Braves, 7-6.
When Sandlock was called up by the Braves at the end of the 1942 season, his roommate was a young lefthanded pitcher from Buffalo who had yet to win a game in the major leagues. He would miss the next 3 seasons due to World War II, including fighting in the frozen wastes of the Battle of the Bulge, come back in 1946, and over 20 seasons win 363. It was future Hall-of-Famer Warren Spahn.
Sandlock missed all of 1943 -- not in the service, but in the war effort, getting an exemption from military service because he worked in a Chrysler plant, helping to assemble ammunition. He had previously worked as an electrician, so guys like him were needed back home to help guys like Spahn over there.
He played 30 games with the Braves in 1944, and was traded to the Brooklyn Dodgers. He had his best season in 1945, albeit only appearing in 80 games and making 218 plate appearances: He batted .282 with the only 2 home runs he would hit in the majors (both off Giants pitcher Harry Feldman, one at Ebbets Field, the other at the Polo Grounds), and 17 of his 31 career RBIs.
He took the New York, New Haven & Hartford Railroad (now Metro-North's New Haven Line) from his home in Old Greenwich to Grand Central Terminal, then the Subway to Ebbets Field. Frequently, on the way back, Dodger broadcaster Red Barber would join him, and they'd have a round of beer at a Grand Central bar. This resulted in Barber giving Sandlock a nickname, "The Commuter."
He played sparingly with the Dodgers in 1946, and then got stuck in the Dodger farm system: The St. Paul Saints, the Montreal Royals, the Hollywood Stars. He got up to .297 with the 1950 Stars, but Dem Bums wouldn't bring him back to Ebbets Field. But then, by this point, a future Hall-of-Famer was blocking his path: Roy Campanella.
Speaking of future Hall-of-Famers and the integration of the game, Sandlock didn't play a single game with the 1947 Dodgers, but was with them for spring training in Cuba, and was one of the players who was handed the petition to keep Jackie Robinson off the big club. He refused to sign the damned thing.
Former Dodger president Branch Rickey, by 1951 running the Pittsburgh Pirates, must have seen something he liked, because he bought Sandlock from the Stars after that season, and brought him back up for one more run in the majors, for 64 games in 1953.
Oddly, his last game was also against the Giants, on September 27, 1953. This time, he was the catcher, and the Pirates won, 6-4 at Forbes Field. Again, he batted 8th and got a hit.
After playing 1954 with the Pacific Coast League version of the San Diego Padres, he retired at age 39. With his mechanical skills, he continued working as a freelance electrician, plumber and all-around handyman, living in Cos Cob, Connecticut, just 3 miles from his childhood home.
He was married to a woman named Vicki, who died in 1982. They had 2 children: Damon lives upstairs in the same house, with his family, and Mike Jr. lives in Tennessee.
He played golf at a Connecticut club until advancing age put him in a wheelchair. H
e is still active with the Baseball Assistance Team (BAT), providing aid to indigent retired ballplayers.
At age 97, still able to get around with a cane, he was honored at Citi Field before a Met game as the oldest living Brooklyn Dodger. With the death of Connie Marrero on April 23, 2014, he became the oldest living former MLB player, period.
In a 2013 interview with The New York Times, he lamented what baseball strategy has become:
"Bunt? Hit and run? They don't do that anymore! Everything is the long ball. I mean, a guy on first and second, jeez, bunt that guy to third. Get that one run if you can."
Today is Mike Sandlock's 100th birthday. He is believed to be the 17th major leaguer to reach the milestone. Chester "Red" Hoff, who pitched for the Yankees (as the New York Highlanders) in 1911, lived to be 107, and that is believed to be the record.
A handwritten sign sits on a wall in Sadlock's home, with his own net-yet-necessary epitaph: "Didn't make the Hall of Fame but enjoyed every minute."
Happy Birthday, Mike Sandlock. And, by the way, you look great for 100.
Right, how would I know?
UPDATE: Mike Sandlock died on April 4, 2016. Another Boston Brave, Eddie Carnett, became the oldest living ex-MLB player.
*
October 17, 1814:
The London Beer Flood occurs. No, I'm not making that up. If Boston could have a molasses flood in 1918, why couldn't London have a beer flood?
It happened in the London parish of St. Giles. At the Meux and Company Brewery on Tottenham Court Road, a huge vat containing over 135,000 "imperial gallons" of beer ruptured, causing other vats in the same building to succumb in a domino effect. As a result, more than 323,000 imperial gallons of beer burst out and gushed into the streets.
The wave of beer destroyed 2 homes and crumbled the wall of the Tavistock Arms Pub, trapping the Eleanor Cooper, a barmaid whose age has been variously given as 14, 15 and 16 years old, under the rubble. The brewery was located among the poor houses and tenements of the St Giles Rookery, where whole families lived in basement rooms that quickly filled with beer. The wave left 9 people dead: 8 due to drowning (including the barmaid) and 1 from alcohol poisoning.
October 17, 1860:
For the first time, The Open Championship (referred to in North America as the British Open) is held, at Prestwick Golf Club, in Ayrshire, Scotland. The winner is Scotsman Willie Park.
Wait, why am I mentioning this? Golf is not a sport!
*
October 17, 1906:
Samuel Paul Derringer is born in Springfield, Kentucky. Paul Derringer was a rookie pitcher with the 1931 World Champion St. Louis Cardinals, and won the 1939 National League Pennant and the 1940 World Series with the Cincinnati Reds. He started the 1st major league night game, at Cincinnati's Crosley Field in 1935, and won 223 games in his career. Of those, 161 came in a Reds uniform, 2nd in club history only to Eppa Rixey's 179. He lived until 1987.
October 17, 1908:
Robert Abial Rolfe is born in Penacook, New Hampshire. The starting 3rd baseman in 4 All-Star Games, Red Rolfe helped the Yankees win the 1932, '36, '37, '38, '39 and '41 World Series. He is the greatest player ever born in New Hampshire, although Bellows Falls, Vermont-born Carlton Fisk grew up in Charlestown.
Retiring as a player at only 34, he was immediately hired, due to the wartime manpower shortage, as both baseball and basketball coach at Yale University. He later served as athletic director at his alma mater, Dartmouth College in Hanover, New Hampshire.
Until Graig Nettles, and later Alex Rodriguez, he was probably the best all-around player ever to play 3rd base for the Yankees. Yankee broadcaster Mel Allen selected him as the 3rd baseman on his all-time team, although Mel did also see plenty of Eddie Mathews and Brooks Robinson, and wasn't that far past the era of Pie Traynor.
*
October 17, 1911:

After criticizing his teammate Rube Marquard's pitching to Philadelphia Athletics 3rd baseman Frank Baker in his newspaper column' Christy Mathewson takes the mound for the New York Giants in Game 3 against 29-game winner Jack Coombs. Matty takes a 1-0 lead into the 9th. With 1 out' Baker lines another drive over the right field fence to tie it.

With that blow' he receives the nickname "Home Run" Baker. Based on 2 home runs? Well, it was
1911, the Dead Ball Era: He only hit 96 home runs in his entire 13-season career, although he did have a .307 lifetime batting average and a very strong 135 OPS+, is regarded as one of the best 3rd basemen of the 1st half of the 20th Century, and is in the Hall of Fame.

However, Baker's homer only ties the game, and it goes to extra innings. Errors by Giant 3rd baseman
Buck Herzog and shortstop Art Fletcher give the A's 2 unearned runs in the top of the 11th. New York scores once' but the A's win 3-2 behind Jack Coombs's 3-hitter.
October 17, 1912: Albino Luciani (no middle name, very odd for an Italian) is born in Canale d'Agordo, Veneto, Italy. He was Patriarch of Venice when, on August 26, 1978, he was named Pope, to succeed the late Paul VI. When Paul VI died, it was mentioned on a Yankee broadcast, and the very Italian, very Catholic Phil Rizzuto said, "Well, that puts a damper on even a Yankee win."
Cardinal Luciani took the name John Paul I, combining the names of the last 2 Popes, both of them truly beloved around the world: John XXIII and Paul VI. But just 33 days later, on September 28, 1978, he also dies, apparently of a heart attack. The shortest-reigning Pope of the modern era, he was only 65. With a Yanks-Sox Pennant race coming down to the wire,

Charles Laquidara of Boston

radio station

WBCN began his broadcast, "Pope dies, Sox still alive."
The late Pope's successor, Karol Wojtyla, Archbishop of Krakow in Poland, took the name John Paul II, and said of his predecessor, "What warmth of charity, nay, what an abundant outpouring of love, which came forth from him in the few days of his ministry."
October 17, 1914: Jerome Siegel (no middle name) is born in Cleveland. His father was killed when his store was robbed. Sounds like a superhero's origin story, doesn't it?
It was. With Joe Shuster, a friend who came to Cleveland from Toronto, doing the illustrations, Jerry Siegel created Superman. Siegel died in 1996. Shuster, also born in 1914, died in 1992.
What does Superman have to do with sports? Occasionally, he was drawn playing baseball. One time, in a superheroes vs. supervillains baseball game, the villains' pitcher, Sportsmaster, not wanting Superman to hit he longest home run ever, beaned him. The ball struck Superman's invulnerable body and rebounded right back, leading Sportsmaster to say, "Almost got beaned by my own pitch!" (The heroes won the game.) Then there was this cover, from 1970. On other occasions, he's been in races with the Flash.
October 17, 1915, 100 years ago:
Arthur Asher Miller is born in Harlem -- at the time, becoming the nation's foremost black neighborhood, but still retaining much of its former German and Jewish character. (Lou Gehrig was born there in 1903, the son of Protestant German immigrants.)
In Miller's play

Death of a Salesman

, he quoted his lead character, Willy Loman, as exulting in the fact that, "We're playing football at Ebbets Field!" Football? At Ebbets Field? Yes, it happened in real life, as the NFL had a Brooklyn Dodgers from 1930 to 1944, although the play refers to high school football.
October 17, 1918:
Margarita Carmen Cansino is born in Brooklyn. Better known as Rita Hayworth. Although she was a huge star, for a lot more than 2 reasons, her personal life was a mess, including stormy marriages to Orson Welles and the manipulative, skirt-chasing Muslim prince Aly Khan. She said, "Basically, I am a good, gentle person, but I am attracted to mean personalities." She also said, citing her best-known film role, "Men fall in love with Gilda, but they wake up with me."
What does she have to do with sports? Nothing, as far as I know, although Aly Khan was a noted breeder of racehorses. She's just one of the most magnificent women who ever lived. After so many years of martial abuse, alcoholism and Alzheimer's disease, she finally found peace in 1987. Her daughter, Princess Yasmin Aga Khan, is a major fundraiser for Alzheimer's research.
Also on this day, Ralph Cookerly Wilson Jr. is born in Columbus, Ohio. Growing up in Detroit, he ran an industrial firm, and was a minority owner of the NFL's Detroit Lions during their glory years in the 1950s, when he had the chance buy a franchise in the fledgling American Football League. His first choice for a city in which to play was Miami, but he was turned down. He got his 2nd choice, and the Buffalo Bills were born. (Clearly, he didn't make Buffalo his 2nd choice after Miami due to the weather!)
Of the original 8 AFL owners, a.k.a. "The Foolish Club," he was the last survivor, dying in 2014. At 54 years, he was the 2nd-longest-lasting owner in NFL history, trailing only league and Chicago Bears founder George Halas at 63 years. He was elected to the Pro Football Hall of Fame in 2009.
When the naming rights to the Bills' Rich Stadium ran out, the board of directors renamed it Ralph Wilson Stadium. Under him, the Bills won 2 AFL Championships, 1964 and '65, and 4 AFC Championships, 1990, '91, '92 and '93. But not, as yet, a Super Bowl.
Natural gas tycoon Terry Pegula, already the owner of the Buffalo Sabres, the lacrosse team the Buffalo Bandits, and minor-league hockey's Rochester Americans, bought the Bills from the Wilson family (splitting ownership between himself and his wife Kim, to get around the NFL's rule against majority ownership of a team in another sport), and is keeping the team in Buffalo, even ending the team's commitment to play a "home game" in Toronto every season. Ralph Wilson began the Bills in Buffalo, kept them there in life, and, in death, his family ensured they will stay.
*
October 17, 1923:
Charles Yeomans McClendon is born in Lewisville, Arkansas. He played football for fellow Arkansas native Bear Bryant at the University of Kentucky, and coached at Louisiana State University, starting in 1953 as an assistant, then in 1962 as head coach.
He got the LSU Fighting Tigers to the 1963 and 1966 Cotton Bowls, the 1965 and 1968 Sugar Bowls, and the 1971 and 1974 Orange Bowls. In 1970, he guided them to the Southeastern Conference Championship, and was named national Coach of the Year. This was his only SEC title, mainly because it was the only time he beat Mississippi and Bryant's Alabama in the same season.
He was fired after the 1979 season, and never coached again, completing his record at 137-59-7. He died in 2001.
October 17, 1924: Donald David Coryell is born in Seattle. A paratrooper in World War II, he played football and earned a bachelor's and master's degree at his hometown school, the University of Washington. He won small-college titles coaching at Whittier College, spent a season as an assistant to John McKay at the University of Southern California, and in 1961 was named head coach at San Diego State.
He went 104-19-2 at SDSU, including 3 undefeated seasons, bringing them from Division II to Division I-A. Since USC and UCLA seemed to be recruiting all the good running backs in Southern California, he went to a pass-happy offense. He coached All-Pro quarterback Brian Sipe, and All-Pro receivers Isaac Curtis, Gary Garrison and Haven Moses. He also coached football players turned actors Fred Dryer (
Hunter
) and Carl Weathers (Apollo Creed in the
Rocky
films).
The NFL's St. Louis Cardinals noticed him, and hired him as head coach, He brought his passing ideas to Busch Memorial Stadium, and in 1974 and 1975, he led the "Cardiac Cardinals" to NFC East titles, the only 1st-place finishes the former Chicago and future Arizona franchise would have between 1948 and 2008.
In 1978, he returned to San Diego, taking the head job with the Chargers, and guided them to their 1st winning season in 9 years. His "Air Coryell" offense led the NFL in passing yards in 7 of the next 8 seasons, with quarterback Dan Fouts, tight end Kellen Winslow, receivers Charlie Joiner and John Jefferson, and pass-catching running backs James Brooks and Lionel James. The Chargers had a good defense, too, known as the Bruise Brothers: Mean Fred Dean, Gary "Big Hands" Johnson and Louie Kelcher.
In 1979, Fouts passed for an NFL record 4,082 yards, the 1st NFL passer to reach the 4,000 mark (Joe Namath had done it in the AFL in 1967), and convinced the great Johnny Unitas to say, in an interview for CBS'
The NFL Today
, to say Fouts was the current NFL quarterback he liked the best.
That 1979 season was the Chargers' 1st trip to the Playoffs in 14 years. They won 3 straight AFC Western Division titles. But they couldn't get over the hump. In back-to-back weeks in January 1982, they played perhaps the hottest game in NFL history, beating the Miami Dolphins in an overtime thriller at the Orange Bowl, remembered as the Kellen Winslow Game; and then faced the Cincinnati Bengals at Riverfront Stadium in perhaps the coldest game in NFL history, getting completely shut down in what became known as the Freezer Game. (San Diego playing well in Miami heat was understandable, but in Ohio cold was not. Actually, Cincinnati is not generally known for cold weather, but it sure was cold that day.)
Coryell left the Chargers after the 1986 seasons, and never coached again. His regular season records were superb: 127-24-3 in college, 114-89-1 in the NFL. But his Playoff record was a mere 3-6, and only once did he get to the AFC title game. That is probably why he's not in the Pro Football Hall of Fame, and, having died in 2010, he won't live to see it happen.
But Fouts, Winslow, Joiner, Dean, and 2 of his assistant coaches, John Madden and Joe Gibbs, are in the Hall of Fame. When Madden was elected, he mentioned that he, Gibbs and Fouts were taught by Coryell, and said, "Something's missing." John Madden may know more about football than any man alive, so he knows what he's talking about. Many observers consider the "West Coast offense" employed by the 5-time Super Bowl-winning San Francisco 49ers and the Super Bowl XXXIV-winning St. Louis Rams to be a progression from Air Coryell. If innovation is a qualification for the Hall, then Don Coryell should be in.

October 17 and 18, 1925, 90 years ago:
Believe it or not, the expansion New York Giants football team plays on back-to-back days. A lot of teams did that in the 1920s, and it will end up becoming an issue that clouds the awarding of this season's title. Neither the Giants nor the Frankford Yellow Jackets have to worry about that, as neither is a contender.
On Saturday the 17th, since Pennsylvania law then prohibited playing sporting events on Sundays, they played at Frankford Stadium in Northeast Philadelphia, and the Jackets won 5-3. (There must have been a safety.) On Sunday the 18th, since New York State law did allow Sunday sports, they played at the Polo Grounds, officially the 1st home game in franchise history, despite their 1st actual game having been played in Newark. But the home field advantage didn't help the Giants, as Frankford completed the sweep, 14-0.
The Jackets would win the NFL Championship in 1926, but go out of business in 1931, due to the Great Depression. The NFL sold the rights to the Philadelphia territory to Bert Bell and Lud Wray, who founded the Philadelphia Eagles in 1933, but the Eagles signed no Yellow Jackets players, and do not count the Yellow Jackets' records, including their 1926 title, as their own.
Nevertheless, the weekend of October 17-18, 1925, is the beginning of the pro football rivalry between New York and Philadelphia, which remains tense and strange to this day, with all kinds of weird things having happened.
October 17, 1927:
Ban Johnson' in failing health' retires as President of the American League, after heading the League he started for its 1st 28 years. His endless battles with Commissioner Kenesaw Mountain Landis and the team owners had eroded his power. Detroit Tigers president Frank Navin, is named acting AL President, until Ernest Barnard, longtime general manager of the Cleveland Indians, is named President.
October 17, 1929:
In the wake of the death of manager Miller Huggins, and interim manager Art Fletcher's desire to remain as 3rd base coach (a post he held from Huggins' arrival in 1918 until Joe McCarthy's resignation in 1946), Yankee owner Jacob Ruppert hires former pitcher Bob Shawkey as manager.
In 1917, Ruppert had made Shawkey his first big acquisition. This would be paralleled 67 years later as George Steinbrenner made another A's pitcher, Catfish Hunter, his first big free-agent signing. But Shawkey will only manage the 1930 season, and with the Cubs having fired McCarthy, Ruppert snaps him up, and the Yanks get back on track.
*
October 17, 1930:
James Earl Breslin is born in Jamaica, Queens. As much as anyone – not a word, fans of the late Ed Koch; shut up, Rudy Giuliani; put a sock in it, Donald Trump; sorry, Regis Philbin – Jimmy Breslin has been the voice of New York City.
He wrote for the
New York Journal-American
in the Fifties, and moved on to the
New York Herald-Tribune
in 1962, writing a book about the horrendous 1st year of the Mets, borrowing for his title a line from manager Casey Stengel:
Can't Anybody Here Play This Game?
When the
Trib
folded in 1966, he became one of the cornerstones of "New York's Hometown Paper," the
Daily News
. He remains best known for receiving letters from David Berkowitz, the serial killer known as the Son of Sam, after the 6th of the 8 shootings in 1977, publishing them, and writing an editorial whose title was blasted on the front page: "Breslin to .44-Caliber Killer: GIVE UP! IT'S THE ONLY WAY OUT." After Berkowitz was caught, Breslin and his former
Trib
teammate Dick Schaap collaborated on a novel based on the case, titled
.44
.
Unfortunately, like his
Daily News
stablemate Dick Young, and his Chicago counterpart Mike Royko, he got crochety and conservative in his later years, taking his image as the voice of his city's common man too seriously. He moved on to the Long Island paper
Newsday
, and received a Polk Award and the last of his 4 Pulitzer Prizes. He has since returned to the
Daily News
, and his recent columns suggest that he has remembered that it's liberals, not conservatives, that are for the little guy.
Through all the drinking, smoking, inhalation of New York smog, rides in cabs with crazy drivers, health problems, and a particularly nasty beating from the Mob in 1970, he still lives. In addition to the preceding, his books include the Mob novel
The Gang That Couldn't Shoot Straight
, the Watergate-themed book
How the Good Guys Finally Won
, an expose of the priestly-abuse scandal titled
The Church That Forgot Christ
, and biographies of racehorse trainer Sunny Jim Fitzsimmons, sportswriter Damon Runyon, and, most recently, baseball executive Branch Rickey.
He introduced and closed Spike Lee's film
Summer of Sam.
In another film based on life in New York in 1977,
The Bronx Is Burning
, he was very convincingly played by Michael Rispoli.
Also on this day, Robert Coleman Atkins is born -- like Ralph Wilson, in Columbus, Ohio. The nutritionist was the creator of the Atkins Diet, which emphasized lowering your carbohydrates and eating more protein, especially in vegetables.
Contrary to urban legend, he did not die an ironic (or hypocritical) death, from a heart attack from being too fat. On April 8, 2003, following a rare April snowstorm in New York, he slipped on some ice, fell, and hit his head. He was on his way to work, at age 72, so that's to be admired. But I like my carbs. Pasta! Mangia!
October 17, 1934: John Norman Haynes is born in Kentish Town, North London. A forward, he starred for West London soccer team Fulham in the 1950s and 1960s. He was one of the 1st mass-media footballers, starring in television and magazine ads, and captaining the England national team 22 times. In 1958, he scored 3 goals against the Soviet Union at Wembley Stadium, in a 5-0 England win.
A 1962 car crash limited his ability, but he still managed to play for England in his 3rd straight World Cup that summer. But, despite being only 33 years old, age and injury had left him declining by the time of the 1966 World Cup, on home soil, and he was not selected.
In 1971, he moved to South Africa, and helped Durban City win the national league title, and this turned out to be his only trophy. He later managed Fulham, and moved to Edinburgh, Scotland. On October 17, 2005, his 71st birthday -- 10 years ago today -- he suffered a brain hemorrhage while driving, and crashed. There was no recovering from this crash, as he died the next day.
Today, the old Stevenage Road Stand at Fulham's ancient stadium, Craven Cottage, is named for him, and a statue of him stands outside.
October 17, 1938:
Robert Craig Knievel is born in Butte, Montana. Like Elvis Presley, Evel Knievel was a Seventies spectacle who wore white jumpsuits, big collars, big belts with big buckles, and made a fool of himself in Las Vegas. Unlike Evel, however, Elvis also had some great shows in Vegas.
Evel Knievel may have been on
ABC Wide World of Sports
many times, but what he did was
not
a sport. He died in 2007 -- not due to the effects of any or all of his crashes, but due to lung disease.
*
October 17, 1942: Steven Howard Jones is born in Alexandria, Louisiana, and grows up in Portland, Oregon, playing his college basketball for that city's Portland State University. Steve Jones was very nearly a unique players, playing in all 9 seasons of the ABA, but never in the NBA. He ruined this distinction, or perhaps achieved his dream, by playing the ABA's last season, 1975-76, with the NBA's Portland Trail Blazers, his hometown team (although they weren't there while he grew up).
He actually had rotten luck: The New Orleans Buccaneers reached the ABA Finals in 1968, but he didn't get there until the next season, 1969. The Oakland Oaks won the ABA title that season, but he was with them the year before. And his season with the Blazers, after which he was let go, was the season before they won the NBA title.
But "Snapper" did broadcast for the Blazers, and called their 1977 Game 6 clincher over the Philadelphia 76ers for CBS. In his long broadcasting career, he was often paired up with his Blazers teammate Bill Walton. Well before tennis star John McEnroe made the phrase famous, Snapper would frequently say, "Bill, you can't be serious." They are now on separate networks: Walton on ESPN, and Jones on NBA TV.
October 17, 1946:
Bob Seagren is born in Pomona, California, outside Los Angeles. He won the pole vault at the 1968 Olympics, and the 1st ABC
Superstars
competition in 1973.
October 17, 1948:
Margaret Ruth Kidder is born in Yellowknife, the capital of Canada's Northwest Territories. Better known as Margot Kidder, she is almost certainly the most famous person ever to come from the NWT -- though huge in area, it has just 41,000 people.
She played Lois Lane in Christopher Reeve's Superman movies. "Don't worry, Miss," Superman says when meeting Lois in-costume for the first time. "I've got you." Her classic response: "You've got me? Who's got
you
?" A street in Yellowknife has been named Lois Lane in her honor.
Also on this day, George Robert Wendt III is born in Chicago. Who? "Good afternoon, everybody." NORM! What's goin' on, Norm? "My birthday, Sammy. Gimme a beer, put a candle in it, and I'll blow out my liver." Actual exchange from a 1991 episode of
Cheers
, in which Wendt played beerhound and occasionally-employed accountant and Norm Peterson.
"Bars can be sad places," he once said. "Some people spend their whole lives in a bar. Yesterday, some guy came in, and sat down next to me for 11 hours."
Wendt got his big break on
M*A*S*H
, playing a Marine (a guy that out of shape, playing an active-duty Marine? No way) who tried to stick an entire pool ball in his mouth, and, unfortunately for him, he succeeded. Having to treat him, Major Charles Emerson Winchester III, played by David Ogden Stiers, got to do something he rarely did: Have some fun.
That episode was written by Ken Levine and David Isaacs, who would go on to co-create and write for
Cheers
, and remembered Wendt. They also remembered Shelley Long from a
M*A*S*H
episode they'd written. Come to think of it, there are some similarities between Winchester and Dr. Frasier Crane, although we later found out that, unlike Charles, Frasier was not actually from Boston.
Norm is a Red Sox, Patriots, Celtics and Bruins fan. In real life, though, Wendt is Chicago through and through, and roots for the Cubs, the Blackhawks, and, as reflected in his character Bob Swerski on the
Saturday Night Live
sketch "The Super Fans," he also loves "a certain team which is known as... Da Bears!" And another "certain team which is known as... Da Bulls!"
*
October 17, 1956: Mae Carol Jemison is born in Decatur, Alabama, and grows up in Chicago. A doctor and a chemical engineer, on September 12, 1992, aboard the space shuttle Endeavour, she became the 1st black woman in space.
On May 24, 1993 (airdate, not filming date), she became the 1st real-life astronaut to appear on Star Trek, playing Lieutenant Palmer, a transporter operator, on the Next Generation episode "Second Chances."
October 17, 1957:
Stephen Douglas McMichael is born in Houston. Speaking of Da Bears, Steve McMichael was a defensive tackle on their 1985-86 Super Bowl Shuffle team, and made 2 Pro Bowls.
Nicknamed "Mongo" after the
Blazing Saddles
character played by another legendary DT, Alex Karras, he later became a pro wrestler, and has twice been married to WWE "Divas." He hosts a talk show on Chicago radio station ESPN 1000 (the former WLUP and WMVP), and coaches an indoor football team, the Chicago Slaughter.
October 17, 1960:
The National League grants franchises to New York and Houston. So, in a way, this is the Mets' birthday. And the Astros'.
The team that will become known as the Mets is awarded to a group led by Joan Whitney Payson, a former member of the New York Giants board of directors, the only member to vote against moving to San Francisco (through her proxy, M. Donald Grant -- probably the last time Grant tried to do something good for baseball in New York). The Colt .45's, who become the Astros in 1965, are awarded to a group led by Roy Hofheinz, a federal judge and a former Mayor of Houston.
October 17, 1964:
The Yankees fire manager Yogi Berra, even though he got an aging and flawed Yankee team to Game 7 of the World Series. Meanwhile, Johnny Keane, the manager of the team that beat the Yankees, the St. Louis Cardinals, having had enough of their management, resigns. Within days, Keane will be given the Yankee manager's job.
It's hard to say that all 3 moves were mistakes. After all, the Cardinals promoted coach and former star 2nd baseman Red Schoendienst to the manager's job, and he won 2 Pennant. And, let's face it, with what happened to the Yankees, Yogi wouldn't have managed much beyond 1965 even if they'd kept him. But Keane turns out to be a total mismatch for the Yankees, his health falls apart, he's fired early in the 1966 season, and he dies in 1967.
October 17, 1966:
Bob Swift, manager of the Detroit Tigers, dies in office of lung cancer. He was 51. He had replaced Charlie Dressen earlier the year, after Dressen had died in office. As far as I know, no other MLB team has ever had 2 managers die on them in a single year.
Also on this day, Daniel John Willard Ferry is born in the Washington suburb of Hyattsville, Maryland. The son of former NBA star and executive Bob Ferry, Danny Ferry went to the famed DeMatha Catholic High School in Hyattsville, and helped Mike Krzyzewski reach his 1st 3 Finals Fours at Duke University. He was a 2-time Atlantic Coast Conference Player of the Year.
The forward played 10 season for the Cleveland Cavaliers, and closed his career by winning the 2003 NBA title with the San Antonio Spurs. Like his father, he moved into management, first with the Spurs, then with the Cavs, helping them reach the NBA Finals for the 1st time in 2007. In 2012, he was named general manager of the Atlanta Hawks, but was fired earlier this year. It may not have had anything to do with a racist remark he was accused of making, since an investigation cleared him of wrongdoing.
October 17, 1968: David Robertson (no middle name) is born in Aberdeen, Scotland. No, not the relief pitcher who, for 1 year, succeeded Mariano Rivera as the Yankees' closer. This one is a soccer player, a left back who starred for hometown club Aberdeen, winning the Scottish League Cup in 1989 and the Scottish Cup in 1990.
He moved on to Glasgow giants Rangers, winning 6 straight League titles fro 1992 to 1997. He also won the Scottish Cup in 1992, 1993 and 1996, for "The Double." He also won the Scottish League Cup in 1992 and 1993, for "The Treble." He has now gone into management, and in 2013 managed a team in Phoenix, in the American 3rd division.
He's not the only British soccer star born on this day, or even the only big-name British left back: Graeme Pierre Le Saux is born in St. Helier, Jersey, Channel Islands. Despite their proximity to France and his being ethnically French, he is a British citizen, and played 36 times for England, including at the 1998 World Cup.
Club-wise, he played for West London club Chelsea, when they were a small club, easily laughed-about -- and it wasn't all that long ago. He helped them get promoted back to the English top flight in 1989. He was sold to Blackburn Rovers, and helped them win the League in 1995. Chelsea bought him back, and he won the League Cup and the UEFA Cup Winners' Cup in 1998, and the FA Cup in 2000.
He went into announcing, mainly for the BBC. This afternoon, he was the color commentator on NBC's broadcast of the match between North London's Arsenal and Hertfordshire club Watford. Near the end of Arsenal's 3-0 win, after lead announcer Arlo White said, "Arsenal are desperate to win the Premier League title," and added that they've finished ahead of North London rivals Tottenham Hotspur 20 seasons in a row, Le Saux said, "That may be wearing a bit thin." If his Chelsea had finished ahead of Arsenal or Tottenham 20 season in a row, he wouldn't think it was wearing thin.
October 17, 1969:
Theodore Ernest Els is born in Johannesburg, South Africa. Ernie Els won golf's U.S. Open in 1994 and 1997, and the British Open in 2002 and 2012. Winning 4 majors is good, but not especially noteworthy. What is noteworthy, although not unheard-of, is the 18-year span between his 1st and his last (so far).
*
October 17, 1970:
John Steven Mabry is born in Wilmington, Delaware. He played 1st base, 3rd base, left field and right field, and even pitched twice in the major leagues. His 96 home runs ties him with Randy Bush and Dave May as the all-time leader... for players born in the State of Delaware, although he grew up 25 miles away in Chesapeake City, Maryland. (Bush was born in Dover but grew up in New Orleans. May was born and raised in New Castle.)
Mabry reached the postseason with the St. Louis Cardinals in 1998, the Oakland Athletics in 2002, and the Cardinals again in 2004, this time reaching the World Series. He last played with the Colorado Rockies in 2007, although he was released before they won the Pennant that year.
October 17, 1971
: Steve Blass hurls a 4-hitter and Roberto Clemente homers, as the Pittsburgh Pirates win Game 7 of the World Series, 2-1 over the Baltimore Orioles at Memorial Stadium' becoming World Champions for the 4th time, the 1st time since 1960.
Clemente played in all 7 games in '60 and in all 7 games in '71, and got hits in all 14 World Series games in which he played. In fact, all 5 of the Pirates' World Series wins -- 1909, '25, '60, '71 and '79 -- have been in 7 games.
Clemente and Bill Mazeroski are the only men to have played for the Pirates in both the 1960 and the 1971 World Series, although Danny Murtaugh managed them in both, and 1960 player Bill Virdon was one of Murtaugh's 1971 coaches.
After the game' 40'000 people riot in downtown Pittsburgh. At least 100 are injured' some seriously, although no deaths are reported.
Immediately after the Game 7 victory, rookie hurler Bruce Kison and his champagne-soaked best man Bob Moose are whisked away from Memorial Stadium by helicopter to a waiting Lear Jet to attend the 21 year-old Kison's 6:30 PM wedding in Pittsburgh, in which the groom will arrive 33 minutes late.
Earlier in the season, the Pirates had become the first team ever to field an all-black-and/or-Hispanic starting lineup, leading author Bruce Markusen to title his book about the '71 Bucs
The Team That Changed Baseball
. He's also written biographies of Clemente, Ted Williams, Orlando Cepeda, and a book about the 1970s Oakland A's team, published in 1998, just before the Yankees began a streak of 3 straight World Series, thus making a retroactive error of the title of Markusen's book:
Baseball's Last Dynasty: Charlie Finley's Oakland A's
.
There are 18 players from the '71 Pirates still alive: Blass, Mazeroski, Kison, Al Oliver, Manny Sanguillen, Bob Veale, Jackie Hernandez, Charlie Sands, Bob Robertson, Gene Clines, Gene Alley, Vic Davalillo, Richie Hebner, Luke Walker, Bob Johnson, Milt May, Dave Cash and Dave Giusti
October 17, 1972:
Quite a day to be born. Marshall Bruce Mathers III is born in St. Joseph, Missouri, although the man better known as Eminem and Slim Shady has spent most of his life in the Detroit area.
As far as I know, he has nothing to do with sports, but he does often wear a cap of his hometown Detroit Tigers. Say what you want about Em, and I don't like him much, but at least he's funny every once in a while, and he's still got more class than those other white Detroiters who want us to think they've got street cred, Rob "Kid Rock" Ritchie and Ted "Motor City Madman" Nugent.
Wyclef Jean, lead singer of the Fugees, is born in Croix-des-Bouquets, Haiti. I don't think he has anything to do with sports, either, but he was in Shakira's "Hips Don't Lie" video, which certainly required some athleticism.
Sharon Ann Leal is born in Tucson, Arizona, best known as a teacher on on the Fox TV drama
Boston Public
. She's also been in the film version of
Dreamgirls
and 2 Tyler Perry films. I don't think she's involved with sports either, but she's so beautiful that I don't care. She recently appeared on the TV series
Grimm
.
And Joseph Earl McEwing is born in Bristol, Pennsylvania, about halfway between Philadelphia and Trenton. He played for the Mets, so he doesn't have anything to do with sports, either. (Ba-DUMP-bump-TSHHHH!) He did help the Mets win the 2000 National League Pennant, though, and is now the 3rd base coach for the Chicago White Sox.
Also on this day, Walter "Turk" Broda dies of a heart attack in Toronto. He was 58, and was well overweight, even in his playing days. Idiot Ranger fans who called the Devils' Martin Brodeur "Fatty" never saw Broda (or their own 1950s star Lorne "Gump" Worsley).
But, as the martial artist and actor Sammo Hung would say, Broda wasn't out of shape, he was just fat. He won the Vezina Trophy as the NHL's top goaltender in 1941 and 1948, and was the goalie on 5 Stanley Cup winners for the Toronto Maple Leafs: 1942, 1947, 1948, 1949 and 1951. (The Leafs won the Cup in 1945 as well, but he was serving in World War II.)
He was elected to the Hockey Hall of Fame and the Manitoba Sports Hall of Fame. The Leafs don't retire uniform numbers (with 2 exceptions, for players whose careers ended early by freakish means), but they do have "Honoured Number" banners, and Broda and 1960s Cup-winning goalie Johnny Bower are both honored with banners with the Number 1. In 1998,
The Hockey News
listed him at Number 60 on their list of the 100 Greatest Hockey Players.
In 1955 and 1956, he coached the Toronto Marlboros, a team owned by the Maple Leafs, to back-to-back wins in the Memorial Cup, the championship of Canadian junior hockey. He had previously won it as a player with the 1933 Toronto St. Michael's Majors.
October 17, 1973:
On the day the Arab oil embargo is announced, driving gas prices way up (and they had already gone up a lot this year, as a general inflation jacked up the prices of everyting), and Motorola engineer Marty Cooper is granted the patent for the handheld mobile telephone, the Mets even the World Series at 2 games apiece with a 6-1 win over the Oakland A's at Shea Stadium.
Rusty Staub goes 4-for-4 with a homer and 5 RBI. The New Orleans chef was really cooking that night.
Also on this day, England can only manage a 1-1 draw against Poland in a qualifying match for the 1974 World Cup. It means that England won't even qualify, and manager Sir Alf Ramsey, who guided them to the 1966 World Cup, is fired. Poland will go on to reach the Semifinals, their best performance ever.
October 17, 1974:
At the Oakland Coliseum, Oakland's Vida Blue and Los Angeles' Don Sutton are tied 2-2 going into the bottom of the 6th, when Mike Marshall relieves Sutton and retires the side. In the 7th' a shower of debris from the fans halts the game for 15 minutes. When play is resumed' Joe Rudi hits Marshall's first pitch for a homer to give the A's a 3rd 3-2 win' clinching a 3rd straight World Championship for the team.
The A's thus become only the 2nd major league franchise to win 3 straight World Series, and remain the only one other than the Yankees to have done it. This was also the 1st all-California World Series, or even the 1st with both teams playing more than a few blocks west of the Mississippi River (take note, fans of St. Louis and Minnesota).
Jim "Catfish" Hunter died in 1999. The other 22 men on the 1974 A's World Series roster are still alive: Blue, Rudi, Reggie Jackson, Rollie Fingers, Sal Bando, Bert Campaneris, Gene Tenace, Dick Green, John "Blue Moon" Odom, Darold Knowles, Angel Mangual, Ted Kubiak, Dave Hamilton, Jesus Alou, Ray Fosse, Dal Maxvill, Herb Washington, Billy North, Manny Trillo, Larry Haney, Claudell Washington and Jim Holt.
Also on this day, the expansion New Orleans Jazz make their NBA debut, at Madison Square Garden. It doesn't go so well: Despite 15 points from Louisiana's own Pistol Pete Maravich, the Knicks get 20 points from Earl "The Pearl" Monroe, and beat the Jazz, 89-74.
The Jazz will go on to lose their 1st 11 games, playing home games at the New Orleans Municipal Auditorium, before the Superdome opens the next year. They will play 5 seasons in the Crescent City, never making the Playoffs, before moving to Salt Lake City and becoming the Utah Jazz, whiere they will be considerably more successful.
This was actually a watershed day in NBA history. Over the off-season, several titans of the game announced their retirements: Wilt Chamberlain, Jerry West, Oscar Robertson, and, from the Knicks alone, Willis Reed, Dave DeBusschere and Jerry Lucas. The era of those guys, and of the Celtic team that dominated with Bill Russell, is over.
The rest of the Seventies would see the assertion of Kareem Abdul-Jabbar, Bill Walton, Elvin Hayes, and, after the semi-merger with the ABA in 1976, Julius "Dr. J" Erving and Moses Malone. Anyone who tells you that the NBA was "saved" by the 1979 arrival of Earvin "Magic" Johnson and Larry Bird simply doesn't know his history. It was, however, with their arrival that the NBA management figured out that they'd better market what was already a great game much better. Airing Game 6 of the 1980 NBA Finals, in which Magic, subbing at center for Kareem, led the Lakers to defeat Dr. J's 76ers on tape delay at 11:30 PM was inexcusable.
Also on this day, John Loy Rocker is hatched from his pod in Macon, Georgia. He rose quickly to become a power pitcher, then fell apart, both competitively and physically. At first, we thought it was because, following all his insulting, ignorant, bigoted comments about the Mets and Met fans, that the furious reaction from the Flushing Faithful had gotten into his head. Certainly, there was room in there. (Not entirely a joke: The dope's head is
huge
.) But, eventually, it was revealed that he was a steroid user. Which explains a lot of things.
He did pitch for the Atlanta Braves in the 1999 World Series, after pitching against the Mets in the NLCS. But here's the difference: The Mets and their fans
talked
about how they wanted to beat him (justifiably so), while the Yankees actually
did
it.
He last pitched in the majors for the 2003 Tampa Bay Devil Rays, and recently published -- I won't say "wrote" -- a memoir,
Scars and Strikes
. He also produces (again, I won't say "writes") a column for
WorldNetDaily
, the right-wing loon website also known as World Nut Daily. On the plus side, he does work as director of public affairs for an organization called Save Homeless Veterans.
October 17, 1976:
Game 1 of the World Series. It is the Yankees' 1st Series game in 12 years. It doesn't go so well: They're tied 1-1 in the bottom of the 3rd, but Joe Morgan hits a home run off Doyle Alexander, and Don Gullett handcuffs the Yankees the rest of the way, as the Cincinnati Reds, defending World Champions, win 5-1.
October 17, 1977:

Luís André de Pina Cabral e Villas-Boas

is born in Porto, Portugal. Known professionally as

André Villas-Boas, and nicknamed AVB,

he is, in a manner of speaking, a Portuguese nobleman, the great-grandson of the

1st Vicount of Guilhomil. But he also has English ancestry, as a grandmother came from Stockport, outside Manchester, and he has always spoken fluent English.
Unlike most managers of soccer teams, he never played the game professionally. But in 1994, he discovered that Bobby Robson, the legendary English manager then running FC Porto, was living in the same apartment complex. They became friends, and Robson helped him get into position to earn his coaching license. When AVB was ready, he was hired as an assistant at Porto by one of Robson's former assistants, Jose Mourinho. AVB followed Jose to Chelsea in London and Internazionale in Milan.
In 2009, AVB was hired for his 1st managerial job, at Portuguese club

Académica de Coimbra. He was then hired at Porto, and won the League and Cup Double, and the Europa League, in 2011. He was hired to manage Chelsea, but flopped. He was hired to manage Tottenham, but flopped. It is now generally believed that he can't handle the English game. Last season, he managed Zenit St. Petersburg to the Russian Premier League title.
October 17, 1978:
The Yankees complete their last of many comebacks in this amazing season, taking Game 6, 7-2 at Dodger Stadium, and winning their 22nd World Championship, their 2nd in a row, having taken the last 4 games after dropping the first 2.
Reggie Jackson has his chance for revenge over Dodger rookie Bob Welch for striking him out with the bases loaded to end Game 2, and his revenge goes to right field, halfway to the San Gabriel Mountains.
Both halves of the Yankee double-play combination, Bucky Dent and Brian Doyle (subbing for the injured Willie Randolph) collect 3 hits. Dent batted .417 for the Series and is named MVP, capping a month that began with his Playoff homer over Boston. Doyle bats .438, and, along with 3rd base wizard Graig Nettles and reliever Goose Gossage, also makes a pretty good case for Series MVP.
Jim "Catfish" Hunter, hurting and apparently finished earlier in the season, completes his late-season renaissance, starting and winning. The final out is Gossage popping up Ron Cey behind home plate, where Thurman Munson catches it. The Goose thus becomes the 1st pitcher to nail down the final out of a Division clincher, a Pennant clincher, and a World Series clincher in the same season.
This remains my favorite single-season sports team of all time, as it was the first baseball season I was really old enough to "get" what was happening. I was aware of the 1977 title, but I didn't really comprehend what the Yankees had to overcome to win it.
Unfortunately, as with the year before, my parents waited until the Yankees were winning, and then sent me to bed, so I didn't see it. Despite being a fan of the greatest franchise in the history of sports, I was almost 27 years old before I saw my favorite team win a World Series while it was actually happening. And I don't think it was until that 1996 Series that I got over that fact.
The next season, 1979, Munson was killed in a plane crash. As stated with the 1974 entry, Jim "Catfish" Hunter died of Lou Gehrig's Disease in 1999. Jim Spencer died of a heart attack in 2002. Paul Lindblad died of early-onset Alzhheimer's disease in 2006. And Paul Blair died of a heart attack in 2013.
The other 20 players on the '78 Yanks' World Series roster are still alive: Reggie Jackson, Goose Gossage, Ron Guidry, Willie Randolph, Roy White, Graig Nettles, Chris Chambliss, Lou Piniella, Mickey Rivers, Bucky Dent, Ed Figueroa, Sparky Lyle, Dick Tidrow, Cliff Johnson, Fred Stanley, Ken Clay, Brian Doyle, Jim Beattie, Gary Thomasson, Jay Johnstone and Mike Heath.
October 17, 1979:
As in 1971, the Pittsburgh Pirates win the World Series by beating the Baltimore Orioles in Game 7 at Memorial Stadium, winning 4-1 to complete a comeback from 3 games to 1 down.
Willie Stargell, the 1st baseman known as "Pops" not just for his age (39) but because of his playing of Sister Sledge's hit disco song "We Are Family," hits his 3rd homer of the Series, and is named Series MVP, after having also been named MVP of the NLCS. After the season, it will be announced that there is a tie vote for the regular-season MVP, between Stargell and the NL's batting champion, St. Louis Cardinal 1st baseman Keith Hernandez. Stargell becomes the 1st man, and remains the only one, ever to sweep the regular season, LCS and World Series MVPs in a single season.
Stargell, pitcher Bruce Kison and catcher Manny Sanguillen are the only players to have played for the Pirates in both the '71 and the '79 Series, although Sanguillen had left and since returned.
For the only time in his Presidency, Jimmy Carter attends a Major League Baseball game, and he picks a good one. He throws out the ceremonial first ball, and is among those congratulating the Pirates in the locker room afterward.
But in the 35 years since -- nearly 2 full generations -- the Pirates have never won another Pennant, though they reached Game 7 of the NLCS in 1991 and '92, losing to the Atlanta Braves both times. The Steelers have since won 3 Super Bowls and appeared in 2 others; the Penguins have reached the Stanley Cup Finals 4 times, winning 3; and the University of Pittsburgh football team has won some bowl games and has usually a contender for their conference title (formerly the Big East, now the Atlantic Coast Conference).
The Pirates? After 21 years out of the postseason, they've made for 3 straight seasons, but, so far, they can't get beyond the NLDS. So they're still waiting for the next generation of the Family to make good.
*
October 17, 1982:
Robin Yount records his 2nd 4-hit game of the World Series to lead the Brewers to a 6-4 win in Game 5 at County Stadium, and give Milwaukee a 3-2 lead overall. Yount is the first player ever to have two 4-hit games in one World Series.
This night is the high-water mark of the Brewers franchise: Not only is this the closest they have ever gotten to winning a World Series, but they have never won a World Series game since.
October 17, 1985, 30 years ago:
George Steinbrenner fires Billy Martin as Yankee manager for the 4th time. He replaces him with Lou Piniella. He'll fire Lou after the 1987 season, and replace him with Billy Martin. He'll fire Billy for a 5th time in the middle of the next season, and replace him with Lou. Feel free to do a facepalm, or even a headdesk.
October 17, 1987:
In the 1st indoor World Series game ever, at the Hubert H. Humphrey Metrodome in Minneapolis' Dan Gladden's grand slam caps a 7-run 4th inning and leads the Twins to a 10-1 win over the St. Louis Cardinals in Game 1. It is the 1st World Series grand slam since 1970.
October 17, 1989:
Billy Joel releases his album
Storm Front
. It includes his Number 1 hit, the history lesson "We Didn't Start the Fire." It mentions baseball figures Joe DiMaggio, Roy Campanella, the 1955 Dodgers, Mickey Mantle, and the Dodgers' and Giants' 1957 move to California. But no other sports, and no later sports moments, not even the Mets' 1969 "Miracle" or Joe Namath' Super Bowl guarantee the next year.
In an interview, he said he had the song all ready to be recorded when the Tienanmen Square Massacre happened, and he had to change it at the last minute. "Think of everything I'd have to write about Eastern Europe now."
One thing he couldn't have foreseen was an earthquake at the World Series, which also happened on this day.
Game 3 of the World Series, the 1st ever between the 2 teams of the San Francisco Bay Area, the San Francisco Giants and the Oakland Athletics. The A's have a 2 games to none lead.
At 5:04 PM Pacific Time -- 8:04 Eastern Time -- ABC is showing highlights of Game 2 when the screen flickers. The ground starts shaking. In ABC's broadcast booth at Candlestick Park are Al Michaels, Jim Palmer and Tim McCarver. Michaels, who had lived in California, figured out what was happening, and said, "I'll tell you what, we're having an earth-- "
And the screen goes black. ABC puts a "Please Stand By" card up. A few minutes later, audio is restored, although video takes a little longer, and Michaels explains that there was, indeed, an earthquake.
The official World Series highlight film shows fans at Candlestick reacting with a sense of fun, since nobody inside the ballpark got hurt. One fan, who'd brought white cardboard panels and magic markers to make up signs on the spot, had on one side, "That was nothing, wait till the Giants bat," and on the other, a jagged line, supposed to be a quake-caused crack, and, "Welcome to Candlestick."
Back in the Giants clubhouse, Giant legend Willie Mays, who had been introduced as part of the pregame ceremony, said, "That's the first time I've ever been scared in Candlestick. I've been knocked down a lot, but that's the first time I was scared." Asked why, he said, "The ground was shaking, man!"
But, on the highlight film, the camera then shifts to a man in a Giants cap with headphones on, and he develops a look that shows he's just found out how serious the situation really is. There are fires all over the city. Many houses in the Marina District are burning. A section of the upper level of the San Francisco-Oakland Bay Bridge has collapsed onto the lower level, killing 3 people. Worst of all, a section of the double-decked Nimitz Freeway, Interstate 880, has collapsed in Oakland, killing several.
The quake registers a magnitude of 7.1 on the Richter scale. At first' it's believed that over 200 people were killed. When everyone is accounted for, it is determined that the quake killed 67 people, and did $7 billion in damage -- about $13.4 billion in today's money.
Commissioner Fay Vincent has Candlestick evacuated, and the remainder of the Series postponed. Everyone was lucky: The stadium then had a baseball seating capacity of 62,000, and if it had collapsed, or even if a part of the stadium had collapsed, the death toll almost certainly would have exceeded the nearly 3,000 in the World Trade Center attacks of 12 years later. But Candlestick Park, the most maligned venue in the history of North American sports, held firm, with only a few small concrete chunks dislodged. In the San Francisco Bay Area's darkest hour since the 1906 earthquake and fire, The 'Stick did its duty, and saved lives.
It would be 10 days before the Series was resumed, and 12 rescue workers -- 6 from San Francisco, 6 from Oakland -- were chosen to throw out ceremonial first pitches.
*
October 17, 1991:
The Braves advance to the World Series for the 1st time since their move to Atlanta – for the 1st time since they were in Milwaukee in 1958 – with John Smoltz leading the way with a 6-hit' 4-0 shutout.
The Pirates fail to score in the last 22 innings of the series. Steve Avery is named the MVP of the NLCS. Worst of all, for this Pennant-deciding game, only 46,932 fans come out to the 58,729-seat Three Rivers Stadium. That's a disgrace for such a good sports city as Pittsburgh.
October 17, 1992:
In the 1st-ever World Series game involving a team from outside the U.S., the Atlanta Braves defeat the Toronto Blue Jays, 3-1. Catcher Damon Berryhill hits a 3-run homer in the 6th inning.
The pitching matchup of Tom Glavine and Jack Morris is the 1st time that a pair of 20-game winners starts the opening game of a World Series since 1969. Glavine goes all the way for the win' while Joe Carter homers for the only Toronto run.
October 17, 1995, 20 years ago:
The Cleveland Indians shut out the Seattle Mariners' 4-0' behind the pitching of Dennis Martinez' Julian Tavarez' and Jose Mesa' to clinch their 1st Pennant in 41 years.
To give you an idea of how long that was: This game was played at the Kingdome in Seattle, and the Indians were moving on to play the Atlanta Braves; in 1954, the last time the Indians won a Pennant, the Braves had just moved from Boston to Milwaukee, Seattle was home to a minor-league team (which had, not that much earlier, been one of Cleveland's farm teams and named the Seattle Indians), and the only person thinking much about a fully-roofed stadium for traditionally outdoor sports was Walter O'Malley, owner of the Brooklyn Dodgers, who had just proposed a new home for Dem Bums, what he called the Brooklyn Sports Center and others mocked, not as an engineering or architectural impossibility, but as a monument to O'Malley's greed and self-promotion, as "O'Malley's Pleasure Dome." (Which, of course, ended up never being built; when O'Malley finally got his stadium, it was across the country, and looked like a baseball stadium.)
October 17, 1996:
The Yankees finally find out who they'll be playing in their 1st World Series in 15 years. The Braves complete their comeback from being 3 games to 1 down in the NLCS' winning their 3rd in a row' 15-0' to defeat the Cardinals and win the NL Pennant. Homers by Fred McGriff' Javy Lopez' and Andruw Jones support the shutout pitching of Tom Glavine.
October 17, 1998:
Game 1 of the World Series at Yankee Stadium, the way God intended it. Down 5-2 in the bottom of the 7th, the Yankees explode for 7 runs to blow away the Padres' 9-6.
Chuck Knoblauch completes his redemption from his ALCS Game 2 "brainlauch" with a 3-run homer in the inning to tie it' off Padre starter Kevin Brown, who had a reputation as a "Yankee Killer" while pitching for the Texas Rangers. (Yankee Killer? We hadn't seen nothin' yet.)
Then, after reliever Mark Langston (himself rather successful against the Yankees while pitching for the Mariners and Angels) loads the bases, Tino Martinez, who's also been struggling lately, comes up. With a 2-2 count, Langston throws a pitch that's juuuust low. To this day, Padre fans will say that it was strike 3, and Tino should have been called out, and that this "fixed" the Series for the Yankees.
Now, we Yankee Fans don't have much reason to get upset with Padres fans, but if you blow a 3-run lead in the 7th inning of a World Series game, you don't deserve to win the Series. Tino takes the full-count pitch, and cranks it into the upper deck in right field for a grand slam. San Diego native David Wells notches the win against his hometown team.
October 17, 1999:
The Mets edge the Braves in a 15-inning thriller at Shea' 4-3' to move within 1 game of Atlanta in their NLCS. Robin Ventura's grand slam in the bottom half of the 15th wins it' but his Met teammates mob him before he can reach 2nd base. He never completes his round of the bases, and so he gets credit for a single instead of a home run.
The Braves leave a postseason-record 19 players on base in the contest. The Mets use 9 pitchers in the game' with rookie Octavio Dotel getting the win. No "Heartbreak Dotel" in this game.
No, if it's heartbreak you're looking for, head up to Fenway Park. The Yankees defeat the Red Sox' 9-2' to take a 3-games-to-1 lead in the ALCS. Andy Pettitte gets the victory for New York' with home run support from Darryl Strawberry and Ricky Ledee.
It was only 3-2 Yankees going into the top of the 8th, but the Boston bullpen (Ledee hits a grand slam off Rod Beck) and defense collapse – some would say aided by some poor umpiring. The Sox fans, angry about the calls, throw garbage onto the field in the 9th, for about five minutes until the umpires get the public-address announcer to ask the fans to stop or else the game will be forfeited.
But with all the errors the Sox have been making, and with all the bullpen failure, Sox fans have no one to blame but their own players. For years, I'd heard Boston described as "the Athens of America," and Red Sox fans described as the most knowledgable in baseball. This proved both a lie. Even Tony Massarotti, then writing for the
Boston Herald
, ripped the Fenway faithful, saying that this was not the Curse of the Bambino, but "the Torment of the Drunks."
Also on this day, the Staples Center opens in Los Angeles. The home ever since of the Los Angeles Lakers, Clippers and Kings, the 1st event is a concert by Bruce Springsteen & the E Street Band.
*
October 17, 2000:
The Yankees defeat the Mariners' 9-7 at Yankee Stadium' to win the ALCS and their 37th AL Pennant. David Justice's 3-run homer in the 7th inning gives New York a lead it never relinquishes. Justice wins the ALCS MVP award. Seattle catcher Dan Wilson's single breaks his 0-for-42 hitless streak' the longest ever in postseason history.
Since the Mets have already wrapped up the NL Pennant, New York will have its first Subway Series in 44 years.
One positive note for the Mariners: With an opposite-field single, catcher Dan Wilson snaps his 0-for-42 skid, the longest hitless streak in postseason history. Marv Owen had gone 0-for-31 in the 1934 and 1935 World Series playing for the Tigers.
Also on this day, Leo Nomellini dies at the age of 76. A Hall of Fame defensive end, the San Francisco 49ers had retired his Number 73, He was named to the NFL's 50th Anniversary All-Time Team and its All-Decade Team for the 1950s. He had also been a champion professional wrestler.
October 17, 2003:
It was 12:16 AM when Aaron Boone became the newest in a long list of unlikely postseason heroes for the Yankees. But aside from another homer that turned out to be meaningless, he barely hit in the World Series against the Florida Marlins, and in the offseason he injured his knee so badly he'd be out for the 2004 season. So the Yankees got Alex Rodriguez. How did that turn out? Uh, well, 1 title so far.
Early editions of the October 17
New York P
ost
include an editorial claiming the Yankees lost to Boston and couldn't get the job done in Game 7 of the ALCS. Way to go,
Murdoch Post
, showing your usual quality control and/or honesty.
October 17, 2004:
The Red Sox stay alive in the ALCS with a 6-4' 12-inning win over the Yankees. David Ortiz's 2-run walkoff homer wins it in the 12th after the Sox tied the score off Mariano Rivera in the 9th, with a walk by Kevin Millar, pinch-runner Dave Roberts' steal of 2nd, and Bill Mueller singling him home with the tying run. Ortiz drives home 4 runs for Boston' while Alex Rodriguez homers for New York – his last positive contribution to a Yankee postseason effort for 5 years. (Millahhhh? Mueller? Ortiz? Cough-steroids-cough.)
The Sox jumped on Ortiz as if they'd just won not just 1 ALCS game, but the World Series. They had good reason to call themselves "Idiots." Aw, what the heck, it's only 1 game, right? The Yankees will wrap up the Pennant tomorrow, right?
It took the Yankees 5 more years to wrap up their next Pennant.
On this same day, in Game 4 of the NLCS at Minute Maid Park, Carlos Beltran goes deep in the 7th inning, giving the Astros an eventual 6-5 victory over the Cardinals. With the round-tripper, the Houston center fielder sets a new postseason record, hitting a homer in 5 consecutive postseason games, and ties Barry Bonds' 2002 mark with a total of 8 postseason homers.
This gives Beltran a reputation as a postseason star. That reputation will be shattered in 2006. It's now 2015, and that reputation hasn't gotten any better.
October 17, 2005, 10 years ago:
Albert Pujols' 3-run homer off Brad Lidge, practically smashing through the outer wall beyond left field at Minute Maid Park, with 2 outs in the 9th inning gives the Cardinals a 5-4 comeback win over the Astros and keeps their Pennant hopes alive. Lance Berkman's 3-run homer in the 7th had given Houston a 4-2 lead. The Astros still lead the Series' 3 games to 2. Jason Isringhausen gets the win in relief for St. Louis.
Legend has it that Lidge was never the same after giving up this mammoth home run, but his performance for the Phillies since 2008 proved that not to be true.
October 17, 2008:
Levi Stubbs, lead singer of the Four Tops and the voice of Audrey II in the film version of
Little Shop of Horrors
dies of cancer. He was 72.
As far as I know, he had nothing to do with sports. I'm just mentioning him to set up this question: Why do I watch sports, when it costs me so much time, money and energy? 'Cause, sugar pie, honey bunch, I'm weaker than a man should be. I can't help myself.
October 17, 2009:
Game 2 of the ALCS at the new Yankee Stadium. The Yankees fall behind the Los Angeles Angels of Anaheim in the top of the 11th inning. But, through raindrops, Alex Rodriguez continues the one postseason hot streak of his career, extending the game.
In the bottom of the 13th, Cesar Izturis commits an error that allows Melky Cabrera to reach base and Jerry Hairston Jr. to score, and the Yankees win 4-3, and take a 2 games to none lead in the series.