This Saturday night, the
New Jersey Devils travel to the capital of the hockey world. Detroit may call itself Hockeytown, but the real hockeytown is Montreal, Quebec, Canada.
We, as Devils fans, owe the Montreal Canadiens so much. A huge part of our 1st Stanley Cup win, in 1995, came from the Canadiens:
* Head coach Jacques Lemaire was a Canadiens Hall-of-Famer.
* So was assistant coach Larry Robinson, who coached our 2000 Cup win.
* Claude Lemieux was a member of the Canadiens' 1986 Cup win.
* So was Stephane Richer.
* Tom Chorske had also played for the Canadiens.
* And, of course, Martin Brodeur was not only a Montreal native, but was the son of Denis Brodeur, son of the team photographer for the Canadiens and baseball's Montreal Expos.
Our 3rd Cup win was coached by Pat Burns, former Canadiens head coach, and former Montreal cop. So all 3 of our Cup-winning head coaches were Canadiens. Another Canadiens Hall-of-Famer, Jacques Laperriere, has coached and scouted in our system the last few years.
More than that, the Canadiens practically invented modern hockey, and through most of the 20th Century, they kept bringing it forward with legend after legend.
And, of course, this is the most knowledgeable and passionate fanbase in the game. And not having won the Cup for 22 years (easily a record for them) has, amazingly, not left them bitter. I've only seen one live NHL game in Montreal (not against the Devils), and they couldn't have been more hospitable.
A Canadiens home game is something every hockey fan should take in at least once -- even if it means root, root, rooting against the home team.
Before You Go.
This is Canada, the Great White North, so while the arena will be nice and warm, outside, particularly in the heart of winter, could well be miserable, especially if the wind is blasting off the St. Lawrence River, which is roughly as wide as the Hudson and the Passaic. In other words, brrrrrrrr!
According to the Montreal Gazette website, they're predicting -13 degrees for Saturday afternoon -- that's Celsius. 13 below, Celsius is 9 above, Fahrenheit. So while it's not as cold as it sounds, it's still pretty damn cold. As for the nighttime temperature, that is projected at -25 -- which is 13 below, Fahrenheit! Sainte merde! (That's French for "Holy shit!")
Now you know why Canadians call hockey jerseys "sweaters": Originally, they really were sweaters and they needed them to play hockey outside. Bundle up! T-shirt, regular shirt over that, your Devils jersey over that, and a heavy winter jacket over that! A hat (including a Devils cap) may not be enough, so make sure your heavy winter jacket has a hood. Make sure you have g
ood gloves.
And earmuffs. As a survivor of frostbitten ears, I am not kidding about this: Your ears will thank you in the middle of this subzero insanity. At least no one will ever again (if they still do now) be able to honestly say you haven't suffered for your team!
Being in a foreign country has its particular challenges -- and, yes, for all its similarities to America, Canada is still a foreign country. The French influence makes it more
foreign even than Toronto, the only city and metropolitan area in Canada with more people.
Make sure you call your bank and tell them you're going. After all, Canada may be an English-speaking country (at least co-officially, with French, although Quebec is French-first), and a democracy (if a parliamentary one), and a country with teams in America's major leagues, but it is still a foreign country. If your bank gets a record of your ATM card making a withdrawal from any country other than the U.S., it may freeze the card, and any other accounts you may have with them. So be sure to let them know that you will, in fact, be in Canada for a little while.
As of June 1, 2009, you have to have a valid, up-to-date passport to cross the U.S.-Canadian border. You should also bring your driver's license (or other State-issued photo ID). If you don't have a valid passport, you will need a valid photo ID and a copy of your birth certificate.
This is not something you want to mess with. Canadian Customs officials do not fuck around: They care about their national security, too.
Do yourself another big favor: Change your money
before
you go. There are plenty of currency exchanges in New York City, including one on 42nd Street between 7th and 8th Avenue. There are also a few in New Jersey: Travelex has exchange centers at Newark Liberty International Airport, and at 4 malls: Garden Sate Plaza in Paramus,
Jersey Gardens in Elizabeth, Menlo Park Mall in Edison and Bridgewater Commons.
Leave yourself $50 in U.S. cash, especially if you're going other than by plane, so you'll have cash on your side of the border. I was actually in Montreal on the day when it most favored the U.S.: January 18, 2002, 1.60 to 1.00 in our favor. As of Wednesday morning, February 4, US$1.00 = C$1.24, and C$1.00 = US 81 cents.
The multi-colored bills were confusing on my first visit, although we have those now, too:
* The $5 is blue, and features Wilfrid Laurier, Prime Minister, 1896-1911.
* The $10 is purple, and features John A. Macdonald, the 1st Prime Minister, 1867-1873 and again 1878-1891. The nation just celebrated the Bicentennial of his birth (1815). Essentially he's their George Washington, without having fought a war for independence.
* The $20 is green, and features the nation's head of state, Britain's Queen Elizabeth II.
* The $50 is red, and features William Lyon Mackenzie King, the longest-serving Prime Minister, 1921-1926, 1926-1930, 1935-1948, including World War II.
* And the $100 is yellow, and features Robert Borden, Prime Minister 1911-1920, including World War I.
The tricky part is going to be the

coins

– and you'll thank me for telling you this, but keep your U.S. coins and your Canadian coins separate, for the simple reason that their penny, nickel, dime and quarter are all the same colors and just about the same size as our respective coins. (To make matters more confusing, as we recently did with our States, they had a Provincial quarter series.)
All coins have Queen Elizabeth's portrait on the front, as the monarch of Great Britain remains the monarch of all British Commonwealth nations, including Canada. But she's been Queen since 1952, and depending on how old the coin is, you might get a young woman, or her current 88-year-old self, or anything in between. You might even get a penny or a nickel old enough to feature her father, King George VI. Such a coin is still legal tender, however.

On the backs, the penny has maple leaves, the nickel a beaver, the dime a sailboat, and the quarter an elk.
They have a $1 coin, copper-colored, bigger than a quarter, and 11-sided, with a bird on the back. This bird is a loon – not to be confused with the people lunatic enough to buy

Maple

Leafs season tickets. The coin is thus called the "loonie," although they don't say "ten loonies": They use "buck" for "dollar" the way we would. In fact, the term is connected to Canada: Their first English settlers were the Hudson's Bay Company, and they set the value of a dollar to the price of the pelt of a male beaver, the male of the species being called, as are those of a deer and a rabbit, a buck. (And the female, a doe.) The nation's French-speakers (Francophones) use the French word for loon, and call it a "huard."
Then there's the $2 coin, or "toonie." It's not just two dollars, it's two-toned, and even two-piece. It's got a copper center, with the Queen on the front and a polar bear on the back, and a nickel ring around it. This coin is about the size of the Eisenhower silver dollars we used to have. This is the coin that drives me bonkers when I'm up there.



My suggestion is that, when you first get your money changed before you begin your trip, ask for $1 coins but no $2 coins. It's just simpler. I like Canada a lot, but their money, yikes, eh?

Montreal is in the Eastern Time Zone, so you won't have to fiddle with your timepieces. And while a working knowledge of French will help considerably, it is not necessary: Just about everybody in Montreal understands and speaks English. And most signs shouldn't be too hard to read, as they'll look like the signs in the U.S. (EXIT signs read SORTIE but look like EXIT signs, STOP signs are still eight-sided and red, etc.)
However, from experience, I can tell you this: As Quebec is Francophone, if you check your phone messages, your signal may get beamed to a Canadian satellite, and you may hear your message in French. And, if you don't understand spoken French, that could be a problem.
Tickets.
The Bell Centre seats 21,273, and the attendance at every Canadiens home game since it opened in 1996 has been 21,273. Nevertheless, as I write this, there are still tickets available through the Canadiens' website. Note that these prices are in Canadian dollars.
At the Montreal Forum, the lower bowl seats were red, the mezzanine seats were white and the balcony seats were blue. At the Bell Centre, this color (or, as they would spell it, "colour") scheme more or less holds. All the lower bowl seats, the 100 sections, are red; and run from $141 to $214. The 300 sections have white seats, and the ones that are left run $90. The 400 sections have gray seats in front, costing $85 when available (for this game, they are sold out), and blue seats in back, which are running at $75. The 200 sections, which have white seats, are club seats, so forget that.
Getting There.
The best way is by plane. Air Canada runs flights out of Newark Liberty, John F. Kennedy and LaGuardia International Airport, and the flight to Montreal's Pierre Elliott Trudeau International Airport (named for the Montreal native who was Prime Minister almost continuously from 1968 to 1984) takes about an hour and a half. Book on Air Canada today, and you can get a round-trip flight for around US$1,200. Most American carriers will cost roughly the same, but getting a nonstop flight will be harder. From the airport, at the western edge of the city, a bus (appropriately, Number 747) will take about half an hour to get downtown.
Greyhound runs 5 buses a day from Port Authority Bus Terminal to Autobus Greyhound, at 1717 Rue Berri at Boulevard de Maisonneuve. (Countries in the British Commonwealth, including Canada, call a local bus a bus and an inter-city bus a "coach.") The ride averages about 8 hours, and is $143 round-trip -- although an advance purchase can drop it to $102. The terminal is big and clean, and you shouldn't have any difficulties with it. If you made the mistake of not changing your money yet, there is an exchange window there. It's got a stairway leading to the Berri-UQAM (University of Quebec at Montreal) Metro station.
Amtrak, however, runs just one train, the
Adirondack
, in each direction each day between New York and Montreal, in cooperation with Canada's equivalent, VIA Rail. This train leaves Pennsylvania Station at 8:15 AM and arrives at Gare Centrale (Central Station) at 7:06 PM, a trip of 10 hours and 51 minutes. The return trip leaves Montreal at 9:30 AM and gets back to Penn Station at 8:35 PM. And since Saturday night's game starts at 7:00, you'd have to take the trip on Friday to get there on time, and spend not 1 but 2 nights in a hotel.
So, while Gare Centrale, bounded by Rue de la Gauchetiere, Rue University, Rue Belmont and Rue Mansfield, is in
the heart of the city
, taking Amtrak/VIA to Montreal is not particularly convenient. Especially since the Adirondack, with its views of the Hudson River and Lake Champlain,
is one of Amtrak's most popular routes, and it could sell out. If you still want to try it, it's US$144 round-trip.
If you're driving, it's 367 miles from Times Square to downtown Montreal. It's the same distance from the Prudential Center to the Bell Center. If you live close to the Garden State Parkway, take it across the State Line to the New York State Thruway, Interstate 87. If you live near New Jersey Route 17, take that up to the Thruway. Same with Interstate 287. Once you get to the Thruway/I-87, remain on it through Albany, after which it becomes the Adirondack Northway, all the way up to the border.
When you get to the border, y
ou'll be asked your citizenship, and you'll have to show your passport and your photo ID. You'll be asked why you're visiting Canada. Seeing a Devils vs. Canadiens game probably won't (but might) get you a smart-aleck remark about how the Habs are going to win, but they won't keep you out of their country based on that alone.
If you're bringing a computer with you (counting a laptop, but probably not counting a smartphone), you don't have to mention it, but you probably should. Chances are, you won't be carrying a large amount of food or plants; if you were, depending on how much, you might have to declare them.
Chances are, you won't be bringing alcohol into the country, but you can bring in ONE of the following items duty-free, and anything above or in addition to this must have duty paid on it: 1.5 litres (53 ounces) of wine, or 8.5 litres (300 ounces or 9.375 quarts) of beer or ale, or 1.14 litres (40 ounces) of hard liquor. If you have the slightest suspicion that I'm getting any of these numbers wrong, check the Canada Customs website. Better yet, don't bring booze in. Or out.
As for tobacco, well, you shouldn't use it. But, either way over the border, you can bring up to 200 cigarettes, 50 cigars, and 200 grams (7 ounces) of manufactured tobacco. What you cannot bring from Canada back into the U.S. is Cuban-made cigars. They are still illegal to even possess in the U.S. (President Obama's move to liberalize relations with Cuba does not yet include removing that restriction. So if he is a Communist or a Socialist, that's yet another reason why he's not very good at it.)
If you've got anything in your car (or, if going by bus or train, in your luggage) that could be considered a weapon, even if it's a disposable razor or nail clippers, tell them. And while Canada does have laws that allow you to bring in firearms if you're a licensed hunter (you'd have to apply for a license to the Province where you plan to hunt), the country has the proper attitude concerning guns: They hate them. They go absolutely batshit insane if you try to bring a firearm into their country. Which, if you're sane, is actually the sane way to treat the issue.
You think I'm being ridiculous? How about this: Of the 44 U.S. Presidents -- 9 counting the Roosevelts, Theodore after he was President and Franklin right before -- 7 have faced assassins with guns, 6 got hit and 4 died; but none of the 22 people (including 1 woman) to serve as Prime Minister of Canada has ever faced an assassination attempt. John Lennon recorded "Give Peace a Chance" in Montreal and gave his first "solo concert" in Toronto, but he got shot and killed in New York. In fact, the next time I visit, I half-expect to see a bumper sticker that says, "GUNS DON'T KILL PEOPLE, AMERICANS WITH GUNS KILL PEOPLE."
(Another note about weapons: I'm a fan of the TV show
NCIS
, which airs in Canada on Global Network TV. If you are also a fan of this show, and you usually observe Gibbs Rule Number 9, "Never go anywhere without a knife," this time, forget it, and leave it at home. If you really think you're going to need it -- as a tool -- mention the knife to the border guard, and show it to him, and tell him you have it to use as a tool in case of emergency, and that you do not plan to use it as a weapon. Do
not
mention the words "Rule Number 9" or quote said rule, or else he'll observe
his
Rule Number 1: Do not let this jackass into your country, eh?)
And if you can speak French, don't try to impress the Customs officials with it. The locals might appreciate that you're trying to speak to them in their primary language, but they won't be especially impressed by any ability to speak it, and any such ability won't make it any easier for you to get through Customs.
When crossing back into the U.S., in addition to what you would have to declare on the way in (if you still have any of it), you would have to declare items you purchased and are carrying with you upon return, items you bought in duty-free shops or (if you flew) on the plane, and items you intend to sell or use in your business, including business merchandise that you took out of the United States on your trip. There are other things, but, since you're just going for hockey, they probably won't apply to you. Just in case, check the Canadian Customs website I linked to above.
After going through Customs, I-87 will become Autoroute 15, which will take you right into the Montreal area. If you're going to a downtown hotel, take Exit 53 to Pont Champlain (the Champlain Bridge), which will take you to Autoroute 10, the Bonaventre Expressway, across the St. Lawrence River and right into downtown -- or, as they say, Centre-ville.
If you make 2 rest stops – I would recommend at or near Albany, and count Customs, where they will have a restroom and vending machines – and if you don't do anything stupid at Customs, such as fail to produce your passport, or flash a weapon, or say you watch
South Park
(a show with a vendetta against Canada for some reason), or say anything unkind about the late Maurice "Rocket" Richard, the trip should take about 8 hours.
Though that could become 9, because Montreal traffic is pretty bad, though not as bad as Toronto, which is every bit as bad as traffic in New York, Boston and Washington. As Canada native (Regina, Saskatchewan) Leslie Nielsen would say, I am serious, and don't call me Shirley: Toronto traffic is awful.
Once In the City.

Montreal is one of the oldest cities in North America, founded by France in 1642. Seeing a big hill in the middle of the island will tell you where the name came from: "Mont Real," "Royal Mountain." In some instances, things in the city are spelled as "Mont Royal."
With 1.7 million people, Montreal has more people than any American city except New York, Los Angeles, Chicago and Houston.
There are
3.8 million people in the metro area.
Since Canada is in the British Commonwealth, there are certain subtle differences.
Dates are written not as Month/Day/Year, as we do it, but as Day/Month/Year as in Britain and in Europe. So while we would write the date of the game as "February 7, 2015," they would write it as "7 February 2015." Not 2/7/15, but 7/2/15. They also follow British custom in writing time: A game starting at 7:00 PM would be listed as 1900. (Those of you who have served in the military, you will recognize this as, in the words of
M*A*S*H
's Lt. Col. Henry Blake, "all that hundred-hours stuff.")
And every word we would end with -or, they will end wit -our; and some (but not all) words that we would end with -er, they end with -re, as in "Rogers Centre."
Every measurement will be in the metric system: Temperatures will be in Celsius, not Fahrenheit; distances will be in "kilometres" (including speed limits), and gas prices will be per "litre," not per gallon.
Speaking of which: G
as prices will be not just in Canadian dollars, but will be per "litre." o if you see "103.9," which is the current average price I'm seeing online for Montreal, that's not US$1.03 & 9/10ths per gallon, that's C$1.04 per liter. Which works out to about US$3.17 per gallon. So, if you're driving, get your gas here in New Jersey, where it's currently running about $1.75 (a little over half what it is in Montreal right now).
When you arrive, I would recommend buying The Gazette and The Globe and Mail. The former newspaper is the city's predominant English-language paper, the latter is national, and both are liberal enough to suit my sensibilities (or, should I say, sensible enough to suit my liberalism). And

The Gazette

has a very good sports section, and does a superb job covering the Canadiens, and nearby minor-league, collegiate and "junior" hockey teams no matter what time of year it is.
I would advise against buying French-language papers like La Presse, Le Journal de Montreal and Le Devoir -- The Press, The Journal, and The Duty -- unless you really know French cold. Especially since Le Devoir is the paper of Quebec nationalism and even separatism. If The Gazette and The Globe and Mail are too liberal for you, The National Post may be more to your liking. Either the bus or the train terminal will have out-of-town papers, including The New York Times, and possibly also the Daily News or the Post.
Like New York, Montreal is a city of islands, with a a main island in the center -- except, unlike Manhattan, you can't cross a State Line (or, in this case, a Province Line) by going over a bridge or into a tunnel. Like New York, Montreal is international and multiethnic: In spite of French being the largest ethnic group, there are significant Irish, Italian and Jewish communities, and, for linguistic reasons, a large and growing community of immigrants from France's former African colonies.
Montreal doesn't really have a centerpoint -- centrepoint? pointe du centre? To make matters even more confusing, while they have East and West (Est et Ouest) on street names, like Manhattan, the main island is not perfectly north-south. Indeed, it's actually more than a 45-degree angle, so what's east is more north, and what's west is more south. Boulevard St-Laurent, known as The Main in English and Le Main (pronounced "leh man" in French), is the official east-west divider, where the address numbers on each side start at 1, while the river is the starting point for north-south-running streets.
The further west you go in the city, the more likely you are to hear English; the further east, the more likely you will be to hear only French. In fact, in Montreal's East End, you might see several buildings flying only the Provincial flag, the
Fleurdelyse
, the blue flag with the white cross and the white lilies in the cantons. These people who fly only the Provincial flag, not the red-white-red tricolor with the red Maple Leaf in the center, are separatists, who consider Quebec a separate nation and want Anglophone Canada to "Let my people go." The separatist tide has faded since the nearly successful referendum of October 30, 1995, but there is still strong separatist sentiment in the East End, and this increases the closer you get to the Provincial capital, Quebec City.
Roger Doucet, an opera singer who sang the National Anthem at Expos and Canadiens games in the 1970s before his death from cancer in 1981, would acknowledge this divide: He would begin the anthem in French, and face the east side of of Parc Jarry, Stade Olympique or the Forum; then, in mid-song, turn and face the west side of the structure, and conclude in English.
Montreal
has a subway, opened in 1966 and known as "Le Metro," just like that of Paris. When I first visited, they didn't use tokens or farecards. They used actual tickets. Very small tickets, an inch by an inch and a half. Thankfully, they now use a farecard, called an Opus Card. The Societe de transport de Montreal charges $3.25 for 1 trip, $6.00 for 2, $26.50 for 10, $10.00 for a one-day card, $13.00 for an "Unlimited Week-end" running from 6 PM Friday to 5 AM Monday. With the exchange rate, the prices are (especially when you factor in the new-MetroCard fee) roughly comparable to the New York Subway.
Reading the Metro map shouldn't be too much trouble, even if you don't know French.
Just as Minneapolis tried to beat the cold by building a skywalk system downtown, Montreal went in the other direction, creating "Underground Montreal." (In French, La Ville Souterraine.) Every day, about half a million people use this system that has over 20 miles of tunnels spread over 4.6 square miles. They connect things like shopping malls, hotels, banks, office buildings, museums, universities, apartment buildings, the bus terminal, Gare Central and Gare Windsor, 7 Metro stations, and, yes, the Bell Centre.
The Provincial sales tax for Quebec is 9.975 percent. And the legal drinking age in Quebec is 18. And if you're staying overnight, and wake up with a craving, and you can't find a Tim Hortons, you can look for a
dépanneur -- the word means "to help out of difficulty," is sometimes shortened to "dep," and is what we would call a convenience store. Like 7-Eleven or Wawa or Quik Chek.
(There's now an eatery named D
épanneur
in Brooklyn.)
Going In.
I seriously recommend not driving to the arena. If you did drive to Montreal, leave your car at the hotel's parking deck.
Getting to the Bell Centre by public transportation is easy. Line 2 goes to Station Bonaventure, and from there it's a 2-block walk west.
Because of Montreal's cold weather, this can be done through the Underground City system. Most hotels will be within a short walk, anyway, although given the predictions for what would be, to us, extremely cold weather makes this a bad idea; if you really don't want to use the Metro, take a taxi.
The official address of the Bell Centre ("Centre Bell" in French) is 1909 Avenue des Canadiens-de-Montreal -- awarded to it in 2009 on the team's 100th Anniversary. The old address was 1100
Rue de la Gauchetière Ouest.
If you must drive, take Exit 4 on Autoroute 720, which goes under downtown (and effectively separates Vieux-Montreal, the old city, from Centre-Ville, or downtown), for Rue de la Montagne Nord. Turn left on Rue de St-Antoine Ouest, then turn right onto Rue de la Montagne, and finally, turn right onto Rue de la
Gauchetière. Depending on the event, parking could cost anywhere from C$11 to C$28.
de la
Gauchetière is on the north side of the building, and, most likely, this is how you will enter. You might enter on the east side, but you won't enter from the south, and the only way you're likely to enter from the west is if you enter from the adjacent Gare Windsor (Windsor Station), which you won't do unless you're driving from the west of downtown Montreal. (Trains no longer run there, and it's now an office complex.)
Officially, if not exactly geographically, the rink runs north-to-south, and the Canadiens attack twice toward the north goal.



Food.

Montreal is a great food city, but there are two things of which you should beware. One is Montreal-style hot dogs. This is a problem since hot dogs are a staple of sporting events. They call their hot dogs steamé, stimé

or Steamie, and top them with mustard, chopped onion or sauerkraut. Sounds like New York style, right? But they also

put this weird relish on it, and that ruins it. Do yourself a favor, and order your Steamie without relish. (Incidentally, in spite of my suggestions of similarities between Montreal and New York, don't expect to see hot dog carts on the streets: The city banned street food carts in 1947.)
The other food you will want to avoid is poutine. It's French fries topped with brown gravy. Sounds great, right? Not so fast: They also top it with curd cheese. As they would say in the city's Jewish neighborhood, "Feh!" Poutine, along with French fries (they call them patates frites, "fried potatoes," as they know that the item originated in Belgium, not France), is available at McDonald's, but stay away from it. Trust me.
If you're a fan of the film Pulp Fiction, you should be aware that, regardless of what it's called in Paris, in Montreal, a Quarter Pounder with Cheese is called "un quarte de livre avec fromage." Literally, "a quarter of a pound with cheese." Not "a royale with cheese."

Neverthless, the Bell Centre has standard arena food, and although none of it is great, most of it upsets Canadian stomachs far less than does Commissioner Gary Bettman. One staple of Montreal food that is definitely worth it is viande fumée -- smoked meat sandwiches. Think New York's Carnegie Deli, only cheaper and better. Yum, yum.

Le Mise au Jeu is a private restaurant. However, a level above it, The Capitain's Lounge, sponsored by Captain Morgan Spiced Rum, is open to everyone age 18 and up. Both are located in the (more or less) southwest corner of the arena. Restaurant 9-4-10 -- named for the uniform numbers of Maurice Richard, Jean Beliveau and Guy Lafleur -- is also private. La Cage aux Sports is on the north side of the building, on 2 levels.
Team History Displays.
Aside from the Yankees, no team in North American sports does this better than Les Canadiens, a.k.a. Les Bleu, Blanc et Rouge (the Blue, White and Red),
a.k.a. Les Habitantes, a.k.a. the Habs. For this nickname, we can thank Tex Rickard, the boxing promoter who built he 3rd Madison Square Garden and founded the Rangers. He was asked what the H in the Canadiens' "CH" logo stood for, and he said, "Habitantes," a reference to the early French settlers of Quebec, especially farmers. This got shortened to "Habs." But Rickard was wrong: The logo had originally been a "CA," for

Club Athl
é
tique
Canadien, and in the 1st NHL season of 1917-18, it became "Club de Hockey Canadien." You know how the New York media gets once they get hold of a story: Never let the facts get in the way. Montreal fans didn't seem to mind, as English and French fans alike have called them the Habs.
The Montreal Canadiens Hall of Fame is free to ticketholders, starting 90 minutes before puck-drop. Otherwise, it's $11 for individuals, or $34 for an entire family. It features a recreation of the late 1970s Habs' locker room from the Forum, including part of "In Flanders Fields," the poem written 100 years ago, on May 3, 1915, by Lt. Col. John McCrae, a
Canadian army doctor. On one side, in English: "To you from failing hands we throw the torch; be yours to hold it high. On the other side, in French: "
Nos bras meurtris vous tendent le flambeau, à vous toujours de le porter bien haut.
"
(McCrae would, himself, die in action, but of infectious meningitis, not a combat wound.) Over those words, photos of the Canadiens' Hall-of-Famers are hung, suggesting that these men are the "we" who "throw the torch" to the current players. This display has been recreated in the much larger locker room of the Bell Centre.
Tours of the entire arena, including the Hall of Fame, are $17. I took the tour on my first visit to the city (unfortunately, not during hockey season, so the arena was instead being set up for a concert and the Cup and retired number banners were not on display), and it is well worth it.
The concourse has a display of team photos of all of Montreal's Stanley Cup-winning teams. Not just the Canadiens, but the Maroons, who won in 1926 and 1935 (they lasted from 1924 to 1938), and those before: The Montreal Hockey Club, a.k.a. the Montreal Amateur Athletic Association, a.k.a. the Montreal AAA, a.k.a. the Winged Wheelers (winners of the 1st and 2nd Cups awarded, in 1893 and 1894, and also 1902 and 1903, and whose logo would one day inspire their former player Jack Adams to adapt it for the Detroit Red Wings); the Montreal Victorias (1895, 1897 and 1898), the Montreal Shamrocks (1899 and 1900), and the Montreal Wanderers (1906, 1907, 1908 and 1910, with their players including legendary NHL club bosses Lester Patrick of the Rangers and Art Ross of the Boston Bruins).
Hanging in the arena's rafters are banners for the Canadiens' 24 Stanley Cups -- which, between the 22nd won in 1979 and the Yankees' 25th World Series in 1999, were no worse than tied for the most all-time in North American sports: 1916, 1924, 1930, 1931, 1944, 1946, 1953, 1956, 1957, 1958, 1959, 1960, 1965, 1966, 1968, 1969, 1971, 1973, 1976, 1977, 1978, 1979, 1986 and 1993. Like the Yankees, they do not have notations for sub-championships, such as winning the Prince of Wales/Eastern Conference, the Division (whatever it's named at the time), or the President's Trophy for best record in the regular season. For the Habs, it's all about Lord Stanley's Mug.
The rows of Cup banners are along each long side of the arena. Down the middle
are 19 banners honoring retired numbers. One is for the 4 numbers retired by the now-departed Montreal Expos: The 8 of Gary Carter, the 10 retired for both Rusty Staub and Andre Dawson, and the 30 of Tim Raines. Then there's 18 banners for the Canadiens' retired numbers
, including 3 that have each been retired for 2 players:
* 1 Jacques Plante, 1950s goaltender.
* 2 Doug Harvey, 1950s defenseman.
* 3 Emile "Butch" Bouchard, 1940s and '50s defenseman.
* 4 Aurele Joliat, 1920s and '30s left wing, and Jean Beliveau, 1950s and '60s center.
* 5 Bernie "Boom-Boom" Geoffrion, 1950s right wing, and Guy Lapointe, 1970s defenseman.
* 7 Howie Morenz, 1920s and '30s center.
* 9 Maurice Richard, 1940s and '50s right wing.
* 10 Guy Lafleur, 1970s right wing.
* 12 Dickie Moore, 1950s left wing, and Yvan Cournoyer, 1960s and '70s right wing.
* 16 Elmer Lach, 1940s and '50s center, and Henri Richard, 1950s, '60s and '70s center.
* 18 Serge Savard, 1970s defenseman.
* 19 Larry Robinson, 1970s and '80s defenseman (and future Devils coach).
* 23 Bob Gainey, 1970s and '80s left wing.
* 29 Ken Dryden, 1970s goaltender.
* 33 Patrick Roy, 1980s and '90s goaltender.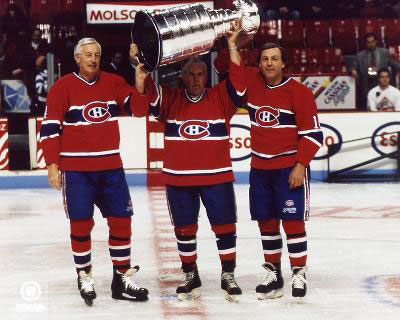 (Beliveau, Maurice Richard and Lafleur, during the team's 75th Anniversary celebration in 1985. This is a photo the Yankees cannot match, as there's no known photo of Ruth, Gehrig and DiMaggio together, or of DiMaggio, Mantle and Jackson together. The best they can do now is Berra, Jackson and Jeter.)
Jacques Lemaire wore Number 25 as a Canadiens player, but it's been wore by 10 players since he left.
Single digits 6 and 8 are still available. I'm surprised that Number 6 hasn't been retired for Hector "Toe" Blake, who was a Hall-of-Famer as a player before he was head coach for 8 Cup wins in the Fifties and Sixties. They've been less lucky with Number 8: Probably the best player who wore it was Doug Risebrough in the late Seventies.
Maurice Richard was known as the Rocket due to his blazing speed. Since his brother Henri was short (both a younger brother and a "little brother"), he was known as the Pocket Rocket. He holds the record for most Stanley Cups won: 11 -- a total of World Championships matched in North American sports only by Bill Russell of the NBA's Boston Celtics. The brothers were 14 years apart in age, and Maurice was already a professional by the time Henri could remember much, so they didn't really feel like brothers; nevertheless, they played 5 seasons together -- Maurice's last 5 and Henri's first 5 -- and won the Cup all 5 times.
On the concourse is a photographic display of all the Canadiens in the Hockey Hall of Fame:
* From the 1916 Stanley Cup team: Goaltender Georges Vezina (for whom the trophy for most valuable goaltender is named, and the 1st Number 1 in hockey), defenseman "Bad Joe" Hall (3), center Eduard "Newsy" Lalonde (4),
right wing Didier Pitre (5),
winger Jacques "Jack" Laviolette (6),
center "Phantom Joe" Malone (11),
and owner J. Ambrose O'Brien.
* From the 1924 Stanley Cup team: Vezina, Malone, Joliat, Morenz, defenseman Sprague Cleghorn (2), defenseman Sylvio Mantha (9), and owners Joe Cattarinich and Leo Dandurand. At this time, William Northey built the Montreal Forum, and would be an executive with the Canadiens into the 1950s. He is also in the Hall of Fame.
* From the 1930 and 1931 Stanley Cup teams: Joliat, Morenz, Mantha (by now wearing 2), goaltender George Hainsworth (1), and Cattarinich and Dandurand. Hall of Fame
defenseman Albert "Babe" Siebert (one of the few nongoalies ever to wear 1) played 3 seasons for the Habs, and had been named head coach in 1939, when he drowned,
before ever coaching a game.
* From the 1944 and 1946 Stanley Cup teams: Maurice Richard, Bouchard, Lach, Blake, goaltender Bill Durnan (1), center Buddy O'Connor (10), defenseman Kenny Reardon (17) head coach Dick Irvin Sr. (whose son, Dick Irvin Jr., would become a Hall of Fame broadcaster),
general manager
Tommy Gorman
and owner Donat Raymond.
* From the 1950s Stanley Cup teams: Plante, Harvey, Bouchard (lasting until the '56 Cup), Beliveau, Geoffrion, Moore, defenseman Tom Johnson (10, later coached the Bruins' 1972 Cup win),
left wing Bert Olmsead (15),
head
coach Blake, general manager Franke Selke, and owner Hartland Molson.
* From the 1960s Stanley Cup teams: Beliveau (lasting until the '71 Cup), Henri Richard (lasting until the '73 Cup), Cournoyer, Lemaire, goaltender Lorne "Gump" Worsley (1),
defenseman Jacques Laperriere (2, lasting until the '73 Cup),
left wing Dick Duff (8),
former Toronto Maple Leafs star left wing Frank Mahovlich (27, lasting until the '71 Cup), head coach Blake, and general manager Sam Pollock. These Canadiens were so good that Rogie Vachon (30) and Tony Esposito (29) could win Cups as backups, then be let go to other teams, and get elected to the Hall of Fame and get their numbers retired (Vachon, 30 by the Los Angeles Kings; Esposito, 35 by the Chicago Blackhawks) -- and yet, with Dryden, the Habs never missed them.
* From the 1970s Stanley Cup teams: Cournoyer, Lemaire, Lafleur, Lapointe, Serge Savard, Dryden, defenseman Rod Langway (17, not switching to his more familiar 5 until he got to Washington), left wing Steve Shutt (22), head coach Scotty Bowman and GM Pollock.
* From the 1986 Stanley Cup team: Robinson, Gainey, Roy and defenseman Chris Chelios (24, not switching to his more familiar 7 until he got to Chicago). Pat Burns did not coach a Cup winner in Montreal, but he did coach the 1989 team that reached the Finals but lost to the Calgary Flames.
* From the 1993 Stanley Cup team: Roy, and center Denis Savard (distantly related to Serge Savard and also wearing 18). Left wing John LeClair (17), center Guy Carbonneau (21) and defenseman Eric Desjardins (28) have not yet been elected to the Hall, but all should be.
A statue of Maurice Richard stands outside the north side the arena. Another stands outside the Maurice Richard Arena in the Olympic Park, which includes the Olympic Stadium. Also outside the Bell Centre's north side are stanchions honoring the retired numbers, and a granite monument, topped by a pair of CH logos, listing the team's accomplishments, including the Cups and the various trophies won by its players.
Stuff.
The Habs Zone Team Store is located on the west side of the building, adjacent to Windsor Station (Gare Windsor). It can be accessed by Section 113 during games. It has all the usual team store doodads, and is the greatest hockey jersey sale point and hockey jersey customization place on the planet. They do sell jerseys with old-timers' names on them, such as the Richards, Beliveau and Lafleur. (When I last visited, the franchise had not yet made peace with Roy, and his Number 33 was not on sale. It probably is now.)
A team as successful as the Canadiens (there aren't any, except for the Yankees, the Celtics, and a few soccer teams around the world) gets a lot of books written about them. D'Arcy Jenish wrote the team's official centennial commemoration in 2009:
The Montreal Canadiens: 100 Years of Glory
.
Individual books by Canadiens players include Jean Beliveau: My Life In Hockey and The Game by Dryden. Roy hasn't yet written a memoir, but his father Michel published Patrick Roy: Winning, Nothing Else last year. And our own Martin Brodeur (who, if he was going to make a comeback, really should have talked the Habs into taking him on, rather than the St. Louis Blues) wrote Brodeur: Beyond the Crease, in which he discussed growing up in the Canadiens' organization as the son of the team photographer.
Roch Carrier, author of the children's classic The Hockey Sweater -- a French kid in Quebec asks his mother for a Number 9 sweater, so she writes to the department store chain Eaton's and, being English Canadians, send her a child's Maple Leafs 9, leading to the boy's mortification before his "friends" -- wrote Our Life with the Rocket: The Maurice Richard Story, in 2001, not long after the Rocket's death. Since he and most of his teammates are now dead or old, unless somebody finds a long-lost cache of letters, this will probably remain the definitive book about the Rocket.
DVDs about the Canadiens are not hard to find in Montreal, including at the Habs Zone. The NHL's official Montreal Canadiens 100th Anniversary Collector's Set includes 4 discs: An overview, a collection of the 24 Cup teams (which gives a lot of focus to the last 2, 1986 and 1993, and short shrift to even the Fifties, Sixties and Seventies), a tribute to "Dynasties and Rivalries" (including the Maple Leafs, the Bruins, the Detroit Red Wings in the Fifties, the Philadelphia Flyers and the Quebec Nordiques in the Seventies, Eighties and Nineties), and "The Immortals," featuring all the players whose numbers had been retired by the 2009 Centennial.
Another official NHL disc is Greatest Games in Montreal Canadiens History. It begins at the dawn of televised hockey, with the 1960 Cup clincher over the Leafs. Then it moves on to New Year's Eve 1975, an exhibition game immortalized in Todd Denault's The Greatest Game: The Montreal Canadiens, the Red Army, and the Night That Saved Hockey, a 3-3 draw with CSKA Moscow that moved the game out of the era epitomized by the Big Bad Bruins, the Flyers' Broad Street Bullies, and the other thugs then playing in the NHL and the WHA -- and, oh by the way, essentially began the Canadiens' greatest era and possibly hockey's greatest dynasty. It's the only game on here that's not a Habs win.
Next comes the 1977 Cup clincher, a 4-game sweep of the Bruins, won in overtime by our old friend Lemaire. Then "The Too Many Men On the Ice Game," when a stupid penalty allowed Lafleur (on an assist by Lemaire) to tie the game late and then Yvon Lambert to beat the Bruins in overtime, sending the Habs to the Finals against the Rangers.
There's a 1984 Playoff battle with the former Provincial rival Nordiques, the 1986 Cup clincher against the Flames, the 1993 Cup clincher against the Los Angeles Kings (but not the Marty McSorley illegal stick game, Game 2 of those Finals, tied and then won in overtime by Eric Desjardins), the 1996 Forum finale agains the Dallas Stars, the 2003 Heritage Classic against the Edmonton Oilers (outdoors at Commonwealth Stadium), and, as a special treat for us Devils fans, a 2008 game where the Rangers blew a 5-0 lead and the Habs won.
During the Game.
You do not need to fear wearing your Devils gear to the Bell Centre. The Maple Leafs, maybe. The Bruins, possibly. The Nordiques, were they still in Quebec City, very likely. Any other team, no way: These people love hockey more than anyone else on Earth, and they appreciate people who love hockey, no matter where they're from. As long as you mind your manners, they'l mind theirs.
Since you're in Canada, there will be two National Anthems sung. "The Star-Spangled Banner" will probably be sung by about half of the few thousand Devils fans who show up, but "O Canada" will be sung by the home fans with considerable gusto. As in the days of Roger Doucet, the 1st half will be in French, the 2nd half in English.
When I'm at a sporting event where the opposing team is Canadian, I like to sing "O Canada" in French. Canadiens fans like this when I do it at the Prudential Center. Fans of the other Canadian NHL teams just think it's weird. But then, they root for the Blue Jays, and I root for the Yankees, so I'd rather have their opinion of me than my opinion of them.
This season, over the logo on the right side of the jersey (a.k.a. Le Sainte Flanelle, "the Holy Flannel"), the Canadiens are wearing a black patch with a white Number 4 on it, in memory of Beliveau, who died a few weeks ago after 64 years of service to the club in one capacity or another.
The Expos were taken away in 2004. When the Habs started up again in the fall of 2005 after the lockout, they adopted the Expos
' mascot, a big furry orange thing named "Youppi!" Apparently, that's French-accented Canadian English for "Yippie!" And his uniform number is an exclamation point! He, more than Staub or Dawson ever was, was the face of the Expo franchise.
Announcements are made in English and French.
The Habs have a theme/goal song specifically written for them: "Le But" (The Goal), by Loco Locass. Have you ever heard French rap before?
Well, now you can
. And the chant "Go, Habs, go!" seems to cross linguistic lines.
The Habs haven't done too well in the 19 years since moving in, not even making the Conference Finals until 2014. But the sight of those 24 Stanley Cup banners, all those retired number banners, and the noise and passion generated by Montrealers watching
their game
is still enough to intimidate opposing players and fans.
After the Game.
Canadien fans will not rub it in when they win -- not to Devils fans, anyway. Montreal is an international city, every bit as much as New York is, and some of these people may have cut their teeth as sports fans in European soccer. But we're not talking about hooligans here. Maybe if you were coming out of a hotly-contested game against the Leafs or the Bruins, but not against a New York Tri-State Area team -- not even fellow "Original Six" team the Rangers.
If you want to go out for a postgame meal, or even just a pint, there are several places in the immediate area. The shops at Gare Centrale are probably going to be closed by that point (unless the game you see is a matinee). But there are good choices nearby.
Bâton Rouge Steakhouse & Bar is at 1050 Rue de la Montagne, just around the corner.
Decca 77 is at 1077 Rue Drummond (hence the name), a block north.
Y
our best bet is probably to get back on the Metro, and head downtown. The Rue Crescent neighborhood, centered around that west-of-downtown street and roughly bordered by Rue Sherbrooke, Rue Peel, Boulevard Rene-Levesque and Rue Guy (that's "gee" with a hard G, not "guy"), is, more or less, Montreal's "Greenwich Village." You should be able to find a place that will serve you even if you order in English. Be advised, though, that you must remove your hat when you walk into a Montreal pub. They insist.
Madisons New York Grill & Bar is at 11590 Boulevard de Salaberry Ouest
, and is renowned for its chicken tenders. However, there is no evidence that this is a particular place that New Yorkers visiting, or ex-New Yorkers living in, Montreal tend to go to. Besides, it's way out in Pointe-Claire, on the western part of Montreal Island. If you don't have a car, you'd need the Metro and a bus just to get within 3 blocks.
If al

l you need is a snack and coffee,
your best bet may be
Tim Hortons. (Note that there is no apostrophe: It's "Hortons," not "Horton's," because Bill 101, Quebec's ridiculous protect-the-French-language law, prohibits apostrophes and the company wanted to keep the same national identity.) They have a 62 percent share of the Canadian coffee market (Starbucks has just 7 percent) and 76 percent of the Canadian baked goods market. They also sell sandwiches, soup, chili, and even (some of you will perk up faster than if you'd drunk their coffee) New York-style cheesecake. It's fast food, but good food. I rate them behind Dunkin Donuts, but ahead of Starbucks.
"Timmy's" (in the diminutive, people do use the apostrophe) has Montreal outlets even though namesake
Tim Horton, a hockey defenceman (that's how it's "spelt" up there), played most of his career for the hated Maple Leafs. He and businessman Ron Joyce started the doughnut/coffee shop chain in 1964, while in the middle of the Maple Leafs' 1960s dynasty. He played a couple of years for the Rangers, then went to the Buffalo Sabres and opened a few outlets in the Buffalo area. He was still playing at age 44, and the only thing that stopped him was death. Specifically, a 100-MPH, not-wearing-a-seat-belt crash on the Queen Elizabeth Way over Twelve Mile Creek in St. Catharines, Ontario.
And if Canada's answer to Dunkin Donuts isn't your cup of tea (or coffee), there's always the

dépanneurs.





Sidelights.

Montreal

is much cleaner than most American cities, mainly because Canada believes in using government for, you know, essential services, including proper sanitation, rather than in giving kickbacks to corporations that claim to create jobs but don't.

But the city

does

have some bad neighborhoods. Still, you should be okay if you stay out of the East End -- or, if you really must go there, are willing to speak French there and give lip service to the separatist cause. In the meantime,

check out these locations:
* Victoria Rink. Opened on Christmas Eve, December 24, 1862, and named for Queen Victoria, it was described at the dawn of the 20th Century as "one of the finest covered rinks in the world." On March 3, 1875, it hosted what is believed to be the very first indoor hockey game, anywhere in the world, complete with 9 men on a side, goaltenders (not a first but still unusual at that point), a referee, a puck rather than any kind of stone (as could be found in curling, then as now a popular sport in Canada), and both rules and time predetermined -- 60 minutes, as with today's hockey, although no separation into periods. The Victoria Skating Club played a team made up of students of nearby McGill University -- often considered Canada's answer to Harvard, and the year before it had played Harvard in a game that was vital to the development of football in North America -- and the Victorias won, 2-1.
The
Montreal Hockey Club (or "Montreal AAA") was awarded the first Stanley Cup in 1893, and it hosted the first Cup playoff games in 1894. The Victoria Hockey Club won the Cup while playing there in 1895, 1897, 1898 and 1899. The Montreal Shamrocks defeated them for the Cup in 1899 (more than one "challenge series" could be held per year in those days), and won it again in 1900. The rink also hosted some of North America's first figure skating competitions.
It was torn down in 1925, and a parking garage was built on the site. Rue Drummond & Blvd. Rene-Levesque Ouest, adjacent to a Sheraton hotel. Metro: Lucien-L'Allier.
* Jubilee Arena. This building didn't last too long, built in 1909 and burning down in 1919, a year after the fire that destroyed Westmount Arena, forcing the Canadiens, who started here, move to Mount Royal Arena. This arena's construction led to the founding of both the Canadiens and the National Hockey Association, the precursor to the National Hockey League. 3100 Rue St-Catherine Est at Rue Moreau. Bus 34.
* Mount Royal Arena. Home to the Canadiens from 1920 to 1926, the Habs won the 1924 Stanley Cup while playing there. It only seated 6,000, so when they were offered the chance to move into the larger Forum, they jumped at it. Mount Royal Arena was converted into a concert hall and then a commercial building, before burning down in 2000. A supermarket is now on the site. 50 Avenue du Mont-Royal Ouest & Rue Saint-Urbain. Bus 55.
* Montreal Forum and Westmount Arena. The Yankee Stadium of hockey, the Forum opened on November 29, 1924, and the Canadiens played there from 1926 until 1996, winning 22 of their 24 Stanley Cups in that span. (They won 2 before moving in, in 1916 and 1924.) The Montreal Maroons also played there, winning the Stanley Cup in 1926 and 1935.
The Canadiens clinched on home ice in 1930, 1931, 1944, 1946, 1953, 1956, 1957, 1959, 1965, 1968,
1979 and 1993; and on the road in 1958,
1960, 1966, 1969, 1971, 1973, 1976, 1977, 1978 and 1986. Famously, the Canadiens never had an opponent clinch the Cup on Forum ice until 1989, when the Calgary Flames did it, the reverse of 1986 when the Habs clinched in Calgary. The Rangers clinched the 1928 Cup on Forum ice against the Maroons, who hung on through the Great Depression for as long as they could but finally went out of business.
In 1937, the Forum hosted the funeral of Howie Morenz.
the Canadiens star known as "The Babe Ruth of Hockey,"
and later that year hosted the Howie Morenz Memorial Game as a benefit for his family,
between a combined Canadiens-Maroons team and players from the other 6 teams then in the NHL, including New York's Rangers and Americans.
Elvis Presley never performed in Montreal -- or anywhere in Canada except shows in Toronto, Ottawa and Vancouver early in his career, in 1957 -- but The Beatles played at the Forum on September 8, 1964. In 1976, it hosted the Olympic gymnastic events, and it was there that Nadia Comaneci performed the 1st perfect 10 routine in Olympic history, having already gotten the 1st perfect 10 anywhere earlier in the year at what was still being called "the new Madison Square Garden."
In 1972, the Forum hosted Game 1 of the "Summit Series" between Canada and the Soviet Union, and the Soviets' shocking 7-3 win turned the hockey world upside-down before Canada won Games 6, 7 and 8 in Moscow to take the series. However, as I said earlier, on New Year's Eve, December 31, 1975, CSKA Moscow, a.k.a. the Central Red Army team, with many of the players from the Summit Series, began a North American tour at the Forum, and what were then the 2 best club hockey teams on the planet played to a stirring 3-3 tie that effectively launched the Habs on a streak of 4 straight Cups, 1976-79, which stand alongside their 5 straight of 1956-60 -- not as many consecutive Cups, but 16 consecutive series won as opposed to 10.
The original seating capacity was 9,300 -- which was considered huge for an indoor stadium in the 1920s, before the building boom that the Forum helped start, leading to that era's incarnations of Madison Square Garden and the Boston Garden, Maple Leaf Gardens in Toronto, Chicago Stadium and the Olympia in Detroit. Capacity became 13,551 in 1949, and a 1968 renovation expanded it to a capacity of 16,259, pushed to 17,959 with 1,700 standees, with the tradition of the standees being let in first and rushing for position.
After an emotional closing ceremony on March 11, 1996, the Forum was converted into a mall, complete with restaurants, a bowling alley and a movie theater. Roughly where the rink was, hockey markings have been painted onto the floor of the main walkway, and there's a small bleacher with sculptures of fans and a bench with a statue of Maurice Richard, waiting to take the ice one more time. 2313 Rue St-Catherine Ouest, at Avenue Atwater.
Atwater used to be the city line between Montreal and Westmount, before mostly-Anglophone Westmount was incorporated into the "megacity" of Montreal in 2002. The
Westmount Arena, right across from the Forum but in a separate city, was sometimes known as the Montreal Arena for prestige purposes, and was designed specifically for hockey, a rarity at the time, and was perhaps the first ice rink in the world to have the rounded corners we have come to expect from hockey. It opened on New Year's Eve, December 31, 1898, and was the home of several teams.
The Montreal AAA team won the Stanley Cup there in 1902 and 1903, making it 4 Cups, and by 1906 it was an amateur team that lasted until 1961. T
he Montreal Wanderers played there, winning the Stanley Cup in 1906, 1907, 1908 and 1910. The Canadiens started playing there in 1911, and won the Cup there in 1916.
On January 2, 1918, 19 years to the week after it opened, a fire started in, ironically, the arena's ice-making plant, and burned it to the ground. No one died, but the Canadiens had to move back to Jubilee Arena, and the Wanderers went out of business. A shopping center, Place Alexis-Nihon, is now on the site. Both that shopping center and the Forum can be accessed by
Atwater station on the Metro.
* Windsor Hotel. Often called Canada's first grand hotel and billing itself as "the best in all the Dominion," it stood from 1875 to 1981. The National Hockey League was founded here on November 26, 1917, with 5 teams: The Montreal Canadiens and Wanderers, the Toronto Arenas (forerunners of the Maple Leafs), the Ottawa Senators (not the team that uses the name today), and the Quebec Bulldogs. By 1934, all but the Habs and the Leafs would be out of business.
Following a fire in 1957, the hotel went into decline, and the North Annex is all that remains, now an office building and banquet complex called Le Windsor. 1170 Rue Peel at Rue Cypress. Metro: Peel or Bonaventure.
* Parc Olympique. The legacy of the 1976 Olympics was one of debt, not fully paid off until 2008. This got "The Big O" the additional nickname "The Big Owe." But much of it is still open. It includes Stade Olympique (Olympic Stadium), which is still used for Playoff games by the CFL's Alouettes and games that MLS' Impact thinks will attract more than 20,000; Stade Saputo, the home of L'Impact (or "Limp Act," as fans of arch-rival Toronto FC call them);
an arena named for Canadiens great Maurice Richard, with a statue of him outside; the Velodrome cycling center, now a nature museum called the Biodome; the Montreal Botanical Garden and the Montreal Insectarium. But you don't want to see a museum devoted to bugs. Metro: Pie-IX (pronounced "Pee-nuff, named for 19th Century Pope Pius IX).
* Parc Jarry. Jarry Park Stadium was the original home of the Expos, from April 14, 1969 to September 26, 1976. It was meant as a temporary facility, seated only 28,456, and had a pool beyond right field that was the resting place for a few long home runs. Expos pitcher Bill Stoneman pitched the 2nd of his no-hitters there, and in the park's last MLB game, the Phillies clinched their first 1st-place finish in 26 years.
Now known as Stade Uniprix, in 1995 it was converted into a tennis stadium, with one end still recognizable as the home-plate seating area from Jarry Park. 285 Rue Faillon Ouest at Rue Gary-Carter. Metro: Parc. (Not to be confused with the Metropark train station on the Woodbridge-Edison border back in New Jersey.)
* Site of Delorimier Stadium. Home of the Montreal Royals from 1928 to 1960, and the Alouettes from 1946 to 1953, this 20,000-seat stadium was one of the best facilities in the minor leagues, and was Jackie Robinson's first home field in "organized ball." It was demolished in 1971 and replaced by a school, with a plaque honoring Robinson and the Royals. 2101 Rue Ontario Est & Avenue de Lorimier. Bus 125.
* Percival Molson Memorial Stadium. Built in 1919, this stadium has been the home field for McGill University athletic teams, and was used by the Alouettes from 1947 to 1967, and again since 1998, although with only 25,012 seats, they still need to move into the Olympic Stadium for their Playoff games.
It was named for Captain Percival Molson, a former McGill sports star and member of the Molson brewing family (which, for a time, owned the Canadiens), who was killed in action in World War I. Avenue des Pins (Pine Avenue) at Rue University. Metro: McGill.
* Queen Elizabeth Hotel. Opened in 1958, its namesake -- and her namesake, the widow of King George VI that our generation knew as the Queen Mother -- stayed here, as have other monarchs, Presidents, Prime Ministers and legendary entertainers. From May 26 to June 2, 1969, John Lennon and Yoko Ono staged their "Bed-In For Peace" at Room 1742, and recorded "Give Peace a Chance" there. 900 Blvd. Rene-Levesque Ouest at Rue University. Metro: Bonaventure.



(Rene Levesque was Premier of Quebec from 1976 to 1985, leading the Parti Quebecois, attempting to get the Province to become independent from Anglophone Canada. His 1980 referendum fell well short, he lost power in 1985, and he died in 1987 without getting another chance. For the better part of a decade, he and Prime Minister Trudeau -- whose son Justin now leads the Liberal Party and could well become PM this year -- waged an epic battle for the hearts and minds of Quebec for the better part of a decade. The street now named for Levesque was previously Dorchester Street.)
* Historic sites. Canada's
Prime Ministers don't have the kind of building equivalent to a Presidential Library. Of Canada's 15 deceased Prime Ministers, 2 are buried in or near Montreal. John Abbott was PM for only a year and a half in 1891 and 1892, and is buried at Mount Royal Cemetery. In contrast, Pierre Trudeau was PM for all but 9 months between April 1968 and June 1984, and is, depending on your stance on the role of government and the status of Quebec, either the most-loved or the most-hated head of government in Canada's history. He is buried at Saint-Remi Cemetery, about 20 miles southwest of the city in Saint-Remi.
George-Etienne Cartier was Premier of "Canada East" prior to Confederation (their first step toward independence) in 1867, and along with the Anglophone Sir John A. Macdonald of "Canada West" was essentially the Francophone "Founding Father" of Canada. (They call their Founding Fathers "the Fathers of Confederation.") Essentially, the Fathers were afraid that, with America's Civil War over, their country would be next -- an understandable belief, since attempts to take Canada from Britain by force had been made during the American Revolution and the War of 1812, and had also been threatened in the 1840s. Cartier's home is a National Historic Site, at 458 Rue Notre-Dame Est at Rue Berri. Metro: Champ-de-Mars.
Also accessible by Champ-de-Mars station is Place Jacques-Cartier, where the French explorer of that name -- no relation to George-Etienne -- discovered the islands that became the city. It is the gateway to Old Montreal (Vieux-Montreal), and unlike New York, which is actually older (founded 1624 as opposed to 1642), a lot of 17th and 18th Century Montreal buildings remain.
* Museums. The city's version of the Museum of Natural History, Pointe-a-Calliere, is at 350 Place Royale at Rue de la Commune Ouest. Metro: Place-d'Armes.
Their equivalent to the Metropolitan Museum of Art, the Montreal Museum of Fine Arts, is at 1380 Rue Sherbrooke Ouest at Rue Crescent, just off the Concordia University campus. Metro: Peel or Guy-Concordia. The McCord Museum of Canadian History is at 690 Rue Sherbrooke Ouest at Rue University. Metro: McGill, although its relative proximity to the Museum of Fine Arts allows you to do one right after the other.
* Delis. That wonderful smoked meat, Montreal's take on the classic bagel, and other delicatessen delicacies, can be picked up in lots of places, but 2 stand out: Schwartz's, 3895 Blvd. Saint-Laurent at Rue Milton, Metro: Sherbrooke; and Wilensky's Light Lunch, immortalized in Mordecai Richler's novel
The Apprenticeship of Duddy Kravitz,
and with scenes from the Alan Arkin movie based on it filmed there, 34 Avenue Fairmount Ouest at Rue Clark, Metro: Laurier and then a 10-minute walk. I've been to both, and recommend them highly.
Sadly, the legendary Bens, the oldest deli in the city, with its
Art Deco entrance at 990 Blvd. de Maisonneuve Ouest at Rue Metcalfe (Metro: McGill or Peel),
closed in 2006 and was demolished in 2008. Some of its memorabilia is now at the McCord Museum. An effort was made to preserve it as a historic site, but it failed.)
*
Montreal is a great North American and world city. So if you feel like taking in hockey at its most passionate, make sure your passport is in order, see if you can scrounge up a ticket, and head on up. Vive la difference!