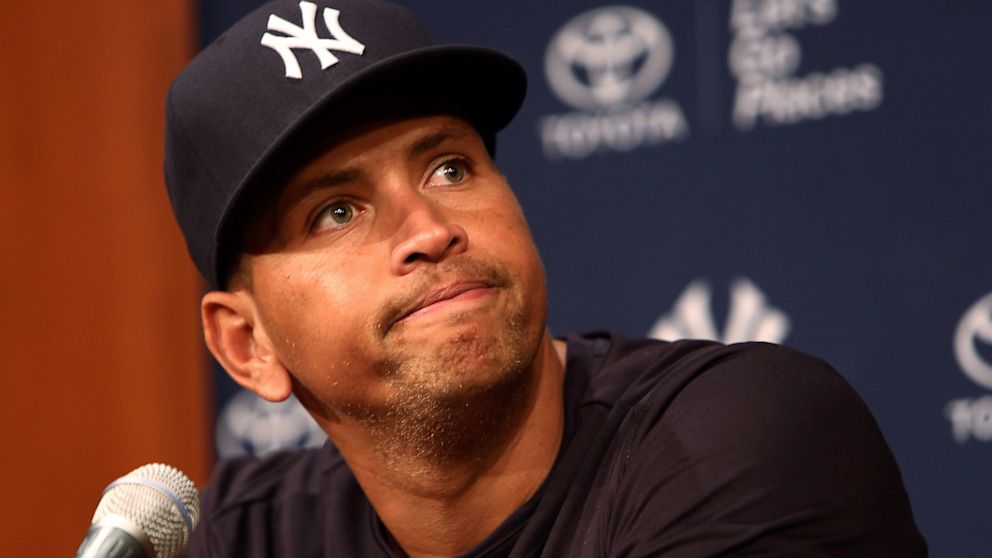 Arbitrator Fredric Horowitz's ruling has come down on Alex Rodriguez: His 211-game suspension has been reduced to 162 games -- the entire 2014 regular season -- plus the 2014 postseason, if the Yankees make it.
Let's tell the truth here:
The Yankees' chances in the 2014 postseason just got a whole lot better, because A-Rod won't be available to screw it up, like he did in 2004, 2005, 2006, 2007, 2010, 2011 and 2012.
Yes, I know, he came through big-time in 2009. One time out of eight.
Without A-Rod going from hitting like Mickey Mantle from April through September to hitting like Charlie Brown in October, making all of us say, "Auuuugh! I can't stand it! You blockhead!", we have a better chance in the postseason.
Now, we just have to get that far.
That shouldn't be too much trouble, since Major League Baseball, led by Commissioner Allan H. "Bud" Selig, is getting serious on steroid cheats, meaning half the Red Sox will also be suspended, right?
Right?
*
If David Ortiz were a Yankee, having done what he's done -- get caught, lie about it, get exposed, and STILL lie about it, making his
proven and known
offenses worse than A-Rod's -- he'd be banned for life.
While if A-Rod were with The Scum, he would be marching toward Barry Bonds' career record of 762 home runs, without delay (his many injuries excepted).
He'd be allowed to plod toward that record, as slowly as he needs to, the way Pete Rose's manager, who happened to be Pete Rose, jeopardized his team's chances by putting Rose the player in (probably costing Cincinnati at least the 1985 NL West title) so he could reach 4,192 hits. If the Sox needed to rest him against good pitchers, while pinch-hitting him against pitchers who suck (such as Boone Logan), perhaps even keeping him off Pacific Coast roadtrips so as not to mess up his internal clock, then, Bowie Kuhn's reaction to the Hank Aaron situation 40 years ago be damned, since Selig knows that Red Sox good publicity = MLB profits.
Ortiz, the big fat lying cheating bastard, who was allowed to not only reach, but be named the Most Valuable Player of, the 2013 World Series, continues to be held up as a hero -- no mean feat, since he weighs about what Chris Christie weighs, and is about as much of a corrupt liar, too.
Sox fans come to Fenway Park, and cheer him, while chanting, "Sterrrr-oiiiids!" at lots of players, including A-Rod.
Big Papi's milkshake brings all the hypocrites to the yard. And yet Seligula refuses to drink his milkshake. Instead, he serves the national media Kool-Aid, and they drink it up.
So A-Rod gets suspended for a full season. For
what
?
When Rose was accused of betting on baseball, we were shown the Dowd Report. Comissioner A. Bartlett Giamatti wanted us to see this wasn't just a vendetta against one man. The evidence is still on the Internet, for anyone who wants to see it.
With A-Rod, we have seen no evidence. We're just supposed to take Selig's word for it.
It's like weapons of mass destruction (WMD):
In 1962, President John F. Kennedy sent his Ambassador, Adlai Stevenson, to the United Nations, and confronted the Soviet Union with the photographs that proved that they'd put WMDs in Cuba.
In 2002, George W. Bush sent his Secretary of State, Colin Powell, to the U.N., and accused Iraq of having WMDs, and, essentially, said, "I'm Colin Powell. You know my reputation. Trust me."
It turned out that we
couldn't
trust him, because we couldn't trust his boss. Whereas JFK had the proof. In addition, Bush went to war, and after 6 years, still hadn't won, never found the WMDs, and had made things much, much worse; Kennedy got the WMDs removed without going to war. George W. Bush was no Jack Kennedy.
Selig has been Commissioner of Baseball for 23 years. Giamatti was Commissioner for 5 months. Giamatti died, depriving baseball of his wisdom; Selig has gone on and on, hurting baseball in ways that more than cancel out any of the good he's done.
Bud Selig, you're no Bart Giamatti.
*
A-Rod has already released a statement about the arbitrator's ruling. Clearly, he didn't write these words himself, as I doubt that, even at this point, he has the legal expertise to properly articulate his side of the story. But, as written, it's simple enough for even a Met fan to understand (should he choose to accept the truth, something Met fans have frequently shown that they have trouble doing):
The number of games sadly comes as no surprise, as the deck has been stacked against me from day one.
This is one man's decision, that was not put before a fair and impartial jury, does not involve me having failed a single drug test, is at odds with the facts, and is inconsistent with the terms of the Joint Drug Agreement and the Basic Agreement, and relies on testimony and documents that would never have been allowed in any court in the United States, because they are false and wholly unreliable
This injustice is MLB's first step toward abolishing guaranteed contracts in the 2016 bargaining round, instituting lifetime bans for single violations of drug policy, and further insulating its corrupt investigative program from any variety defense by accused players, or any variety of objective review.
I have been clear that I did not use performance enhancing substances as alleged in the notice of discipline, or violate the Basic Agreement or the Joint Drug Agreement in any manner, and in order to prove it I will take this fight to federal court.
I am confident that when a federal judge reviews the entirety of the record, the hearsay testimony of a criminal, whose own records demonstrate that he dealt drugs to minors, and the lack of credible evidence put forth by MLB, that the judge will find that the panel blatantly disregarded the law and facts, and will overturn the suspension.
No player should have to go through what I have been dealing with, and I am exhausting all options to ensure not only that I get justice, but that players' contracts and rights are protected through the next round of bargaining, and that the MLB investigation and arbitration process cannot be used against others in the future the way it is currently being used to unjustly punish me.
Once again, let it be said: You don't have to like A-Rod, or the Yankees, to accept the truth, which is that, guilty or not, he has been railroaded.
Carved into the front of the Supreme Court building in Washington are the words EQUAL JUSTICE UNDER LAW.
And yet, A-Rod is to miss the entire 2014 season, while David Ortiz goes on playing.
And yet, as far as is publicly known, each man has failed the same number of drug tests: One.
So why does A-Rod get a full year's suspension, while Big Papi is World Series MVP?
*
If this suspension stands, A-Rod will be 39 years and 8 months old when he is eligible to return. For comparison's sake: At that same age...
* Babe Ruth was slowing down considerably, although still a good slugger.
* Mantle had been retired over 2 years.
* Joe DiMaggio had been retired for 2 1/2 years.
* Don Mattingly was 5 years past his last game.
* Lou Gehrig had been dead for 2 1/2 years.
* And Thurman Munson had been dead for 7 1/2 years.
At 39 and 2/3 years old, having missed so much time, he may be so rusty that coming back might be impossible, resulting in what Selig really wants: A-Rod gone.
For the record, if this really does mean the end of A-Rod's major league career (it probably doesn't, but it could), his last game stands as follows: September 25, 2013, at Yankee Stadium II, an 8-3 Yankee loss to the Tampa Bay Rays, in which he went 0-for-3, and was removed for a pinch-hitter with 543 fewer career home runs, Ichiro Suzuki -- who got a hit.
As things currently stand: A-Rod has a lifetime batting average of .299348 -- 2 more hits would have rounded him up to .300, and 7 more would have actually been .300. He has 2,939 hits, close enough to smell the 3,000 Hit Club. He has 654 home runs, 5th all-time, 6 fewer than Willie Mays, 60 fewer than Ruth, 101 fewer than Aaron, and 108 fewer than Barry Bonds. Of those 654, 23 have been grand slams, a record he shares with Gehrig. He has 1,969 runs batted in, putting him 31 short of becoming only the 4th player with 2,000, and 305 behind Aaron's all-time record. His OPS+ is 143, meaning that, since 1994, he has been 43 percent better at producing runs than the average major league player in that time.
*
But A-Rod holds one record that, I hope, will never be broken: Most intense pursuit of a single person by Major League Baseball's authorities.
Remember: It was the federal government that came down on Bonds (with some success) and Roger Clemens (with none). Neither was ever suspended by MLB -- not even for 1 game.
Rose was pursued for a few months, before the hammer came down. Leo Durocher was pursued for a few weeks before being suspended, for his gambling connections, for the entire 1947 season. The "Eight Men Out" among the 1919 Chicago White Sox were immediately suspended after their indictment for fraud; the baseball authorities of the time then stepped aside, and let the criminal justice system take its course, before newly-appointed Commissioner Kenesaw Mountain Landis then stepped back in, and took quick action to permanently ban them from "organized ball" -- a longer timespan than the current A-Rod case, to be sure, but the baseball authorities of the time weren't the ones dragging it out. Whether the permanent ban was correct or not, in terms of understanding their role, they did the right thing: Quick action, then get out of the courts' way, then take charge again, and get it quickly over and done with.
A-Rod is suspended for an entire season. And for what? MLB says, "Trust us."
I don't trust Bud Selig and his flunkies any further than I can throw them.
"Well, with your bad knee, Mike, you shouldn't be throwing anybody."
No, I shouldn't. (That's no joke: I do have a bad knee, torn up years ago... while playing baseball.)
But as much as Alex Rodriguez pisses me off, for all the ways he has embarrassed the New York Yankees and their fans, what pisses me off more is that MLB is, yet again, working the Yankee Doodle Double Standard.
*
And Met fans are pissed off, because the oh-so-mildly accused Mike Piazza has now twice been denied election to the Hall of Fame?
Bitch, please. Right now, A-Rod would trade places with Piazza.
Even if it means giving up his World Series ring. Something Piazza does not have, something that no Met has won since 1986.
David Ortiz has three.
Reggie Bush, who committed an offense far less than Ortiz, more a tool of criminals than one himself, had to give up his Heisman Trophy.
Big Papi gets to keep his rings and his World Series MVP.
A-Rod gets to keep his World Series ring.
But, as Raymond Donovan, President Ronald Reagan's Secretary of Labor, who helped settle the 1981 baseball strike, said after his 1987 acquittal on fraud charges (not connected to his government service, which had ended by then), "Which office do I go to get my reputation back?"
If A-Rod is exonerated by a federal judge -- and I believe he will be, because if Selig had the evidence that proves A-Rod guilty, he would have released it by now, so he doesn't look like an ass -- where does A-Rod go to get
his
reputation back?
He can say, "I told you so" from that point until he dies, and there will still be those who don't believe him.
Jane Fonda did nothing worse than let herself get used by the Vietcong. She didn't cause the death of a single soldier. She has apologized for her actions many times. With a few exceptions, those who sent men to that war stood by their side of the case until the end. Some, still living, still do. They have never apologized. Yet it is Fonda who gets treated worse than they do.
Where does Alex Rodriguez go to get his reputation back?
Maybe he should hire David Ortiz's lawyer.
He can certainly afford it.