This has not been a good day.
First I find out that the U.S. soccer team got a "Group of Death" in the World Cup draw. Germany, which could well win the whole thing. Ghana, which has knocked us out of the last 2 World Cups. And Portugal, with Cristiano Ronaldo, probably the best player in the world right now and one of the 2 best players the last few years along with Lionel Messi.
Then I find out that Robinson Cano has accepted the Seattle Mariners' cave-in on his request for a 10th year on his contract.
This, on top of the Mets announcing that they have signed Curtis Granderson.
I can forgive Granderson: He always gave his all in his 4 years in Pinstripes. He's a good guy. But the Mets? Curtis, what were you thinking?
As for Cano: Statistically speaking, he is up there with Hall-of-Famers Tony Lazzeri and Joe Gordon in the discussion of "greatest 2nd baseman in Yankee history," and with those 2, Giants legend Frankie Frisch, and the one and only Jackie Robinson for the title of "greatest 2nd baseman in New York baseball history."
And, yes, he did help the Yankees win a World Series. Unlike Granderson, who got to 2 ALCS's but no World Series, except for the one he played in with the Detroit Tigers.
But Cano could have become a Yankee legend.
Instead, he chose to get paid.
Meanwhile, the Yankees have Jacoby Ellsbury to play center field. 2nd base will be harder to fill, but new signing Kelly Johnson, who had been playing for the Tampa Bay Rays and has some power.
The Yankees have signed Hiroki Kuroda to a new 1-year contract, so that settles one part of the starting rotation that had been a question mark.
As for Cano and the Grandy Man...
Look at that picture again: What are they saying to each other?
Curtis: "Oh, dear God, Robbie, what have we done?"
Robbie: "I think we blew it, homie."
*
Nílton Santos has died. He was one of the greatest defenders in the history of his country, which was the defining country in soccer from the 1950s, his time, until the early 2000s.
Nílton dos Santos was born on May 16, 1925 in Rio de Janeiro, Brazil -- 4 days after Yogi Berra, but 5,200 miles apart. He became a left back, and was one of the 1st players at that position, anywhere in the world, to truly be an attacking force. He once said,
"I have never envied today's players the money but the freedom they have, to go forward." His knowledge of the game earned him the nickname O E
nciclopédia -- The Encyclopedia.
Wearing A Estrela Solitária.
The Lone Star, or the Botafogo Star,
is one of the iconic symbols of Brazil.
He played his entire professional career, 1948 to 1964, with Rio club Botafogo, winning the Rio de Janeiro State Championship in 1948, 1957, 1961 and 1962. But it was in the World Cup where he truly made his mark. He was selected for 4 of them, oddly being assigned a different uniform number each time: 7 in 1950, 3 (the traditional number for a left back) in 1954, 12 in 1958 and 6 in 1962.
He was named to to the Brazil team that played on home soil in 1950, but did not get into any of the games. Maybe he should have, as Brazil suffered perhaps the most stunning defeat any sports team on planet Earth ever has, losing the Final to neighboring Uruguay at the brand-new
Estádio do Maracanã. Although Brazil led 1-0 roughly three-quarters of the way through the game, Uruguay scored in the 66th and 79th minute to win 2-1 and stun the largest crowd in the history of soccer, 199,854. (After renovations and conversion to all-seater, the stadium now seats 78,639.)
The loss became known as
Maracanazo,
roughly translated as "The Maracanã Blow."
He played in the 1954 World Cup in Switzerland, in which Brazil reached the Quarterfinal, where it lost to he great Hungary team of
Ferenc Puskás. But in Sweden in 1958, it all came together.
Nílton scored a spectacular goal in their 1st game against Austria, dribbling through their entire team, with manager Vicente Feola yelling at him the whole way to pass, but he refused, and scored.
The Final would be against the host nation, Sweden, at
Råsundastadion in Stockholm. The team of Gilmar; Djalma Santos (no relation to
Nílton), Orlando, Bellini,
Nílton Santos; Zito, Didi; Garrincha,
Vavá
,
Pelé
and
Mário
Zagallo -- not all Brazilian players are referred to by just their nicknames -- gave up an early goal, but roared to a 5-2 victory seen on worldwide television. The world fell in love with Futebol do Brasil -- or, as
Pelé would later label it, "O Jogo Bonito," The Beautiful Game. They would also win the 1962 World Cup, beating Czechoslavakia in the Final in Santiago, Chile, despite
Pelé being injured in mid-tournament.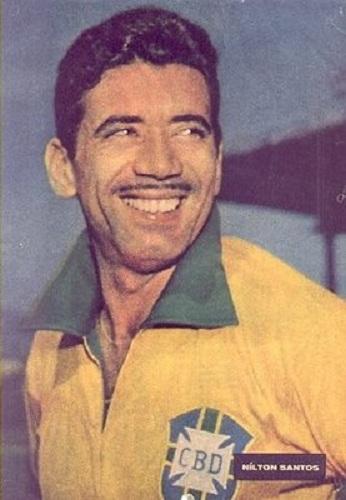 Nílton played for only 2 teams in his career: His hometown club (well, one of many in his hometown) and his country. He made 723 appearances for Botafogo, and 75 for Brazil. He never went into management. He was named to the World Team of the 20th Century in 1998, and the FIFA 100 in 2004.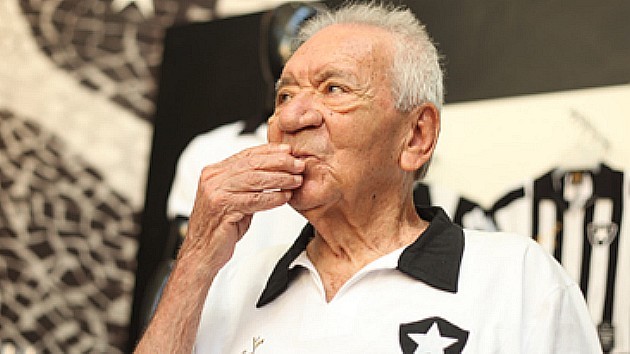 He and his surviving teammates from 1958 attended a 50th Anniversary commemoration in Rio in 2008. He died on November 27, 2013, of a lung infection in his native Rio de Janeiro, at the age of 88.