O the irony.
After the 2007 season, the Yankees refused to include Phil Hughes in a trade package to the Minnesota Twins for The Great Johan Santana.
The Mets, however, did trade for Santana, sending the Twins Philip Humber, Carlos Gomez, Kevin Mulvey and Delois Guerra.
The Mets getting Santana, and the Yankees not, was supposed to doom the Yankees and help the Mets "take over New York."
Now, 6 years later...
Santana has been a bust. He pitched that "no-hitter" for the Mets, but missed all of 2011 and 2013, and parts of 2010 and 2012, with a string of injuries. He went just 46-34 with them. And, his contract having run out, he has been granted free agency. And he hasn't been picked up by another team
The Mets spent roughly $127 million on him. They haven't made the Playoffs since 2006. Barring a miracle (and, let's face it, the miracles have run out), they aren't even close to making the Playoffs in 2014. They aren't close to being able to sign a free agent, or make a trade for a player, of the magnitude that Santana used to have.
As for the players the Mets gave up: Mulvey and Guerra have been no big deal. Mulvey has made 10 major league pitching appearances, is now with the Arizona Diamondbacks, and is 0-3 with a 7.90 career ERA. Guerra has never reached the majors: He got as far as Triple-A in 2010 and '12, but has been injured; his only pro action last year was in the Rookie League. He'll be 25 shortly after next season's Opening Day, and I'll be surprised if he ever makes it.
But the other 2 players? Actually, they didn't do much for the Twins, and neither is with them any longer. It's what they did after leaving both the Mets and the Twins that makes the Santana deal look bad for both teams, and the Twins, while making the Playoffs in 2009, 2 years after the trade, haven't done so since.
After being traded to the Milwaukee Brewers, Gomez has become a very good player. This past season, he batted .284, hit 27 doubles, 10 triples and 24 home runs, with 73 RBIs and 40 stolen bases. His OPS+ was a very strong 126. He made the All-Star Team, won a Gold Glove, and finished 9th in the National League's Most Valuable Player voting, despite the Brewers being a 74-88 team. Do you think the Mets could use a center fielder like that, instead of Juan Lagares and his 80 OPS+?
In one of many ironies, the Mets have another player named Carlos Gomez in their farm system, a pitcher. But he's never been above the Rookie League, and he'll be only 22 on Opening Day, so don't expect him in the majors anytime soon.
Humber, still just a prospect at the time of the trade, spent a year with the Kansas City Royals, then went to the Chicago White Sox. He went just 14-14 for them, but actually pitched a no-hitter before Santana pitched a "no-hitter." And it was a perfect game, too, against the Seattle Mariners on April 21, 2012. He's now with the Houston Astros, and while he had a disastrous 0-8 season with them -- and a 7.90 ERA, so it's not just that the Astros can't hit -- the Mets could still use someone who's shown the talent he has shown.
As for Hughes: While his performance in 2012 and 2013 was substandard (in the latter year, to say the least), he helped the Yankees win a World Series and make the Playoffs 3 other times.
And now, he is now a Minnesota Twin anyway, having run out his contract with the Yankees, who didn't lift a finger to re-sign him, and the Twins have signed him.
So before you curse Phil Hughes for pitching so badly with the Yankees, and Brian Cashman for keeping him instead of trading him, think about what could have happened... and what actually did happen.
I said, back then, that I wouldn't trade Hughes as part of a deal for Santana.
And I was right.
Good luck, Phil.
*
Bill Foulkes has died. If you're not British, you've probably never heard of him. You should know about him.
William Anthony Foulkes was born on January 5, 1932 in St. Helens, Merseyside, England. He was the son and grandson of professional rugby players. Like many English boys, he became a soccer player, in his case a defender. Unlike most of those boys, he went on to play professionally. But he didn't sign for either of the major Merseyside teams, Liverpool Football Club or Everton Football Club. Instead, he signed for Manchester United. Ironically, his professional debut, in 1952, was against Liverpool.
He began his career at right back, making him the Number 2 on the Man U team that won the Football League title in 1956 and 1957, reached the Final of the FA Cup in 1957, and the Quarterfinal of the European Cup in 1958. Matt Busby was the manager, and, because of their youth, they became known as the Busby Babes.
On February 6, 1958, returning from their European Cup Quarterfinal advancement over Yugoslavia (now Serbia) club Red Star Belgrade, they refueled in Munich, West Germany, and tried to take off in the snowfall, and failed.
The plane crashed, and although 21 people survived, 23 others were killed, including United players Geoff Bent, Roer Byrne, Eddie Colman, Mark Jones, David Pegg, Tommy Taylor, Billy Whelan, and perhaps the brightest light of them all, 21-year-old midfielder Duncan Edwards, who survived 15 days before succumbing to his injuries. Two others, Johnny Berry and Jackie Blanchflower (brother of Tottenham Hotspur captain Danny) were injured so badly that they never played again. Busby was also badly hurt, and did not return to manage the team until the start of the next season. (His assistant manager, Jimmy Murphy, took over, not being on the trip because he was managing the national team of Wales.)
Foulkes and United goalkeeper Harry Gregg were among those who escaped, but once they saw that the plane was not going to explode, they ran back to see if they could get anybody still alive out. They both managed to save some survivors.
The team resumed their season, but the replacement players they found were not ready for top-flight football. United fell from 1st place, finishing 9th, and lost to AC Milan in the Semifinal of the European Cup, although they did win their home leg at Old Trafford. They also reached the Final of the FA Cup again, losing to Bolton Wanderers, another club from Greater Manchester.
More changes were made, including moving Foulkes from right back to centreback -- under the system in place at the time, with uniform numbers given to specific positions rather than to individual players, moving from Number 2 to Number 5. Busby rebuilt the team. In 1963, they nearly got relegated, but managed to win the FA Cup, beating Leicester City with a team that now included Munich survivor Bobby Charlton and Scottish star Denis Law as forwards, and future Leeds United star Johnny Giles on the right wing.
With the addition of George Best, the hard-charging, hard-living winger from Northern Ireland, United won the League in 1965 and 1967, and in 1968 became the 1st English team to win the European Cup, beating the great Eusebio-led Lisbon, Portugal club Benfica at the original Wembley Stadium in London.
That was to be Foulkes' last trophy. He retired after the 1969-70 season, and served as Man U's youth team coach until 1975. He managed in the North American Soccer League with the Chicago Sting (1975-77), the Tulsa Roughnecks (1978-79) and the San Jose Earthquakes (1980). He later managed in Norway and Japan, and retired from an active soccer role in 1992.
Like so many ex-athletes, he was broke. He auctioned off his mementoes, and raised

£

35,000 -- in today's money, about $94,000. He became a fixture at Old Trafford, as one of the United legends offering guided tours, including to groups from Japan, as he had learned the language while managing there.
In 2003, he was at Old Trafford (for the Final of the UEFA Champions League, the new name for the European Cup (the trophy is still called that, and, like the Super Bowl, the site is selected years in advance, in hope of choosing a neutral site), in which AC Milan beat fellow Italians Juventus on penalties.
In 2008, he was there for the 50th Anniversary commemoration of the disaster, and in Moscow for the Final of the UEFA Champions League, the new name for the European Cup (the trophy is still called that), in honor of 50 years since the crash and 40 years since United first won it.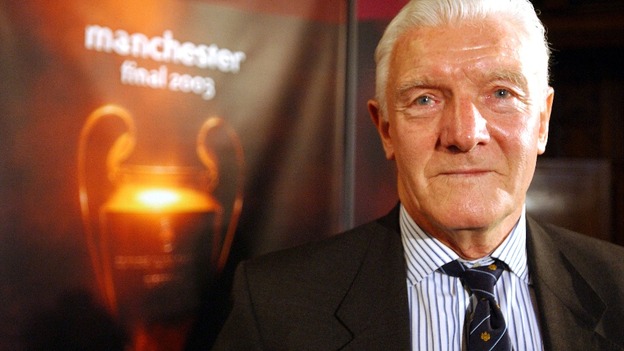 By the time the BBC began to make United, a film about the Munich Air Disaster, in which he was played by James Callas Ball, he was suffering from Alzheimer's disease, and was unable to participate in any way.
The film premiered on the BBC in 2011.
He had attended the funeral of Albert Scanlon, a teammate who survived the crash, in 2009, but not that of another, Kenny Morgans, who died in 2012.
Bill Foulkes died on November 25, 2013, in Manchester. He was 81. With his
death, there are 7 survivors of the crash still alive, 55 years later: Charlton, Gregg, stewardess Rosemary Cheverton, and 4 Yugoslavs: Nebojsa Bato Tomasevic, a diplomat; Eleanor Miklos, the wife of a travel agent who died in the crash; Vera Lukic and her toddler daughter Vesna Lukic, both saved when Gregg went back to the crash.