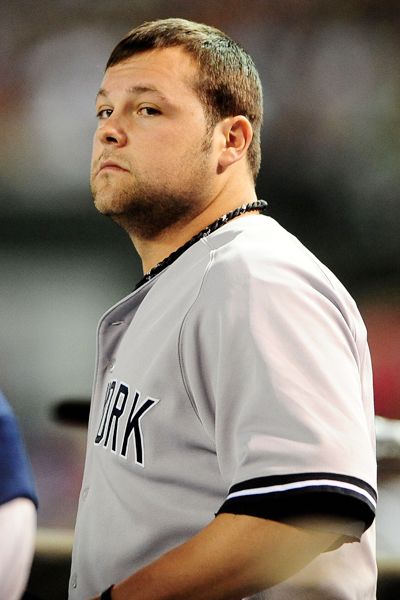 During every Yankee radio broadcast, with New York station WCBS 880 as the flagship station, sometimes more than once, play-by-play announcer John Sterling will turn to color commentator Suzyn Waldman, and say, "You know, Suzyn, you just can't predict baseball."
It's not true: There are enough tendencies in baseball that decent guesses as to what will happen are very possible. What John means is that baseball is a game full of surprises, which is definitely true.
In the bottom of the 2nd inning of last night's game w
ith the Oakland Athletics (or "Philadelphia Athletic B.C.," as they'd still be known if baseball followed the example of English soccer), Brandon Moss hit a home run off Phil Hughes. That made it 2-0 A's. The A's stretched it to 3-0 in the 5th, knocking Hughes out, before the Yankees got a run back in the 6th (on a Mark Teixeira sacrifice fly) and another in the 7th (on a Jayson Nix single) to make it 3-2.
Joba Chamberlain began the bottom of the 8th by pitching to Moss. He had nothing on his pitches: He got the first 2 pitches over for strikes, but couldn't find the plate after that. He kept throwing high fastballs, and either they were called balls or Moss fouled them off. The count went full, 3-and-2. I thought, "Uh-oh, either he's gonna walk a bunch of batters, or he'll get the ball down only enough to allow somebody to turn on a high fastball."
Now, I'm not saying I predicted what would happen, because, let's face it, I gave equal possibility to a different, albeit also deleterious, outcome.
But
Suzyn did predict it: She suggested that if Joba didn't get his pitches lower, Moss might hit another home run.
Joba put one just a little lower, low enough to swing at, and Moss drilled it to dead center field. It hit the wall of the Oakland Coliseum's Mount Davis football bleachers and bounced back onto the field. As Sterling pointed out, the ground rules make that a home run. Moss' 2nd of the game.
And instead of that annoying catchphrase (one of several that he has), John said of Suzyn, "And my partner was prophetic!"
Apparently, she CAN predict baseball!
At that point, I snapped off the radio. Because I know how Joba Chamberlain's mind works. He's a front-runner: When things are going well, he's a great pitcher. But at the slightest hint of adversity, he falls apart. After I turned the radio off, he got a popup and a flyout, but also allowed 2 singles, turning 4-2 A's into 5-2 A's. Joe Girardi consulted his binders full of strategies, and brought in Preston Claliborne, and he walked the next batter, before striking out the next to end the damage.
But it was too late: In the 9th, Travis Hafner struck out, Vernon Wells popped up, Kevin Youkilis walked, Ichiro Suzuki singled, bringing up the tying run, but Nix grounded out to end it.
WP: Dan Straily (4-2). SV: Grant Balfour (17). LP: Hughes (3-5).
The series concludes this afternoon, a 3:30 start our time. Hiroki Kuorda starts for us, Jarrod Parker for them.
*
Elsewhere, in connection with the Yankees,
Facebook recommended that I "Like" Boone Logan.
In the immortal words of Maya Wilkes (played by Golden Brooks on Girlfriends)...
*
Boston vs. Chicago is a rare Finals matchup. In spite of all the teams from those cities, they've only met in a sport's final twice before: 1918 World Series, Red Sox over Cubs; and 1985-86 Super Bowl, Da Bears over Patriots. In the NBA, it hasn't even been possible since 1980, when the Bulls were moved from the Midwest Division in the Western Conference to the Central Division in the Eastern Conference. It is still possible in the World Series, the Super Bowl, and, as we've now seen, the Stanley Cup.
Between them, the Boston Bruins and the Chicago Blackhawks have reached the Stanley Cup Finals 28 times - but this is the first time against each other. They reached the Fin
als in back-to-back seasons in 1938-39 (Hawks first), 1943-44 (Bruins first), 1971-72, 1972-73, 1973-74 (Hawks, then Bruins, then Hawks, then Bruins), and 2010-11 (Hawks first), and came pretty close to facing each other in 1990, but it's never happened until now.

They made for lost time: Game 1 of the Stanley Cup Finals went to 3 overtimes, before Andrew Shaw won it for the Hawks at 12:08 of the 3rd OT. It was the 4th-longest game in Finals history. One Hawks fan said on Twitter that, not having had this matchup before, hockey fans have been ripped off for the last 80 years.
The Bruins had led 3-1, but, remembering they're from Boston, they choked. Three-one, and you fucked it up!


There is still one "Original Six" matchup that has never happened in the Finals: The Hawks and the New York Rangers. Like Hawks-Bruins, it has happened in earlier rounds.
The one that's happened the most often? The Detroit Red Wings have played the Toronto Maple Leafs 6 times, although not at all since 1964.