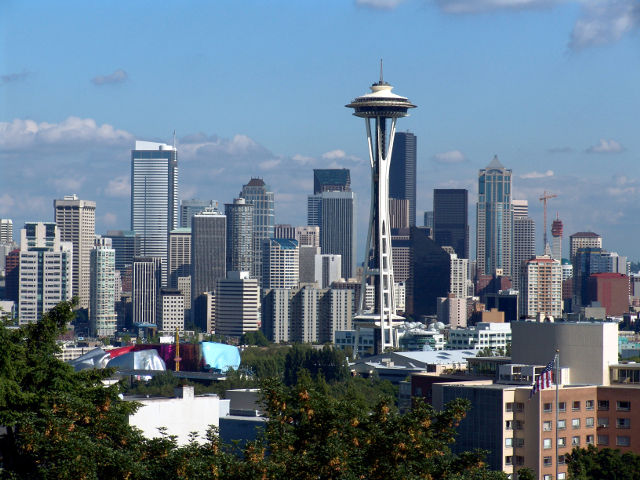 I should have done this a few days ago, as the Yankees' Pacific Coast trip starts with a series in Seattle in 2 days, making even a comparatively cheap flight difficult to obtain, and getting there in time any other way impossible.
DISCLAIMER: I have never been to the Pacific Coast, so all of this information is secondhand at best, but much of it does come from the opposing teams' websites.
Before You Go.
Seattle is notorious for rain, but
Safeco Field has a retractable roof, and, besides,
according to the
Seattle Times
website, rain is not expected for the entire weekend, so the roof may be open. Daytime temperatures are predicted to be in the low 70s, nighttime in the 50s.
You might want to bring a light jacket if you're going to be outside in Seattle after dark, even if it doesn't rain.
Getting There.

It's 2,854 miles from Times Square to Pioneer Square in Seattle, and 2,856 miles from Yankee Stadium to Safeco Field. In other words, if you're going, you're flying. And, due to my having delayed this, you're paying at least $1,100. Sorry.
You think I'm kidding about having to fly? Even if you get someone to go with you, and you take turns, one drives while the other one sleeps, and you pack 2 days' worth of food, and you use the side of the Interstate as a toilet, and you don't get pulled over for speeding, you'll still need over 2 full days to get there. One way.
But, for future reference, if you really, really want to drive... Get onto Interstate 80 West in New Jersey, and stay on that until it merges with Interstate 90 west of Cleveland, then stay on 90 through Ohio, Indiana, and Illinois, into Wisconsin, where it merges with Interstate 94. Although you could take I-90 almost all the way, I-94 is actually going to be faster. Stay on I-94 through Minnesota and North Dakota before re-merging with I-90 in Montana, taking it through Idaho and into Washington, getting off I-94 at Exit 2B.
Not counting rest stops, you should be in New Jersey for an hour and a half, Pennsylvania for 5:15, Ohio for 4 hours, Indiana for 2:30, Illinois for 2 hours, Wisconsin for 3:15, Minnesota for 4:30, North Dakota for 6 hours, Montana for a whopping 13 hours (or 3 times the time it takes to get from New York to Boston), Idaho for 1:15 and 6:45 in Washington. That's 50 hours, and with rest stops, you're talking 3 full days.
That's still faster than Greyhound (70 hours, changing in Chicago, Minneapolis and Billings, $484 round-trip) and Amtrak (69 hours, changing in Chicago, $428 each way, before booking sleeping arrangements). But flights, usually changing in Chicago, will be a lot more expensive.
Amtrak's King Street Station is just to the north of the stadium complex, at S. King St. & 3rd Ave. S., and horns from the trains can sometimes be heard as the trains go down the east stands of CenturyLink Field and the right-field stands of Safeco. The
Greyhound station is at 811 Stewart St. at 8th Ave., in the Central Business District, about halfway between the stadiums and Seattle Center.
In 2009, Seattle opened Link Light Rail, which includes SeaTac Station to get out of Seattle-Tacoma International Airport, and Stadium Station to get to Safeco and CenturyLink Fields. However, being right downtown, you can probably walk from your hotel to the ballpark.
Off-peak bus fare in Seattle is $2.25. In peak hours, a one-zone ride (either totally within the City of Seattle or in King County outside the city) is $2.50 and a two-zone ride (from the City to the County, or vice versa) is $3.00. The monorail is $2.25. The light rail fares are more complicated, but are comparable. Fares are paid with a farecard, or, as they call it, an ORCA card: One Regional Card for All.
Tickets.

The Mariners are averaging just 20,965 per home game this season, and got 21,258 last season. So, even for a game against the Yankees, getting tickets shouldn't be a problem.
Infield Lower Boxes will set you back $80, outfield Lower Boxes $56, Upper "View Boxes" $43, View Reserved $30, left field Bleachers $28, and center field Bleachers $19 – and you'll be a lot closer than you would have been if you'd had similar seats at the Kingdome. The upper deck outfield seats in that concrete toadstool might as well have been in Spokane.
Going In.

Founded in 1853, and named for a Chief of the Duwamish Indians,
Seattle is easily the biggest city in America's Northwest, with 630,000 people within the city limits and 3.5 million in its metropolitan area. With Lake Washington, Puget Sound, and the Cascade mountain range nearby, including Mount Rainier, it may be, on those rare clear days, America's most beautiful metro areas.
East-west street addresses increase from Puget Sound and the Alaskan Way on east. North-south addresses are separated by Yesler Way. At 967 feet high, Columbia Center, a.k.a. The Black Tower, is the tallest building in the Northwest, and, for the moment, the tallest building in North America west of the Rocky Mountains except for the U.S. Bank Tower in Los Angeles. (A building going up in San Francisco is expected to top the Black Tower by 2017.) If you're wondering about Seattle's most famous icon, the Space Needle, it was once the tallest structure west of the Mississippi River, but at 605 feet it is well short of the Black Tower.
The official address of Safeco Field is 1250 First Avenue South. It is in a neighborhood called SoDo, for "South of Downtown." This led to M's fans saying their hyped-up but ultimately failed 2001 team had "SoDo Mojo."
First Avenue is the 3rd base side, the 1st base side is Atlantic Street/Edgar Martinez Drive, the left field side is Royal Brougham Way (Royal Brougham was not a car or a brand of booze, but the name of a Seattle sportswriter who championed the city as a site for major league sports), and the right field side is the railroad. With Safeco being at the southern edge of downtown, you're likely to enter on the left field or 3rd base side.
Michael Kun and Howard Bloom, Red Sox fans and the authors of

The Baseball Uncyclopedia

, have said that Safeco is the best ballpark ever built, better than their beloved Fenway, mainly because it's more comfortable and convenient. It's certainly a far cry better than its predecessor, the hideous concrete King County Domed Stadium, a.k.a. the Kingdome (1976-2000).
But there are two things that I believe damage Safeco's atmosphere. The roof hanging over right field makes it look less like a ballpark and more like an airplane hangar. (The same effect is worse in Houston, worse still in Milwaukee, and worst of all in Phoenix.) And being next to King Street Station, you're going to hear almost as many train horns as you would hear planes in Flushing Meadow. But it's still a pretty good ballpark.
Seating capacity is 47,476. Outfield distances are as follows: 331 feet to left, 388 to left-center, 405 to center, 385 to right-center, and 326 to right. Unlike the homer-happy Kingdome, Safeco is a pitcher's park, leading to Ken Griffey Jr. and Alex Rodriguez wanting to leave the Mariners, and convincing Felix Hernandez to stay. (Although it didn't convince Cliff Lee to stay. Randy Johnson was already gone by the time Safeco opened in 1999.) Mark Teixeira, playing for the Texas Rangers in 2006, hit Safeco's longest home run, 462 feet. Mark McGwire hit the longest at the Kingdome, a 538-foot drive off Johnson in 1997.
CenturyLink Field, formerly Seahawks Stadium and Qwest Field, home of the NFL's Seattle Seahawks and MLS' Seattle Sounders, is just to the north of Safeco, across Royal Brougham Way, on the site of the Kingdome. It is regarded as the loudest outdoor facility in the NFL (especially now that the Washington Redskins have left compact RFK Stadium and moved to their far less atmospheric stadium in the suburbs), and it has one of the better soccer atmospheres in the U.S. as well. In case you're wondering, Safeco is an insurance company, and CenturyLink is a telecommunications outfit, which bought similar company Qwest.
Food.

As a waterfront city, and as the Northwest's biggest transportation and freight hub, it is no surprise that Seattle is a good food city, with the legendary Pike Place Market serving as their "South Street Seaport." Fortunately, Safeco lives up to this.
They have the usual ballpark fare, and baseball-named stands like the Batter Up Bar at Section 6, Big League Burger at 106, High Cheese Pizza at 109, 132, 141, 241 & 329; Grounds Crew Espresso at 111, The Natural (I'm guessing organic, or at least food with no artificial flavors) at 131, the Asian-themed Intentional Wok at 132, Double Play Chicken & Sausage at 137 & 341, Grounders Garlic Fries (the snack made famous by the San Francisco Giants) at 148, 326 & 337; Bases Loaded at 212, the Hot Stove Broiler at 218, Frozen Rope Ice Cream at 313 & 330, Good Hops Beer (as opposed to "bad hops") at 320 & 330, the Sweet Spot at 332, and the Caught Looking Lounge behind the bullpen.
The Left Field Gate has a stand called Blazing Bagels and a bar called the Flying Turtle Cantina. There are

local favorites like Ivar's Seafood & Chowder, and ShishkaBerry's chocolate-dipped strawberries. There's no Starbucks or Seattle's Best Coffee stand at Safeco, but the city's coffee-soaked reputation is backed up with Grounds Crew Espresso.
As far as I know, Safeco is the only ballpark that has a vegetarian-only concession stand, All American Vegetarian, under Section 132. The

ING Direct Hit It Here Cafe is behind the right field fence and provides views of the field. And, new this season, in the tradition of Boog's Barbecue in Baltimore and Bull's Barbecue in Philadelphia, Mariner legend Edgar Martinez has opened Edgar's Cantina at Safeco.
Former Yankee and Mariner 3rd baseman Mike Blowers, who grew up near Seattle and is now a Mariners broadcaster, started a food-related team tradition in 2007. During an Interleague game against the Cincinnati Reds, a fan tried to catch a foul ball along the right-field line, but instead spilled his tray of fries along the track. While chatting on the air and seeing the mishap, Blowers' partner, former WCBS-Channel 2 & WFAN announcer Dave Sims, suggested that Blowers should send a new tray of fries to the fan. Blowers agreed, and sent his intern to deliver a plate of fries to the man. However, during the next game, fans made signs and boards, asking Blowers for free fries as well. Coincidentally, every time the fries were delivered, the Mariners seem to score or rally from a deficit, and thus the Rally Fries were created. This became so popular with the fans that signs were even seen when the Mariners were on the road, though Blowers doesn't award winners on the road. Sometimes, in the tradition of the game show Let's Make a Deal, fans wear costumes to get Blowers' attention. Silly? Sure, but it beats the Angels' stupid Rally Monkey.
Team History Displays.

The Mariners began play in 1977, and have never been to the World Series. There are only 3 teams in the 4 major North American sports that have waited longer to get to the Finals: The NHL's Toronto Maple Leafs (1967) and St. Louis Blues (1970), and the NBA's Atlanta Hawks (have played in Atlanta since 1968, and haven't reached the Finals since they were in St. Louis in 1961). If you count multiple cities, add the Montreal Expos/Washington Nationals (1969/2005) and the NBA's Sacramento Kings (have only played in Sacramento since 1985 but haven't reached the Finals since they were the Rochester Royals in 1951, beating the Knicks).
Nevertheless, the Mariners have won 3 American League Western Division titles, in 1995, 1997 and 2001, and also won the AL's Wild Card in 2000. In '95, they beat the Yankees in a remarkable AL Division Series before losing the AL Championship Series to the Cleveland Indians. In 1997, they lost the ALDS to the Indians. In 2000 they beat the Chicago White Sox, and in 2001 they beat the Indians. But in both 2000 and '01, they lost the ALCS to the Yankees. (Remember: 116 wins don't mean a thing if you don't get that ring!)
The 3 Division Title banners hang in right field. There is no mention (as far as I know), anywhere in the stadium, of the Mariners' Pacific Coast League predecessors, known as the Indians 1903-37, the Rainiers 1938-64 and again 1972-76, and the Angels 1965-68. Seattle won PCL Pennants in 1924, 1940, 1941, 1942, 1951 and 1955. So if you count Triple-A Pennants won by current MLB cities, Seattle has waited longer for their next Pennant than any other city except Washington, D.C. (the 1933 Senators). And every minor league city that has become a major league city has won an MLB Pennant since.
There's a Mariners Hall of Fame display under the 3rd base stands. Members include 1984-91 1st baseman Alvin Davis,
1987-2004 designated hitter Edgar Martinez,
1988-2001 right fielder
Jay Buhner (as a Yankee Fan, you may remember him), 1989-98 pitcher
Randy Johnson, 1989-99 and 2009-10 center fielder Ken Griffey Jr.,
1994-2005 catcher Dan Wilson,
and Dave Niehaus, who broadcast for the M's from their 1977 debut until his death following the 2010 season. There is also a statue of Niehaus outside the ballpark.
Although Gaylord Perry (who won his 300th game against the Yankees at the Kingdome in 1982), Goose Gossage, Rickey Henderson, manager Dick Williams and executive Pat Gillick have all been elected to the Baseball Hall of Fame, none have gotten in due to anything they did while employed by the Mariners' organization. Niehaus has been awarded the Ford Frick Award, considered the broadcasters' equivalent to Hall of Fame induction. Martinez is eligible for the Hall but is not yet in. Johnson becomes eligible in 2015, Griffey in 2016; both should find getting into Cooperstown considerably easier than has Edgar.
The Mariners have not officially retired any numbers, aside from the universally-retired Number 42 for Jackie Robinson. But Martinez's Number 11, Buhner's 19, and Yankee player turned Mariner manager Lou Piniella's 14 have not been given out since they left the team. Nor has Griffey's 24, except in Junior's brief comeback to the club. But Johnson's 51 was given out to Ichiro Suzuki, for whom it will likely be retired someday. Left fielder Greg Halman had "cups of coffee" with the Mariners in the 2010 and '11 seasons, but was then stabbed to death by his brother in his native Rotterdam, the Netherlands. He was only 24, and his Number 56 has not been reissued. The M's also have not issued Number 00 since Jeffrey Leonard left the club, as the number is worn by their mascot, the Mariner Moose.
Stuff.
The main Team Store is located along the 3rd base side. Additional merchandise locations and novelty kiosks are open throughout the stadium during all home games.
Having never been to the World Series thus far, the Mariners don't commemorate their history with many books, but there is an

Essential Games of the Seattle Mariners

DVD collection. It features only 4 games, as opposed to most of these (including the Yanks' and Mets') having 6: The 1995 AL West Playoff with the California Angels (as the Anaheim team was then officially known), forged when the Halos had an epic collapse and the M's an equally amazing comeback; 1995 ALDS Game 5 (known to us as Donnie Baseball's swan song), 2000 ALDS Game 3, and the 2001 AL West clincher against the Indians (not to be confused with the '01 ALDS clincher, also against the Indians).
There are books about the Mariners, in spite of their comparative lack of history. The staff of the now-defunct Seattle Post-Intelligencer chronicled the club's most important season, the one that got fans to vote to get Safeco built and save Major League Baseball in the Northwest, in A Magic Season: The Book on the 1995 Seattle Mariners. C.N. Donnelly wrote Baseball's Greatest Series: Yankees, Mariners, and the 1995 Matchup That Changed History. (It may not have been the greatest postseason series in baseball history, but it sure did change history: Not only did it save baseball in Seattle, but it forced the Yankees to make the changes that led to the 1996-2003 dynasty.) A more acerbic look at this glory-hungry franchise is Shipwrecked: A People's History of the Seattle Mariners, published in 2012 by Jon Wells.
During the Game.
Wearing Yankee gear in Seattle, including inside Safeco Field, will not endanger your safety. Although Mariner fans hate the Yankees more than any other team, including their AL West opponents (the Angels, A's and Texas Rangers), they are generally nonviolent. Laid-back, even: When Clay Bennett bought the NBA's Seattle SuperSonics and moved them to Oklahoma City, there was a lot of sadness, but not much of a protest, even though the Sonics had usually been good, and won the city's last major championship. (That 1979 NBA Title is still the only Seattle world championship, aside from the 1917 Stanley Cup won by the Seattle Metropolitans, the first time the Cup was won by a U.S. team, and that team folded in 1926.)
The Mariners don't have a lot to hold your attention during a game. Aside from the Rally Fries, there's no special "Get Loud" device, unless you want to count the playing of "Louie, Louie" by Northwest-based band the Kingsmen, which is played after "Take Me Out to the Ballgame" at the 7th Inning Stretch. And, aside from the late Edward McMichael, a.k.a. Tuba Man, there's no really noticeable Mariner fans like New York cowbell men Freddy "Sez" Schuman and Milton Ousland (Yankees) and Eddie Boison (Mets).
In 2011, the Mariners' marketing staff came up with an idea to encourage the growing fanbase of Cy Young Award-winning pitcher Félix Hernández -- a.k.a. "King Felix." (Funny, but I thought you had to have a crown to be a king. He's never even seen a postseason game except on television. In fact, since he got to Seattle, the Mariners have never even come close.) Every Hernandez start at Safeco is now accompanied by a King's Court section, a place for his fans to sing, dance and cheer while donning custom-made shirts. The team encouraged fans to dress like Larry Bernandez, Hernandez's alter ego from a Mariners TV Commercial, or show up in wacky costumes, rewarding the best with a ceremonial turkey leg. (As in the favorite snack of 16th Century English monarch King Henry VIII.) Do they know this is a ripoff of a section at Philadelphia's Veterans Stadium, where fans used to wear werewolf masks and call themselves The Wolf Pack when Randy Wolf pitched for the Phillies? These same fans also put on sombreros for Vicente Padilla and called themselves the Padilla Flotilla, and big fake mustaches for Sal Fasano and called themselves Sal's Pals.
Fitting in with the Pacific Northwest's image, the team's mascot is the Mariner Moose. You may remember a real moose walking through the streets of Cicely, Alaska in the opening sequence of the TV show

Northern Exposure

; that sequence was filmed in Roslyn, Washington, 82 miles down I-90 to the southeast of Safeco.
You may also remember that, during the 1995 ALDS between the Yanks and M's, the Moose was doing the artificial-turf equivalent of water-skiing behind an ATV, when he lost control and his rollerblades led him to crash into the outfield wall, breaking his ankle. He continued performing on crutches (though not doing the skating) through the rest of the Playoffs.
UPDATE: Part-owner Hiroshi Yamauchi died on September 19, and the Mariners wore sleeve patches in his memory for the rest of the season.
After the Game.

SoDo is not an especially high-crime area, and, as I said, Mariner fans do not get violent. You might get a little bit of verbal if you're wearing Yankee gear, but it won't get any worse than that.
Two bars are usually identified with Mariners and Seahawks games. Sluggers, formerly known as Sneakers (or "Sneaks" for short), is at 538 1st Avenue South, at the northwest corner of CenturyLink Field. A little further up, at 419 Occidental Avenue South, is F.X. McRory's. Keep in mind, though, that these will be Mariner-friendly bars.
As for Yankee-friendly bars, while there are Yankee Fans everywhere, I couldn't find anything specific on the Internet. I've been told that the following are good for football Giants fans, but I cannot confirm any of these: Buckley's (232 1st Ave. W. at Thomas St.),
Goldie's (2121 N. 45th Street), the Lucky 7 Saloon (12715 NE 124th Street in Kirkland) and Big Daddy's Place (13420 NE 177th Place in Woodinville). Buckley's is just to the west of Seattle Center, near the waterfront. The rest are a fur piece from Safeco or even downtown: Goldie's is 6 miles north of the ballpark, the Lucky 7 is 18 miles northeast, and Big Daddy's is 22 miles northeast.
Sidelights.
Aside from the KeyArena and the Safeco/CenturyLink complex, Seattle doesn't have a lot of sports sites worth mentioning. The PCL team played 2½ miles southeast of Safeco, first at Dugdale Field (1913-1932) and then at Sick's Stadium (1938-68 and 1972-76, built by Rainiers' owner Emil Sick).
The Seattle Pilots lasted only one year, 1969, before being moved to Milwaukee to become the Brewers, and are now chiefly remembered for ex-Yankee pitcher Jim Bouton's diary of that season, Ball Four. They also played at Sick's Stadium, and the book gives awful details of the place's inadequacy: As an 11,000-seat ballpark, it was fine for Triple-A ball in the 1940s, '50s and '60s; expanded to 25,420 seats for the Pilots, it was a lousy place to watch, and a worse one to play, baseball in anything like the modern era.
Elvis sang at Sick's on September 1, 1957 (since it had more seats than any indoor facility in town); supposedly, a 15-year-old Seattle native named James "Jimi" Hendrix was there. A few days prior, Floyd Patterson defended the heavyweight title there by knocking out fellow 1956 Olympic Gold Medalist Pete Rademacher. Demolished in 1979 after the construction of the Kingdome (whose inadequacies were very different but no less glaring), the site of Sick's Stadium is now occupied by a Lowe's store.
at 2700 Rainier Avenue South, bounded also by McClellan & Bayview Sts. & Martin Luther King Jr. Way.
Mount Baker station on the Link light rail system.
Husky Stadium, on the campus of the University of Washington, is right on Lake Washington and is one of the nicest-looking stadiums in college football. A rare feature in major college football is that fans can dock right outside and tailgate by boat. (The only others at which this is possible: Neyland Stadium at the University of Tennessee, and Heinz Field for University of Pittsburgh games.) It opened in 1920, making it the oldest stadium in the Pacific-12 Conference. The Seahawks played a few home games here in 1994, after some tiles fell from the Kingdome roof, and played
their games here in 2000 and 2001 between the demolition of the Kingdome and the opening of what's now CenturyLink Field. In 1923, it was the site of the last public speech given by President Warren G. Harding before his death in a San Francisco hotel. Sadly, The Wave was invented here in 1981, by university yell leader (think male cheerleader) Robb Weller, later one of Mary Hart's co-hosts on Entertainment Tonight.
However, the stadium is currently undergoing a major renovation, necessary due to age and the moisture from being on the water and in Seattle's rainy climate. Pretty much everything but the north stand of the east-pointing horseshoe has been demolished. The Washington Huskies played the 2012 season at CenturyLink, and it is hoped that the new Husky Stadium will be ready for the 2013 season. 3800 Montlake Blvd. NE, at Pacific St. Bus 545 to Montlake & Lake Washington Blvd., then walk half a mile across Montlake Cut, a canal that connects Lake Washington with Lake Union. Or, Bus 511 to 45th St. & 7th Ave., then Bus 44 to Pacific & Montlake, outside UW Medical Center, then walk a quarter of a mile.
Adjacent to the stadium, at 3870 Montlake, is Alaska Airlines Arena at Clarence S. "Hec" Edmundson Pavilion, the home of "U-Dub" basketball since 1927. Hec was the school's longtime basketball and track coach, and "Hec Ed" hosted the NCAA Final Four in 1949 and 1952. It has also hosted the State of Washington's high school basketball finals. (UW has been to the Final Four only once, in 1953, although they've won the regular-season title in the league now called the Pac-12 11 times, including 2012; and the Conference Tournament 3 times, most recently in 2011. Washington State, across the State in Pullman, reached the Championship Game in 1941, but hasn't been back to the Final Four since.)
Erected for the 1962 World's Fair (as seen in the Elvis Presley film
It Happened At the World's Fair
), Seattle Center, north of the sports complex at 400 Broad St. at John St., includes the city's trademark, the Space Needle. Admission is $18, but at least it's open 'til 11 PM, with great views of the region's natural splendor.
Seattle Center also has the Pacific Science Center (think of it the Northwest's version of the American Museum of Natural History and its Hayden Planetarium), the Science Fiction Museum and Hall of Fame (not sure why Seattle was chosen as the Hall's location, although the city is a major aerospace center), and the KeyArena, home of the WNBA's Seattle Storm and formerly the SuperSonics. (The KeyArena was built on the site of the Sonics' previous home, the Seattle Center Coliseum.) A high school football stadium is also on the site. Number 33 bus, although the nearest Link station is several blocks' walk away.
Aside from Seattle Center and its Space Needle, and the stadiums, Seattle's best-known structure is the Pike Place Market. Think of it as their version of the South Street Seaport and Fulton Fish Market. (Or Philadelphia's Reading Terminal Market, Baltimore's Harborplace or Boston's Quincy Market/Faneuil Hall.) It includes the first-ever Starbucks store.

Downtown, 85 Pike Street at Western Avenue.
Aside from the Pacific Science Center and the Science Fiction Museum, Seattle isn't a big museum city, although the Seattle Art Museum, at 1300 1st Avenue at University Street, might be worth a visit.
Not many TV shows have been set in Seattle. Northern Exposure was filmed in the State of Washington, and
Twin Peaks
was both filmed and set there,
but not in the City of Seattle. The science-fiction series Dark Angel, which vaulted Jessica Alba and Michael Weatherly to stardom, was set in a dystopian future Seattle, but was filmed in Vancouver. So was Millennium. And while Frasier was set in Seattle, and Grey's Anatomy still is, there were hardly any location shots.
Washington State Ferries offers service across Lake Washington to suburbs and islands, and to Victoria, the capital of the Canadian Province of British Columbia. It's a 2 hour, 45 minute, $137 round-trip voyage, and you will need a passport.
*
So, if you can afford it, go on out and join your fellow Yankee Fans in taking over the Mariners' ballpark. And if they bring up 1995, feel free to bring up 2000 and 2001.