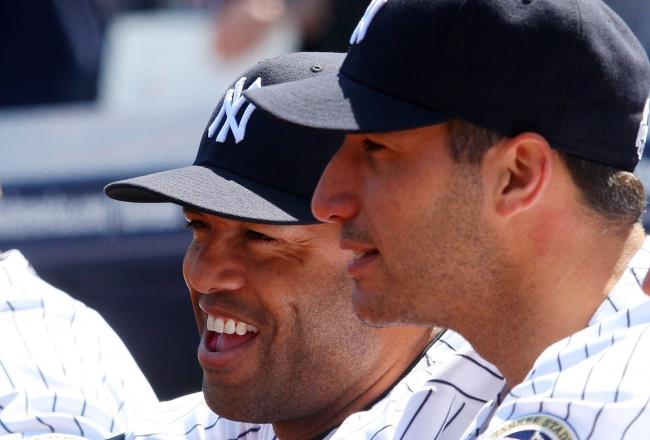 Jorge Posada has retired. No more Core Four.
Derek Jeter is injured. No Key Three.
But last night, the True Two returned.
Baseball has often been compared to religion, including in the newly-published
Baseball As a Road to God
by John Sexton. The film
Bull Durham
begins with Susan Sarandon's character saying, "I believe in the Church of Baseball," and includes Kevin Costner's character mentioning the trope that "ballparks are like cathedrals."
Well, last night's game between the Yankees and the Red Sox was not "Give me that old-time religion," it was "Give me that old-time re-pitchin'."
Andy Pettitte, age 41, started, and pitched 8 beautiful innings. This would have given Mariano Rivera, 43, the chance to collect his first save in 340 days -- if the Yankees had gotten the runs they needed.
They did. Travis Hafner (emergency veteran pickup) singled to lead off the bottom of the 2nd. Vernon Wells (emergency veteran pickup) struck out. Ichiro Suzuki (not-so-emergency veteran pickup, from last season) struck out. But Eduardo Nunez (he's not here for his glove) doubled Hafner over to 3rd. And Lyle Overbay (emergency veteran pickup) singled Hafner home. 2-0 Yankees. Brett Gardner led off the bottom of the 3rd with a home run. 3-0 Yankees.
The Sox scored in the top of the 7th, but the Yankees struck back in the bottom of the inning when Francisco Cervelli led off with a home run. This is what the Yankees, in their classical form, do: Get the runs they need, from any source, often an unexpected one, and then get the pitching they need.
It was 4-1 Yankees going into the top of the 9th, and the Sandman entered. It might have been a bigger cheer than when we won the Division Series against Baltimore last October.
But Mo didn't seem to have his good stuff. You know how, on occasion, he has a bad start to the season, blowing a couple of saves, sometimes even against the Sox, and we hear, "Oh, no, Mariano's finally lost it"? Well, maybe this was one of those -- except he got away with it.
He allowed a leadoff walk to the rather annoying Dustin Pedroia. He got Mike Napoli to fly out. Then Jonny Gomes -- who can't seem to spell either "Johnny" or "Gomez" -- doubled to left, moving Pedroia to 3rd. Well, those runs meant nothing: If they both scored, it would still have been a Yankee lead.
Mo buckled down, and, as the late Arsenal star David Rocastle would have said, remembered who he is, what he is, and what he represents. He got Will Middlebrooks to ground out, allowing Pedroia to score, and then fanned Jackie Bradley for the final out.
For the first time since October 12, 2012, we heard John Sterling say those magic words in a game that counted:
Ballgame over! Yankees win! Theeeeeeeeeeeeeeee Yankees win!
4-2! We beat The Scum, 4-2! We beat The Scum, 4-2! We beat The Scum, 4-2!
WP: Pettitte (1-0, the 246th of his career, and his 206th as a Yankee). SV: Rivera (1, the 609th of his career). LP: Ryan Dempster (0-1).
So the Yankees salvage the finale of this series in the Hundred Year War.
And their reward?
They get to go to Detroit.
The Yankees visit the Tigers, the team that knocked them out of the Playoffs the last 2 seasons, in their home opener, in the start of a 3-game series at Comerica Park. Ivan Nova starts for us, Doug Fister for them. First pitch is scheduled for 1:08 this afternoon.
*
Hours until Arsenal play another competitive match: 24, away to West Midlands club West Bromwich Albion.
Hours until the Red Bulls play again: 31, tomorrow afternoon, away to the Chicago Fire. They won their last game, beating the Philadelphia Union at home, 2-1 on a late goal by the one and only Thierry Henry.
Hours until the Devils play again: 33, tomorrow night, home to the Toronto Maple Leafs. They fired 40 shots against the Boston Bruins last night, but lost 1-0 on a fluke goal by the Beantown Brats' newwest acquisition, Mullet Boy himself, Jaromir Jagr.

Days until the Red Bulls next play a "derby," against either the New England Revolution, the Philadelphia Union or D.C. United: 8, a week from tomorrow, away to D.C.

Days until the Devils play another local rival: 13, on T
hursday night, April 18, away to Philadelphia. Remaining "derby" games are on
Sunday, April 21 and
Saturday, April 27, both away to the Rangers.
Days until the U.S. National Soccer Team plays again: 54, on Wednesday, May 29, in a friendly against Belgium, featuring Arsenal captain Thomas Vermaelen. That game will be played at FirstEnergy Stadium, formerly Cleveland Browns Stadium. It, and the subsequent Sunday afternoon game against Germany at RFK Stadium in Washington, will be warmups for our next game in the
last, "Hexagonal" round of CONCACAF World Cup Qualifiers, for the region that encompasses North America, Central America, and the Caribbean nations. In our last couple of games, we beat Costa Rica in a snowstorm in the Denver suburbs, and then nicked a hard-fought draw against arch-rival Mexico in the cauldron of the 104,000-fan Estadio Azteca. Those Mexican fans once again went from booing their opponents to booing their own fans. Classy. (Rolleyes.)
Days until the next Yankees-Red Sox series begins: 56, on Friday, May 31, at home. 8 weeks. The first Yanks-Sox series of the year at Fenway Park won't begin until Friday, July 19. Then another series begins at Fenway on Friday, August 16. Then another in The Bronx on Thursday, September 5, and another at Fenway on Friday, September 13. Oh yeah, if you're a Red Sox fan, that's a day you want to play the Yankees: Friday the 13th!
Days until the next North London Derby: Unknown, since next season's schedule won't be released until mid-June. The season will most likely open on the 3rd Saturday in August, in this case August 17, but it's been a long time since Arsenal vs. Tottenham was an early game (possibly 1988-89). But even if it is that early, that's 136 days
.
Days until Rutgers plays football again: 146
, on Thursday night, August 29, away to Fresno State University in California. A little over 4 months. The first home game of the 2013 season will be on Saturday, September 7, vs. Norfolk State. The schedule is now complete, with all opponents and locations set in this, Rutgers' last season in the Big East, before starting Big Ten play in 2014. The only thing that hasn't been set is the kickoff times, with TV in mind.
Days until East Brunswick High School plays football again: Uncertain, since the 2013 schedule has not been released. But if the usual pattern holds, it will be on the 2nd Friday in September... which, next year, just so happens to be a Friday the 13th. Oy vey. Anyway, if that's the way it works out, then it's 161
days. A little over 5 months. And when it does happen, it will be the first game they play without Marcus Borden as head coach since Thanksgiving Day 1982 (a loss to Colonia High of Woodbridge), as he has left the program. (Did he jump, or was he pushed? I don't know.)
Days until the next East Brunswick-Old Bridge Thanksgiving clash: 237. Under 8 months.
Days until Super Bowl XLVIII at the Meadowlands: 303 (February 2, 2014). Under 10 months. Of course, we have no idea who the opposing teams will be. The possibility exists that either the Giants or the Jets could be in it -- or both. To this day, no team has ever played a Super Bowl in its own stadium -- in spite of multiple hostings by Miami, New Orleans and various California teams. Only 2 have done so in their home metro area: The 1979-80 Los Angeles Rams, whose home field was then the L.A. Coliseum, and they lost to Pittsburgh at the Rose Bowl in Pasadena; and the 1984-85 San Francisco 49ers, whose home field, then as now, was Candlestick Park, and they beat Miami at Stanford Stadium in Palo Alto, which had a much larger capacity than Candlestick.
Days until the next Winter Olympics, in Sochi, Russia: 308 (February 7, 2014).
Days until the next World Cup, in Brazil: 433 (June 12, 2014). A little over 14 months.
Days until the next Summer Olympics, in Rio de Janeiro, Brazil: 1,218 (August 5, 2016). Under 4 years.