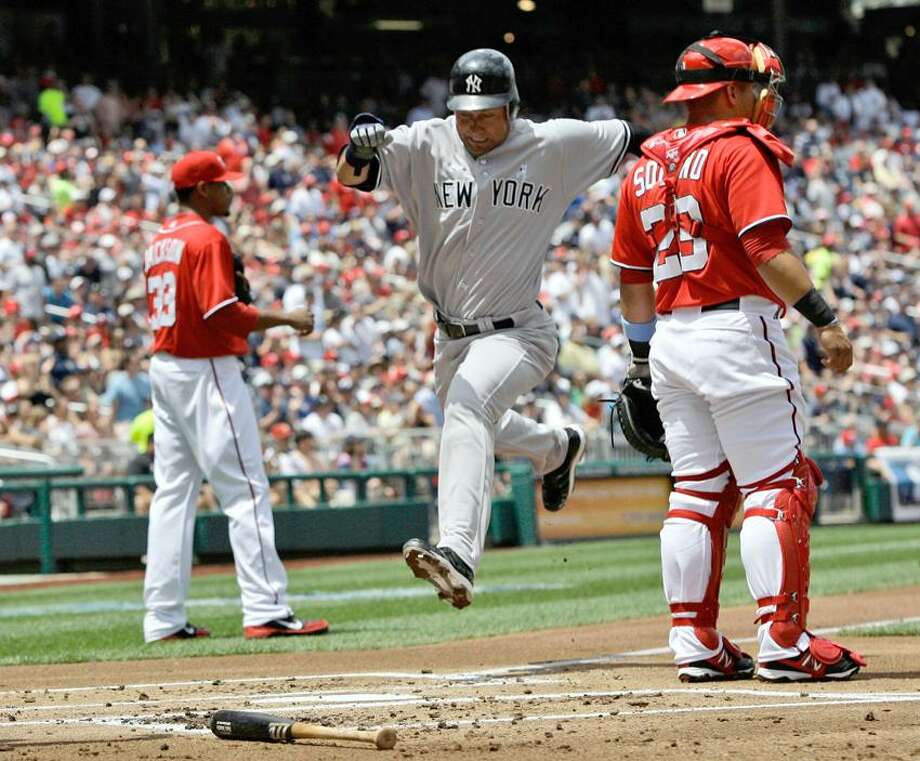 Welcome to the major leagues, Bryce Harper. So, how does it feel to get swept at home by the Yankees?
"That's a clown question, bro."
My thanks to Lisa Swan of
Subway Squawkers
for mentioning Harper's response to a question from a clown sportswriter. "That's a clown question, bro" may end up replacing Jim Bouton's 1954 quote of Alvin Dark: "Take a hike, son."
*
Ivan Nova: 7 2/3 innings, 1 run, 7 hits, 1 walk. Gettin' the job done again (9-2). Boone Logan: Got the last out in the 8th. Gettin' the job done again (to my shock -- and delight). Rafael Soriano: Perfect 9th. Gettin' the job done again (13th save).
As for the offense, against Edwin Jackson (3-4), Curtis Granderson continued his hot streak with his 21st home run, and Robinson Cano hit his 12th. Granderson also had a double, Chris Stewart made me look foolish (due to my recent criticism of him) with an RBI double, and Mark Teixeira hit 2 doubles, among the 3 hits that got his batting average, not that long ago below the Mendoza Line, up to .252.
Yankees 4, Nationals 1. A good sweep against a good team on the road. That's 9 in a row, and 18 out of the last 22.
The Yankees lead the American League Eastern Division by a game and a half over the Baltimore Orioles (2 in the loss column), 3 1/2 (4) over the Tampa Bay Rays, 6 1/2 (7) over the Toronto Blue Jays, and 7 1/2 (8) over the Boston Red Sox -- and even the last-place Red Sox are at .500.
Magic Number to eliminate these teams: Scum 89, Jays 90, Rays 93, and O's, thus clinching the Division, 95.
The Yankees are 40-25, and the only team with a better record is the Los Angeles Dodgers, at 42-25 -- meaning the Yankees are even with them in the loss column.
Of course, while having the best record in your Division is important, and having the best record in your League certainly helps, having the best record in all of MLB doesn't matter, since home-field advantage in the World Series is decided by which League wins the All-Star Game. And last year, when the Texas Rangers blew Games 6 and 7 in St. Louis against the Cardinals, was the first time in 9 tries that it actually mattered.
Derek Jeter: 3,175 hits. Alex Rodriguez: 2,839 hits, 639 home runs, 1,924 RBIs.
The Yankees come home to face the Atlanta Braves. Tonight, CC Sabathia vs. Mike Minor (who may be aptly named). Tomorrow night, Hiroki Kuroda vs. Tim Hudson. And Wednesday afternoon, Phil Hughes vs. Tommy Hanson.