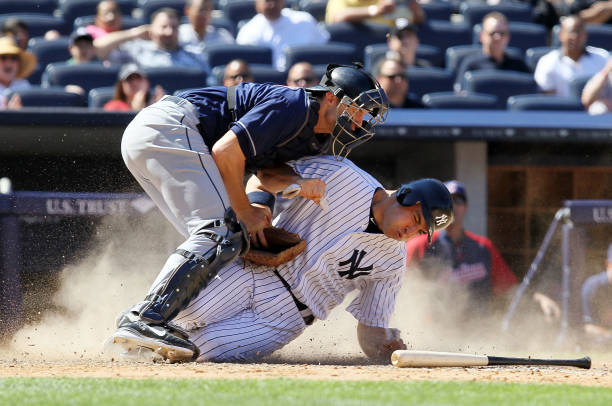 The Yankees swept the Cleveland Indians at The Stadium this week, but it was costly.
On Monday night, the Yankees put 2-spots on the board in the 1st, 2nd and 3rd innings, on the way to a 7-1 win. Dewayne Wise hit his 1st Yankee homer, Robinson Cano hit his 17th of the season, and Nick Swisher hit his 12th.
WP: Hiroki Kuroda (7-7), 7 innings, 1 run, 5 hits, 2 walks, 7 strikeouts. And we were worried about him. No save, although Clay Rapada and Freddy Garcia each pitched a perfect inning of relief. LP: Josh Tomlin (3-5).
Last night, the Yankees scored 3 in the 2nd, thanks to RBI singles by Chris Stewart and Curtis Granderson. Alex Rodriguez did what some of us have so often criticized him for doing, hitting a home run when it doesn't seem to matter. (It was his 13th of the year.) So the Yankees took a 6-0 lead into the 9th, thanks to some nifty pitching by Phil Hughes, 8 shutout innings.
But Joe Girardi brought Cory Wade in to pitch the 9th. Wade has not gotten the job done this season, and he didn't get it done last night, either. He allowed a leadoff double to Jason Kipnis (no, I'd never heard of him before, either). The next batter was Carlos Santana – I was wondering who was on deck: Richie Havens? Country Joe McDonald? Sly Stone? – and he grounded to 3rd, moving Kipnis over.
Well, so what? If he scores, that only makes it 6-1. No big deal.
And Wade popped Michael Brantley up for the 2nd out. Out of the woods, right?

Wrong: Johnny Damon (Memba him?) singled Kipnis home. 6-1. Then Casey Kotchman singled, advancing Damon to 3rd. Then Jose Lopez hit one out. 6-4!
Damn it, Wade… Like the rest of us, Girardi had seen enough, and stopped futzing around. He brought in Rafael Soriano. (Did I say he stopped futzing around? This time, yes.) Soriano got Lonnie Chisenhall to line ground out to 1st, and that ended it.
WP: Hughes (8-6). SV: Soriano (16). LP: Justin Masterson (4-7).
Then today, came bad news: CC Sabathia has a groin strain, and will be out until after the All-Star Break. Rats.
Andy Pettitte took the mound, continuing his comeback. It was 2-1 Yankees after 4, thanks to an RBI double by former Yankee Shelley Duncan, driving in Carlos Santana (You got to change your evil ways… Shelley!) in the top of the 2nd, and a 2-RBI double by Eric Chavez in the bottom of the 4th.
But Kotchman led off the top of the 5th with a line shot off Pettitte's ankle. Turns out it's broken, and Andy will be out 6 weeks. So now we're down 2 starters. Make that 3: Remember Michael Pineda?
Remember that decision we had to make, to pare 7 starters (potentially counting Andy) down to 5? Not so funny anymore, is it?
Cody Eppley came in, and allowed 2 runs. Girardi got him out of there, and replaced him with Garcia. Considering how well he pitched in Pettitte's spot in the rotation, and considering his experience, it's likely he'll hold that spot at least until Andy comes back. He faced 7 batters and got them all out. David Robertson pitched a perfect 8th.
In the bottom of the 6th, A-Rod doubled, and Cano homered (his 18th), to make it 4-3 Yankees. In the bottom of the 8th, Chavez singled home 2 runs, to make it 5-3.
That insurance run turned out to be enormous, because Girardi replaced D-Rob with Sori, who did not have it. Chisenhall led off with a single. Shin-Soo Choo walked. Sori got Kotchman to line out, but Lou Marson singled to load the bases. And then Sori walked Michael Brantley to force home a run. 5-4.
As they say in English soccer, it was squeaky bum time.
But Sori got Asdrubal Cabrera to fly out to end it. Whew.
WP: Garcia (2-2). SV: Soriano (17… didn't deserve credit for a save). LP: Ubaldo Jimenez (7-6).
Going into tonight's games, the Yankees are now 4½ games (4 in the loss column) ahead of the Baltimore Orioles in the American League Eastern Division, 6 ahead of the Tampa Bay Rays, 6½ (7) ahead of the Boston Red Sox, and 8½ (9) ahead of the Toronto Blue Jays. The Jays are, however, a game over .500, meaning all teams in the AL East are.
Elimination numbers: Jays 79, Sox 81, Rays 82, O's 85.
The Yankees have now
won their last 5, 15 out of 18, and 25 out of 32.
But being down 3 starters – 2 that we had last week – is not good. But we're the Yankees: We get through everything else, we'll get through this.
Derek Jeter now has 3,183 career hits. A-Rod has 2,845, 155 from 3,000. He has 642 home runs, 58 from 700 and 121 from the record. He has 1,927 RBIs, 73 from 2,000 and 371 from the record.
Elsewhere in baseball today, the Mets tried to make "aggregate scoring" work at Wrigley Field. It doesn't. After blowing the 1st 2 games of their series with the Chicago Cubs, they beat the Cubs 17-1. That included 6 runs in 5th and 6 more in the 6th.
The Red Sox beat the Blue Jays, 10-4. David Ortiz hit his 399th career home run, passing Dale Murphy on the all-time list and tying Al Kaline. One more, and he's got 400.
Why is he even still in baseball? Give the Orioles their due: They kept Rafael Palmeiro long enough to get his 3,000th hit, but released him right after it was announced that, contrary to his testimony before the Congressional committee that got Roger Clemens in hot water, he had tested positive for steroids. And Palmeiro has effectively been blackballed from both employment in baseball and the Hall of Fame.
The Sox? They still sent Big Papi out there.
He is now the last remaining player on the Sox from their tainted 2004 title.