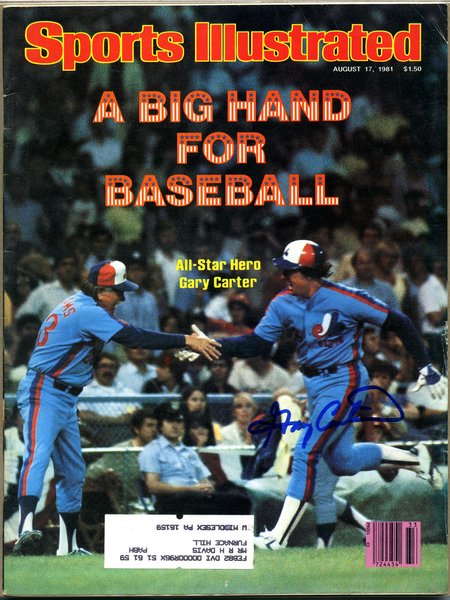 August 9, 1981, Cleveland Municipal Stadium. The strike that shut down Major League Baseball for 2 months is over, and the season resumes with the All-Star Game.
The star of the game was the National League's starting catcher, who hit 2 home runs, and was on the cover of the next week's issue of
Sports Illustrated
, under the headline, "A BIG HAND FOR BASEBALL."
I wasn't happy with that, because I was a Yankee Fan, and thus an American League fan. But I was glad baseball was back.
I never imagined the grief that catcher would bring me, although there was a chance, since his team, the Montreal Expos, came within one run of opposing the Yankees in that year's World Series. But it didn't happen, and the Expos never did play in a World Series -- and, as the Washington Nationals since 2005, still haven't.
*
Of course, there's grief, and then there's grief. True grief was when the man who had been the Yankees' catcher and Captain, Thurman Munson, was killed in a plane crash 2 years earlier.
"Sports grief" is something different, and should not be confused with the real thing. Not at all.
Besides, that Expos catcher, Gary Carter, always seemed to be trying to be a symbol of baseball joy, rather than grief. A native of Fullerton, Orange County, California, he was an 11-time All-Star and a 3-time Gold Glove. He finished 2nd to San Francisco Giants pitcher John Montefusco for National League Rookie of the Year in 1975, and 2nd to Mike Schmidt for NL Most Valuable Player in 1980.
In the 1984-85 offseason, when the Mets showed their first signs of life in nearly a decade, they swung a big trade with the Expos, sending them 4 players -- only one of whom is likely to be familiar to you now, Hubie Brooks, a 3rd baseman and not at all a bad player -- for Carter.
Boom! On Opening Day 1985, Carter homered in the bottom of the 10th off former Met Neil Allen -- himself sent away in a blockbuster trade with Rick Ownbey for Keith Hernandez -- to beat the St. Louis Cardinals as Shea Stadium rocked. It ended up not mattering in the standings, as the Cards edged the Mets for the NL Eastern Division title.
But in 1986, the Mets were "inevitable." And yet, in the bottom of the 10th (again), in Game 6 of the World Series, the Mets were one out -- really, one pitch -- from elimination.
And Gary Carter was up next, and, defying the fact that he rarely used profanity, said afterward, "I wasn't going to make the last fucking out of the World Series." He didn't, smacking a single and keeping the Mets alive.
Somehow, those words don't seem right tonight. But, MET-aphorically, that's what Carter did. You know the rest: Kevin Mitchell singles Carter over to 2nd, Ray Knight singles home Carter and Mitchell over to 3rd, the Red Sox bring in Bob Stanley, he throws a wild pitch that almost hits Mookie Wilson, Mitchell scores, tie game, the Red Sox blew a 2-run lead with 2 outs and 2 strikes in the bottom of the 10th, and
then
Mookie, in the words of Vin Scully, the legendary Los Angeles Dodgers announcer doing the game for NBC, hits "a little roller up along first, behind the bag! It gets through Buckner! Here comes Knight and the Mets win it!"
And, of course, the Mets won Game 7, and won the World Series. Carter finished 3rd behind Schmidt and Houston Astros 1st baseman Glenn Davis in the 1986 NL MVP voting, the Mets' balance probably hurting any player's MVP chances, as Carter and Hernandez, who finished 4th, split the team's votes.
*
Carter slumped badly in 1987, but he managed to hit 324 home runs in his career, pretty good for a catcher whose home parks were the Montreal Olympic Stadium and Shea. After missing out a few times, he was elected to the Baseball Hall of Fame in 2003. His Number 8 was retired by the Expos before they moved, and while it hasn't been retired by the Mets, they did elect him to their team Hall of Fame. He broadcast for the Florida Marlins and managed in the minor leagues and in college ball.
Last year, he developed brain cancer, which also took New York baseball legends Bobby Murcer and Tug McGraw. Gary Edmund Carter died this afternoon at the age of 57.
He was known as "The Kid" for his eternally youthful outlook and enthusiasm -- and sometimes "The Camera Kid" for his apparent need to always be on TV. It's hard to believe someone so full of life is no longer on this plane of existence.
And, admit it: You never would have guessed that Carter would be the 1st member of the 1986 World Champion New York Mets to die. You figured it would be one of the substance abusers: Darryl Strawberry, Dwight Gooden, Keith Hernandez, or Lenny Dykstra. Or, at least, one of the guys who got fat: Hernandez, Ron Darling, Bob Ojeda. (Incredibly, the one who
was
fat, Sid Fernandez, has lost weight, and looks pretty good.)
But no, Carter was the first to go. And that doesn't seem fair, no matter what team you support.
He was good for baseball. He was good for New York. He was good.
I didn't always like him... but that was just partisanship. Sports politics, if you prefer.
He earned all his accolades -- and some he didn't get, such as his Number 8 on the outfield wall at Citi Field alongside Casey Stengel's 37, Gil Hodges' 14, Tom Seaver's 41, Jackie Robinson's universally-retired 42, and the notation for Mets founder Bill Shea.
Gary Carter is now coming to bat. In Heaven -- or maybe a cornfield in Iowa.
UPDATE: Late in 2012, the City of Montreal named a ballfield in Ahuntsic Park "Gary Carter Stadium." It's not far from the site of Jarry Park, his 1st major league home ballpark.