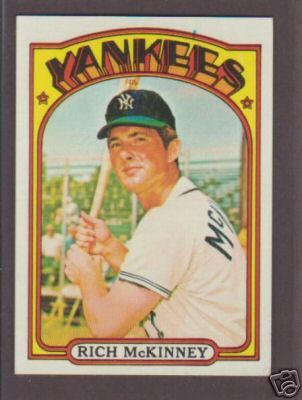 Note the typically terrible post-trade
Topps airbrush job on this 1972 card.
December 2, 1971, 40 years ago today:
The Yankees trade pitcher Stan Bahnsen to the Chicago White Sox for 3rd baseman Rich McKinney.
Bahnsen was the 1968 AL Rookie of the Year, and had won 14 games in '70 and '71. The Yankees sure could have used the 21 he won for the White Sox in '72, as they finished just 6 1/2 games out of 1st place in the American League Eastern Division. Bahnsen also won 18 games in '73, although the ChiSox fell apart and he also lost 21; the Yankees finished 17 back that season.
In contrast, McKinney, the man the Yankees hoped would be better at playing 3rd base and hitting than incumbent Jerry Kenney, proved even more inept: He batted .215 and made 8 errors in 33 games before manager Ralph Houk had enough and sent him down to the minors at the end of May. They dumped him off to the World Champion Oakland Athletics after the season, for an aging Matty Alou. In Oakland, McKinney probably felt out of place among Reggie Jackson, Sal Bando, Joe Rudi, Bert Campaneris, Catfish Hunter and Vida Blue. He only played another 147 games in the majors, last appeared at age 30, and had a lifetime OPS+ of 48 -- meaning he was 52 percent beneath the average hitter of that time.
If the Yankees hadn't made the trade, and kept Bahnsen and continued to trust Jerry Kenney as their 3rd baseman, and won the AL East, they probably would have lost the AL Championship Series to the A's. But at least their postseason drought wouldn't have seemed so long by the time Chris Chambliss hit that Pennant-winning home run in 1976, and team president Mike Burke, about to talk CBS into selling the team to George Steinbrenner's group, would have salvaged his baseball reputation before George came in and wrote the myth that he saved the team.
*
In his 1979 book
This Date in New York Yankees History
, which I still have, Nathan Salant rated this trade as the 2nd-worst transaction in Yankee history.
This book was published before such deals as not re-signing Reggie Jackson, Willie McGee for Bob Sykes, Fred McGriff for Dale Murray, Jay Buhner for Ken Phelps, and any trade involving Javier Vazquez (including the one that sent him and 2 prospects for Randy Johnson).
The only transaction from 1903 to 1978 that Salant rated worse was a trade with the St. Louis Browns after the 1917 season. The Yankees got Eddie Plank, a future Hall-of-Famer who'd won 326 games but was 41 and never appeared in the majors again; and 2nd baseman Del Pratt, who was decent enough but didn't offset who they had to give up: A 27-year-old righthanded pitcher, a Cleveland native of French-Canadian descent, born Urbain Jacques Shockcor, who anglicized his name to a GREAT name for a New Yorker: Urban Shocker.
Salant said that not having Shocker cost the Yankees the Pennant in 1920 (losing it to the Cleveland Indians) and 1924 (to the Washington Senators). It nearly cost the Yankees the Pennant in 1922, as Shocker won 24 games (after winning 27 the year before), and the Browns finished just 1 game back. That 1922 team, with George Sisler and Ken Williams, Jack Tobin, Hank Severeid, Marty McManus and William "Baby Doll" Jacobson, and Shocker as the ace, was probably the best team they ever had, certainly more talented than the one team they had that won the Pennant, in war-affected 1944, before moving in 1954 to become the Baltimore Orioles. It may have been the most potent-hitting St. Louis baseball team until the Cardinals of the 1940s.
The Yankees got Shocker back for 1925, and he was a key cog in the 1926 Pennant team and the 1927 World Champions, but he developed heart trouble, and pitched just 1 game in '28 before dying late in the season. (There's no plaque for him in Monument Park, he died before uniform numbers were worn, let alone retired, and the Yankees didn't even wear black armbands for the rest of the '28 season. He's forgotten today. He shouldn't be: He went 187-117 despite only being a starter from ages 25 to 36, and a case can be made that he belongs in the Hall of Fame.)
*
So was Bahnsen for McKinney the dumbest trade in Yankee history?
Maybe not: Still needing a 3rd baseman, on November 27, 1972, 6 weeks before George & Co. bought the team -- and with Indians president Gabe Paul probably making this trade knowing that he'd be Yankee president under Steinbrenner -- the Yankees sent McKinney AND Kenney, and John Ellis, Charlie Spikes and Rusty Torres to the Cleveland Indians for Jerry Moses and Graig Nettles.
Trading Bahnsen for McKinney was stupid. But trading McKinney, Kenney, Ellis, Spikes and Torres -- and, effectively, Bahnsen -- for Nettles was good. So maybe it all worked out for the best.
Sure, I can say that. Because I wasn't old enough to root for the Yankees in 1972! I wasn't born until 1969. I have very little idea of what it was to see the team collapse after 1964 and go through the Vietnam and Watergate years struggling to regain not just prominence but, in light of the Mets' 1969 title and 1973 Pennant, relevance.
But by the time I was ready for the Yankees, they were ready for me.