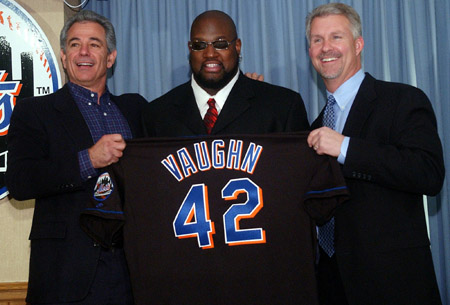 The New York Knicks have signed Baron Davis. Up until 2008, it would have been a great pickup. Now? He's injury-prone, and "an old 32."
Typical Knicks, getting a player after he's washed-up. Also typical Mets. Also typical Rangers.
Top 10 Washed-Up New York Sports Acquisitions
Note that I am not including returning players such as Roger Clemens and Mark Messier, who were great the 1st time around but awful when they came back. I'm also not going to include Vinny Testaverde, who came to the Jets at age 35 and had 3 very good seasons for them thereafter. Nor LaDainian Tomlinson, who rushed for over 900 yards for the Jets last year; he may be just about done now, but I still think it was a smart pickup.
I'm also not going to include Tom Glavine. He had his difficulties with the Mets, but he did win 15 games in 2006 and 13 in '07, even if he is remembered for his last game -- actually, inning -- in a Met uniform. The truth is, if the Mets had won just one more game in the '07 season, Glavine would have pitched for them in the Playoffs.
Nor can I include Randy Johnson with the Yankees. He was a bust in his 2 postseasons with them, but he won 17 games in each season, and they wouldn't have reached the postseason without him. Nor will I include Eddie Murray with the Mets: As bad as they were in the 1992 and '93 seasons, he had 93 and 100 RBIs in those years; he may not have been part of the solution, but, clearly, neither was he part of the problem.
And I'm not going to include Willie Mays. As bad as he looked in it, he did help the Mets reach the 1973 World Series.
10. Mickey Lolich.
From 1964 to 1972, "the original portly portsider" (he was 230, svelte compared to David Wells and CC Sabathia) was one of the best pitchers in baseball, helping the Detroit Tigers win the 1968 World Series and the 1972 American League Eastern Division title, and took the AL Cy Young Award in 1971. In 1975, he surpassed Warren Spahn to become the all-time leader in strikeouts by a lefthanded pitcher.
Unfortunately, by this point, he was 35 and no longer as effective, and the Tigers' aging roster couldn't be blamed for all of it. But the Mets took a chance, sending Rusty Staub to Detroit for Lolich.
In retrospect, it might not have been so bad a trade: His ERA was 3.32, his ERA+ was 102, and his WHIP was 1.225, hardly bad figures (even if he, himself, had a "bad figure"). But he went 8-13 for a Met team that finished 3rd. Frankly, the Mets could really have used Rusty's bat.
Frustrated, he retired. After sitting out 1977, he pitched 2 more years for the Padres and hung 'em up for good. He's not quite at Hall of Fame level, but he did win 217 games, and his 2,832 strikeouts are still 3rd all-time among lefthanders, and, now that Bert Blyleven is finally in, he's 1st among pitchers eligible for the Hall but not in.
9. Glenn "Chico" Resch, Devils.
From 1975 to 1981, he was a viable backup goaltender to Hall-of-Famer Billy Smith on the rising New York Islanders, winning a Stanley Cup ring. Late in the '81 season he was traded to the Colorado Rockies, who became the New Jersey Devils for the 1982-83 season. (And are not to be confused with the baseball team of the same name, established in Denver in 1993.)
In 1982 (Rockies) and '84 (Devils), Chico led all NHL goalies in losses, and lost even more in '83 despite it not being enough to lead the League. To put it politely, there was a reason why he was a backup, and it wasn't because Billy Smith was great.
In 1986, the Devils traded Chico to the Philadelphia Flyers, and he soon retired. Today, we know him as a beloved broadcaster for the Mulberry Street Marauders. But as a player, hoo, boy!
In fact, those original Devils had several former Rangers and Islanders, in a vain attempt to bring fans of those teams into the Brendan Byrne Arena in East Rutherford: Carol Vadnais, Bob MacMillan, Garry Howatt, Bob Lorimer, Hector Marini, Yvon Vautour. The best of them was Steve Tambellini, a 24-year-old center who scored 25 goals... so, naturally, they traded him in the off-season. And now you know why, shortly thereafter, Wayne Gretzky called them "a Mickey Mouse organization."
8. Jacques Plante, Rangers.
From 1955 to 1963, the Montreal Canadiens' netminder was the best goalie in the NHL. Then the Rangers traded Lorne "Gump" Worsley for him, in a "my headache for your headache trade."
Worsley, who wanted out of the old Madison Square Garden really badly, became a Hall-of-Famer in Montreal, while Plante allowed more goals than any player in the League in 1963-64. It was his last season as a full-time starter, although he still played regularly in the NHL until 1973.
The Rangers also picked up a pair of Plante's Montreal teammates too late, Bernie "Boom-Boom" Geoffrion and Doug Harvey, although Harvey did have something left when the Rangers got him.
7. Antonio McDyess, Knicks.
From 1996 to 2001, with the Denver Nuggets, he was one of the best forwards in the NBA. Then he started getting hurt, making him "washed-up" even if he wasn't "old." The Knicks got him for the 2003-04 season, when the warning signs were already there. He was a Knick for 18 games, averaging 8.4 points per game, about half what he'd been averaging to that point. They dumped him off to the Phoenix Suns, and while he's still playing (age 36), he's never been the same.
6. Vince Coleman, Mets.
Unlike Eddie Murray, he played for the 1992 and '93 (and '91) Mets and was very much part of the problem. Though just 29 when they got him, injuries left him a shell of the man who'd stolen 551 stolen bases the preceding 6 years. His batting average dropped from .292 to .255, and his steals from 77 to 37.
He improved only slightly for the last 2 years, and wasn't just an overpaid bust, but a disciplinary problem. He played just 4 more seasons and played his last game at age 35.
5. Frank Tanana, Mets.
Unlike some on the 1993 Mets, Tanana's problems were not disciplinary; he was just done. The former workhorse lefty for the Angels had won 13 games for his hometown Tigers in each of the preceding 2 seasons, but the Mets apparently didn't notice that his ERA had risen from 3.77 to 4.39 in that span.
He was 39, and had won 233 games before coming to Flushing Meadow. He went 7-15 for that awful team, with a 4.35 ERA (so it wasn't all the fault of shoddy defense and weak offense), became one of the few players ever to be involved in a trade between the New York teams, pitched 3 games for the Yankees, losing 2, and called it a career.
Fast facts with which you can amaze your friends: Tanana and Rick Reuschel are the 2 pitchers who gave up one at least of Hank Aaron's 755 home runs and at least one of Barry Bonds' 762.
4. Brett Favre, Jets.
After 16 years with the Green Bay Packers, during which he won a Super Bowl and put himself in position to hold many career records for quarterbacks, Favre retired. Then he unretired and signed with the Jets for the 2008 season, age 39. He led the Jets to an 8-3 record. He appeared to have been the 2nd coming of Y.A. Tittle, who came to the Giants at age 35 and led them to 3 straight NFL Championship Games; and, while they didn't win any of them, it was hardly his fault.
But then Favre lost 4 of the last 5, including a 24-17 defeat at home to the Miami Dolphins, ending the season at 9-7 and missing the Playoffs. Favre retired again, and just like that, all those FAVRE 4 jerseys that the Jets had sold become not collector's items, but reminders of how they wasted a season on a legend-turned-bum.
Of course, Favre didn't stay retired this time, either: He played 2 more years for the Minnesota Vikings, neither of them satisfying. And Favre's "retirement" from the Jets did lead the team to draft Mark Sanchez, which may well work out. (UPDATE: Well, Sanchez did get them to 2 AFC Championships Games, but... )
3. Mo Vaughn, Mets.
From 1992 to 2000, Mo was one of the best hitters in baseball, first for the Boston Red Sox, then for the Anaheim Angels. But he missed the entire 2001 season due to injury, and even when he had played, he was considered moody by his Angel teammates. The club was happy to dump him off to the Mets for Kevin Appier. He was 34, and should have had a few good years left.
Instead, his already problematic weight rose to above his batting average (.259), he couldn't field anymore, and he was never an effective player again. He lasted just 2 years with the Mets, and retired. He might have been on a Hall of Fame path; now, he wouldn't get in even if we didn't know he was a steroid user.
Ironically, he left the Angels because he didn't think they were committed to winning, while he thought the Mets were. The Mets then entered a brief period of mediocrity, while the Angels, the year after trading Mo, won what remains their only Pennant and World Series.
2. Roberto Alomar, Mets.
Came in the same off-season as Vaughn, and was an even bigger bust -- certainly not a fatter one, but a bigger one. He'd been an All-Star for 4 different teams: The San Diego Padres, the Toronto Blue Jays, the Baltimore Orioles and the Cleveland Indians. He'd batted at least .295 for all of them, won a Gold Glove with the latter 3, reached the postseason with the latter 3 (including World Series rings with the 1992 and '93 Jays), and had reached 100 RBIs in 2 of his last 3 seasons. He, too, was 34, and should have had about 5 good years left.
His batting average dropped 70 points in just 1 season. That's not a misprint: Seventy. .336 to .266. His OPS+ went from 150 to 89, his homers from 20 to 11, and his RBIs from 100 to 53 -- nearly half. True, Jacobs Field in Cleveland is a hitters' park and Shea Stadium was a pitchers' park, but OPS+ does take "park factor" into account. And he played in 149 games, so the reason for the dropoff certainly wasn't injury or illness. He got the living hell booed out of him by the Flushing faithful, and when he was traded the next mid-season for 3 nonentities, it was seen as a "Free At Last" moment.
He lasted only another year, and I genuinely believed that Roberto Alomar had become the only player ever to play his way out of the Hall of Fame, without the viable explanation -- barring evidence to the contrary -- of injury, illness, substance abuse, disciplinary issues (like Dick Allen or Denny McLain, although McLain was also hurt), or personal problems.
However, Alomar has since been elected to the Hall of Fame, the 1st ever to go in wearing a Blue Jays cap. With this in mind, the Jays made him their 1st-ever retired number, 12. Suffice it to say that 12 will not be retired for him on the Mets, and while Vaughn was the last Met to wear 42, it remains retired, for all of baseball, for Jackie Robinson. (The St. Louis Cardinals have also retired it for Bruce Sutter, and the Yankees will do so for Mariano Rivera.)
1. Collectively, the early Mets.
Like the Devils a generation later, the original Mets snapped up as many ex-Yankees, ex-Giants and ex-Dodgers as they could get, in order to bring in fans with fond memories of such men.
Gene Woodling, who'd won 5 straight World Series as a Yankee left fielder, wasn't so bad, hitting .274; but he was 39 and could no longer run well enough to play the field.
Yogi Berra, after being fired as Yankee manager after the 1964 season, was signed as one of Casey Stengel's coaches on the 1965 Mets, and even played a few games, but it was obvious he was past it.
Don Zimmer, who'd helped the Dodgers win the 1955 World Series as a rookie, seemed like a good choice, having played well for the Chicago Cubs the year before; but he batted just .077 in 14 games, and was traded to his hometown team, the Cincinnati Reds, and while he still had a bad year, he shook it off and played 3 more reasonably good seasons.
Joe Pignatano, a Brooklyn native, played for the Dodgers in their last season in the Borough, 1957, and with Roy Campanella's paralysis he stepped up to be a decent backup to John Roseboro for a while, including the 1959 World Championship. But, as a Met, well, let's just say that, as a catcher, he made a good 1st base coach and minor-league manager, which is what he was when I first saw him in the late 1970s.
As a player, 1962 was his last season, and, in his last at-bat, he grounded into a triple play. That sounds like a joke, or an apocryphal story, the kind people make up about the early Mets or the 1930s Dodger "Daffiness Boys," but it's absolutely true.
Roger Craig, who pitched on the Dodgers' 1955 (Brooklyn) and 1959 (Los Angeles) titlists, was 32 and should've had 5 or 6 good years left, but went 10-24 and 5-22 in the Mets' 1st 2 years. To be fair, his ERA+ was 92 each year, so, while he was substandard, he wasn't as awful as his record suggests. A story which definitely happened says that manager Casey Stengel walked out to the mound to talk to him, and he said, "I'm doin' the best I can, Skip, what else can I do?" and Casey said, "You could strike them out. Don't you know we can't handle grounders?"
The Mets traded him to the St. Louis Cardinals for 1964, and he helped them win the World Series. As did Ray Sadecki, who would later pitch reasonably well for a more mature Met squad.
Charlie Neal started out in Brooklyn, and, by the standards of the 1962 Mets, was a very good player. But in '63, he seemed to get old overnight, even though he was just 32: His batting average went from .260 to .211. He was traded to the Reds, and retired at the end of the season.
Clem Labine was a mainstay of the 1950s Dodgers, one of the players immortalized in Roger Kahn's book
The Boys of Summer
. He also helped the Pittsburgh Pirates win the 1960 World Series, making him one of the few pitchers ever to beat the Yankees in 2 World Series (also doing so in 1955). He was 35 in 1962, so he should have been able to help the Mets. Nothing doing: He pitched in 3 games, faced 19 batters, allowed 5 hits and 6 runs ("only" 5 earned). He never pitched in the majors again.
Then there was Duke Snider. Injuries had taken their toll on the former Duke of Flatbush, but he was still capable of belting a few homers for the Dodgers despite playing in the fledgling Dodger Stadium in 1962. The Mets got him for the next season, and he did hit 14 homers for them, pushing his career total to over 400. But at 36, he didn't have much left.
But the saddest story might have been Gil Hodges. At 38, a truly beloved member of the Boys of Summer (he'd married Joan Lombardi, a Brooklyn girl, and kept his home in the Borough even after the move), he'd hit 361 home runs, 10th all-time at that point. But injuries limited him to 167 plate appearances over 1962 and '63. He would, of course, manage the Mets to their 1969 "Miracle," but died of a heart attack just before the 1972 season, right before his 48th birthday.
In comparison, former Philadelphia Phillies star Richie Ashburn, 35 in the Mets' 1st season, was still a capable player. In fact, he was named team MVP. But he retired at the end of the season anyway, claiming he didn't want to be "the most valuable player of the worst team in history."