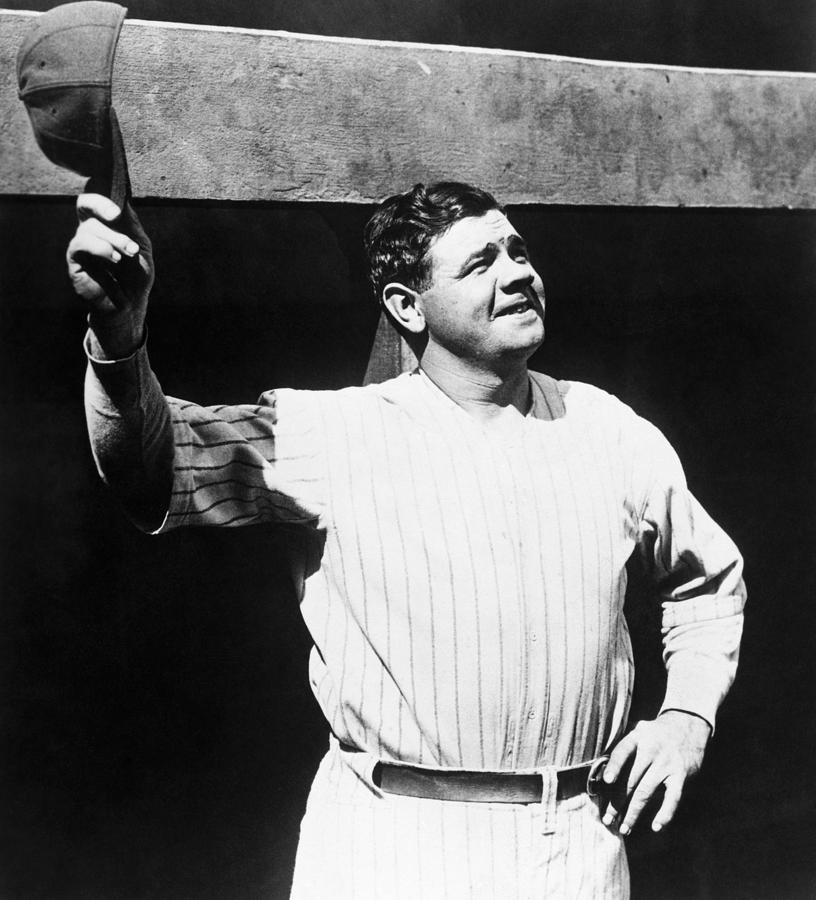 And so I close with the last remaining position. Or should I do the Managers as well? Or the Broadcasters?
Two things you'll notice about Yankee right fielders: They won a lot of Pennants, and they had great nicknames. Number 1 on the list having more nicknames than James Brown and Apollo Creed combined.
And, keep in mind, I've already included Lou Piniella and Dave Winfield among the left fielders.
10. Jesse Barfield, 1989-92.
One of the great embarrassments of my life came when I attended my 1st Opening Day, in 1990 – and not because it was the start of the worst Yankee season in my lifetime. In fact, the Yankees won that day, beating the Cleveland Indians. But there was a point late in the game when Barfield came up, and I yelled, "Come on, Jesse, you can do it!" Guess who was pitching for the Indians: Former Met closer Jesse Orosco. Perhaps not as bad as that night in 1994 when the Yankees were playing Texas in April, and a hockey Playoff score went up on the scoreboard, and the home fans chanted, "Let's go Rangers!" But bad enough.
But there was nothing wrong with cheering for Jesse Barfield. Well, maybe in 1985, when he helped the Toronto Blue Jays reach the postseason for the 1st time, beating the Yankees out for the AL East title as the teams battled in Toronto on the final weekend. In 1986 he had 108 RBIs, led the AL with 40 homers and made the All-Star Team.
In 1986 and '87, he won Gold Gloves. He had one of the best right field arms of his time, along with Winfield and Dwight Evans. George Bell in left, Lloyd Moseby in center and Barfield in right was a fantastic outfield. When the Yankees sent Al Leiter to the Jays for him on April 30, 1989, Barfield was arguably the greatest player the Jays' franchise (then in its 13th season) had yet had.
Unfortunately, as so often happened to the Yankees in the Eighties, injuries prevented a guy who was great elsewhere from being great in The Bronx. Barfield hit 60 homers in what amounted to 3 full seasons in Pinstripes, but by 1992 he was broken-down. Still, despite playing in unfriendly ballparks (Exhibition Stadium was a wind tunnel and Yankee Stadium is bad for righthanded hitters), he managed to hit 241 home runs. He's now a broadcaster for the Blue Jays, and the father of 2 professional ballplayers: Josh is a second baseman for the Indians, and Jeremy played in Single-A ball last season.
9. Gary Sheffield, 2004-06.
I seriously debated whether to include him – after all, he was only a Yankee for 3 seasons, only had 2 good ones, and he did sort of get caught using steroids. But look at the numbers: In 2004 and '05, he batted .291 with 57 doubles, 70 homers and 244 RBIs. That's some heavy production.
And then, in 2006... injuries limited him to 166 plate appearances. He still batted .298, but only 5 doubles, 6 homers and 25 RBIs. And, in postseason play, while he tore it up for the 1997 Florida Marlins (his only World Series win), he was otherwise invisible, both for the Atlanta Braves before he came to the Yankees, and in Pinstripes. In that infamous 4-game flop in the 2004 ALCS (cough-Roid-Sox-cough), he went 1-for-17 (.059 -- 5-for-21 counting walks for an OBP of .238). In the 2006 ALDS, in which the Yankees meekly went down to the Detroit Tigers, 1-for-12, no walks, no XBH, no RBIs.
His career led to some great totals: .292 BA, 140 OPS+, 2,689 hits, 467 doubles and 509 home runs. But will we ever know how much of that was legit?
8. Hank Bauer, 1948-59.
Mel Allen, the Voice of the Yankees, gave him a nickname that rhymed with his name: The Man of the Hour. He sure was: From a catch sliding on his knees to make the final out of the 1951 World Series to homering in 1958 to extend his World Series hitting streak to 17 games – still a record – Hank always seemed to be coming through.
He was pretty good in the regular season, too: A 113 OPS+, 2 .300+ seasons, 164 homers despite being a righthanded hitter in the pre-renovation Yankee Stadium, a 3-time All-Star, led the AL in triples in 1957. And nobody messed with this Marine Corps veteran of the battles of Guadalcanal and Okinawa – 2 Bronze Stars and 2 Purple Hearts to go with his 7 World Series rings. In 1966, he managed the Baltimore Orioles to their 1st-ever Pennant and World Series win.
7. George Selkirk, 1934-42.
It wasn't easy for the man who would replace Babe Ruth as the Yankees' right fielder. It was harder still because he was given Ruth's Number 3, which was not retired until right before Ruth's death in 1948. But it was worse for Selkirk: His nickname was Twinkletoes. No, he wasn't gay (that I know of): The nickname was because he seemed to be dancing across the outfield to make great plays.
He could hit, too. A 2-time All-Star, he batted .300 5 times, and twice had 100 RBIs. His career OPS+ was 127, so he wasn't just padding stats in the hitting-friendly 1930s. He helped the Yankees win 6 Pennants (1936, '37, '38, '39, '41 and '42) and 5 World Series (all but the last). But he was already in decline by 1940, and after World War II never returned to the majors as a player.
He did serve as a major-league and minor-league manager, and a major-league scout (with the Yankees) and general manager (with the "new" Washington Senators, getting him on the Washington Wall of Stars at Robert F. Kennedy Stadium and now Nationals Park). He was probably the greatest Canadian native in Yankee history, and is a member of the Canadian Baseball Hall of Fame.
6. Willie Keeler, 1903-09.
He was the 1st man to play for all 3 of the classic New York City teams. The Brooklyn native actually began his career in 1892 with the New York Giants, but a year later he went to his hometown team – and, yes, until January 1, 1898, the day the consolidation of "Greater New York" took effect, Brooklyn was a separate city. But Wee Willie's sojourn in Brooklyn didn't last long, and in 1894 he went to the original Baltimore Orioles, winning the next 3 NL Pennants.
Unfortunately for him, his best year was the next, 1897, when the Orioles lost to the Boston Beaneaters (forerunners of the Braves) in what author Bill Keller, in
A Game of Brawl
, called the 1st truly great Pennant race. (If you love baseball and you do not have this book, find it. You'll thank me later.) Keeler batted .424, had 239 hits (an NL record for years to come), and 74 RBIs (a good total in the Dead Ball Era). He hit no home runs, but had 27 doubles and 19 triples. And he had a 44-game hitting streak, the longest in baseball history for 44 years (Joe DiMaggio), and while it was matched after 81 years (Pete Rose), it has never been topped in the NL (114 years).
And yet, according to Keller's book, the streak was barely even mentioned at the time – hence lots of people's surprise when it was mentioned that Keeler, not George Sisler with 41, had the real record that DiMaggio was going for.
In 1899, he was brought back to Brooklyn, and led the Dodgers (the name was used off and on from 1883 to 1931, but at this time they were officially called the Superbas) to back-to-back Pennants. Since there was no postseason series in either year, the 1899 and 1900 Pennants marked the last World Championship for a Brooklyn sports team until the 1955 Dodgers.
In 1903, Keeler was lured across the City to Manhattan and the brand-new New York Highlanders, forerunners of the Yankees. In 1904, he batted .343, and he, pitching superstar Jack Chesbro, and pitcher-manager Clark Griffith nearly led them to the Pennant. It was not to be, nor was it in 1906 when the team again finished 2nd. In 1910, he played 1 last season for the Giants, and hung 'em up.
His lifetime batting average was .341, his OPS+ 126, and he fell just 68 hits short of 3,000. At 5-foot-4 and 140 pounds, he was not only one of the smallest players in major league history, but the smallest in the Hall of Fame. In 1999 – 89 years after his last game, and 76 years after he died –
The Sporting News
put him at Number 75 on its list of the 100 Greatest Baseball Players, the smallest, and, aside from Cy Young, the earliest-debuting.
If Wee Willie Keeler is remembered at all today, it is for his nickname, and thus his lack of height, his hitting streak, and his advice to hitters, meaning to not drink so much and to keep the ball away from opposing fielders: "Keep your eye clear, and hit 'em where they ain't."
5. Roger Maris, 1960-66.
No player has hit 'em where they
really
ain't more in a single season than the Rajah -- not honestly, anyway.
A lack of longevity and physical health prevents him from being higher on this list, but make no mistake, he was a great all-around player. He was named AL MVP in 1960 – and deserved it, too, hitting 39 home runs with 112 RBIs. True, Mickey Mantle beat him in both categories, but Roger was the difference between the Yanks' mediocre 3rd-place finish the season before and their Pennant that season.
And everyone talks about the homers he hit, but he took a few away, too. He was probably the best-fielding right fielder the Yankees ever had, and might have been the best-fielding outfielder in team history except for DiMaggio.
Of course, he will always be remembered – usually fondly, but there are some still alive who choose not to – for "61 in '61," the single-season home run record he set on October 1, 1961 (we're approaching the 50th Anniversary), and, if we're being honest, still stands.
Some said he wasn't good enough to break the record of Babe Ruth, and that the 8 extra games that season gave him an unfair advantage. Well, Roger batted against black and Hispanic pitchers, which the Babe didn't have to do – which also counters the argument that, "In 1961, the pitching was watered down by expansion."
The Babe also never batted against the forkball (the predecessor of the split-fingered fastball) like Roger did, and faced very few sliders, knuckleballs and screwballs, unlike Roger who batted in a time when those pitches were well-known. (Then again, Roger faced very few of the pitches that fall into the category of "spitballs," while the Babe faced plenty of them.) And Roger had 698 plate appearances in the 161 games he played in 1961, while the Babe had 691 in his 151 games in 1927 – in other words, those extra 8 (or 10) games gave Roger an average of
one
extra trip to the plate per extra game.
Roger won 7 Pennants in his career (1960, '61, '62, '63, '64, '67 and '68) and 3 World Series (1961, '62 and '67). He, Johnny Hopp and Enos Slaughter are the only players to win World Series with each of the top 2 teams in terms of most Series won: The Yankees (27) and the St. Louis Cardinals (10).
Injuries limited Roger to what amounted to 10 full seasons, and 275 home runs. But this 4-time All-Star had a 127 career OPS+. To give you an idea, there were 4 right fielders in Roger's generation who made the Hall of Fame. Hank Aaron's was 155. Frank Robinson's was 154. But Al Kaline's was 134, and Roberto Clemente's was 130 – theirs weren't substantially higher than Roger's, and no one questions whether
they
belong in the Hall of Fame.
But does Roger belong?
Baseball-Reference.com
's Hall of Fame Monitor has him at 85 out of 100 (a bit short), and their HOF Standards, which are weighted much more toward career totals, have him at 22 out of 50 (well short). Their 10 Most Similar Batters include some interesting names, including ex-Yankees Barfield, Danny Tartabull and Jay Buhner (and also Hank Sauer, not to be confused with Hank Bauer), but not HOFers. In all honesty, I can't say that Roger Maris belongs in the Baseball Hall of Fame.
But he is in Yankee Stadium's Monument Park, his Number 9 is retired, and he has a museum in his memory in his hometown of Fargo, North Dakota, at the West Acres Shopping Center. I should say, "In his honor," because it opened in 1984, while he was still alive. When asked by the man running it if he could, Roger asked 2 conditions: That it be where people could easily get to it (a mall would have parking lots and bus service) and that admission be free. Both requests were granted.
4. Paul O'Neill, 1993-2001.
My Man O'Neill. Why him? Why is he one of my 2 favorite athletes of all time? (You'll see the other in a moment.) Because he played the game the way I would have: With desire, with intensity, with a drive to win that would make the fans say, "This is the guy for us." The difference is, Paulie Pinstripes had something I don't have. It's called "talent."
His intensity reminded me a lot of Lou Piniella, who was his manager on the 1990 World Champion Cincinnati Reds. When the Yankees got him for Roberto Kelly in the 1992-93 offseason, I was thrilled. His lefty stroke was perfect for Yankee Stadium, and he could field, too. What I didn't know at the time was that he was also a great opposite-field hitter (in fact, nearly all the 1996-2001 Yankee stars were), that he would win a batting title in 1994, that he would play through pain, that he would hit one of my favorite home runs of all time (the Mel Rojas Game, June 26, 1998), and that he would have the most important plate appearance in Yankee history (his 9th-inning walk that led to him scoring the tying run, saving Game 1 of the 2000 World Series and making possible the most important of Yankee World Series wins, the one over The Other Team).
You know how much this guy is loved, right? Knowing that he had talked about retiring, and that it was probably his last game at Yankee Stadium, the fans chanted his name late in Game 5 of the 2001 World Series – a game the Yankees were losing at the moment. For once, Yankee Fans decided something was more important than winning. They did not, however, give such a salute to Tino Martinez, even though the rumor was already floating that Yankee brass would not re-sign him, but rather would go after Jason Giambi. I wonder what the fans would have done if they'd known Scott Brosius was also retiring. Or if it would be the last home game in The Bronx for Chuck Knoblauch.
But O'Neill got the kind of reaction that Don Mattingly might have gotten – if he'd gotten that far even once. Yankee Fans knew of his passion for the game. They knew he was what George Steinbrenner called him: "The Warrior."
He had a lifetime batting average .288 (.303 with the Yankees), an OPS+ of 120 (125), 451 doubles (304) and 281 homers (185). He won 6 Pennants (1990, '96, '98, '99, 2000 & '01, all but the first with the Yankees) and 5 World Championships (all but the last). His Number 21 was briefly given out to pitcher LaTroy Hawkins in 2008, which was received rather poorly at The Stadium. Hawkins, who had not previously worn it (usually wearing 32) and had no attachment to it, wisely gave it up. It is time to give Paulie his retired number and his Monument Park Plaque.
3. Tommy Henrich, 1937-50.
Probably the best of the many nicknames Mel Allen thought up was "Ol' Reliable" for the man from Massillon, Ohio – which was already renowned as a football factory, but he is still the greatest baseball player to come from the town.
How reliable was Henrich? In 1941, when DiMaggio's bat was stolen in between games of a doubleheader, right after Joe had tied Sisler's AL record of a 41-game hitting streak, he remembered that the bat that Joe was using was his own model – Louisville Slugger then made them to each player's specifications – and offered Joe another of his own. Joe took it and broke Sisler's record, and the previous Henrich/DiMaggio bat was recovered in time for Joe to break the Keeler record.
Later that season, seeing that Mickey Owen of the Brooklyn Dodgers had dropped the ball, Henrich was reliable enough (and alert enough) to turn a game-ending strikeout into the start of a rally, and the Yankees won Game 4 of the World Series. On October 5, 1949, in Game 1 of that year's World Series, Henrich broke up a scoreless pitching duel between Allie Reynolds and the Dodgers' Don Newcombe by taking Newk deep, and hitting the 1st walkoff home run (as we would now call it) in the history of postseason baseball.
Henrich missed the 1942 and '43 Series due to serving in the Coast Guard in World War II, but was with the Yankees in their World Championship seasons of 1937, '38, '39, '41, '47, '49 and '50 – and the Yankees won all 7 of those.
When he died in 2009, he was 96 years old, the oldest living Yankee, the last one to have played for Lou Gehrig, and the last player to have won a World Series in the 1930s. As late as 1994, he was still coming to Old-Timers' Day. He wore Number 7 before The War, and Number 15 after it; both are retired, but neither for him. Still, I can't help thinking that Ol' Reliable deserves a Plaque in Monument Park.
2. Reggie Jackson, 1977-81.
Did I say a lack of longevity hurts Maris? Yeah, well, this is my list, and this is my favorite athlete of all time. Henrich or Jackson? Old Reliable or Mister October? The difference in the nicknames is negligible, if you think about it.
Reggie was probably a better all-around player when he was younger, with the Oakland Athletics dynasty of the 1970s. Supposedly, when George Steinbrenner was trying to sign him in the 1976-77 offseason, Billy Martin objected, saying he's a bad fielder, strikes out too much, and would "mess up my running game." Billy, you already had Thurman Munson, Graig Nettles, Chris Chambliss and Lou Piniella. You didn't need a damn running game! And, as Reggie proved (and as another Philly-area native who starred in New York, Mike Piazza, would later say), if you hit the ball far enough, you don't have to run.
Reggie's lifetime batting average is .262, one of the lowest of any nonpitcher in the Hall of Fame. And his 2,597 strikeouts are an all-time record (although Jim Thome comes into the 2011 season only 202 behind him, and will probably play at least 2 more seasons). But his BA rises to .281 if you count only his Yankee seasons, his career OPS+ is a hefty 139 (148 in Pinstripes), he had 2,584 hits, including 463 doubles and 563 homers – among non-cheaters, the only ones with more are Hank Aaron, Babe Ruth, Willie Mays, Ken Griffey Jr., Jim Thome, Frank Robinson and Harmon Killebrew.
He hit 18 homers in postseason play, including 5 in the 1977 World Series (only Chase Utley in 2009 has matched that), including 3 in Game 6 (a 1-game performance preceded only by Ruth, in '26 and again in '28, and not done since).
He was the AL regular-season and World Series MVP in 1973, and was the Series MVP again in 1977. In 21 seasons, with the A's, Yanks and California Angels (he also had one with the Baltimore Orioles, but they didn't make the postseason), he reached the postseason 11 times (1971, '72, '73, '74, '75, '77, '78, '80, '81, '82 and '86). He won 6 Pennants (1972, '73, '74, '77, '78 and '81) and 5 World Series (all but the last of those). He was one of those guys about whom it was said, "It's funny how these winning teams keep following him around.:"He says he never said it this, but if he did say it, he wasn't lying: He really was "the straw that stirs the drink."
As I said, he's in the Hall of Fame. His Number 9 was retired by the A's, his Number 44 by the Yankees (on August 14, 1993 – I was there), who also gave him a Plaque in Monument Park (July 6, 2002 – I wasn't gonna miss that day, either). The Angels haven't retired his Number 44 yet, nor have they elected him to their team Hall of Fame – what are they waiting for?
But for the Yankees, Reggie is the symbol of a generation of stars that amazed, shocked, sometimes appalled, and so often thrilled. He helped to bring the excitement back to The Bronx – and away from Flushing Meadow. He was the 1st black man to be a star for the Yankees (in a way that the quiet, good but not spectacular Elston Howard or even the Pennant-clinching Chris Chambliss could never be), thus helping local black fans to see that the Yankees could bring in their people as well.
He was the right man in the right place at the right time: The man who was the biggest star of the team that meant the most to me when I was first seeing what sports was. For that reason, whatever his flaws, Mr. Reginald Martinez Jackson will always be my guy.
In spite of his massive ego, he understands what matters most: In an interview with Tom Seaver shown on WPIX-Channel 11 prior to his number retirement ceremony (which came a few days after his Hall of Fame induction), he said, "It's not important that I did it. What's important is that it was done."
And nobody ever did more for baseball than this last man – not even Jackie Robinson, because, if you think about it, if this guy hadn't done what he did, baseball wouldn't have been big enough of a stage upon which to try an experiment like the one Jackie and Branch Rickey tried.
1. Babe Ruth, 1920-34.
What can I say about the Big Guy that hasn't already been rehashed a thousand times? Not much. But there is much to say about The Great Bambino that needs to be said, and I'll do that in a later post.
He's not only in the Hall of Fame, but he was one of the 1st 5 inductees when they began voting in 1936, along with Ty Cobb, Christy Mathewson, Honus Wagner and Walter Johnson. A life-size wooden carving, meticulously shaped and painted (right down to the fold of his shirt and the cracks on the leather of his belt), of the Babe, and another of Ted Williams by the same artist, greets you when you walk into the Hall of Fame Gallery in the Hall of Fame building in Cooperstown, New York.
He was elected to the All-Century Team in 1999, 64 years after his last game, by fans whose parents were too young to have ever seen him play. The Yankees retired his Number 3, and put a Monument on the field at Yankee Stadium on Opening Day 1949, a few months after his death, before moving it to the new Monument Park in 1976, and to the new Stadium's MP in 2009.
The new Yankee Stadium is not "The House That Ruth Built." But the Babe Ruth Plaza outside the right-field stands, across 161st Street from the site of the ballpark whose construction his home runs, and the money they made for Colonel Jacob Ruppert, made possible, testifies to his life, his performance, and his legacy.
He played in 10 World Series (1915, '16 and '18 with the Boston Red Sox; 1921, '22, '23, '26, '27, '28 and '32 with the Yankees), winning 7 (1915, '16, '18, '23, '27, '28 and '32). As much as Ruppert's money and Ed Barrow's trades and purchases, Ruth's hitting made the Yankees, and made baseball, more popular than ever before.
"A big, badly flawed, swashbuckling palooka who strides with great spirit - not just talent, but with a spirit of possibility and an enjoyment of life across the American stage. That's an American... You give me Babe Ruth over any king who's ever sat on the throne, and I'll be happy with that trade." – Bob Costas
Except he
was
a king. The King of Crash. The Sultan of Swat. The Rajah of Rap. The Majarajah of Mash. The High Mandarin of Maul. The Wizier of Wham. The Czar of Clout. (Sometimes it's "the Colossus of Clout," and you can add "the Behemoth of Bust," although neither the Colossus of Rhodes nor the mythological Behemoth was a monarch.)
Some people compare baseball to religion. Well, as with Christianity, in baseball, a babe shall lead them. Then again, Babe Ruth tended to lie in places other than a manger. And he certainly did a lot that required repentance and forgiveness. But has any American ever been loved by more people in his own time? Don't forget, even Washington, Lincoln and FDR had their haters during their public service.
The Babe was one of a kind, and my generation hasn't seen another – and, if the rise and fall of Mark McGwire is any indication, we never will, and neither will any other generation. More than any other player, he was the right man, in the right place, at the right time.
As Art LaFleur, who also played disgraced Chicago White Sox 1st baseman Chick Gandil in
Field of Dreams
, said when playing the Babe's ghost in
The Sandlot
, "Heroes get remembered, but legends never die."