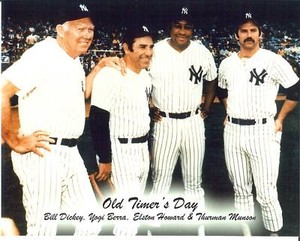 Talk going around spring training that if the St. Louis Cardinals don't give Albert Pujols a contract extension by noon tomorrow, he'll test the free-agent market at the end of the season.
Pujols has been the face of the franchise the last 10 years, lifting them out of the cloud of Mark McGwire. As far as anyone knows, he's clean. He gives all the appearance of being a good guy. And he has hit like hell. By the time he's done, he can give earlier Card legends Rogers Hornsby and Stan Musial, and also Willie Mays and Hank Aaron, a run for their money for the title of greatest offensive player in National League history. (Barry Bonds, of course, is ineligible; and even if McGwire's stats were clean, he was only in the NL for 4 years and change.)
Cardinal owner Bill DeWitt Jr. maybe be a filthy rich Republican campaign contributor, but that doesn't mean he's dumb. He's not going to let Albert Pujols, currently the best hitter in the game (if not necessarily the best all-around player), play for anyone else.
*
Now that that's out of the way, in honor of pitchers and catchers having reported, and the Top 10 Yankee Pitchers having been done yesterday, here are...
Top 10 Yankee Catchers
This will be a considerably shorter list. And that's a good thing, since it reflects the luck and longevity the Yankees have had with their catchers.
10. Jake Gibbs, 1962-71.
The best quarterback the University of Mississippi has ever had -- at least, the best one not named Manning -- he chose baseball because he could make more money. But he didn't get more than a cup of coffee in the majors until 1966 and was only the starter in '67 and '68.
He probably would have been better off if he'd gone to the NFL -- or the AFL, which was a possibility at the time. He was drafted by the NFL's Cleveland Browns and the AFL's Houston Oilers. Still, somebody has to round out the Top 10.
9. Rick Cerone, on and off 3 times 1980-90.
Brought in from the Toronto Blue Jays for Chris Chambliss in order to replace Thurman Munson, he helped the Yankees win the AL East in 1980 (he actually finished 7th in the MVP voting) and the Pennant in '81. But that was it, and he never again had more than 300 plate appearances in a season.
I remember listening to Max Kinkel's
All Night Radio
show on WCBS-FM one night in 1987 (it was a music show, but he talked about sports a lot), and he was talking to someone about the Yankees, ripping Mark Salas, saying, "To me, Salas just could not call a game." The caller said that Cerone, then in his 2nd go-around, could, and Max said, "Well, Cerone can call a game, but Cerone can't throw the ball!"
After his playing career, which also included a stopover with the Mets, Cerone, a Newark native and a graduate of Seton Hall University, was one of the founders of the reborn Newark Bears minor-league team.
8. Joe Girardi, 1996-99.
Speaking of the Mets, as we all know, in nearly 50 years, no Met pitcher has ever thrown a no-hitter. But a few Mets-to-be and lots of former Mets have. Girardi caught 2 such no-hitters, by Dwight Gooden in 1996 and David Cone in 1999.
He was also one of the cornerstones of the Yanks' 1996 revival, including a triple off Greg Maddux that started a 3-run rally that won Game 6 of the World Series and the Series itself. Considering that he was known for his defense, usually capable of 40-50 RBI per year but no more than that, and that he was built like the stereotypical old-time catcher and not expected to run well (though he did steal 13 bases in '96), I said at the time that hitting a triple off Maddux in the World Series was the baseball equivalent of Buster Douglas knocking out Mike Tyson.
He guided the Yanks' pitching staff until Jorge Posada was ready, and it surprised no one when he became a big-league manager. He kept a Florida Marlins team starved of payroll near .500 most of the 2006 season, got the NL Manager of the Year award, and got fired for his trouble.
Named Yankee manager in 2008, he led them to the 2009 World Championship, and, with the retirements of Joe Torre, Lou Piniella and Bobby Cox, is up there with Tony LaRussa and Mike Scioscia as one of the game's most repsected managers.
7. Mike Stanley, 1992-95.
At first, it looked like he was going to be a big part of the Yanks' 1990s revival, batting .305 with 24 homers and 85 RBIs for the 1993 squad that hung close to the Blue Jays until mid-September. He hit .300 again in strike-shortened '94 and made the All-Star Team in '95.
But he was granted free agency, and the Yankees didn't lift a finger to re-sign him, a move that left some Yankee Fans (like me) quite puzzled, and some very angry. The Red Sox jumped at the chance, and he gave them a very solid season and much of another before a rare trade between the teams briefly brought him back in 1997. (The trade was ultimately a wash, the only other player worth mentioning being Tony Armas Jr., who the Sox soon put in the trade that brought in Pedro Martinez from the Montreal Expos.)
The Yanks may have known what they were doing, though: They got Girardi, they had Posada on the way up, and while Stanley was still productive until 2000 (he then retired at age 37), Girardi was a little younger, Posada considerably so.
6. Wally Schang, 1921-25.
He came up with the Philadelphia Athletics in time to play in the 1913 and '14 World Series, winning the former. But Connie Mack's breakup of his dynasty sent him to the Red Sox in 1917, where he won another Series in 1918. Harry Frazee's breakup of his dynasty meant that Schang was one of those who, in large measure, made the 1921-28 Yankees an extension of the 1912-18 Red Sox.
He helped the Yankees win their 1st 3 Pennants and their first World Series in 1923. Schang batted .300 6 times, but only twice with the Yankees. Trading him to the St. Louis Browns in 1926 looks like a bad trade, but they got a pretty good pitcher for him, George Mogridge.
Oddly, the "Murderer's Row" Yankees of 1926, '27 and '28 did not have a solid player at catcher, the most important position on the field. (An oddity unmatched in sports until the Chicago Bulls won 6 NBA Championships in the 1990s despite their centers being the good, but hardly great, Bill Cartwright and Luc Longley.) Pat Collins, Mike Gazella, Benny Bengough... these were not good players, but the Yanks managed to win 2 World Series, very nearly 3, with them behind the plate until Bill Dickey became the full-time catcher in 1929.
Schang wrapped up his career with the Detroit Tigers in 1931, and that's the only season that he wore a uniform number. Interestingly, it was the number that Bill Dickey was already making synonymous with Yankee catchers, 8.
5. Elston Howard, 1955-67.
Why so low? Actually, due to Yogi already being there, Elston, the first black Yankee, was mainly the Yankees' starting left fielder until 1959. But then he became the best catcher in the game. He was the first black man to win the AL's MVP award, in 1963 -- this after several had won it in the NL. Mickey Mantle and Roger Maris were hurt much of that season, and Elston carried that team, helping Whitey Ford win 24 games and young Jim Bouton win 21.
With the Yankee dynasty having collapsed, Elston was traded to the Boston Red Sox in 1967, and helped them win their "Impossible Dream" Pennant. It's a very strange thing to look at that World Series highlight film and see Ellie in a Red Sox uniform, standing with Roger Maris in a Cardinal uniform.
In 1969, he returned to the Yankees as the AL's first black coach. His death due to a heart ailment in 1980 probably prevented him, at the rate George Steinbrenner was hiring and firing, from becoming New York's first black manager, a distinction that would later go to Willie Randolph with the Mets. The Yankees have still never had a black manager, but they retired Ellie's Number 32 and dedicated a Plaque to him in Monument Park.
4. Thurman Munson, 1969-79.
In 1970, his 1st full season, he won the AL's Rookie of the Year. In 1976, he won the MVP. Thanks to Derek Jeter having been robbed in both 1999 and 2009, Thurman remains the only Yankee ever to win both of those awards. (There was no ROY until 1947, denying guys like Ruth, Gehrig and DiMaggio, and Mantle's 1st season was troubled.)
In spite of injury after injury, the first man trusted with the Yankees' official Captaincy since Lou Gehrig put together 3 straight seasons, 1975-77, of at least a .300 batting average and 100 RBIs. That streak ended in '78, but he made up for it by leading the team to its 3rd straight Pennant and back-to-back World Championships.
The thing I love the most about Thurman is that, at the moment when the Yankees most needed a home run from him, he hit the longest home run of his career. It was Game 3 of the '78 ALCS, bottom of the 8th, trailing 4-3 to the Kansas City Royals, and Doug Bird hung a curveball, and Thurman sent it 470 feet into Monument Park.
Sadly, the next person enshrined in Monument Park would be Thurman himself, the victim of a plane crash on August 2, 1979. George Steinbrenner, his fellow native of the Cleveland area, immediately ordered the retirement of his Number 15 (which had also been worn by Yankee greats Red Ruffing, Tommy Henrich and Tom Tresh), and a year later his Plaque was ready.
3. Jorge Posada, 1995-present.
There are those who say that Posada isn't a very good catcher. Many of those will say that Mike Piazza of the Mets and Jason Varitek of the Red Sox were better. These people are fools.
Jorge is a legend. He caught David Wells' perfect game in 1998. He hits from both sides of the plate with power. He hits home runs in World Series games. His double ended the big 3-run rally that tied up Game 7 of the 2003 ALCS and set up Aaron Boone's Pennant-winning homer. He's raised a bundle of money for charity. And he's married to Laura Posada. This last factor cannot be discounted in discussing Jorge's greatness. He will get a Plaque in Monument Park, and if any later Yankee ever wears Number 20, it will be a crime. (Sorry, Bucky Dent.)
2. Bill Dickey, 1928-46.
He took the title of "greatest catcher ever" away from Mickey Cochrane, and was, unusual for a catcher, one of the 10 best hitters in baseball. He was not on the roster of the 1928 World Series, but he helped the Yankees win 8 Pennants (1932, '36, '37, '38, '39, '41, '42 and '43) and 7 World Series (losing only in '42).
He was Lou Gehrig's best friend on the team, and played himself in
The Pride of the Yankees
. That scene where a teammate questions Gehrig's effort, not realizing that ALS is overtaking him, and Dickey punches the guy out? That really happened.
After Gehrig's illness-forced retirement in 1939, there was no official Yankee Captain until Munson, 37 years later. But Dickey was very much an unofficial captain, leading the Yankees to their 106-win season in '39, leading them through the Joe DiMaggio streak season of '41, and taking them to the '43 title when several players, including DiMaggio, Tommy Henrich and Phil Rizzuto, were off fighting World War II. (Dickey himself went into the service for the next 2 seasons.)
He came back in '46, briefly replaced Joe McCarthy as manager, and was one of Casey Stengel's coaches from 1949 to '60. His greatest accomplishment may actually have been making Yogi Berra an even better catcher than himself: As Yogi said, "Bill Dickey is learning me all his experiences."
1. Lawrence "Yogi" Berra, 1946-63.
It's hard to look at Dickey's stats and say Yogi was better, but Dickey played in a hitter-friendly era, while Yogi played in a pitcher-friendly era. He won 3 AL MVPs, 1951, '54 and '55. Somebody once argued that, due to his hitting and handling a pitching staff that was constantly changing and yet constantly winning, Yogi might be the most valuable player the Yankees have ever had.
And, like Dickey, Yogi became sort of an unofficial captain, particularly from 1956, when Rizzuto was unceremoniously and callously released, and 1961, when new manager Ralph Houk began to insist that Mantle take more of a leadership role -- not as a slap against Yogi, but more in order to make Mickey finish growing up, and it wasn't entirely a fool's errand.
Nobody won more Pennants than Yogi: 14 (1947, '49, '50, '51, '52, '53, '55, '56, '57, '58, '60, '61, '62, '63 and '64). Nobody won more World Series: 10 (1947, '49, '50, '51, '52, '53, '56, '58, '61 and '62 -- in all of sports, only Bill Russell in basketball and Henri Richard in hockey have 11). He still holds the records for most World Series games, at-bats and hits.
In 1972, Yogi was elected to the Hall of Fame. Dickey had been elected in 1955. Upon Yogi's election, the Yankees retired Number 8 for both men. (Dickey wore 33 as a coach while Yogi was the catcher.) In 1988, both men were awarded Plaques in Monument Park.
And Yogi was a good manager: He got the Yankees to the 1964 Pennant, and the Mets to the 1973 Pennant. Not only did he have to make both teams come from behind in the process, but it made him the only manager ever to take both teams to the World Series. (I will Broadway Joe Namath guarantee you that there will never be another in my lifetime.) He lost in Game 7 both times, but there's no shame in losing a World Series to Bob Gibson and Lou Brock -- or to Reggie Jackson and Catfish Hunter, for that matter.
Today, people my age and younger know Yogi only as an elder statesman of baseball and as the guy who says funny things, often in TV commercials. They're not old enough to remember him as a manager, let alone as a player. But he was one of the true greats of the game, well before he became known for his "Yogi-isms."