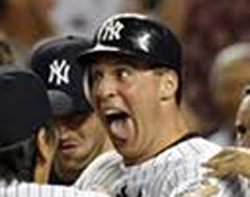 It seems odd to call someone a "legend" if they've only been with your team for 2 seasons. Even if 1 of those seasons ended with him catching the last out of a World Series won by your team.
But -- and I realize I now have some people getting here, through Facebook, who would not appreciate this kind of language, but I'm going to say this anyway...
Mark Teixeira is a fucking legend.
Or, as they would say in English soccer, Teix = Legend. Top man.
This week, the St. Louis Cardinals were unable to come to an agreement on a contract extension with Albert Pujols, their 1st baseman.
Pujols, as you may be aware, is the best hitter in the game today. He has been for the last few years. He has been one of the top 2, along with Alex Rodriguez, for the last 10 years. He's become a Gold Glove fielder. He's become a pillar of 2 communities, his native Dominican Republic and the St. Louis area where he plays. He has been a superstar and a gentleman.
If, God forbid, something happens to prevent him from ever playing another game, he would already be bound for the Baseball Hall of Fame:
* A .331 lifetime batting average, identical to that of the Cardinals' greatest all-time legend, Stan Musial.
* A 172 OPS+, easily the highest among active players. Manny Ramirez has a tainted 155, and the next-best among the untainted (as far as we know, he's untainted) is Jim Thome with 147. All-time, Pujols trails only Babe Ruth, Ted Williams, the tainted Barry Bonds, Lou Gehrig and Rogers Hornsby, and tied with Mickey Mantle. Therefore, among honest men, he's tied for 6th, tied for 5th among non-cheaters, tied for 2nd among players whose careers began after 1923, tied for 1st among players whose careers began after 1939, and 1st among players whose careers began after 1951.
* 1,900 hits. Only 24 active players have more, 19 have never been outed as a steroid user, and only 9 are righthanded (thus having an extra step to make to 1st base).
* 426 doubles. Only 17 active players have more, 13 have never been outed as a steroid user, and only 4 are righthanded.
* 408 home runs. Only 7 active players have more, 4 have never been outed as a steroid user, and only Vladimir Guerrero is ahead of him among honest righthanders. (Vlad is not a steroid user as far as I know; Manny Ramirez, who is, is also a righthander ahead of Pujols.)
* 1,230 runs batted in. Only 12 active players have more, 7 have never been outed as a steroid user, and, again, only Vlad (and Manny) are righthanded.
* In his 10 big-league seasons, he's had at least 100 RBI every season. Nobody else has done that.
* 3 National League Most Valuable Player awards, and 3 other near-misses.
* No serious allegations of steroid use. Not by Jose Canseco, not by the Mitchell Report, not by Brian McNamee, not by Kirk Radomski, not by anyone. As far as we know, he's great AND clean.
* In his 10 big-league seasons, the Cardinals have made the Playoffs 6 times, the NLCS 4 times, won 2 Pennants and the 2006 World Series. So he's not just a guy building up stats, he's a proven winner.
* On their "Hall of Fame Monitor," where a "Likely HOFer" would be at 100,
Baseball-Reference.com
-- this website is your friend, whether you know it or not -- has Pujols at 262.
* On their "Hall of Fame Standards," which is weighted more toward career numbers, and where the "Average HOFer" is at 50, Pujols is at 53.
* Their "10 Most Similar Batters," based on stats he has already accumulated, are the following: Albert Belle, Hank Greenberg, Johnny Mize, Juan Gonzalez, Larry Walker, Lance Berkman, Jim Edmonds, Chuck Klein, Todd Helton and Jason Giambi.
Greenberg, Mize, Klein are in the Hall of Fame. Edmonds may make it if they consider his amazing fielding. Walker has a shot, but probably won't make it due to not quite having the stats. Berkman is probably another step away. Helton is still active but he's running out of time to make the difference. Gonzalez and Giambi will never make it due to steroid suspicions. Belle will never make it due to injuries cutting his career short, and also due to ticking off the guys who do the voting on recent players, the Baseball Writers' Association of America.
* And, oh yeah, he just turned 31. He should have at least another 10 years in him, assuming he doesn't get tired of the game a bit sooner than that. Before he's done, Pujols could put himself into the discussion, along with Hornsby, Stan Musial, Willie Mays and Hank Aaron, to answer the question, "Who is the greatest hitter in National League history?" (Assuming he doesn't sign with an American League team after this season.)
Take out any player proven or suspected to have used steroids, and, unless you're a really big fan of Ken Griffey Jr., Pujols will probably be recognized as the best hitter since the generation born in the 1930s and arriving in the majors in the 1950s, which produced Mays, Aaron, Frank Robinson and Mickey Mantle -- as well as 2nd-tier greats like Ernie Banks, Roberto Clemente, Al Kaline and Harmon Killebrew.
So, unless you're a hardcore Chicago Cubs or Kansas City Royals fan (and thus predisposed to hate the Cardinals), or you're a National League pitcher... How can you not like Albert Pujols? Surely, anybody would want Pujols on their team.
He says he'll test the free agent market after the season. Who can afford him? Only a very few teams, including the Cardinals. It's just a matter of which of those teams is willing to spend the kind of money he's looking for.
The Yankees could be one of those teams.
*
As Lee Corso would say, "Not so fast, my friend!" The Yankees have Mark Teixeira at 1st base.
Granted, Teix is not as good as Pujols, but then, if you check his career numbers, I think you'll see that he's been damn good:
* A .286 batting average, with 3 .300 seasons.
* A 134 career OPS+.
* 1,321 hits in only 8 big-league seasons.
* 275 home runs. Granted, that's been done almost entirely in 2 hitters' parks, Rangers Ballpark in Arlington and Yankee Stadium II, but, again, it's just 8 seasons. Double that, 16 seasons, and we're talking 550 homers without steroids, a total (for the moment) topped only by Aaron, Babe Ruth, Mays, Griffey, Robinson, Killebrew and Reggie Jackson.
* 4 Gold Gloves, including in both seasons with the Yankees.
* Has helped his teams into the last 3 postseasons, '08 with the Whatever They Called Themselves That Year Angels of Anaheim and '09 and '10 with the Yankees.
* Baseball-Reference's HOF Monitor has Teix at 88 out of 100. Their HOF Standards, a bit less favorable, 27 out of 50. Their 10 Most Similar, some pretty good names: Richie Sexson, Miguel Cabrera, Danny Tartabull, Hal Trosky, Matt Stairs, Wally Berger, Hank Sauer, Mo Vaughn, Kevin Mitchell and Tony Clark.
Cabrera is still active, and could make the Hall if he doesn't drink his way out of contention; Mitchell had too many injuries to make it; and Sexson, Trosky, Berger, Sauer and Vaughn could have gotten consideration with a couple of more solid seasons.
* And he'll turn 31 right after Opening Day, so he should have several good years left.
And, despite what fans of the Texas Rangers (his 1st team, whom he left for more money) or the Baltimore Orioles (he grew up in Severna Park, Maryland, 20 miles south of Camden Yards, but never considered signing with them) might think, Teix is generally considered to be a good guy. Clearly, there's nothing wrong with wanting a healthy Mark Teixeira on your team.
Unless you can have Albert Pujols, right?
*
The Yankees could probably get Albert Pujols, if they wanted him. But they won't try. There's something standing in the way.
Something named Mark Teixeira. He wanted a no-trade clause as a prerequisite for signing with the Yankees, and he got it, and he is not going to waive it, not even to go to a town with the baseball reputation of St. Louis and a team with the history of the Cardinals. Today, as position players reported to spring training in Tampa, Teix said this:
"I'm not going anywhere. I got that no-trade for a reason. I'm going to be buried in these Pinstripes. You know what, I would be disappointed if the fans of New York weren't looking to make our team better, but they've just got to know I'm not leaving."
Which closes the book, to the point where, according to the blog
Lady Loves Pinstripes
(see link to the right), "
ESPNNewYork.com
, citing a baseball official, reported earlier this week the Yankees would not explore a trade for Pujols."
I could paraphrase the line from
The Treasure of the Sierra Madre
, and say, "Pujols? We don't need no stinkin' Pujols!" But that would imply that I think that Pujols stinks, which, clearly, he doesn't.
But putting together a trade package for Pujols? Which would, almost certainly, have to include, but probably not be limited to, Teixeira? Not on your life would I make that trade. Better to spend a lot of money on a great player you already have (Teixeria) than to spend an insane amount of money on a great player who doesn't know his prospective new teammates and doesn't know the franchise's system.
Albert Pujols is already one of the 50 greatest players in baseball history, and could well end up as one of the top 20. By all accounts he's a good guy and a good teammate. But he's not THAT much of an upgrade over Mark Teixeira, the 1st baseman the Yankees already have, and therefore he doesn't fill a need that the Yankees have. It would be like trading CC Sabathia for the pitcher some people
think
Cliff Lee -- or Johan Santana -- is. I wouldn't make
that
trade, either.
Albert, if you and the Cardinals win a Pennant in the next few years, you are more than welcome to come to Yankee Stadium II and enjoy the Steinbrenner family's hospitality -- except for during the games, at which point all of us who are Yankee Fans will be opposed; hopefully, we will do it intensely but not make it personal. We repsect you. But you're not becoming a Yankee.
On the other hand, there is Mark Teixeira. A Yankee. A winner. A legend. A top man.
*
Mark also had a "Teix message" about his thoughts on the season that begins in just 40 days:
"We're the underdogs this year. I love it. No one is picking us right now. Everyone in here should be looking forward to winning a championship. When you put on the Pinstripes, that is exactly what your goal should be every year. I think everyone understands that just because the public may not be picking us it doesn't mean we don't believe it in here.
"We didn't win last year. We played terrible in the Playoffs. We didn't win the division. Our goal is to win the Division and we have to re-prove ourselves this year, which is going to be fun for all of us.
"No one is going to feel sorry for us. No one is going to say, 'Poor Yankees. They didn't get this guy. They didn't get that guy. They didn't win a World Series. They always have a bullseye on their back.' We should. We should expect to win every single year... We are the gold standard in baseball and we have to live up to that."
Absolutely the right attitude.
I love this guy.
Not that there's anything wrong with that.