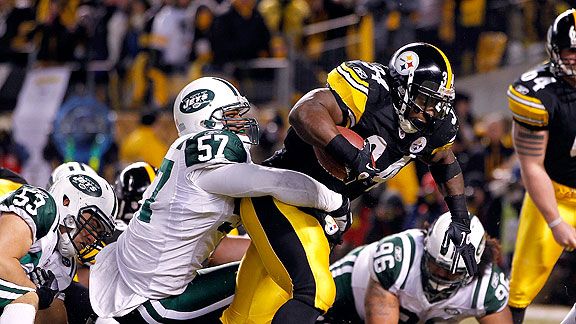 In the words of the immortal Jim Croce...
You don't tug on Superman's cape.
You don't spit into the wind.
You don't pull the mask off that old Lone Ranger.
And you don't mess around with the Pittsburgh Steelers.
Specifically, you don't get your fans' hopes up that maybe, finally...
finally
, you're gonna reach another Super Bowl, and then spot a team like the Pittsburgh Steelers 24 points.
So, yes, let it be said: SAME. OLD. JETS.
Top 5 Reasons You Can't Blame the New York Jets for Losing the 2010 AFC Championship Game?
5. The Steelers were better.
4. Seriously: The Steelers were better.
3. I mean, the Steelers were a
lot
better.
2. The Steelers were
way
better.
1. The Steel... Oh, who am I kidding?
The Indianapolis Colts were better... and
the Jets beat them anyway
.
The New England Patriots were better... and
the Jets beat them anyway
.
Yes, the Steelers were better. That doesn't matter. You show up. You look fear in the eye and say, "Get lost." You man up. You don't let the occasion faze you. You stand your ground. And, as former Jet coach Herman Edwards taught you, you play to win the game.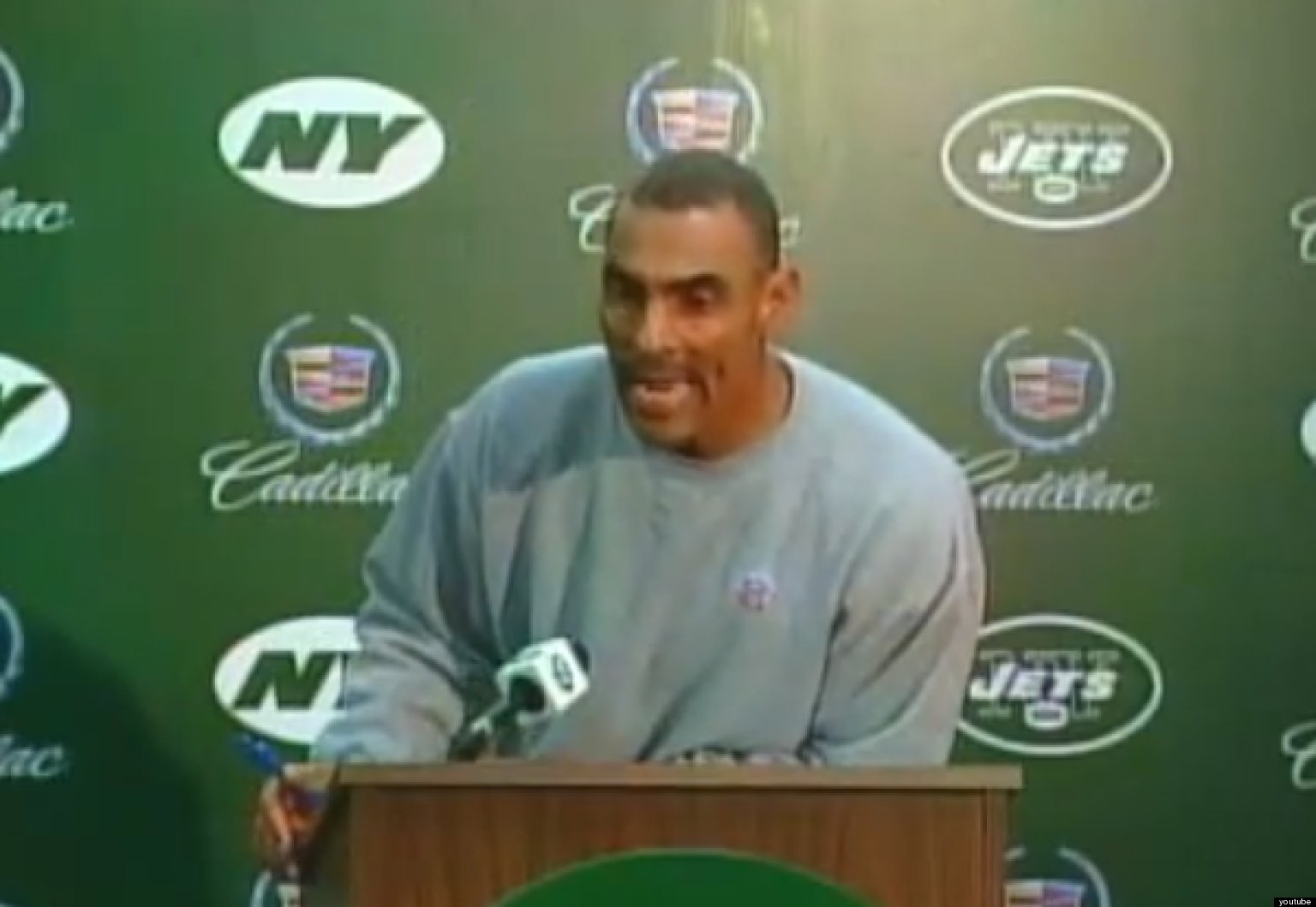 It's true: "Hello? You play to win the game!"
The Jets didn't show up in the 1st half. They let the Steelers drink their milkshake.
Who's to blame? Everybody. Rex Ryan, Mark Sanchez, the offensive line, the runners, the receivers, the defense... this stink bomb was a team effort.
The fact that the Jets closed to 24-19 with 3 minutes to go doesn't suggest that they actually had the character to win this game all along. It suggests that they
should
have come with it in the 1st half -- and that, if they had, they would have won.
But they didn't. As they say in English soccer, the Jets bottled it.
The Jets were beaten by the same team that always beats them: Themselves.
Can you imagine how frustrated I'd be if I actually were a Jets fan?
*
I am actually a New Jersey Devils fan. I was at their game yesterday. Beat the Florida Panthers, 5-2. That's 4 straight, and 13 of a possible 14 points in the last 7 games.
Maybe they're not hopeless after all. I saw some new names on the ice, guys I'd never heard of before, and they... they... they... worked hard.
As if they knew they still had to impress people. Well, they can cross one, me, off their list: I'm impressed, specifically with Henrik Tallinder, Adam Mair, Mark Fayne (who showed me more as a defenseman in 18 minutes of ice time yesterday than Colin White has shown me in the 5 years since the lockout ended) and especially Anton Volchenkov. (UPDATE: None of those 4 guys ended up doing much else for the Devils.)
Volchenkov. Sounds like the name of a tough guy. He is one. The 6-1, 225-pound 28-year-old Muscovite announced his freakin' presence with authority, throwing some hits and outworking everybody. Devil fans are already beginning to wear jerseys with his name and Number 28 on them. This could be the blueliner we've been looking for for a while. I can't wait to see him take the ice against the Rangers (who, in case I haven't mentioned it for a while, SUCK!).
I also thought Patrik Elias looked better than he has in ages. Brian Rolston and Jason Arnott may be having late-career renaissances. Andy Greene looks like he's finally blossoming. Maybe getting rid of Jamie Langenbrunner, as player let alone as Captain, was overdue.
True, the Devils were facing an opponent with considerably less talent than the Jets were. But the Devils worked hard early as well as late.
The Jets? A day late and a dollar short. Story of their life.
So how many years
did
they trade for that one Super Bowl? Now, 42 and counting.
*
And did anybody else notice? Governor Andrew Cuomo of New York and Governor Tom Corbett of Pennsylvania, each newly-sworn into his job, made a bet involving various home-State food products. Cuomo now has to pay up.
Meanwhile, in Manhattan, Mayor Michael Bloomberg, the ol' Human Jinx himself, guaranteed a Jet Super Bowl, and a win therein, just as he'd guaranteed a Yankee World Series win last fall.
Meanwhile, at the Jets' sendoff rally at their Florham Park, New Jersey headquarters, Chris Christie, Jabba the Guv, made a big deal about how the players play in New Jersey, train in New Jersey, and most of them live in New Jersey, and they were going to bring the Super Bowl back to New Jersey.
Mayor Moneybags and the Four Year Blimp run their mouths. But neither one of them was man enough to call the Mayor of Pittsburgh, Luke Ravenstahl, or Governor Corbett to place a bet. Not even the smallest, friendliest, least consequential of wagers.
Andrew Cuomo is a man. Like his father before him.
At this point, I think if you add Bloomberg's approval rating to Christie's, you might equal Cuomo's.