Well, the Philadelphia Eagles blew it again yesterday. The New York Jets were able to beat the Indianapolis Colts in Indianapolis, but the Eagles couldn't defend Lincoln Financial Field, their "Nest of Death," against the Wild Card Green Bay Packers.
The last time the Eagles
did
win an NFL Championship -- Super Bowl -VI, if you prefer -- it was against the Packers. It was December 26, 1960, at the University of Pennsylvania's Franklin Field, a 17-13 win.
Tommy McDonald, the shortest member of the Pro Football Hall of Fame, caught a touchdown pass and fell into a snowbank. Ted Dean, a local guy all the way, from Radnor and Villanova University, scored the other touchdown. On the final play, Bart Starr threw a pass to Jim Taylor, but Chuck Bednarik flattened him short of the goal line, and held him down until the clock ran out.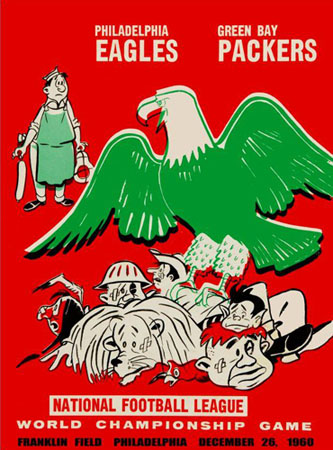 Taylor, as the clock runs out: "Get off me, you son of a bitch!"
Bednarik, seeing that the clock has run out: "You can get up
now
, you son of a bitch, this fucking game is over!"
When you're Concrete Charley, you can smoke
a cigarette and a victory cigar at the same time,
and nobody will say a word about it.
Fifty years. Half a century. Here's an idea of how long it's been:
The Eagles were playing at Franklin Field. Veterans Stadium has since been built, and demolished. So has the Spectrum. The Phillies were still playing at Connie Mack Stadium, formerly known as Shibe Park, at 21st & Lehigh. That stadium has also been demolished, as have the Philadelphia Arena (at 46th & Market, across from the Channel 6 studios), the Philadelphia Civic Center (a couple of blocks from Franklin Field), Temple Stadium and the Cherry Hill Arena.
Yet Franklin Field, built in 1922, still stands, still used by the University of Pennsylvania as their football stadium and the site of the Penn Relays, America's greatest track meet. The Palestra, next door, still hosts games as "The Cathedral of College Basketball."
Franklin Field, with the Philly skyline in the background
There was no NHL team in Philadelphia, and their NBA team was the Warriors, who moved to San Francisco a year and a half later (and then moved across the Bay in 1971, to Oakland, to play as the Golden State Warriors). The Syracuse Nationals moved to Philadelphia in 1963 to become the 76ers, and split their home games between the Civic Center's Convention Hall and the Arena.
A month before the Eagles' title, Wilt Chamberlain of the Philadelphia Warriors collected 55 rebounds in a single game, still an NBA record, despite the opposing center being Bill Russell of the defending champion Boston Celtics. The Celtics won the game, and that season's title, anyway. The Chicago Blackhawks were about to end the Montreal Canadiens' run of 5 straight Stanley Cups – and it took them until 2010 to win another. If the Hawks can go all the way, why not the Eagles?
The NFL had just expanded to Dallas, and there was no reason for a fan of any NFL to say "Dallas sucks": They went 0-11-1, so it was obvious. The NFL was also about to expand to Minnesota. The Cardinals had just left the city of Chicago to the Bears, and moved to St. Louis – where, of course, there was already a baseball named the St. Louis Cardinals.
A ticket from the 1960 NFL Championship Game. Price: $8.00.
In today's money, with inflation? $59. Not that bad.
A ticket for Super Bowl XLV, 2011? $5,000.
The American Football League was 6 days away from its 1st championship game, between the Houston Oilers and the Los Angeles Chargers. The Oilers, later to become the Tennessee Titans, won the game, and a few months later, the Chargers moved to San Diego. The AFL's other charter teams were the New York Titans (Jets), the Boston Patriots (New England Patriots), Buffalo Bills, Oakland Raiders, Denver Broncos, and, the team owned by the league's founder, Lamar Hunt, the Dallas Texans (who became the Kansas City Chiefs in 1963).
And you had to win your division to make the NFL Championship Game. There were no Playoffs, unless there was a tie for first in either of the Divisions – as had happened in the East in 1958, and in the West in 1950 and 1957. In 1963, the Packers went 11-2-1, and the Cleveland Browns went 10-4 – but the Chicago Bears went 11-1-2 and the New York Giants went 11-3, and so they were the teams that played for the NFL title. (The Bears won.)
This is what a Philadelphia Eagles championship ring looks like.
The NFL was only 40 years old. Some of its founding fathers were not only still alive, such as Earl "Curly" Lambeau of the Packers (the new stadium that would bear his name was still called City Stadium), but still involved: George Halas with the Bears, Art Rooney with the Pittsburgh Steelers, George Preston Marshall with the Washington Redskins, and Dan Reeves with the Los Angeles Rams – no relation to the teenage boy of the same name, at this point playing high school football, and later to play for the Cowboys and to be head coach of the Broncos, Giants and Atlanta Falcons.
The defining football players of my childhood? Roger Staubach had just arrived at the U.S. Naval Academy. Joe Namath was in high school. O.J. Simpson and Mean Joe Greene were in junior high school. Terry Bradshaw and Walter Payton were in grade school. Joe Montana and Earl Campbell were small children. Lawrence Taylor was a few weeks away from his 2nd birthday.
In baseball, there was an American League team in Washington. There was an American League team in Kansas City, but it was the Athletics, formerly of Philadelphia, not the Royals. There was a National League team in Milwaukee, but it wasn't the Brewers. Baseball had only reached the Pacific Coast 3 years earlier. There were no major league teams south of the Potomac and Ohio Rivers.
There was a team called the San Diego Padres, but they weren't in the majors. Those cities, and (for the moment) Minneapolis (and St. Paul), and Dallas (and Fort Worth), and Houston, and Atlanta, and Miami, and Tampa (and St. Petersburg), and Toronto, and Denver, and Phoenix, and Seattle were all then minor-league cities, though most were at least Triple-A. (Oakland had lost its Triple-A team in 1955, before the Dodgers and Giants moved west.) The Yankees were alone in New York, as the Dodgers and Giants had moved out in September 1957 season, and the Mets wouldn't arrive until April 1962.
All but one of the 16 teams then in MLB were playing in stadiums with permanent lights, but there were no artificial turf fields, and no domes (retractable or otherwise).
New York, Baltimore, Chicago, Cleveland, Detroit, Pittsburgh, St. Louis, Washington and, for the moment, Los Angeles all had its football teams sharing quarters with baseball teams. If you count the AFL, add their Los Angeles team, Buffalo and Denver -- the latter 2 sharing with minor-league teams. This was in spite of the fact that, in Chicago, Detroit, Pittsburgh and Washington, there were nearby college football stadiums that were larger, something the Eagles took advantage of for the 1958 season. The Titans, who became the Jets in 1963, would end up sharing the Polo Grounds with the Mets in 1962 and '63, before sharing Shea Stadium with them from 1964 to 1983.
Baseball had was no designated hitter, and no regular season interleague play. And no divisional play or Playoffs, just the World Series: If you won over 100 games and another team won more, you were out of luck.
There was still 1 pro football team not yet racially integrated: With the name of the team providing some irony, it was the Washington Redskins. Owner Marshall said, "We'll start signing Negroes when the Harlem Globetrotters start signing whites." It may have been that Marshall wasn't racist (or not
just
that he was racist), but also concerned about his bottom line: The Redskins had a huge radio network, taking advantage of their status as (until the Cowboys came in) the NFL's Southernmost team, and he was afraid of those stations dropping his broadcasts.
Stewart Udall, soon to be named U.S. Secretary of the Interior, would have jurisdiction over the new stadium being built next to the D.C. Armory. He would tell Marshall to integrate his team, or build your own stadium on your own dime, or be stuck at the 27,410-seat Griffith Stadium. Marshall allowed the Redskins to draft the 1st black Heisman Trophy winner, Ernie Davis of Syracuse. But Davis said, "I won't play for that son of a bitch." The 'Skins traded Davis to the Cleveland Browns for Bobby Mitchell. Davis got sick and died without playing a down; Mitchell, already an All-Pro in Cleveland, became a Hall-of-Famer in Washington.
Tom Coughlin, now head coach of the Giants, was a freshman at Waterloo high school, in Central New York's Finger Lakes region. Jacques Lemaire of the Devils was in high school in Montreal. Terry Collins of the Mets was 11 years old, Mike D'Antoni of the Knicks was 9. John Tortorella of the Rangers was 2 1/2. Joe Girardi of the Yankees, Rex Ryan of the Jets, Avery Johnson of the Nets and Jack Capuano of the Islanders weren't born yet.
The University of Minnesota was about to win the National Championship of college football, which it had done several times (depending on whose polls you believe), but has never done it again. Ohio State beat defending National Champion California, with Darrell Imhoff, to win it in basketball. That Ohio State team had 3 future Hall-of-Famers. Two would get in as players: Jerry Lucas and John Havlicek. The other, never even a starter on the Buckeyes, would make it as a coach: Robert Montgomery Knight.
Floyd Patterson had recently become the 1st former heavyweight champion of the world to regain the title, knocking out Ingemar Johansson at the Polo Grounds, as Ingo had gained it a year earlier by knocking Floyd out at Yankee Stadium.
The Olympics had recently been held in Rome, its biggest American heroes being decathlete Rafer Johnson, triple Gold Medalist Wilma Rudolph, and boxer Cassius Clay, the future Muhammad Ali. The Olympics have since been held in America 4 times, Canada 3 times, Japan 3 times, France twice, Austria twice, Australia, Greece, Italy, Norway, Spain, Germany, Mexico, Russia, Korea, Bosnia and China. The World Cup has since been held in Germany twice, Mexico twice, America, England, France, Italy, Spain, Argentina, Chile, Japan, Korea and South Africa.
Dwight D. Eisenhower was in his last 3 weeks as President of the United States. That's right: The Eagles haven't been World Champions since the Ike Age. Richard Nixon was his Vice President. Herbert Hoover and Harry Truman, and the widows of Woodrow Wilson and Franklin Roosevelt, were still alive. John F. Kennedy had just been elected President, Lyndon Johnson Vice President.
Gerald Ford was in the U.S. House of Representatives. Jimmy Carter was farming in Georgia, and thinking about running for the State Senate. Ronald Reagan was still an actor, and still a Democrat, although an increasingly conservative one: He had given speeches denouncing JFK's economic and social plans, saying, falsely and stupidly, "Under the tousled boyish haircut, it is still old Karl Marx."
George Herbert Walker Bush was in the oil business in Texas, and his family included a 14-year-old boy named George, who was a freshman at his father's alma mater, Phillips Academy in Andover, Massachusetts. In junior high school were Billy Blythe and Hillary Rodham, although we don't remember them by those names today. So were Al Gore and Dan Quayle. Newt Gingrich and Rudy Giuliani were in high school. Dick Cheney, Joe Biden and Michael Bloomberg were in college. John McCain was a pilot in the U.S. Navy.
The Governor of New York was Nelson Rockefeller, having already made his 1st run for President. The Mayor of New York City was Robert Wagner Jr., son of the Senator who wrote the bills that became the Social Security Act and the National Labor Relations Board -- making him arguably the 2nd-most-important person in FDR's New Deal. The Governor of New Jersey was Robert B. Meyner.
Richard J. Hughes was a superior court judge. John Lindsay and William T. Cahill had just been elected to their 2nd terms in Congress; Hugh Carey to his first. Ed Koch, David Dinkins and Mario Cuomo were practicing law. Brendan Byrne was Essex County Prosecutor. Tom Kean was a college professor.
Nancy D'Alessandro (Pelosi), Harry Reid and Jim Florio were in college. Mitch McConnell, George Pataki, Christine Todd (Whitman), Donald DiFrancesco, Richard Codey were in high school. Jon Corzine and Eliot Spitzer were in junior high. John Boehner and David Paterson were in elementary school. Jim McGreevey and Andrew Cuomo had just turned 3. Eliot Spitzer was 18 months old. Barack Obama, Michelle Robinson (Obama), Chris Christie and Sarah Palin had not yet been born.
Since I'm talking about the Eagles, I should mention Philadelphia's and Pennsylvania's chief executives. On the day after Christmas, 1960, when the Eagles last won the NFL Championship, Richardson Dilworth was Mayor. James Tate was the President of the City Council, and would succeed Dilworth as Mayor. Frank Rizzo was a police inspector. Bill Green had just moved from St. Joseph's College to Villanova Law School. Wilson Goode was a minor political activist. Ed Rendell was at the University of Pennsylvania, and would himself go on to Villanova Law. John Street was at Conshohocken High School. Michael Nutter was 3.
The Governor of Pennsylvania was David Lawrence, a former Mayor of Pittsburgh. Bill Scranton had just been elected to Congress, after serving as an aide to U.S. Secretaries of State John Foster Dulles and Christian Herter. Ray Shafer was in the State Senate. Milton Shapp was in the electronics business, and would soon serve in the Kennedy Administration. Dick Thornburgh and Bob Casey Sr. were practicing law. Tom Ridge was in high school. Mark Schweiker and Tom Corbett were in elementary school.
Alaska had recently become the 49th State, and Hawaii the 50th. There had been Civil Rights Acts in 1957 and 1960, but not yet that of 1964, no Voting Rights Act, Medicare, Medicaid, Fair Housing Act, Title IX or legalized abortion. Children in public schools could still be forced to say a Christian, most likely Protestant, prayer.
The Supreme Court of the United States was about as good as it's ever been: The Justices were Earl Warren (Chief), Hugo Black, Felix Frankfurter, William O. Douglas, John Harlan, Tom C. Clark, Charles Whittaker, Potter Stewart and William J. Brennan, who was the last remainder of these, serving until 1990. Three weeks before the game in question, the Court had ruled that racial segregation on public transportation anywhere in the country was unconstitutional.
Canada's Prime Minister was Louis St. Laurent. Elizabeth II was Queen of England -- that still hasn't changed -- but she was just 34 years old. The English Football League was won by Burnley – which has barely been in the 1st division (under any name) since. The FA Cup was won by Wolverhampton Wanderers. Tottenham Hotspur, of Middlesex, a suburb of London – not until 1965 would the city's boundaries be redrawn to put "Spurs" actually in London – was in the season that would see them win "The Double": Both the League and the FA Cup. They have not won the League (or its successor, the Premier League) since. That means that even Spurs have won a championship since the Philadelphia Eagles. That is sick. Real Madrid beat Eintracht Frankfurt to win their 5th straight European Cup – the only 5 that had yet been awarded. The Soviet Union won the European Championship.
The Archbishop of Canterbury –
not
"the wanky Tottenham Hotspur" – went to Rome to see the Pope. The Most Rev. Geoffrey Francis Fisher met with Pope John XXIII in the 1st-ever meeting between a head of the Church of England and a head of the Church of Rome. The current Pope, Benedict XVI, then Father Joseph Ratzinger, was teaching at the University of Bonn in his native Germany. There has since been 11 Presidents of the United States, 11 Prime Ministers of Britain and 5 Popes.
Albert Lutuli, then President of the African National Congress and South Africa's foremost current opponent of apartheid, was just awarded the Nobel Peace Prize, the 1st person from outside Europe and the Americas to receive it. (But he wasn't the 1st black person to get it: Ralph Bunche was, 10 years earlier.)
Major novels of 1960 included Ian Fleming's James Bond story
For Your Eyes Only
(there had not yet been any Bond films)
, Harper Lee's
To Kill a Mockingbird
, John Updike's
Rabbit, Run
, and Dr. Seuss'
Green Eggs and Ham
. New non-fiction included Joy Adamson's
Born Free
, John Howard Griffin's
Black Like Me
, William L. Shirer's
The Rise and Fall of the Third Reich
, and, for the first time in English, Elie Wiesel's 1958 Holocaust memoir
Night
. No one had yet heard of Jean Brodie, Alex Portnoy, George Smiley, T.S. Garp, Hannibal Lecter, Celie Harris of Bridget Jones.
Major films of 1960 included Alfred Hitchcock's
Psycho
, Billy Wilder's
The Apartment
, a film version of Sinclair Lewis' eerily prescient sendup of evangelism
Elmer Gantry
, the similarly provocative
Inherit the Wind
,
G.I. Blues
(Sergeant Elvis Presley he had just been discharged from the Army after 2 years), Stanley Kubrick's and Kirk Douglas' blacklist-busting
Spartacus
,
Exodus
,
Swiss Family Robinson
,
Butterfield 8
, the original version of
Ocean's 11
with Frank Sinatra and his Rat Pack, and
The Alamo
with John Wayne playing Davy Crockett (don't forget, the Texans were invaders and slaveholders, so the Mexicans were the good guys there).
There had been James Bond novels, but, as yet, no movies about Agent 007. There hadn't been a live-action Batman since Robert Lowery in 1949, and with the previous year's death of George Reeves, Superman was in an interregnum as well.
Television shows that debuted in 1960 included
Danger Man
(a British spy series known as
Secret Agent
when it later aired in the U.S.),
My Three Sons
,
The Flintstones
,
The Andy Griffith Show
,
Route 66
, and the British soap opera
Coronation Street
. Oh yeah, and the 1st Presidential debates. As President Bill Clinton would say many years later, "People who saw the debates on TV said Kennedy won, while people who listened to the debates on radio said, 'When am I gonna get a TV?'"
Jack Paar, upset at his monologue being edited, walked off the set of
The Tonight Show
– for a month. When he left, he said, "There's got to be a better way to make a living." When he returned, having gotten an apology from the suits at NBC, he said, "As I was saying, before I was interrupted..." The studio audience's laughter was so hard and long, he never finished the sentence. Two years later, he'd had enough, and Johnny Carson became
Tonight Show
host.
Sinatra and Presley, once on opposing sides of the popular music divide, had forged a truce, and had appeared together on a TV special. Elvis had the current Number 1 song in America, a cover of a 1926 country song, "Are You Lonesome Tonight?" Roy Orbison had just tasted his first pop success after a few country hits. The country's biggest female vocalists were Brenda Lee and Connie Francis. The world had yet to meet Bob Dylan or the four young men who would make up the Beatles. Michael Jackson was 2 years old.
Inflation has been such that what $1.00 would buy then, $7.39 would buy now. A U.S. postage stamp was 4 cents. A subway ride in New York was 15 cents, and in Philadelphia 25 cents. The average price of a gallon of gas was 31 cents, a cup of coffee 10 cents, a McDonald's meal 45 cents (and that's a cheeseburger, fries and a shake, since the Big Mac wasn't introduced until 1968), a movie ticket 75 cents, a new car $2,600, and a new house $16,500. The Dow Jones Industrial Average had closed at 613.23, 2 days before Christmas.
The tallest building in the world was the Empire State Building. There were telephones in some cars, but no "mobile phones" like we now understand that term. Hardly anybody in America had color TV sets. Computers still took up entire walls in office buildings. Steve Jobs, Bill Gates and Tim Berners-Lee were 5 years old. And no human being had yet been launched into space.
In the waning weeks of 1960, the Congo and Mauritania became independent of France. France's President, Charles de Gaullie, visited Algeria, torn apart by its own war of independence, and 127 people died in riots. A military coup, trying to take advantage of Emperor Haile Selassie being overseas, is foiled in Ethiopia.
A United Airlines DC-8 and a TWA Lockheed Constellation collided in midair over Staten Island, killing all 128 people on the planes and 6 more on the ground. The aircraft carrier USS Constellation, under construction at the Brooklyn Navy Yard, catches fire, killing 50 people, and delaying commission of the ship by 7 months. And Penguin Books was found not guilty of obscenity for publishing D.H. Lawrence's novel
Lady Chatterley's Lover
– finally allowing it to be published in Britain and America, 32 years after it was first published in Italy.
Keystone Kops
director Mack Sennett, matinee idol Clark Gable and
Native Son
author Richard Wright died. Diego Maradona, Gary Lineker, Maryam d'Abo (herself a pretty good soccer player), Kenneth Branagh, and John F. Kennedy Jr. – and his future, though brief, girlfriend, Daryl Hannah – were born.
December 26, 1960. The Philadelphia Eagles were World Champions. They have not been since. Will they ever do it again? Men have gone broke, old and insane while counting on it.