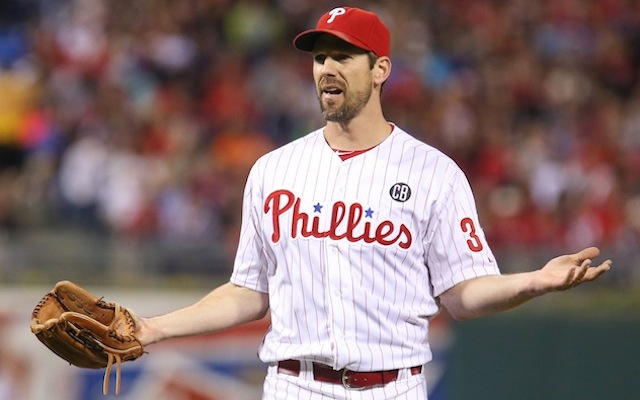 Dr. Barry Rumack (Leslie Nielsen): "Can you fly this plane and land it?"
Ted Striker (Robert Hays): "Surely, you can't be serious!"
Rumack: "I am serious. And don't call me Shirley."
--
Airplane!
Rest in peace, Leslie Nielsen.
*
So, Cliff Lee decided to take an offer from the Philadelphia Phillies that, when closely defined, really is more money than the Yankees were offering him.
It's 1,168 miles from Lee's home town of Benton, Arkansas to Citizens Bank Park in Philadelphia, Pennsylvania.
I guess Lee decided it was better to be close to Pat's Steaks than to be "close to home."
Come to think of it, I'd rather be close to Pat's Steaks than be anywhere near Dallas! (67 miles is a lot when you've got that kind of a craving.)
I wonder what his wife Brenda -- I mean, Kristen -- has to say about this? Sorry, had her confused with someone else for a minute. Oh well, better Brenda Warner than Anna (still Mrs. Kris) Benson!
If I'm a general manager, and a player clearly doesn't want to come to my team, I don't lift a finger to try to change his mind. Let him go.
Lisa Swan of
Subway Squawkers
pointed out that Greg Maddux didn't sign with the Yankees for 1993, nor John Smoltz for 1997.
How'd that work out for the Yankees? Pretty well, winning the 1996, 1998, 1999 and 2000 World Series.
How'd that work out for the Braves, who both got Maddux in '93 and kept Smoltz in '97? Okay, I suppose. They did win the '95 World Series, and then won National League Pennant in '96 and '99... and then the Yankees beat both men in those 2 World Series.
Just as there's an old saying that, "The best trades are the ones you don't make," so, too, can be the best free-agent signings. Consider that the Yankees didn't try to lure away Braves pitcher Tom Glavine... and the Mets did.
Lee going to the Phillies is a good thing for the Yankees. First of all, they don't get a ridiculously overpriced pitcher who, in all honesty, based on regular-season and postseason performance, would not be their ace. CC Sabathia is. In fact, take into account Phil Hughes, Lee might not even be a Number 2. If Andy Pettitte comes back, Lee might not even be a Number 3. If A.J. Burnett bounces back, Lee might not even be a Number 4.
Second of all, Lee going to the Phillies, or any NL teams, means he doesn't go to (or stay with) any American League team. He leaves the Texas Rangers, who are thus downgraded from the team that won this year's AL Pennant. He doesn't go to the Tampa Bay Rays, who've now won 2 of the last 3 AL Eastern Division titles. (With them announcing they'll slash payroll, and having already let sparkplug Carl Crawford go, they won't be winning another anytime soon.) He doesn't go to the Baltimore Orioles, whom Buck Showalter seems to have gotten back at least to respectability, and might now be only one good pitcher away from Playoff contention.
He doesn't stay with the Rangers or go to the Boston Red Sox, the Minnesota Twins, the Detroit Tigers, the Cleveland Indians, or the Whatever They'll Be Calling Themselves Next Season Angels of Anaheim, all of whom the Yankees have played in the Playoffs at least once since 2005. Nor does he go to the Chicago White Sox, whom the Yankees have never played in the Playoffs but have at least made it in 2 of the last 6 seasons, including a World Championship.
In other words, if the Yankees have to deal with Lee at all in the next few years, it'll be either in a stray Interleague game (depending on how the Phils' rotation works out) or in the World Series. And that's if the Phils don't decide, as they and a few others have already, that it's not worth keeping him.
Yeah, let's make that point again: If Lee's so great, why do teams keep letting him go?
Again: He's had 7 full seasons, 2 have been great, 4 have been good but not great (including the last 2), and 1 was outright bad (ironically, 2007, when the Indians came within 1 win of a Pennant -- and Lee did not appear in the postseason and could have made the difference, if he was good enough).
In other words, he ain't no Randy Johnson.
And the Yankees
did
get Randy Johnson for the 2005 season. How'd that work out? Just because a guy hits or pitches well against your team doesn't mean he'll do equally well for it. With Chili Davis, that worked great. With the Big Unit, Kevin Brown and (if your memory goes back to the 1980s, as mine does and then some) Dave Collins and Steve Kemp, it didn't.
So he's the answer to the Yankees' starting pitching problems?
Sure, Lee? You can't be serious.
Could be worse, it could be Bob Shirley.