Not a good month for fans of the Chicago Cubs.
I know, obvious joke: When do Cub fans
ever
have a good month? (UPDATE: In October and November 2016.)
Earlier this month, they lost Ron Santo. Yesterday, they lost Phil Cavaretta.
A true hometown hero, Philip Joseph Cavarretta was born in Chicago on July 19, 1916, and graduated from the City's Lane Technical High School -- at 2501 West Addison Street, 28 blocks west of Wrigley Field.
Other noted graduates of Lane Tech include:
* From sports: Frederick "Fritz" Pollard, one of the earliest black football players and coaches, and a member of the Pro Football Hall of Fame; Olympic swimmer Johnny Weissmuller, Gold Medalist at Paris in 1924 and Amsterdam in 1928; 1930s Yankee outfielder Arndt Jorgens; his brother, Philadelphia Phillies pitcher Orville Jorgens; 1970s Atlanta Braves pitcher Lee "Buzz" Capra; College Football Hall-of-Famer Bill Fischer; Milwaukee Braves and Green Bay Packers broadcaster Earl Gillespie;
* From entertainment: Weissmuller, who played Tarzan in 12 films from 1932 to 1948, and is generally considered the definitive portrayer of the King of the Jungle; Edgar Bergen, ventriloquist and father of actress Candice Bergen; jazz and Big Band singer Francis LoVecchio, who renamed himself Frankie Laine in honor of the school; and actor Bill Daily, a supporting player on
The Bob Newhart Show
, which was famously set in Chicago; and actor Adrian Zmed of Grease 2 and T.J. Hooker.
* From politics: John Podesta, White House Chief of Staff to President Bill Clinton; and disgraced Governor of Illinois Rod Blagojevich.
Phil Cavarretta played in the major leagues only for Chicago, with the Cubs from 1934 (when he was 18 and just out of Lane Tech) to 1953, and for the White Sox in 1954 and 1955. (Wow, what an occurrence: Both Cavarretta and Santo were Cub legends who ended up with the White Sox, and they die within days of each other.)
On May 12, 1935, Cavarretta, a rookie approaching his 19th birthday, played for the Cubs against the Boston Braves. Playing for the Braves that day, running out the string, was Babe Ruth. Cavarretta was the last living player who had played against the Babe. 75 years.
He was a member of 3 Cub Pennant-winners. No, I'm not kidding: The Cubs won National League Pennants with Cavarretta as their starting 1st baseman in 1935, 1938 and 1945. They didn't win the World Series on any of those occasions, but then, they twice faced Hank Greenberg's Detroit Tigers and once faced the Yankees of Lou Gehrig, Joe DiMaggio, Bill Dickey, Lefty Gomez and Red Ruffing. So, despite having players like Gabby Hartnett, Billy Herman, Stan Hack, Dizzy Dean and Hank Borowy (of Bloomfield, New Jersey, yay), the odds were really against them.
He played in more seasons for the Cubs than anyone in franchise history except their legendary 19th Century 1st baseman, manager and bigot, Adrian "Cap" Anson. He played in more games than any player in team history except Anson, until that record was surpassed by Ernie Banks. A 3-time All-Star, he won the NL's Most Valuable Player award in 1945. The Cubs have not won a Pennant since that season, and have not won the World Series since 1908. (UPDATE: They now have, but let the record show that they went from 1932 to 2016 without winning a Pennant without Cavarretta on the roster.)
Lifetime batting average, .293. OPS+, a fine 118. 1,977 hits. Although he will never be elected to the Baseball Hall of Fame, he is honored on the Cubs Walk of Fame outside the home-plate entrance at Wrigley Field.
Phil Cavarretta, rightly one of the most popular Cubs ever, was 94 years old.
*
On Friday, Walt Dropo died at the age of 87.
Oddly, he died mere days after I finished reading Allen Barra's book
Rickwood Field: A Century In America's Oldest Ballpark
, for which Dropo was interviewed in connection with his performance for the Birmingham Barons in 1948 as they won the Southern Association Pennant.
(Rickwood served as home to various teams in Alabama's biggest city from 1910 to 1987, and still stands for use by amateur clubs and, once a year, by the Barons. It also hosted Negro League ball, including area native Willie Mays, when the Black Barons won their own Pennant in 1948.)
Known as "Moose" not for his size (6-foot-5 and 220 pounds, at a time when that was considered huge -- now, it would just be "big"), but because he was from the town of Moosup, Connecticut, Dropo was drafted by teams in 3 different sports. Well, 2: In those days, baseball didn't have a draft. But he played football and basketball at the University of Connecticut, after starring at Plainfield High School. (Unlike Lane Tech, Plainield -- not to be confused with the school of the same name in New Jersey -- appears to have only Dropo as a celebrity graduate.)
Long before Jim Calhoun turned the UConn Huskies into the Northeast's foremost college basketball power, Dropo was, for many years, their all-time leading scorer. He was drafted by the Chicago Bears and by the Providence Steamrollers of the Basketball Association of America (one of the leagues that merged to become the NBA, and if he'd played for them the franchise might have survived). But, since baseball offered the highest salaries at the time, he signed with the Boston Red Sox.
In 1950, his 1st full season, Dropo was the American League Rookie of the Year, the 1st Red Sox player to win the award (the AL only started theirs the year before, with the NL starting in 1947), leading the League in RBIs and total bases while batting .322.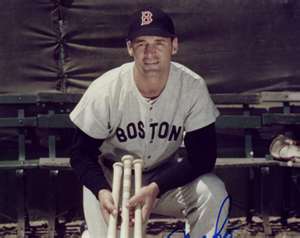 But that was pretty much it, his only season on an All-Star team. He tailed off tremendously in 1951, and the Red Sox began to think, "Oh, here we go again, another guy we got solely because he was a big right-handed hitter who could hit home runs over that nice, close left-field wall, and now that he's not hitting anymore, it's obvious we goofed again." (So why did they keep goofing like that from the 1930s to the 1990s?)
On June 3, 1952, the Red Sox traded Dropo, Johnny Pesky and 3 guys you don't need to know about to the Detroit Tigers, for 1 guy you've probably never heard of, Johnny Lipon, and 3 guys you may have: George Kell, Dizzy Trout and Hoot Evers. Pesky, Trout and Evers were pretty much washed up, and Kell gave the Red Sox a couple of good years, essentially filling in (with production if not in his exact place in the field) for Ted Williams while the Splendid Splinter was off in the Korean War.
Did Dropo do anything for the Tigers that made it a bad trade for the Red Sox? Sort of. He gave them 2 good seasons, and, a few weeks after the trade, he tied major-league records with hits in 12 straight at-bats and 12 straight plate appearances. He later went on to the White Sox and the Baltimore Orioles, where he and Kell were briefly teammates, both running out the string.
He was mainly a feast-or-famine hitter: Either he was really good, or he was really disappointing. His career OPS+ was 100 -- meaning he was exactly as productive as the hypothetical average player in his time.
Still, he was a New England boy who starred, however briefly, for the Red Sox, and was thus fondly remembered there.