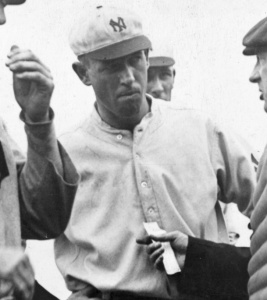 Yesterday was a bad day.
Not just for sports-related reasons. A few rotten things happened to me yesterday that didn't involve sports. I won't get into those here; you're not interested, anyway.
It's bad enough to lose a game. It's worse to lose a big game. But to lose 2? At the same time? That happened to me last night.
I was at Dear Old Alma Mater, East Brunswick High School, whose football team really laid an egg. They sure didn't look like a 4-1, Playoff-bound team. They played like crap and were down 14-0 in the first 7 minutes. They lost, 41-6, as pathetic an effort as I've ever seen at Jay Doyle Field -- or anywhere else they've ever played.
It's hard to believe this is the same team that beat Sayreville, at Sayreville, in last year's Playoffs. This season? Qualification for the Playoffs is in serious jeopardy. (
Playoffs?
)
Fortunately, I could listen to the Yankees-Rangers ALCS Game 6 on my Walkman. No, I couldn't! Apparently, the switch had been flipped, and the battery had run out. So I had to use my cellphone's Internet connection, and we were already losing 1-0.
I got on the bus to head back home, and we'd tied it 1-1. But by the time I got in the house, it had all fallen apart.
Rangers 6, Yankees 1. Ballgame over. American League Championship Series over. Yankee season over.
For the New York Yankees, Title 28 and Pennant 41 will have to wait. For the Texas Rangers -- and their inbred redneck right-wing cunt fans -- Pennant 1.
The only current franchises left that haven't won Pennants? The Seattle Mariners (in business since 1977, closest they came was 2 wins away in 1995 and 2000) and the Washington Nationals (in D.C. since 2005, closest they've ever come was 1 run away in 1981 as the Montreal Expos). In addition, the Rangers, Tampa Bay Rays, Colorado Rockies, Milwaukee Brewers, San Diego Padres and Houston Astros have never won a World Series. The San Francisco Giants, 1 win away from this year's NL Pennant against the Philadelphia Phillies, won 5 World Series in New York, but none since moving to San Francisco.
Then, to make matters worse for me, Rutgers lost this afternoon, 41-21 to the University of Pittsburgh at Heinz Field.
Lousy last 24 hours.
*
Of course, last night, as bad as it was, was not one of the worst days in Yankee history.
In fact, if you look carefully, you'll note that most of the truly bad days in Yankee history have little to do with actual game defeats.
This list is not ranked, counted down from 10 to 1. Instead, I'm going to go in chronological order, 1 to 10.
Top 10 Worst Days In Yankee History
1. September 23, 1910.
One hundred years ago. Manager George Stallings tells team owners Frank Farrell and Bill Devery that Hal Chase, a good hitter and considered the best-fielding 1st baseman the game has ever seen, has been throwing games. It becomes a situation of, "Either he goes, or I go."
Naturally, desperate to bring in as many fans as possible, what with the Yankees (still officially called the Highlanders at this point) being the 3rd team in New York, behind the mighty Giants just a few blocks away and the (thus far) perennial contender Dodgers in Brooklyn, Farrell and Devery tell Stallings, "Here's your hat, George, what's your hurry?"
If that had been it, that would have been bad enough. But who did they hire as the new manager? Chase himself. Just 27 years old, no managerial or even coaching experience in any sport at any level, and already suspected by many as a game-fixer, and they make him the manager.
Now, I ask you, does losing a Pennant series, as defending World Champions, against a team that had never won a Pennant in 50 years of trying, while batting just .201 as a team, seem worse than that?
The Yankees were in 2nd place in September 1910, not a bad finish at all for a team that hadn't yet won their 1st Pennant, although well behind the eventual World Champion Philadelphia Athletics. But Stallings couldn't take it anymore.
How did Chase do in his 1st full season, in 1911? Not well: 76-76, 6th place. Chase was relieved of the managerial duties, and Harry Wolverton was appointed. He managed the team to its worst season ever, 50-102.
In 1913, Farrell and Devery hired Frank Chance as manager. "The Peerless Leader" who had led the Chicago Cubs to 4 Pennants and 2 World Series. But those successes were with Chance himself at 1st base, not with Chase.
After 2 years of getting frustrated over Chase continuing to throw games and the team going nowhere in part because of that, Chance quit, went home to California, and managed the Los Angeles Angels to a Pacific Coast League Pennant. Chase was soon gone from New York as well, new owners Jacob Ruppert and Til Huston not wanting his maledictory influence around any longer.
2. August 16, 1920.
The Yankees, now playing at the Polo Grounds and in their first season with Babe Ruth, are playing the Cleveland Indians in a 3-way race with the Chicago White Sox. Submarine-style hurler Carl Mays hits Indian shortstop Ray Chapman with a pitch.
The impact makes such a sound, and the ball comes back to Mays with such force, that Mays thinks Chapman actually hit the ball -- shades of the Roger Clemens-Mike Piazza incident 80 years later -- and throws to first base. This backs up Mays' claim, which he held for the last 51 years of his life, that he did not intentionally hit Chapman, who was known at the time for hanging over the plate.
The audience gasped at the sound -- no batting helmets in those days -- and Chapman got up, and told Yankee catcher Wally Schang, "I'm all right. Tell Mays not to worry." He took some steps, then collapsed, with his left ear bleeding. He never regained consciousness, and died the next day. He was 29.
Aside from the possibility of Mike "Doc" Powers of the 1909 Philadelphia Athletics, whose death may not have been caused by an on-field injury but was surely worsened by it, Chapman is the only Major League Baseball player to die as the result of an on-field incident.
The Indians won the game, 4-3, and went on to win the World Series in spite of Chapman's death, with rookie Joe Sewell taking his place, and building a Hall of Fame career.
Understandably, despite his protests of non-intent, Mays was vilified by all and sundry, partly because he already had a reputation as a difficult man; people
wanted
to believe he did it on purpose. It's probably the biggest reason why, despite a career record of 207-126, he's not in the Hall of Fame.
So the only uniformed person ever to kill another person on a Major League Baseball field, intentionally or otherwise, was a Yankee. Amazingly, this is not often cited by Yankee Haters (Flushing Heathen, Chowdaheads and others) as a reason why they hate the Yankees. It's been 90 years, and pretty much everybody who cared about Chapman and the Indians at the time is gone. But it's still a dark day in Yankee history.
3. June 20, 1939.
This was the day the Mayo Clinic published its report on the health of Lou Gehrig. Amoyotrophic lateral sclerosis, shortened to ALS, and usually called Lou Gehrig's Disease after its most famous patient.
In the 71 years since, many people, including physicist Stephen Hawking, have lived years, even decades, with ALS. Gehrig lived only 2 years after his diagnosis, leading some people to think the disease's namesake, ironically, may have had something else. Whatever it was that he actually had, it was the end of his career, and Lou Gehrig Appreciation Day, July 4, 1939, was one of the most glorious, and yet saddest, days in baseball history.
Aside from Gehrig and Hawking, other victims of ALS include Chinese dictator Mao Zedong; Senator Jacob Javits of New York; musicians Huddie "Leadbelly" Ledbetter, Charles Mingus and the still-living Jason Becker; actors David Niven, Dennis Day, Michael Zaslow, Lane Smith; and, from the world of sports, English football manager Don Revie.
Despite Gehrig's death, the Yankees won 106 games in 1939, sweeping the Cincinnati Reds in the World Series. And there have been people who have said that, even on Lou Gehrig Day, they didn't know he was dying. But the day the world found out that he had to retire was still an awful day.
4. December 16, 1953.
The Yankees trade Vic Power, Don Bollweg, Jim Finigan, Johnny Gray, Bill Renna and Jim Robertson to the Philadelphia Athletics for Loren Babe, Harry Byrd, Tom Hamilton, Carmen Mauro and Eddie Robinson.
Byrd was a decent pitcher, who simply didn't get run support with the A's. But he didn't do much for the Yankees. Other than him, the only name in this trade that you really need to know is Vic Power. Or, legally, Victor Pellot, which is what he always called himself.
Born in 1927 in Arecibo, Puerto Rico as Victor Felipe Pellot Pove (first name, middle name, father's family name, mother's family name, as is common in Spanish-speaking places), Power was a sensational fielder at 1st base, and, in the 1952 seaso,n batted .331 with 40 doubles, 17 triples, 16 home runs and 109 RBIs for the Yankees' top farm team, the Kansas City Blues, playing in Blues Stadium, which eventually became Kansas City Municipal Stadium, and was always a pitcher's park.
In 1953, Power batted .349, winning the American Association batting title, with 39 doubles, 10 triples, 16 homers and 93 RBIs. At the time of the trade, he was already 27 years old. And yet, the Yankees hadn't yet brought him up to the majors. This at a time when the Yanks' starting 1st baseman was Joe Collins: Good player, but Power was probably already better.
So why would they trade him for 5 guys who amounted to nothing in Pinstripes? The official reason was that he was "too flashy" or a "hot dog," for the way he fielded at first base. It wasn't "the Yankee way."
Turned out that the real reason was that general manager George Weiss was a bigot, and didn't want black players on the Yankees. To make matters worse, Power was dating a white woman at the time. Final straw, off you go to the House of Mack.
Power broke into the A's starting lineup right away in 1954, and became a star after their move to Kansas City where he'd starred in Triple-A, and later with the Cleveland Indians. He won 7 straight Gold Gloves, batted over .300 3 times, led the AL in triples in 1958 with 10, and made 4 All-Star teams. In 12 big-league seasons, he batted .284, collected 1,716 hits, including 290 doubles, 49 triples, 126 homers, and never seemed to be all that controversial after leaving the Yankees.
After his retirement, he went back to Puerto Rico and became a youth baseball coach, living until 2005, dying of cancer at age 78.
Late in life, as the number of Hispanic players in the majors grew and interest in their forebears did the same, he gave some interviews in English, and did not seem particularly bitter about his treatment by the Yankees. Was the decision to trade him justified? In any way?
Well, in 1954, the Yankees did get a new starting 1st baseman, Bill "Moose" Skowron, and he was terrific for them until 1962, playing the position superbly and hitting with more power than any righthanded Yankee would between Joe DiMaggio and Dave Winfield.
And a year later, in 1955, tired of the mounting criticism from black and Hispanic advocacy groups, Yankee owners Dan Topping and Del Webb overruled Weiss, and promoted outfielder/catcher Elston Howard to become the first black Yankee. Unlike Power, he was quiet, unflashy, already married to a woman of his own race, and did his job well, and was thus "worthy of the Yankee uniform."
He became the 1st black Most Valuable Player award winner in the American League -- in 1963, after the National League had already had black MVPs Jackie Robinson, Roy Campanella (3 times), Willie Mays (the 1st of 2 he would win), Don Newcombe, Hank Aaron, Ernie Banks (twice), Frank Robinson and Maury Wills.
Based on the successes of Skowron and Howard, it can be argued from a competitive standpoint (if not from a moral one) that the Yankees lost nothing by trading away Power. Still, they should have gotten something more for him than 5 who's-he's.
And I wonder how much good it would have done in the community to have a terrific player who was not only black, but Hispanic. But Weiss thought it would upset the Yankee fan base, which he considered to be white working men from Westchester, Connecticut and North Jersey.
Know this: Power, despite playing less than 4 full seasons with the Indians, was named one of the team's 100th Anniversary 100 Greatest Players; Howard is honored with a Plaque in Yankee Stadium's Monument Park; Weiss has no Monument Park Plaque, though he is, unlike the other two, in the Hall of Fame.
5. October 18, 1960.
Fifty years ago. Actually, this date is just a stand-in for the real date, which may never be known. Topping and Webb decided they'd had enough, and started looking to sell the Yankees. First, they fired manager Casey Stengel on October 18, with Casey reading a resignation statement to the press, and then saying, "I guess this means they fired me," and, "I'll never make the mistake of being 70 again." A few days later, Weiss was forced out.
And Weiss made a prediction: Topping, Webb, and whoever succeeded him as GM would so badly mess up the Yankee farm system that the dynasty would collapse. "I give them five years," Weiss said at the time.
What did Topping and Webb care? They knew that, even if Weiss' prediction came true, they weren't going to be around to get the blame. The new guys would. But Weiss was right on the money: The Yankees won the next 2 World Series and the next 4 AL Pennants, but in Year 5, 1965, they crashed to 6th.
As hard as it was to be a Yankee Fan from 1979 to 1995, and again from 2002 to 2008, and at this moment in 2010, it was never worse for the franchise from 1965 to 1975. Especially as the Mets became the more popular team in town, with the newer ballpark, and Stengel and Weiss reunited there. And the worst moment of all was in 1969, when their successors, Gil Hodges and Johnny Murphy (another Yankee legend, as a relief pitcher, joining the ex-Dodger Boy of Summer) built a Met team that won the World Series, with the Yankees no longer even having Mickey Mantle to keep them happy with a few home runs.
The Yanks didn't get back to the postseason until 1976. By that point, Topping, Webb, Weiss and Stengel were all dead. And CBS, which bought the team from Topping and Webb in 1964, had sold them to the group headed by George Steinbrenner. The rest is history. And psychology. Often abnormal psychology. Still, the Bronx Zoo period of 1976 to 1979, and George's doings in the 1980s, were no crazier than what the Topping/Webb/Weiss regime did. Only more public about it.
And, while most baseball historians consider Topping and Webb to be the ones to blame for the crash -- albeit not letting CBS off the hook for their feckless reaction to it -- again, what do they care? As Casey would say, They're dead, and you can look it up.
6. August 2, 1979.
Yankee catcher and Captain Thurman Munson dies in a plane crash at the airport near his home town of Canton, Ohio.
I don't think I have to explain why this was so devastating. Even if you're not old enough to remember, you can see the results on the field: No more World Series wins until 1996.
You've no doubt seen the YES Network's
Yankees Classics
showing of the ABC
Monday Night Baseball
broadcast of the game played on August 6 after the Yankees got back from Munson's funeral -- a broadcast that made even Howard Cosell seem like a comforting figure. You've almost certainly seen YES'
Yankeeography
of Thurman, and you may even have read Marty Appel's excellent new biography
Munson: The Life and Death of a Yankee Captain.
I am old enough to remember. I heard the news on TV, and I fell out of my seat. Literally. I still feel like slumping down in my seat as I type this.
7. September 12, 1985.
Twenty-five years ago. This date may not be familiar to you, but I'm never going to forget it. This was "Baseball Thursday" in New York. It remains the only day in the joint 1962-present history of the Yankees and the Mets when both teams were at home on the same September day and were both playing the team they were fighting for a Division Title. In the day game, the Mets beat the St. Louis Cardinals at Shea Stadium, 7-6, to take 2 out of 3 in their series and go a full game up on the Cards in the NL East. In the night game, the Yankees began a 4-game series against the Toronto Blue Jays, who led them by 2 1/2 games. The Yankees had lost their last game, but had won their last 11 before that to get back into the race.
Before the game, attended by 52,141 at the original Yankee Stadium, public-address announcer Bob Sheppard introduced Robert Merrill, the Brooklynese baritone who long graced the stage at the Metropolitan Opera. Merrill, as he had done so many times and would do so many more, would sing the National Anthems. As the Blue Jays were based in Canada, he began with "O Canada."
And boos rang down from the stands at Yankee Stadium. Seriously. The same building that had hosted Joe Louis' knockout of Max Schmeling was now hosting the booing of the National Anthem of America's closest ally.
I was watching this game on WPIX-Channel 11, and I was sickened. I was thrilled that the Yankees won the game, 7-5, behind the pitching of Ron Guidry (his 19th of 22 wins that season) and a home run by catcher Ron Hassey, and enjoyed all the "Baseball Thursday" hype (which only intensified as both teams won, the Mets moved into sole possession of 1st, and the Yanks closed to within a game and a half), but there was no excuse for booing "O Canada" just because the opposition was based outside the United States of America.
I wonder what President Ronald Reagan thought of it; I wonder if the hyper-patriotism he inspired in many was a partial cause.
The next night, before the 2nd game of the series, Sheppard prepared to introduce Merrill again, and this time, the St. John's University speech professor took no chances. He reminded the fans that Canada was America's ally in World War I, World War II, and the Korean War. If that was too far back for them to remember, he reminded the fans that Canadian diplomats had helped get the American hostages out of Iran just a few years before. And as such, their Anthem should be respected.
Merrill began: "O, Canada... " And the Yankee fans responded, "Boooooooo!"
Players, managers, executives and owners of the Yankees have disgraced themselves. This is one of the few times, and by far the biggest time, that Yankee Fans have disgraced themselves. Indeed, they disgraced the entire country they thought they were supporting. Buck Martinez, a Blue Jays catcher (and later manager and broadcaster for the team), looked at the Jays' roster, noting its September expansion, and told the press, "Some patriots. They're booing 25 Americans and 3 Dominicans."
8. July 30, 1990.
Twenty years ago. Commissioner Francis T. "Fay" Vincent permanently banned Yankee owner George Steinbrenner from the day-to-day management (although not the actual ownership, and financial responsibilities and receipt of income thereof) of the team. This was because George had hired Howie Spira, a private investigator and compulsive gambler, to find damaging information about Yankee star Dave Winfield and his charitable foundation, in order to discredit Winfield.
If Spira ever found anything, it has never been publicly revealed. For that reason, Dave, in the exact opposite of what George intended, was the only one of the three who came out looking good. Spira turned to Vincent, and George was banned. George was, however, permitted to apply for reinstatement after 2 years, and in 1993 reinstatement was granted.
The Yankees were already in last place at the time -- 1908, 1912, 1966 and 1990 remain the only last-place finishes in the team's history -- and I actually went to the game that night, against the Detroit Tigers. The Yankees won, 6-2. Only 24,037 attended, and what a relief there was in the crowd. I'm not ashamed to admit it: I took part in the "Steinbrenner sucks!" chant.
If you had told us that night that, as a result of the banning order, Gene Michael (whose initials, appropriately, are GM) would rebuild the organization, top to bottom, and within 6 years we'd be World Champions again, I think we would have taken it. But if you had told us then that, 6 years later, we'd be chanting, "Thank you, George!" at the ticker-tape parade following said World Series win, we'd have wondered what you were smoking. And yet, both came true: Both the Yankees and their Boss were rehabilitated, restored and redeemed.
9. October 20, 2004.
I don't think I need to explain what this date is. It was Game 7 of the 2004 American League Championship Series. And the only occurrence of these 10 to be an actual game, and postseason series, defeat. Boston Red Sox 10, New York Yankees 3. The Red Sox came from 3 games to 0 down, and won 4 straight, the only such occurrence in the history of Major League Baseball postseason play.
A humiliating defeat, one that lasted 4 hours and 31 minutes, and it was essentially over in the 1st 2 innings. No sudden shock, like there's been in a lot of Yankee wins and Red Sox losses (sometimes the same): This was equivalent to Chinese water torture -- or, since he lived in both The Bronx and Boston, perhaps the better analogy is to Edgar Allan Poe and his story "The Pit and the Pendulum."
The Red Sox, and their fans, celebrated the long-awaited slaying of the Pinstriped dragon, at Yankee Stadium. And on Mickey Mantle's birthday, no less. Actually, since the final out was at 12:01 AM, October 21, it was on Whitey Ford's birthday, too.
Has this defeat been avenged? Well, the Yankees did win the Division in 2005 and '06, clinching at Fenway Park in the former while the Sox finished 3rd in the latter. But the Sox won the whole thing in 2007, too. In 2009, something happened that I'll refer to in Worst Day Number 10 that put the Sox' victory in doubt, and the Yanks clinched the Division at home at the new Yankee Stadium against the Sox. But is that enough? In order to truly exorcise this demon, must we beat them in a postseason series?
Or maybe we should just accept that the Sox got even, and just treat them as a regular opponent, with no special meaning, in regular-season games. Nah, what fun would that be?
10. December 13, 2007.
The date of the Mitchell Report. Because of the people that came forward to testify, and because of the information that was provided, more accusations of steroid use fell on the 2 New York teams than on anyone else. Essentially, the Yankees became the face of steroid use and human-growth hormone use in baseball. While the Red Sox, who had just won their 2nd World Series in 4 years after not winning any for 86 years, got off almost completely scot-free.
The head of the commission doing the investigating? George Mitchell, former U.S. Senator from Maine, former Senate Majority Leader, a longtime Red Sox fan and a member of the Red Sox board of directors. Having been a Washington insider for so long, Mitchell, a genuine hero for the way he protected the American people from conservative attacks on civil liberties and the social safety net, and for his efforts to bring peace to Northern Ireland (successful) and the Middle East (he's still trying), should have understood the concept of "conflict of interest."
Yankee Fans wanted to think the Report was an attempt to railroad their team, to make their achievements of 1995 to 2007 look illegitimate, while at the same time absolving the Red Sox and making them look like the Good Guys against the Yankees' Evil Empire. Fans of every other team celebrated the report, because it made the Yankees look bad.
Except the Report proved nothing. Most of the accusers were of questionable credibility. Anything specific that landed on Yankee players took place while A) said players were not in the Yankee organization or B) in seasons when the Yankees did not win World Series, i.e. Jason Giambi (2002-08), Garry Sheffield (2004-06), and Andy Pettitte (one instance in 2002, and that to come back from an injury rather than to gain an unfair advantage). And if the Report was so right, where was the accusation against Alex Rodriguez, who admitted to using steroids prior to becoming a Yankee (but not after)?
On July 30, 2009, results of steroid tests were leaked revealing that David Ortiz and Manny Ramirez, the biggest bats on the 2003-08 Red Sox mini-dynasty, had flunked. The Mitchell Report did not mention this. Indeed, considering all the revealed cheaters, all the as-yet-unproven suspects, and their failures from 2004 to 2008, the Yankees now appear to have been the team most hurt by steroid use. But, even with an apparently squeaky-clean title won in 2009, fans of 29 other teams still think the Yankees are dirty for this reason (and others).
Let them think that. They're idiots. Especially if they excuse what the 2004 Boston self-proclaimed "Idiots" did.