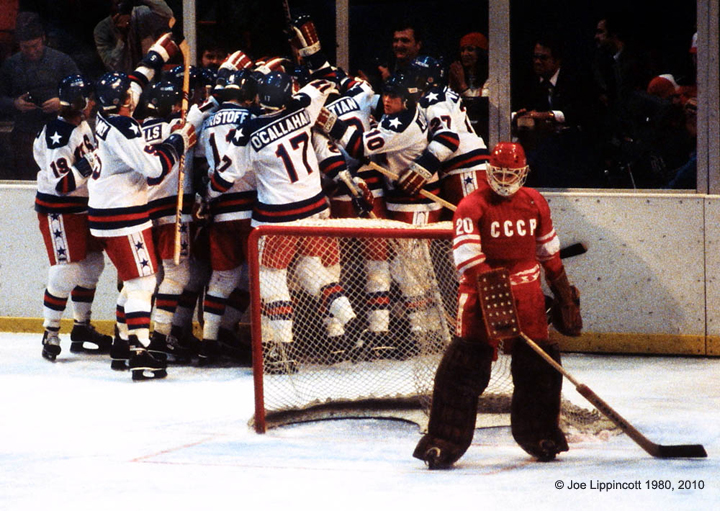 The U.S. hockey team beat Canada, 5-3, in a fantastic group-stage game at General Motors Place in Vancouver -- rebranded "Canada Hockey Place" for the sake of the Olympics. It was the 1st time in 50 years that the U.S. beat Canada in Olympic hockey.
It's being called the greatest upset in the tournament since February 22, 1980, 30 years ago today, when the U.S. beat the Soviet Union in Lake Placid, New York, and then went on to beat Finland 2 days later for the Gold Medal.
Hail the Champions:
From Massachusetts, all from Boston University, goaltender Jim Craig, right wing and team Captain Mike Eruzione, Dave Silk and Jack O'Callahan.
From Michigan (but also Ohio's Bowling Green State University), defenseman Ken Morrow and center Mark Wells.
From Wisconsin, and the University of Wisconsin, center Mark Johnson and defenseman Bob Suter (coached by later Pittsburgh Penguins coach "Badger Bob" Johnson, Mark's father).
From North Dakota, and the University of North Dakota, Dave Christian.
And from Minnesota, the University of Minnesota's Head Coach Herb Brooks, defensemen Mike Ramsey and Bill Baker, center Neal Broten, right wings Steve Christoff and Eric Strobel, goaltender Steve Janaszak, left wings Rob McClanahan, Buzz Schneider and Phil Verchota; plus, from the same State but the University of Minnesota's Duluth campus and team, right wing John Harrington and center Mark Pavelich.
Schneider had also played on the '76 U.S. Olympic team; Harrington and Verchota played again in '84. Brooks had played on the '64 team and was the last player cut from the '60 team that won the Gold Medal on home ice at Squaw Valley, California, a team that included Christian's father and uncle.
Broten and his brothers Aaron and Paul all played in the NHL, and all for the New Jersey Devils, as did Mark Johnson. Suter's brother Gary became an NHL star, and Bob's son Ryan is on this year's team.
"We Beat the Russians!" It was a great moment.
But a "miracle"? Miracle, my Yankee Doodle ass.
The Top 5 Reasons the 1980 U.S. Olympic Hockey Win Was NOT a "Miracle"
Or, if you prefer, ESPN style, the Top 5 Reasons You Can't Blame the Soviets for Losing.
5. Viktor Tikhonov.
The USSR boss panicked when Mark Johnson scored with 1 second left in the 1st period, pulling Vladislav Tretiak, supposedly the best goalie in the world, for Vladimir Myshkin. It wasn't that bad a choice, as Myshkin was terrific for 38 of the last 40 minutes. But when Johnson and Eruzione scored to take the U.S. from 3-2 down to 4-3 up halfway through the 3rd, it looked like Tikhonov had blown it.
After the game, the media looked for a Soviet who spoke English, and found Viacheslav Fetisov. They asked Slava what went wrong. He shrugged his shoulders and said, "Coach crazy!"
4. Vladislav Tretiak.
The great goalie did screw up. Besides, his whole reputation was based on that 1972 Summit Series, in which he collapsed down the stretch. Was he a Hall-of-Famer? Yes. Was he as good as, say, Martin Brodeur? For 20 minutes, he was exactly as good as Jim Craig, who turned out to be a scrub by NHL standards.
3. Home Ice Advantage.
If that game is played just 75 miles away, in Quebec, the Soviets win. But it was in the "U.S.A.! U.S.A.! U.S.A.!" The Soviets were in a cauldron of patriotism, and they couldn't handle it.
2. No More Mystique.
The big reason the Soviets were so heavily favored is that they embarrassed the U.S. team 10-3 at Madison Square Garden mere weeks before. And had beaten several NHL teams over the past few seasons, and most of the 1980 Soviets had also been on the 1972 team that pushed Canada's all-stars to the brink in the "Summit Series."
But by February 1980, they were no longer a mystery. We knew their tendencies, their strengths, their weaknesses. On top of that, the U.S. had already tied a strong Sweden team and beaten a Czech team that was stronger than the Swedes. The Soviets were great, no question about it. But familiarity bred courage. The Americans weren't afraid of the big Red bastards anymore.
1. King David.
People call the story of a team or a person that wins when supposedly overmatched a "David vs. Goliath story." The funny thing is, people forget that David
didn't
kill Goliath with a
slingshot
. He knocked Goliath out with a
sling
, which can be a very formidable weapon, and then used a sword to hack the giant's head off.
By the same token, several of the U.S. players turned out to be very good. Morrow immediately began to help the New York Islanders win 4 straight Stanley Cups. Broten helped the Minnesota North Stars reach the 1981 Finals and the New Jersey Devils to win the 1995 Stanley Cup. Ramsey was a terrific defenseman for years with the Buffalo Sabres. Johnson, McClanahan and Pavelich almost always seemed to be in the Playoffs.
Maybe they didn't become great kings like David (or even great Los Angeles Kings like Marcel Dionne), but they did, in a manner of speaking, "unite the tribes" -- the nation as a whole for a glorious weekend, and the nation's hockey fans for all time.
By contrast, most of those Soviet players had never played a full 80-odd-game NHL-style season. Once they did get into the NHL, except for Fetisov, they did not excel. Okay, the ones who did make it were old by then; and, to be fair, their best offensive player, Valery Kharlamov, was killed in a car crash in 1981.
We'll never know how good most of them could have been, but, like a college basketball superstar who goes from playing 35 games a season to 80 and can't hack it in the NBA, it's hard to see most of the Red Army playing so many games, especially since most of the Soviet Union's "major league" cities, despite the country's vast distances, weren't any further apart than the 3,000 miles separating North America's Atlantic and Pacific Coasts.
The 1980 U.S. team wasn't just "20 college kids." The majority of them, 13 out of 20, went on to play in the NHL, and most of those turned out to be good professionals. Better pros than the already "professional" Soviets.
It was
not
a miracle. It was, however, the greatest moment in sports history.
And while they're no longer Communists, I still don't like the Russians. I hope we play them in the Gold Medal game again. And shred the bastards.