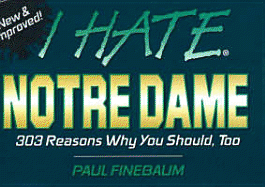 As a Rutgers fan, I am quite pleased that Brian Kelly has left the University of Cincinnati, which just won back-to-back Big East Championships (including back-to-back throttling of Ye Olde Scarlet Knights), for the University of Notre Dame.
Hopefully, Cincy will now follow the pattern set by the University of Louisville, which was such an arrogant
pain
in the ass until their bastard coach Bobby Petrino left for the Atlanta Falcons, then left them in the lurch (not all his fault, there was a problem with their quarterback, some guy named Vick), for the University of Arkansas, and they haven't done well either, while the Falcons rebounded under a new regime.
In November 2011, Rutgers will play Notre Dame at Yankee Stadium. It won't be the same Yankee Stadium in which Knute Rockne lied to his players about George Gipp on his deathbed giving a damn about what happened in some future football game he wouldn't see, or the same Yankee Stadium in which Notre Dame and Army played "The Game of the Century" in 1946. (Some Game of the Century: Final score, 0-0. At least in soccer tournaments, they go to extra time, penalty kicks or a replay.) It'll be the new Yankee Stadium, and RU should be ready to take on Kelly's Smellies.
What's that? You didn't know? Well, Notre Dame stinks.
You see, like all people with taste, I hate Notre Dame. Granted, I'm Protestant, but if Boston College football, and Georgetown and Villanova basketball, are any indication, there's a lot of Catholics who haven't drunk the South Bend Kool-Aid, either. Some of them have even got to be Irish (particularly at BC).
I went around the Internet looking for assists on a top 10 reasons to hate Notre Dame. I came upon several. I came upon one, done by a University of Michigan fan, who came up with a Top 111. Nope, that's not a misprint: One hundred and eleven.
I could say a few words about Michigan fans, but that Top 111 reference gave me a chuckle.
Top 10 Reasons to Hate Notre Dame
Dishonorable Mention:
The way they treated Tyrone Willingham; the way they put up with even more losing from Charlie Weis before they finally realized that being white doesn't make you a good coach; giving Joe Kuharich enough of a profile so that he would eventually be hired as coach and general manager of the Philadelphia Eagles (How'd that Sonny-for-Norm trade work out, Joe?); and undeserved Heisman Trophies: Paul Hornung in 1956 over Jim Brown, Johnny Majors and Tommy McDonald; John Huarte in 1964 over Jerry Rhome and Dick Butkus, when Orange Bowl-winning quarterback Joe Namath wasn't even in the Top 10 (well, it's not like he went to a football school, it was only the University of Alabama, and besides, Huarte had the better pro career, right?); Tim Brown in 1987 over Don McPherson, Lorenzo White, Craig "Ironhead" Hayward, Keith Jackson (the tight end, not the broadcaster), Daniel Stubbs, Chris Spielman, Ken Norton Jr., Deion Sanders, and, oh yeah, Thurman Thomas. (Granted, Brown is worthy of the Pro Football Hall of Fame, as are some of the preceding, but do you think he would have been chosen if, like White, he had played for, say, Michigan State? Michigan State only won the Big 10 that year, after all. And beat Notre Dame along the way.)
One of the ironies about the above is the guys who didn't win the Heisman with Notre Dame: Joe Theismann -- who changed the pronunciation of his name from the "THEEZ-man" it had been in South River, New Jersey so that it would rhyme with "Heisman" -- finished 2nd to Jim Plunkett in 1970 (and then Plunkett beat Theesman in Super Bowl XVIII 13 years later); and Joe Montana got stuck in the Billy Sims-Charles White buzzsaw in 1978 and '79.
Then again, Beano Cook's whacked-out prediction that Ron Powlus would win the Heisman twice... well, let's just say that Tim Tebow came a lot closer to matching Archie Griffin. Powlus came closer to matching Archie Bunker.
Here we go:
10. The Notredame Broadcasting Company.
It used to be that the only college football games NBC would broadcast would come on New Year's Day: An early bowl game at 12 or 1, then the Rose Bowl at 4:30, finally the Orange Bowl at 8. The BCS messed that up (and ABC got the Rose Bowl contract), but these things happen.
But one school making a unilateral deal with a network? This wasn't like the 1970s and early 1980s, when
The NFL Today
was followed by a Dallas game so many times that CBS seemed to stand for Cowboys Broadcasting Service. This was obscene.
9. Lou Holtz.
He was annoying enough before going to South Bend. But ever since he stepped onto that campus, he has been so, so hatable.
There's an old joke (this also comes from a Michigan fan) about a guy who walks into a bar and says he's the world's biggest Notre Dame fan. Another guy in the bar, who hates Notre Dame, asks him how he knows this. The ND fan says he's such an ND fan, he has a tattoo of Joe Montana on one side of his ass, and a tattoo of Paul Hornung on the other. Naturally, our man in the bar with an ounce of taste doesn't believe anybody would be so stupid as to tattoo a pair of guys who haven't played for Notre Dame in decades on his gluteus maximus. So the ND fan drops his pants and moons the other guy. He's got to prove it, after all. And the other guy says, "I can't make out Montana on the left, and I can't make out Hornung on the right. But that's definitely Lou Holtz in the middle."
Actually, in the original joke, it was Montana on the left and Rick Mirer on the right. But aside from angry Seattle Seahawk and Chicago Bear fans, still fuming that such a stiff ever took snaps for them, who remembers Mirer today?
8. The Ethnicity Issue.
Another old joke: What do you call five Italians, three Poles and three black guys? "The Fighting Irish."
True, Frank Leahy was Irish, and so were two of the Four Horsemen, Jim Crowley and Elmer Layden. So was Dan Devine, and Leon Hart might have been.
But, ahem. Knute Rockne was Norwegian. The other two Horsemen? Don Miller was English, and Harry Stuhldreher was German. Their 1st Heisman winner was Angelo Bertelli, Italian. Johnny Lujack, Polish. Hornung? Sounds German. Huarte? I think the name is Welsh, but don't quote me. Theismann? German. Ara Parseghian? Armenian. Holtz? German. And, oh yeah, Daniel Ruettiger Jr. -- a.k.a. "Rudy"? German.
Yet if someone is Irish, and especially Irish Catholic, rooting against Notre Dame is "against your religion." Oy vey.
7. Going 6-5 and Still Going to Bowl Games.
6. Ara vs. Herm.
In 1966, knowing that a tie would not hurt his chances for the National Championship, Parseghian had his Irish run out the clock in their 1966 "Game of the Century" against Michigan State.
In all fairness, they'd lost their top 2 quarterbacks and a running back to injury, and they were playing on the road, and still held the mighty Spartans to just 10 points and denied them the win. But what was it that Herman Edwards taught us?
"Hello? You play to win the game!"
Ara is now 86, hasn't coached a down in 35 years, and did win a lot of games, big and small. So when does he get to live down "Tying one for the Gipper"? Never.
5. Undeserved Rooting.
Notre Dame makes otherwise sensible, tasteful people root for Boston College. And USC. And Michigan. And Miami. And, dear God, Penn State. That's where I draw the line: If the Tarnished Dome is playing Ratface's Shittany Lions, I cheer, cheer for old Notre Dame, holding my nose to hide all my shame.
4. Subway Alumni.
People who couldn't meet Notre Dame's stringent academic standards (unless they can play football, in which case they don't need no stinkin' academic standards), and have never set foot in Indiana, much less in South Bend, "cheer, cheer for old Notre Dame." There have been times when the three biggest football teams in New York City were: 1. Giants; 2. Notre Dame; 3. Jets. And the Patriots were often 4th in Boston, behind Notre Dame, BC and Harvard.
This is where Rudy comes in again: Daniel Ruettiger Jr. was from Joliet, Illinois, which is 115 miles from the University of Illinois, and 109 miles from South Bend -- but at least UI is in the guy's home State. I could see not wanting to go to the even closer Northwestern University, but they weren't all that bad then: They finished 2nd in the Big 10 in 1970 and again in '71. As for the Illini: What, the alma mater of George Halas, Red Grange, Buddy Young, Ray Nitschke, Jim Grabowski and Dick Butkus (and a few great players since) wasn't good enough for you?
3. Conference Cowards.
They say the reason they haven't joined the Big 10 or another league is that they don't want to split the bowl money up with the other teams in the league. Bull fucking shit: They just don't want to get their heads handed to them by Ohio State, Michigan and Penn State every year.
In the last few years, Notre Dame has played each of those schools, and also Northwestern, Illinois and Indiana. In fact, they play Big 10 schools Michigan, Michigan State and Purdue every single season. That's 8 of the... 11. Okay, aside from what to call the Big 10 (and what to then call the Big 12), what's the issue? Cowardice, plain and simple.
2. The God Complex.
Notre Dame is
not
the Catholic university of America. There is "The Catholic University of America," but CUA is in Washington, D.C. and plays a Division III football schedule. Anthony Davis tells of his amazing performance for USC against Notre Dame in 1974, running into the end zone, and there's an elderly nun waving a crucifix at him, saying, "Nobody does that to Notre Dame! You must be the Devil!" (She would have been more accurate waving it at A.D.'s USC predecessor, O.J. Simpson.)
Then, of course, there is the mural on the wall of the library tower, with the Lord raising his hands in a blessing. But since it overlooks Notre Dame Stadium, he's called "Touchdown Jesus." Men and women of Notre Dame, do you really think God or Jesus or any of the saints care one bit about who wins a football game?
It's been said before, and I'll say it here: All those athletes thanking God or Jesus when they win, you never hear them mentioning any part of the Trinity when they lose. (Come to think of it, how come I never hear, "I want to thank the Holy Spirit"? Except maybe at that parochial high school outside Atlantic City.)
The only example of it that I'm aware of was in 1951, when Ralph Branca gave up that home run to Bobby Thomson, and he was met by his soon-to-be-wife's brother, a priest. Ralph said, "Why me?" And the priest said, "Because God knew your faith would be strong enough to bear this cross." Well, did Gerry Faust, Tyrone Willingham or Bob Davie ever ask, "Why me?" when they failed to "wake up the echoes"? After all, it's not like they ever got a school put on probation.
Which brings me to Number 1. If the current NCAA regulations had been in place in 1920, Notre Dame's athletic program -- the whole thing -- might have gotten the "death penalty." Because of what they did to protect one man.
1. The Gippers.
George Gipp was an alcoholic. He was a compulsive gambler, who bet on anything, including his own team. He attended classes about as often as the Pope lit a menorah. He hardly ever showed up for Mass, too. Yet because he was the best football player Notre Dame had yet seen, Knute Rockne got the administration to keep him on the team.
When he died -- in those pre-penicillin days, you really could die from strep throat -- if he said anything to Rockne, it was probably, "Put a hundred bucks on the 4 horse in tomorrow's 7th race at Arlington for me." It sure wouldn't have been, "Tell the boys to win just one for the Gipper."
Twenty years later, the film
Knute Rockne, All-American
was made. (Rockne was actually a pretty good player himself, at least by the standards of 1913.) Pat O'Brien played Rockne. Playing Gipp was a young actor who'd been a radio announcer, including a recreator-by-telegraph of Chicago Cubs games for WHO in Des Moines, Iowa. His name was Ronald Reagan.
If the truth about Gipp had been told, Reagan would have been much more likely to have the Richard Widmark role in
Kiss of Death
than he would to have the kindly role in
Bedtime for Bonzo
. It would have been highly unlikely that he would have been cheerfully called "the Gipper," he probably wouldn't have been elected Governor of California, and it might not have taken the United States of America until 2008, with the year's economic meltdown and never-ending stupid war based on lies and greed, to come to the obvious conclusion that conservatism does not work.
So Notre Dame gave us something worse than hundreds of football defeats, the massive egos of Hornung and Theismann and Holtz, two ridiculous movies and a bunch of arrogant fans who have never set foot any closer to South Bend than in Toledo: Notre Dame gave us the Reagan Revolution.
Personal foul. Offense. Very offensive. Half the distance to the goal line. Fourth down.
Punt, Irish, punt. (Not a pun on the currency of the Republic of Ireland.)
And if you actually are Irish and are reading this, trust me, there are worthier football teams to receive your cheers.
All of them.
Except Penn State.