December 12, 1915, 100 years ago:
Francis Albert Sinatra is born in Hoboken, New Jersey.
Like Babe Ruth, James Brown, George Clinton and the fictional boxer Apollo Creed, he had a lot of nicknames: The Voice, Frankie Boy, King of the Bobby-Soxers, the Chairman of the Board, Ol' Blue Eyes, and the Sultan of Swoon (probably a takeoff on Ruth's "Sultan of Swat").
He had hit songs in 1940 and 1980. He had hit films in 1944 and 1984. He had hit films in which he sang incredibly, and hit films in which he didn't sing a note. He produced crowds of shrieking teenagers at the Paramount Theater in Times Square in 1942, made Las Vegas a happening place in 1955, opened the new Madison Square Garden in 1968, sold out the Meadowlands Arena in 1986, and was still selling out Las Vegas casinos in 1994.
With his multiple talents, and his longevity, he was the greatest entertainer of the 20th Century -- ahead of Louis Armstrong, Elvis Presley, the Beatles, and Michael Jackson.
In 1956, during one of his own peaks of popularity, he said the new big star on the scene, Elvis, was, "deplorable, a rancid-smelling aphrodisiac." By 1960, his opinion had changed to the point where he hosted a TV special welcoming Elvis home from the Army. Together, they sang Frank's "Witchcraft" and Elvis' "Love Me Tender."
Frank's daughter Nancy Sinatra, who became a big star in her own right in the mid-1960s, co-starred with Elvis in the film
Speedway
. (Like Frank, Elvis was capable of good acting, but this film was not one of his better ones, through no fault of his, or Nancy's.)
Lots of people whose teenage children screamed over the Beatles in 1964 forgot that they screamed over Sinatra 20 years earlier. His October 12, 1944 concert at the Paramount Theater on New York's Times Square resulted in a lot of people trying to get in without tickets, and when they didn't, they trashed the Square. It became known as the Columbus Day Riot.
Frank once praised the Beatles' John Lennon and Paul McCartney as great songwriters on one of his TV specials, and then said he'd like to sing "the greatest love song of the last 50 years." He goofed. Not that he didn't sing it well, or that it wasn't a great song, but it was one written by neither John nor Paul: It was George Harrison's "Something."
He was far from perfect. He had his moods. He had connections with people he shouldn't have. I suspect that he took on the atmosphere of the room: If he was around good people, he was a great guy; but if he was around bad people, look out. If you did him wrong, there was no repairing the relationship. But if you did right by him, you had a friend for life.
He spanned the political spectrum. Originally a Democrat, as his mother was an official in the Hudson County Democratic Party, he raised money for Franklin Roosevelt, Harry Truman, Adlai Stevenson, John F. Kennedy, Lyndon Johnson and Hubert Humphrey.
In 1945, he appeared in a short film titled
The House I Live In
, in which he, as an Italian Catholic and knowing what he was talking about, stood up for a bullied Jewish kid, and sang the very liberal title song, saying, "That's America to me." The album that accompanied it has been called "the first concept album."
But between Humphrey's loss to Richard Nixon in 1968 and Nixon's re-election in 1972, Frank turned. He and his "Rat Pack" pal Sammy Davis Jr. were both at the 1972 Republican Convention in Miami Beach. And when his Hollywood friend Ronald Reagan ran for President in 1980, Frank supported him, and sang at both Inaugural Balls (1981 and 1985).
He was a Brooklyn Dodger fan, and, due to his film career, went to Los Angeles well before they did. (So did Brooklynite Danny Kaye, who maintained his Dodger fandom to the end, even as he became part of the first ownership group of the Seattle Mariners.) Frank had several sports connections:
* He palled around with Dodger managers Leo Durocher and Tommy Lasorda. Durocher would go on to say, "It's Frank Sinatra's world. We only live in it."
* In 1949, he starred in the film
Take Me Out to the Ball Game
. He and Gene Kelly played baseball players in 1908. Swimmer-actress Esther Williams also starred.
* His nickname "The Chairman of the Board" would be given to Yankee pitcher Whitey Ford, partly because of his command on the mound, and partly because it rhymed with his name.
Whitey remains a huge Sinatra fan, and is proud of the nickname. Phil Rizzuto and Yogi Berra also remained Sinatra fans to the ends of their lives.
Joe DiMaggio did not: Once good friends, Joe cut Frank out of his life after Frank made a move on Marilyn Monroe, after Joe and Marilyn divorced.
The Yankee Clipper and The Voice in happier times.
In 1995, when both men were in their last years, Matty Jordan, the owner of Mateo's, a Los Angeles restaurant, tried to reconcile the 2 biggest Italian-American icons, living or otherwise. Both agreed to show up at the restaurant and talk it out.
Frank got there first, but was already drunk, and behaved obnoxiously. Knowing what could happen if Joe saw Frank like this, and showing more balls than most men ever have to, Jordan told Frank to get out. Frank's people got him out. Joe was about to leave his hotel, where he was with Rock Positano, a podiatrist who'd worked on Joe's bad heel, and become a close friend. Jordan called, Rock picked up, and Jordan explained what happened. Rock told Joe, who told him that the right thing was done. Joe and Frank never saw each other again.
* Frank's 1959 hit "High Hopes" was adapted into a campaign jingle for his friend John F. Kennedy (at whose Inaugural Ball he sang), and later sung by Philadelphia Phillies broadcaster Harry Kalas at the team's victory celebration after clinching the 1993 National League Eastern Division title. Harry's version is now played after every Phillies win at Citizens Bank Park.
* On March 8, 1971, he got into Madison Square Garden for the Heavyweight Championship fight between Muhammad Ali and Joe Frazier, both undefeated, in what became known as "The Super Fight," "The Fight of the Century," and simply "The Fight." How did he get in? By becoming the official photographer for the fight for
Life
magazine. No, I'm not kidding.
When Frazier knocked Ali down in the 15th and final round, Frank snapped this picture.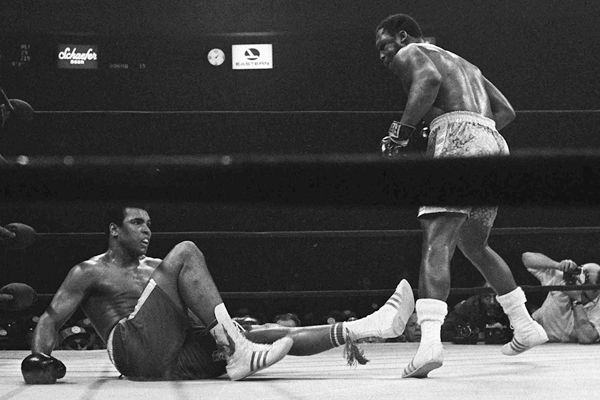 In other words, Frank was good at photography, too.
* In 1972, the Pittsburgh Steelers fan group "Franco's Italian Army" -- named for the half-Italian, half-black running back Franco Harris, as well as for Generalissimo Francisco Franco's imported Italian troops in the Spanish Civil War -- went out to San Diego for the team's last regular-season game, against the Chargers. Hearing that Frank was at his Winter home of Palm Springs that week, they invited him to come to the Steelers' on-the-road practice facility, where they would give him an army helmet with his name on it, and make him an Honorary General in their "Army," even though he had no connection to either the team or Pittsburgh.
He was a little late, and the Army began to talk amongst themselves, worrying that he might not show. But the familiar voice then said, "When Sinatra says he's going to show, he shows."
Franco and Frank
The Steelers won the game, and then Harris was the beneficiary of the "Immaculate Reception" play in the 1st round of the Playoffs, before they fell to the undefeated Miami Dolphins in the AFC Championship Game. They would, however, go on to win 4 Super Bowls in the decade.
* On his 1973 album
Ol' Blue Eyes Is Back
, he recorded Joe Raposo's lament for Ebbets Field, "There Used to Be a Ballpark."
* His love of boxing led him to title a 1974 live album
The Main Event
.
* In 1978, finding out that former Heavyweight Champion Joe Louis was down on his luck, sick and heavily in debt, Frank hosted a benefit for him at Caesar's Palace in Las Vegas.
* And his last hit, in 1980, was "
Theme from New York, New York
." It's easy to forget that Liza Minnelli sang it first, in the film in question. Frank's version is played at the end of every Yankee game.
He stands the test of time. When Al Martino played Johnny Fontaine in The Godfather, it came with only the slightest of disguise that he was playing Frank. Joe Piscopo and Phil Hartman portrayed him on Saturday Night Live. In 1988, the period piece Who Framed Roger Rabbit put his early thin face on an animated "singing sword," singing "Witchcraft." (A song that came out in 1957, 10 years after the film takes place.) Singers such as Tony Bennett, Bobby Darin, Harry Connick Jr. and Michael

Bublé

have gone out of their way to copy him. Even in the 1980s, he appeared on the TV shows Who's the Boss? and Magnum, P.I., as Tony Danza and Tom Selleck, respectively, were huge fans of his.
As Princess Grace Kelly put it on a 1973 TV special, "How many of us have a favorite Frank Sinatra song? And, for how many of us, it is a different song?"
Mine is one of his later hits, the 1966 mini-opera, "
That's Life
." When James Darren, an actor and singer who had a few hits in the 1960s, was playing Vic Fontaine, a singer in a holographic simulation of 1962 Las Vegas, on
Star Trek: Deep Space Nine
, I kept hoping he'd sing that song, and alter it: "Each time I find myself flat on my face, I just beam myself up and get back into space!"
But despite the many imitations, Frank Sinatra was one of a kind.
"I've been a puppet, a pauper, a pirate, a poet, a pawn and a king." He was all of the above, and more. "And I can't deny it." And neither can anyone else.