This Monday night, the New York Jets will play an exhibition game, away to the Indianapolis Colts. The Jets played the Colts, formerly of Baltimore, both home and away as AFC Eastern Division opponents every season from 1970 to 2001. Now, the Colts play in the AFC North, but this game counts the same.
Both New York NFL teams are inextricably linked with the Colts. It's an NFL myth that the 2 most important games in the League's history involved the Baltimore Colts vs. New York: The 1958 NFL Championship Game, against the Giants at the original Yankee Stadium (a.k.a. "The Greatest Game Ever Played"); and Super Bowl III, capping the 1968 season, between the NFL Champion Colts and the AFL Champion Jets at the Orange Bowl in Miami.
(If there has been an NFL game more important than those 2, it was likely also a Giants game, the 1925 game against the Chicago Bears and their rookie sensation Red Grange, which packed the Polo Grounds and saved the Giant franchise at the least, the NFL as a whole at the most.)
Of course, none of that has anything to do with Indianapolis. But then, neither should the Colts, even though they've now been there almost as long as they were in Baltimore: This is their 32nd season in Indianapolis, while they played only 31 seasons in Baltimore (1953 to 1983, unless you count the failed Baltimore Colt franchise of 1947 to 1950).
Before You Go.
Lucas Oil Stadium has a retractable roof, but even if the roof is open, the weather should be decent: The website of the
Indianapolis Star
is predicting mid-70s for Monday afternoon, but low 50s for the evening. You should bring a jacket.
Indiana used to be 1 of 2 States, Arizona being the other, where Daylight Savings Time was an issue; however, since 2006 -- 4 years after a
West Wing
episode lampooned this -- the State has used it throughout. There will be no need to adjust your timepieces.
Tickets.
The stadium seats 62,421, one of the lower capacities in the NFL (although 2,000 more than the team's previous homes, Baltimore's Memorial Stadium and the Hoosier Dome), and the Colts sold every seat for every game last season. You might have to go to StubHub or the NFL Ticket Exchange.
Seating sections are color-coded. Forget the Dark Purple, Gray and Teal seats, as those are club seating/skyboxes. In the lower level sections, a.k.a. Street Level, Green are $136, Blue are $114 and Red are $98. In the upper level, a.k.a. Terrace Level, Yellow are $79, Orange are $61 and Light Purple are $50.
Getting There.
It's 714 miles from Times Square in Manhattan to Monument Circle in the center of the City of Indianapolis, and 708 miles from MetLife Stadium to Lucas Oil Stadium. Knowing this, your first reaction is going to be to fly out there.
This may not be a good idea, as you'll have to change planes in Chicago, which is further west, and fly back east to Indianapolis. Or southwest to Charlotte, then northwest to Indianapolis. But with the right times of day on your flights, you can get there and back for under $500 round-trip. The Number 8 bus is a 45-minute ride from the airport to downtown.
If you take Amtrak, it will be simple to go out: You would board the
Cardinal
at Penn Station on Sunday at 6:55 AM, and arrive at Union Station in Indianapolis on Monday at 5:20 AM. Getting back won't be so simple: Because the
Cardinal
only runs 3 times a week, and the game is at 8:30 PM on Monday, you'd have to wait almost 24 hours after the game ends, leaving leave Indy at 11:59 PM on Tuesday, getting back to New York at 9:58 PM on Wednesday. Round-trip fare would be $204. Union Station is at 350 S. Illinois Street, corner of South Street.
Indianapolis' Union Station
Greyhound runs 7 buses a day from Port Authority Bus Terminal to Indianapolis, although 4 of these require you to change buses, mostly in Pittsburgh. The fare is $309, but it can drop to $207 with advanced purchase. The station is at 154 W. South Street, around the corner from Union Station, and a block away from the stadium. (That's right, "West South Street," but that's South Street, west of downtown.)
If you decide to drive, it's far enough that it will help to get someone to go with you and split the duties, and to trade off driving and sleeping. You'll need to get on the New Jersey Turnpike, and take Interstate 78 West across New Jersey, and at Harrisburg get on the Pennsylvania Turnpike, which at this point will be both I-70 and I-76. When the two Interstates split outside Pittsburgh, stay on I-70 west. You'll cross the northern tip of West Virginia, and go all the way across Ohio (through Columbus), and halfway through Indiana.
If you do it right, you should spend about an hour and 15 minutes in New Jersey, 5 hours in Pennsylvania, 15 minutes in West Virginia, 3 hours and 45 minutes in Ohio, and an hour and 15 minutes in Indiana. That's going to be 11 and a half hours. Counting rest stops, preferably 6 of them, and accounting for traffic in both New York and Indianapolis, it should be about 14 hours.
Once In the City
. Indianapolis, named (as was its State) for the Native Americans, was founded in 1821, and is home to over 840,000 people -- making it the 2nd-largest city in the Midwest, behind Chicago -- with a metropolitan area of 2.4 million. The centerpoint of the City, and indeed of the State, is the 284-foot-high Soldiers' and Sailors' Monument inside Monument Circle, at Market & Meridian Streets.
The Indiana State Soldiers and Sailors Monument,
at Monument Circle
The sales tax in the State of Indiana is 7 percent. ZIP Codes in Indianapolis start with the digits 462, and the Area Code is 327, with 463 overlaid. There's no subway, but IndyGo offers a $4.00 all-day pass for its buses.
The State House
Going In.
Lucas Oil Stadium, named for an energy company, opened in 2008. Its official address is 500 South Capitol Avenue. It is bounded by Capitol, McCarty Street, Missouri Street and South Street. It's downtown, with the Amtrak station only a block away and the Greyhound station across the street, so unless you flew in, you won't need to take public transportation to get there. Indianapolis doesn't have a "sports complex," but the Pacers' Bankers Life Fieldhouse and the Triple-A ballpark are short walks away on either side.
Parking at the stadium is $20, and all parking is first-come-first-served. Tailgating must take place either in front of, or behind, the parked vehicle without blocking the drive aisle. For safety reasons, all aisle ways must have room for a vehicle to pass through. There will be no tailgating in an empty parking space: No parking spaces will be purchased for tailgating, and all parking spaces must be occupied with a vehicle. There will be no tents set up across aisle ways. Charcoal grills and the throwing of balls are not permitted.
The stadium looks like red brick, as do a lot of buildings in the city. Actually, it's made out of Indiana limestone -- as is the decidedly not-brick-looking Empire State Building. This makes it look more like an oversized version of an old-style gym. This was also done with the new Pacers arena. Inside, the "old gym" look continues, making it a huge improvement over the Hoosier Dome, which more closely, inside and out, resembled the atrocious Metrodome in Minneapolis.
In spite of its retractable roof, the stadium has artificial turf, specifically FieldTurf. While fully enclosed, behind each end zone is a large window that can be opened; however, there's not much of a view to speak of, since Indianapolis isn't exactly loaded with interesting skyscrapers.
Lucas Oil Stadium hosted the NCAA Final Four in 2010 (Duke beating Butler despite Butler playing in their hometown) and 2015 (Duke winning for the 5th time, the 3rd time in Indy, over Wisconsin). Indianapolis is where the NCAA keeps its headquarters, and after 4 Final Fours were held at the Hoosier Dome, they've decided to make sure the Final Four is held in Indianapolis at least once every 5 years. For this event, the stadium can be adjusted into a 70,000-seat configuration. It has also hosted the Big Ten Football Championship since its first game in 2011, and is under contract to do so through 2021.
It was built on the site of the Expo Center, which hosted 2 shows by Elvis Presley on October 5, 1974.
Food.
Indiana is in the heart of the Midwest, right-smack-dab in the middle (or what used to be the middle, before Penn State, and then Nebraska, Rutgers and Maryland, were admitted) of Big Ten Country, where tailgate parties are practically a sacrament. So you would expect there to be great food inside the Colts' stadium.
Certainly, there are plenty of stands. The stadium's website specifically mentions these varieties, although not at which sections they can be bought: Hot Dogs, Pork Tenderloins, Homestyle Pot Roast Sandwich, Gyros, Pizza, Philly Cheese Sandwich (I'm presuming they mean "Philadelphia-style Cheese
steak
Sandwich," unless they mean "Philadelphia Band
Cream
Cheese Sandwich"), Chicken Caesar Salad, "Barbeque" (the Q should be a C), French Fries, Onion Rings and Ice Cream (I'd recommend the last 2, but not together).
Team History Displays.
The Colts hang their championship banners at each end of the stadium. At the north end are the ones they've won from 2004 onward, including their 2006 World Championship and 2009 AFC Championship banners. At the south end are the ones they won from 1995 to 2003. There is no mention of their achievements from their days in Baltimore, which is as it should be, since the Indianapolis Colts did not win the 1958, 1959, 1968 and 1970 NFL Championships, nor Super Bowl V.
The Colts have a Ring of Honor, whose members include: Robert Irsay, the owner who moved them to Indianapolis; Ted Marchibroda, who coached them to the Playoffs in both cities (and is the only man to be head coach of both the Colts and their replacements in Baltimore, the Ravens); Tony Dungy, who coached them to their Super Bowl XLI win; offensive lineman Chris Hinton, the only man in the Ring (besides Marchibroda) who was with the team in Baltimore; quarterback Jim Harbaugh, now the head coach at the University of Michigan; running backs Eric Dickerson, Marshall Faulk and Edgerrin James; receivers Bill Brooks and Marvin Harrison; center Jeff Saturday (will be inducted later this season); and their fans as "the 12th Man."
Should be "1999-2005." They had the room.
As yet, Dungy, Harrison and Saturday are the only men inducted from their title team; most likely, Peyton Manning won't be inducted until after he retires as a player. They also have yet to elect a defensive player.
The Colts have 7 retired numbers, but all are from their Baltimore years: 19, quarterback Johnny Unitas; 22, running back Buddy Young; 24, running back Lenny Moore; 70, defensive tackle Art Donovan; 77, guard Jim Parker; 82, receiver Raymond Berry; and 89, defensive end Gino Marchetti. Donovan was the first Baltimore athlete to get his number retired, before Unitas, before Brooks or Frank Robinson.
Jim Irsay, who inherited ownership of the team from his father Bob, has already announced that no Colt will ever wear Manning's 18 again. This means it will likely be the first Indianapolis-era number to be officially retired, although Harrison's 88, worn by Hall-of-Fame tight end John Mackey in Baltimore, is also not currently being used. Number 32, worn by James and Baltimore-era linebacker Mike Curtis, is being used, by safety Colt Anderson, 1 of only 2 players in NFL history to be named "Colt" (Washington Redskins quarterback Colt McCoy is the other), and the first ever to play for the Colts (although end Lloyd Colteryahn played for them in their early days).
Dickerson, Faulk, and newly-elected general manager Bill Polian are the only members of the Pro Football Hall of Fame to have had significant portions of their careers in Indianapolis. From Baltimore, the list includes Berry, Donovan, Marchetti, Moore, Parker, Unitas, Mackey, linebacker Ted Hendricks (5 years with the Colts, but "the Mad Stork" is better known for playing with the Oakland Raiders), and coaches Weeb Ewbank and Don Shula.
Unitas, Berry, Parker, Marchetti, and linebacker Ted Hendricks were named to the NFL's 75th Anniversary team in 1994. Moore, tight end John Mackey, and 1 Indianapolis-era player, Dickerson, were named to
The Sporting News
' 100 Greatest Football Players in 1999. All of those, as well as Manning and Faulk, were named to the NFL Network's 100 Greatest Players in 2010.
Stuff.
The Colts Pro Shop is in the stadium's northeast corner, at South & Capitol. Additional souvenir stands are all over.
In 2013, Lew Freedman published
Indianapolis Colts: The Complete Illustrated History
, taking the team from their 1984 arrival through the 2012 season, the first with Andrew Luck at quarterback. Freedman has written many sports books, including a similar book about the Giants and a biography of LeBron James.
The DVDs
Colts: The Complete History
(including the Baltimore years but only going up to 2006 and thus missing the Super Bowl win by 1 season) and the official Super Bowl XLI DVD should be available at the Pro Shop. If not, they are available at Amazon.com
During the Game.
According to
a recent Thrillist article
, Colt fans are in the middle of the NFL's pack when it comes to "obnoxiousness":
There are basically three kinds of Colts fans: die-hards who thought building the Hoosier Dome before you had an actual team was a stroke of GENIUS; Peyton Manning fans who dropped $200 on an authentic jersey in 2005 and don't much feel like switching; and people who know
nothing
about football and are just attracted by the smell of frying pork.
Because of their Midwestern/Heartland image, Colts fans like a "family atmosphere." They don't much like New York, but they won't bother Giant or Jet fans just for being Giant or Jet fans, or for wearing Giant or Jet gear in their stadium. Indiana is first and foremost a basketball State, so as long as you don't mention the Knicks-Pacers rivalry, or say anything bad about Reggie Miller or former Indiana University basketball coach Bobby Knight, you should be okay.
The Colts' mascot is a man in a suit designed to look like a blue horse, named Blue. However, mascots don't seem to be as significant in the NFL as they are in college ball, and cheerleaders seem to be more important. The Colts also don't seem to have a fight song, although in their Baltimore years they had the Baltimore Colts Marching Band, which kept going, nicknamed "The Band That Wouldn't Die," and are now the Baltimore Marching Ravens. But don't expect to hear the old fight song, "Fight On You Baltimore Colts," at either Lucas Oil or M&T Bank Stadium. What you could expect to hear is the Black Keys' song "Gold On the Ceiling."
After the Game.
Indianapolis is a big city, bigger than most people realize, and has every problem that comes with that, including crime. But since the stadium is right downtown, this will probably not affect you. As I said, leave the home fans alone, and they'll probably leave you alone.
There is a restaurant called the Indianapolis Colts Grille, in the Marriott Hotel at 110 W. Washington Street, a 6-block walk from Lucas Oil Stadium.
I can't find a reference to a bar in Indianapolis were expatriate (not to be confused with "ex-Patriot") New Yorkers gather to watch the Giants, but Claddagh Irish Pub, at 234 S. Meridian Street, corner of Jackson Street, 4 blocks from the stadium, is said to be the local headquarters of Jet fans. I can't find any reference to places where Yankee or Met fans gather in Indianapolis.
If your visit to Indianapolis is during the European soccer season, as we are now in, your best bet to see your club is at Chatham Tap, 719 Massachusetts Avenue, on the northeastern edge of downtown. Another possibility is the Union Jack Pub, at 924 Broad Ripple Avenue, about 8 miles north of downtown. Bus 17 will take you to both.
Sidelights.
Indianapolis is often said to be boring: Its most common nickname is "India-no-place."
UPDATE:
On February 3, 2017, Thrillist made a list ranking the 30 NFL cities
(New York and Los Angeles each having 2 teams), and
Indianapolis came in 21st, in the bottom 1/3rd, saying it's "like a big suburb that's really trying."
But there are some things worth visiting, particularly for a sports fan. As I said, the city's new NFL stadium, new NBA arena, and new minor-league ballpark are within a few blocks of each other downtown.
* Victory Field. This 12,230-seat ballpark opened in 1996 as the home of the Indianapolis Indians of the International League (formerly in the American Association), one of the oldest and proudest minor-league franchises. While the Indians have won just 1 Pennant since moving in, in 2000, they are still a legendary franchise, winning 10 International League Pennants.
There have been 10 future Hall-of-Famers who have played for them: Napoleon Lajoie, Mordecai "Three-Finger" Brown, Rube Marquard, Ray Schalk, Grover Cleveland Alexander, Gabby Hartnett, Al Lopez, Harmon Killebrew and Randy Johnson. Three others managed them: Luke Appling, Joe McCarthy and Al Lopez. In addition to McCarthy, Yankee Legends associated with them are Roger Maris, Don Zimmer and Aaron Boone.
Considering their name, it is a bit odd that they were only briefly, from 1952 to 1956, a farm team of the Cleveland Indians. They contributed players to the Pennant winners of the 1939 and '40 Cincinnati Reds, the 1948 Boston Braves, the 1954 Indians, the 1959 Chicago White Sox; and the Reds again in 1970, '72, '75 and '76. Currently, they are the top farm team of the Pittsburgh Pirates. 501 W. Maryland Street & West Street.
Don't expect Indianapolis to get a major league team anytime soon: The metro area would rank 29th in Major League Baseball. It would actually rank higher in the NHL, 24th, but who thinks of hockey when they think of Indiana sports?
The nearest MLB teams to Indianapolis are the Cincinnati Reds, 112 miles away; the Chicago White Sox, 178 miles; the Chicago Cubs, 188 miles; and the St. Louis Cardinals, 242 miles. But according to
a recent New York Times article
, the most popular team in and around Indianapolis is the Cubs, with the Yankees 2nd, and the Reds and the Boston Red Sox battling it out for 3rd. Why? And why not the much-closer White Sox or Cardinals? Because of the media, particularly the influence of Chicago's superstation WGN, and ESPN and Fox constantly showing the Yankees and Red Sox.
* Bankers Life Fieldhouse. Formerly Conseco Fieldhouse, the Pacers' new arena was designed to be a throwback, "the Camden Yards of basketball," if you will. (A little ironic, but at least this time they only took Baltimore's idea, not it's team. Then again, Washington, D.C. already took the Bullets, now Wizards, in 1973.) In particular, there is a strong resemblance to "Indiana's Basketball Cathedral," Hinkle Fieldhouse. (More about which in a moment.) It seats 18,165.
In their first season at the new arena, 1999-2000, the Pacers reached the NBA Finals for the first time, but got swept by the Los Angeles Lakers. They have not gotten back since.
The WNBA's Indiana Fever and minor-league hockey's Indianapolis Ice also play at Bankers Life. It has regularly (but not every year) hosted the Big Ten Conference Men's Basketball Tournament. 125 S. Pennsylvania Street at Georgia Street.
* Site of Hoosier Dome/RCA Dome. The 60,000-seat building that, along with Bob Irsay's greed, made the move of the Colts to Indianapolis possible hosted only 24 seasons of NFL football, from 1984 to 2007.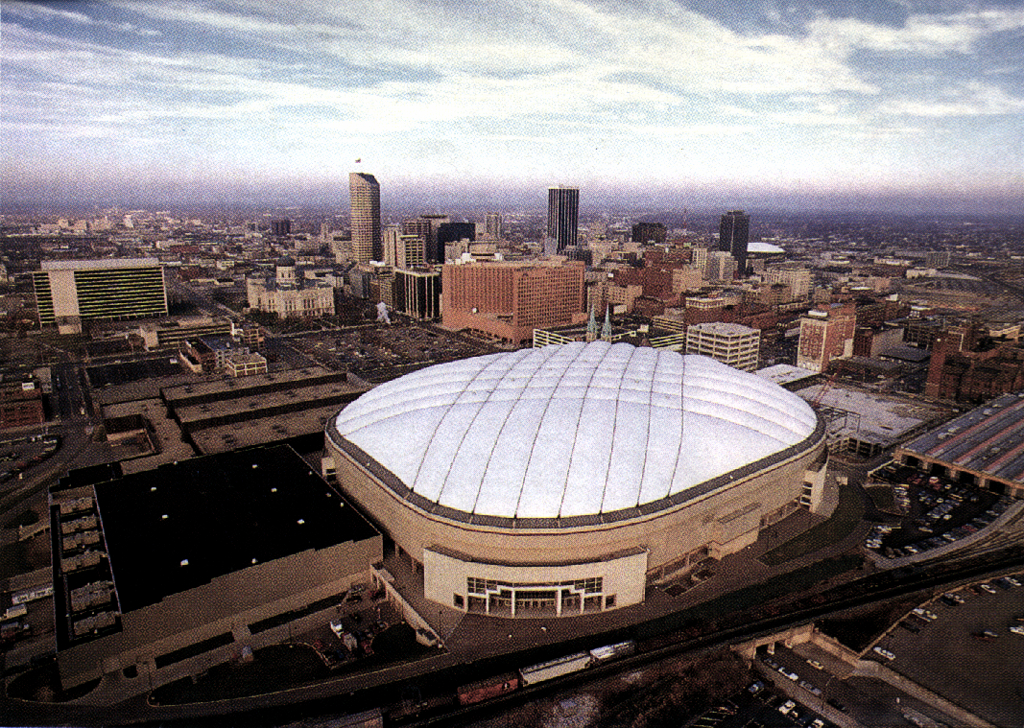 The building, whose name was changed in 1994, hosted 4 Final Fours: 1991 (Duke's 1st title, shocking defending champion UNLV and then beating Michigan's Fab Five), 1997 (Arizona's only title to date, over defending champion Kentucky), 2000 (Michigan State over Florida) and 2006 (Florida over UCLA).
The stadium was demolished in 2008, and its fabric roof was recycled to make hundreds of new products. An expansion of the Indiana Convention Center is now on the site. 100 S. Capitol Avenue at Georgia Street.
* Site of Market Square Arena. Home of the Pacers from 1974 to 1999, this 16,530-seat arena had a weird egg shape, possibly the result of a Seventies-inspired drug haze. It also hosted minor-league hockey, and the World Hockey Association's Indianapolis Racers from 1974 to 1979. This was the first major league team of Wayne Gretzky. It also hosted the NCAA Final Four in 1980 (Louisville over UCLA), and what turned out to be Elvis's last concert, on June 26, 1977. 300 E. Market Street at Alabama Street.
The closest NHL team to Indianapolis is the Columbus Blue Jackets, 174 miles away. The Chicago Blackhawks are a little further away, 184 miles. Due to their long-term presence (the Jackets have only played since 2000), the Hawks are the most popular NHL team throughout Indiana, including those areas closer to St. Louis and Nashville.
* Bush Stadium. This was the Indians' home from 1931 to 1995. It was first known as Perry Field, after the Indians' owner. In 1942, he took his own name off it, and, in line with the war effort, renamed it Victory Field, a name brought back for its replacement.
In 1967, it was renamed Owen J. Bush Stadium, in honor of "Donie" Bush, a former major league shortstop from Indianapolis who had managed the Pirates to the 1927 National League Pennant, and also served the Indianapolis Indians as manager and team president.
Like Wrigley Field in Chicago and Forbes Field in Pittsburgh, Bush Stadium had ivy on its outfield walls. In 1987, it was dressed up to resemble both Chicago's Comiskey Park and Cincinnati's Redland Field (later Crosley Field) for the movie
Eight Men Out
, about the 1919-21 Black Sox Scandal, as it was one of the few remaining pre-1920 ballparks left. (Comiskey Park was still standing, but it didn't yet have an upper deck in 1919, so it was unsuitable for the film.) Interestingly enough, both the White Sox and the Reds had the Indians as their top farm team for some time (though not, of course, at the same time).
The Indians won Pennants at Bush Stadium in 1949, 1956, 1963, 1982, 1986, 1987, 1988, 1989 and 1994. Peak capacity was 15,000. The Indianapolis ABCs of the Negro Leagues -- named for the American Brewing Company -- played here from 1931 to 1938. So did the Indianapolis Clowns, for whom Hank Aaron played briefly in 1952, making him the last remaining active former Negro League player, in 1976. The Clowns were also the last remaining Negro League team, playing until 1966.
Parts of the stadium have been preserved and turned into housing. 1501 W. 16th Street, northwest of downtown. Number 25 bus.
Across W. 16th Street, at 1502, is Kuntz Stadium, a 5,257-seat soccer stadium. The U.S. national team played 3 games there in the late 1980s. That shows you how far that team has come: They couldn't even sell out 5,000 seats. If they were to play in Indy now, they would sell out the 62,000-seat Lucas Oil Stadium.
* Washington Park. The Indians and the ABCs -- the latter then led by perhaps the greatest of the pre-1947 black players, Oscar Charleston -- played here before Perry Field/Bush Stadium opened. 1235 W. Washington Street, on ground now occupied by the Indianapolis Zoo, about a mile and a half east of downtown. Bus 8.
* Hinkle Fieldhouse. Formerly Butler Fieldhouse, and renamed for longtime basketball coach Tony Hinkle, this gym was built for Butler University in 1928, and has hosted countless Indiana basketball memories, including the State high school championships. Most notably, it hosted the 1954 Final, which saw Milan defeat Muncie Central, inspiring the film
Hoosiers
, which filmed on the same court and used the original announcers. (Milan had also been to the Final 2 years earlier, so while it was an upset, it wasn't like Milan was a total unknown. An underdog, yes; a dark horse, no.)
Seating 15,000 at its peak (a sellout of which at the 1987 Pan American Games becoming, to this day, the largest crowd ever to attend a volleyball match in America), modernizations, including wider seats, have reduced capacity to 10,000. But it still stands, and is one of the oldest remaining buildings to have hosted one of the 4 major sports leagues in North America. 510 W. 49th Street, north of downtown. Number 28 bus, then walk west on 49th from Illinois Street to Rookwood Avenue.
Indiana University is in Bloomington, 50 miles to the southwest. Purdue University is in West Lafayette, 68 miles to the northwest. And the University of Notre Dame is in South Bend, 149 miles to the north.
* Previous Indiana NBA teams. The 1st pro basketball team in Indianapolis was first called the Indianapolis Kautskys, founded by grocer Frank Kautsky in 1931. In 1937, they joined the National Basketball League, and were thus big enough to move into Butler (Hinkle) Fieldhouse.
They made the Playoffs in 1942, '47 and '48. In 1948, they, along with the NBL's Minneapolis Lakers, Fort Wayne Pistons and Rochester Royals, jumped to the Basketball Association of America, which became the NBA a year later. Because the league didn't allow commercial names, the team's name was changed to the Indianapolis Jets. But they only lasted 1 season, as the Olympians arrived.
Today, the Kautskys/Jets are noted mainly for having on their roster John Wooden, who coached UCLA to 10 National Championships from 1964 to 1975; and Branch McCracken, who coached Indiana to the 1940 and 1953 National Championships.
In 1949, the Indianapolis Olympians were welcomed into the NBL, but then the merger with the BAA happened to become the NBA, and the Olympians, so named because of their players' representation of the U.S. in winning the Gold Medal at the 1948 Olympics in London, were in, and the Jets were out. They included Alex Groza (brother of Cleveland Browns star Lou Groza), Ralph Beard, Cliff Barker and Wallace "Wah-Wah" Jones, all of whom had played on the University of Kentucky's 1948 and '49 National Champions; Paul Walther of the University of Tennessee and Clarence "Kleggie" Hermsen of the University of Minnesota.
Also playing at the Butler fieldhouse, the Olympians won the Western Division in 1950, and made the Playoffs again in 1951. But after that season, Groza and Beard were banned from the NBA for life after they admitted shaving points at Kentucky. The Olympians never recovered, and folded after the 1953 season.
The Anderson Packers played from 1946 to 1951 at Anderson High School, 4610 Madison Avenue, 41 miles to the northeast. Not reachable by public transportation.
The Fort Wayne Pistons began in the NBL in 1941, 128 miles to the northeast, and won that league's title in 1944 and '45 -- making them, technically if not officially, the World Champions of professional basketball for those seasons. Owner Fred Zollner and his sister Janet ran a foundry, manufacturing Pistons.
The team moved into the NBA in 1948, and won the Western Division and reached the Finals in 1955 (losing to the Syracuse Nationals) and 1956 (losing to the Philadelphia Warriors). But despite moving from the gym at North Side High School (475 E. State Boulevard) to the new 13,000-seat Allen County War Memorial Coliseum (still standing at 4000 Parnell Avenue) in 1952, they were stuck in a market that was too small for the major leagues.
In 1957, Zollner moved the team to Detroit -- the Motor City, so keeping the "Pistons" name made sense. (Ironically, they weren't much closer to Indianapolis than they were to Detroit. Or Chicago, for that matter.) After that, Indianapolis wouldn't have another NBA team until the Pacers arrived with the ABA merger 19 years later.
* Fairgrounds Coliseum. Opening in 1939 as part of the Indiana State Fair complex, this was the Pacers' first home, from 1967 to 1974. It was their home when they won the American Basketball Association Championship in 1970, 1972 and 1973.
Elvis sang there on April 12, 1972.
It still stands, and now hosts the Indianapolis Fuel minor-league hockey team. 1202 E. 38th Street, northeast of downtown. Number 39 bus.
* Indianapolis Motor Speedway. The most famous building in the State of Indiana, and the largest sports facility in the world, has nothing to do with basketball or football or baseball. It's the home of the Indianapolis 500, held there every year (usually on the Sunday of Memorial Day weekend) since 1911 (except for the World War years: 1917, '18, '42, '43, '44 and '45). The track opened in 1909, and has spread the name of the city all over the world, as drivers from as far away as Britain (Dan Wheldon and Dario Franchitti), Brazil (Helio Castroneves and Tony Kanaan), Australia (Scott Dixon) and Colombia (Juan Pablo Montoya) have won the 500 in recent years.
The permanent seating capacity is 257,325. Infield seating can push it to over 400,000 -- and the Indy 500 sells out every year. Although the mailing address is "4790 W. 16th Street, Speedway, Indiana 46222," it's within the city limits of Indianapolis, 5 miles northwest of downtown. Number 25 bus.
* Michael Carroll Stadium. This is the home of the Indy Eleven, of the new version of the North American Soccer League, the 2nd division of North American soccer. It sets 12,111. 1001 W. New York Street, a mile west of downtown. There is no bus service there. The nearest MLS team is the Columbus Crew, 178 miles away. The Chicago Fire are 183 miles away.
* Early NFL teams. The Colts weren't the 1st NFL team in Indiana. The Muncie Flyers played 63 miles to the northeast of Indianapolis, from 1905 (entering the NFL at its founding in 1920) until 1925. The Evansville Crimson Giants played 172 miles to the southwest in the 1921 and '22 seasons. The Hammond Pros represented a city 159 miles to the northwest, but that's just outside Chicago, and they used Cubs Park (we know it as Wrigley Field) from 1917 (entering the NFL at its founding) until 1926.
Early in his career, Elvis gave 8 concerts in 4 days, December 4 through 7, 1955 at the Lyric Theater, at 121 N. Illinois Street, a block west of the Monument. A parking deck is on the site now.
Elvis also sang in Indiana at the Fort Wayne Memorial Coliseum on March 30, 1957, June 12, 1972, and October 25, 1976; at Roberts Memorial Stadium in Evansville on June 13, 1972 and October 24, 1976; at Assembly Hall in Bloomington on June 27, 1974 and May 27, 1976; at the Notre Dame Athletic Center (now the Joyce Center) on September 30 and October 1, 1974 and October 20, 1976; and
at the Hulman Civic Center in Terre Haute on July 9, 1975.
* Soldiers' and Sailors' Monument. Standing 284 1/2 feet high at the geographic center of the City and the State, this tower was dedicated in 1902, commemorating the Indiana military personnel of the recent Spanish-American War, the American Civil War, the Mexican-American War, the frontier conflicts that were a part of the War of 1812 (which produced several battles in Indiana), and the American capture of Vincennes from the British during the War of the American Revolution. During the holiday season, it is decorated like a Christmas tree. (If that sounds sacrilegious, in New Brunswick, New Jersey, the considerably shorter Civil War Monument is turned into an artificial Christmas tree, and nobody objects.) Monument Circle, at Meridian & Market Streets.
The tallest building in the State of Indiana is the Chase Tower, with a roof 700 feet high and spires rising to 830 feet. 111 Monument Circle.
Indianapolis is not big on museums. The best-known is the Indiana State Museum, at a complex that includes the Eiteljorg Museum of American Indians and Western Art. Washington & West Streets, downtown. Number 8 bus if you don't feel like walking.
William Henry Harrison, 9th President of the United States and former Territorial Governor (died just 1 month after his 1841 Inauguration), and his grandson, Benjamin Harrison, 23rd President (1889-1893), both lived in Indiana (as did Abraham Lincoln as a boy). But Grouseland, the house of "Old Tippecanoe," is 130 miles away in Vincennes. The Benjamin Harrison Presidential Site is just north of downtown, at 1230 N. Delaware Street. Number 19 bus.
Only 3 TV shows are known to have been set in Indianapolis.
Close to Home
and the U.S. version of the British hit
Men Behaving Badly
are best forgotten. But the CBS sitcom
One Day at a Time
, which aired from 1975 to 1984, and starred Bonnie Franklin and launched Mackenzie Phillips and Valerie Bertinelli to stardom, was groundbreaking: It was not only the first TV show to show a divorced single mother (rather than a widowed one), but it actually made Indianapolis seem like a fun place to be.
Movies set in Indianapolis are also rare. Some early scenes of
Close Encounters of the Third Kind
were set there, before moving out to the iconic Devil's Tower National Monument in Wyoming. Last year, the cult hit
The Fault In Our Stars
was set there, but filmed in Pittsburgh.
*
No matter what the Colts achieve, and 2 trips to the Super Bowl in 30 years is more than some teams have done, Indiana will always be a basketball State, and Indianapolis will always be a basketball city. But that doesn't mean a visiting football fan can't have fun there.