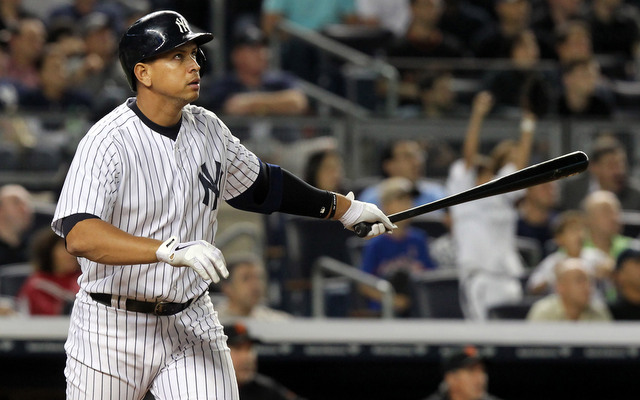 I let things slip again. I come into this post 14 games behind.
On Friday, May 22, the Yankees returned home to play the Texas Rangers. Now, you know how I feel about teams named Rangers, especially when they wear blue shirts. Baseball in Dallas. Hockey in New York. Soccer in Glasgow.
The only Ranger in a blue shirt who doesn't suck is the Lone Ranger. (And Disney even messed
that
up in the recent film version, with Armie Hammer as a black-shirted Lone Ranger and Johnny Depp as a bird-hatted Tonto.)
You're at home, you got Michael Pineda as your starting pitcher, and you score 9 runs. You think you're gonna win, right?
You might so think, but you'd have thought wrong. Pineda didn't have much. Nor did Chasen Shreve. Nor did David Carpenter.
Didi Gregorious (who really hasn't been an adequate shortstop, let alone an adequate replacement for Derek Jeter) and Garrett Jones each hit his 1st Yankee home run. Mark Teixeira also homered, his 13th Teix Message of the season, off former Yankee Ross Ohlendorf.
The Rangers scored 7 runs in the top of the 3rd inning, including the 1st of 2 home runs by Prince Fielder. (You forgot he wasn't on the Detroit Tigers anymore, didn't you?) The Yankees scored 5 runs in the last 3 innings, including 1 in the 9th, and, for a moment, it was looking like that game in May 2006, when they trailed the Rangers 9-0 after 2 innings at the old Stadium, and Jorge Posada's walkoff homer won it, 14-13.
But no: Despite those late runs, the Yankees stranded men on 1st & 2nd in the 7th, a man on 1st in the 8th, and the tying run on 1st in the 9th.
Rangers 10, Yankees 9. WP: Colby Lewis (4-2). SV: Ohlendorf (1). LP: Pineda (5-2).
*
On Saturday, it got worse. I regret to inform you of my belief that CC Sabathia may have to hang 'em up. He didn't get out of the 3rd inning.
Girardi compounded this by bringing Rogers in again. Then he compounded that by bringing Branden Pinder in.
Gregorious hit his 2nd Yankee homer, and Carlos Beltran his 3rd homer of the season. Hardly enough.
Rangers 15, Yankees 4. WP: Nick Martinez (4-0). LP: Sabathia (2-6).
*
Girardi sent Chris Capuano out to start the Sunday night game. In what parallel universe was this a good idea? Capuano at least lasted until the 5th inning, and, to be fair, 2 of the 4 runs he allowed were unearned, thanks to an error by highly-touted prospect Jose Pirela -- who was so bad in the field, Girardi actually sent the usual 2nd baseman, Stephen Drew, he of the OPS+ in the 60s, to pinch-hit for him.
The Yankees got 6 hits, all of them singles: 2 each by Jones and Chase Headley, 1 each by A-Rod and Brian McCann.
Rangers 5, Yankees 2. Swept. WP: Yovani Gallardo (4-6). SV: Shawn Tolleson (3). LP: Capuano (0-2).
This left the Yankees at .500, 22-22, with a 6-game losing streak. Something had to be done.
*
That something was called "winning." (Shut up, Charlie Sheen. You're not a great pitcher, you just played one in the movies. And, even then, you were a massive head case.)
And the Yankees proved that pitching isn't enough. Sometimes, to get out of a losing streak, you gotta hit the hell out of the ball.
On Monday, May 25, the Kansas City Royals came in. Defending American League Pennant winners, had beaten the Yankees badly at their place a week earlier. It wasn't looking good for the Bronx "Bombers."
The Yankees knocked the quotation marks right off that nickname. Headley hit his 6th home run of the season, McCann his 5th, Gardner his 4th -- all in the 1st inning. Drew hit his 5th in the 2nd, knocking Jeremy Guthrie out of the game. Guthrie pitched 1 inning and change (didn't get any outs in the 2nd), and allowed 11 runs, all earned.
Jacob Ruppert, the man who built the 1st Yankee Stadium and the 1st Yankee Dynasty in the early 1920s, said his idea of a good game was when the Yankees score 10 runs in the 1st inning, and then slowly pull away. Well, on this night, the Yankees scored 8 in the 1st and 3 in the 2nd. 11 in 2? I'll happily take that, and I think Colonel Ruppert would have, as well.
In the words of the immortal Billy Mays (not to be confused with the still-living Willie Mays, or even Joe Mays), "But wait: There's more!" Headley had an RBI double in the 5th, and Slade Heathcott, a 24-year-old rookie from Texarkana, Texas, a center fielder wearing Number 55, who'd made his big-league debut 5 days earlier, went 2-for-5, including a 2-run homer in the 7th. (As of yesterday, June 5, he's played 6 games in the majors, and is batting .353.)
Nathan Eovaldi took the big early boost from the Yankee bats, and cruised through 7 innings. Jacob Lindgren got through the last 2 with no damage.
Yankees 14, Royals 1. WP: Eovaldi (4-1). No save. LP: Guthrie (4-3).
*
On Tuesday night, Adam Warren took the hill, and got into the 7th, allowing 1 run on only 2 hits, no walks, 5 strikeouts. The only run was a homer by Paul Orlando. Between them, Justin Wilson, Dellin Betances and Andrew Miller went the rest of the way, allowing just 2 hits.
But you need runs. The Yankees got them. Teix hit his 14th homer in the 1st, and he also doubled, driving in 4 runs.
Yankees 5, Royals 1. WP: Warren (3-3). No save. LP: Jason Vargas (3-2).
*
Unlike in Arlington, Pineda was on his game in The Bronx on Wednesday afternoon. He got into the 7th, allowing just 1 run on 6 hits, 1 walk, 8 strikeouts. Except for a Mike Moustakas homer, the Pennant-holders really couldn't touch him. Betances was a little shaky in the 8th, allowing an unearned run, but otherwise the bullpen was fine.
Yankee homers were hit by A-Rod (his 11th) and McCann (his 6th). A-Rod (3 RBIs) and Beltran each had 2 hits.
Yankees 4, Royals 2. A sweep. WP: Pineda (6-2). SV: Miller (14). LP: Chris Young (4-1).
The Yankees have truly been unpredictable this season.