Warning: The following contains both profanity and spoilers. I warn you of both, but I apologize for neither.
April 8, 2005, 10 years ago:
The film
Fever Pitch
premieres, starring Jimmy Fallon and Drew Barrymore. It tells the story about a man in love with a woman and a baseball team, and what happens when the 2 loves come into conflict.
It was based on the 1992 memoir of the same title by Nick Hornby, then an English teacher in London, and a fan of North London soccer team Arsenal. He told of following the team from the fall of 1968 until just before publication, including the 1971 "Double" season (meaning that they won the Football League Division One and the Football Association Cup in the same season) and the next League title, which wasn't until 1989 -- 18 years.
(While "Eighteen fucking years!" became a catchphrase when the movie came out, some clubs, including some big ones, have waited longer than that. Some, a lot longer. Some clubs with significant support have never won it.)
It had previously been made into a film in the United Kingdom, premiering on April 4, 1997, starring Colin Firth and Ruth Gemmell. This version, with Hornby writing the screenplay, followed a fictionalized version of Hornby during the epic 1988-89 season, with flashbacks to his youth in 1968 and 1972.
The United States version was adapted by Providence, Rhode Island-based filmmakers Peter & Bobby Farrelly, fans of New England's sports teams, including baseball's Boston Red Sox. They cast Fallon, then a former star of NBC's
Saturday Night Live
, and not yet the host of a late-night talk show, now hosting
The Tonight Show
. Ironically, in real life, Fallon is a fan of the New York Yankees, the Red Sox' arch-rivals -- so this film proves that he really can act.
This version of the film follows the Red Sox in their own epic season, of 2004. To avoid confusion, this film was renamed
The Perfect Catch
for the British Isles market. (The French version of the British film is titled
Carton Juane
-- "Yellow Card," which is what a referee shows a player as a warning. A red card is for a foul so bad, it requires the player to be immediately sent off, and getting a second yellow card in a single game is followed by a red card.)
The 2 versions are similar in some ways, but I find the differences fascinating. The following is in chronological order -- not necessarily in the order in which the events are shown onscreen, but in the order in which they happen in the main characters' lives.
*
U.K.:
Merriam-Webster's online dictionary defines "fever pitch" as "a state of extreme excitement or activity." This is frequently brought on, in many countries, and in various different sports, by watching, or even talking about, sports.
In the United Kingdom, a "pitch" is what they call the field of play in football (or, as we'd say, soccer) and rugby. Example: When Paul (roleplaying as the current Arsenal team, including the stylish London-born midfielder David Rocastle) and Steve (roleplaying as the 1971 Arsenal team, including their Captain, the rugged Scottish defender Frank McLintock) are playing the tabletop game Subbuteo, Steve causes one of his players to knock over one of Paul's. Paul, pretending to be a broadcaster, says, "Oh, that's a terrible foul by McLintock on Rocastle! He'll be lucky to stay on the pitch after that!"
U.S.:
In the United States, a "pitch" is the act of throwing a baseball to put it into play. In baseball's cousin game of cricket, popular in Britain and its Commonwealth nations but largely abandoned by America around the time of the Civil War of the 1860s, they call pitching "bowling" and the pitcher "the bowler." The batter is the "batsman," and the catcher is the "wicket-keeper," just as, in soccer, they call the goaltender the "goalkeeper," and a "keeper" more often than a "goalie."
Colin Firth as Paul Ashworth, and Ruth Gemmell as Sarah Hughes
U.K.:
The lead character is Paul Ashworth, who also narrates from his perspective of whenever you consider "now" to be. When we first see him, he is 11 years old, matching Hornby's age at the time. He is played by Luke Aikman. (Aikman is now 31, and has appeared in just 3 films since 1999, none since 2010. He's now a skiing and snowboarding instructor.)
Paul lives with his mother and his younger sister in Maidenhead, in Berkshire, about 35 miles west of Central London -- coincidentally, about the same distance I lived outside Midtown Manhattan when I was a boy. His parents are divorced, and his father has moved to France with his new wife.
In spite of the divorce, as he later tells Sarah, they weren't living in poverty. "But I was rootless," he says, noting that he didn't have anything he could later feel sentimental about except "telly programmes and pop music and stuff like that." ("Telly programmes" being TV shows.) That was before he met The Arsenal.
U.S.:
The lead character is Ben Wrightman. When we first see him, he is 7 years old. He is played by Jason Spevack, who was cast because he lived in Toronto, where the Farrelly Brothers did a lot of filming, even of scenes that are allegedly in Boston, because it saves money. (Spevack is now 17, and starring in the title role in the Canadian series
Dino Dan
.)
Ben is an only child. His parents are recently divorced, and his mother has moved from New Jersey back to her native Massachusetts. (She is played by Siobhan Fallon. Despite having the same surname, and also having been a castmember on
SNL
, she and Jimmy Fallon are not related, and had no scenes together in the film.) As yet, Ben has no friends in his new hometown, which appears to be a suburb of Boston. Like Paul was at age 11, he is mopey and seems to have no interests.
U.K.:
On September 14, 1968, Paul's father (played by Neil Pearson), whose first name is never revealed, visits, and takes him to the North London home of the Arsenal Football Club, Arsenal Stadium, nicknamed Highbury after its neighborhood, to watch the home team play Stoke City, a club in Staffordshire, considerably north of London.
Between 1927 and 1953, Arsenal had won the Football League Division One title 7 times, and appeared in 6 Football Association Cup Finals, winning 4 of them. Meaning that, at this point, they were already, historically speaking, one of Britain's best soccer teams. So, on the surface, this seems like a good idea, even though Paul says, "I'm not really a football fan." It will be the last time in his life that he can truthfully say that.
(In the book, Hornby mentions that, while attending Cambridge University in the late 1970s, he went to many games of Cambridge United, then moving up through England's divisions from Four to Three to Two -- and then back down to Three. He also mentions a notorious 1988 visit to Wembley, the national stadium in Northwest London, where he sees awful behavior by the English hooligans during a match between the national sides of England and the recently-crowned European champions, the Netherlands.)
When Paul first sees them play in 1968, "The Arsenal" (not always written that way -- Capital T, Capital A -- but their fans like to speak of them as such), managed by Bertie Mee, have been in a long down period, in which it is joked that, since their last League title was won a month before Queen Elizabeth II was crowned, "Arsenal haven't won a trophy since the Coronation."
U.S.:
In 1980 -- no exact date is given -- Ben's mother has to work on a Saturday afternoon, so she calls her brother Carl to watch him for the day. Uncle Carl, clearly much older than she is, must be her last resort, her only other living relative, since he doesn't look like someone who likes kids.
The story's narrator is Al Waterman, a sponge manufacturer, who sits near Carl at Fenway, and they are clearly old friends, to the point where, in the film's climactic scene, Al defends Carl's memory in trying to convince Ben to do what he (Al) thinks is the right thing.
Al only says that Carl didn't have kids, and nobody ever mentions whether Carl was married. It may be that Carl was gay, and that Al simply wanted to protect the memory of his closeted friend -- but this is just speculation on my part. Carl seems like the kind of guy who, if it were true, would want to hide the fact at all costs, being a Bostonian of a certain age. (Probably old enough to have grown up at least partly in the Great Depression of the 1930s, and to have fought in World War II in the early 1940s or the Korean War in the early 1950s.)
Al is played by Jack Kehler, who was 58 during filming, clearly had his hair darkened for the 1980 scene, and may have been makeup-aged for the 2004 scenes. Carl is played by Lenny Clarke, a comedian and a very big Red Sox fan in real life. He is definitely straight. He was 50 at the time of filming, but, due to his white hair and his weight, looked even older, so it's not surprising that, while the actor is still alive as of this writing, the character was dead by 1993.
Carl takes Ben to Fenway Park, in the Kenmore Square section of Boston. In 1980, the Sox were at the end of what was, by their standards, a good period: From 1972 to 1979, 8 seasons, they were at least in the American League Eastern Division race until the last week of the season 7 times, until the last weekend 5 times, and won the 1975 AL Pennant. But intra-ownership strife and dissension between management and players began a downturn that would last a few years, and the Sox were well out of the race in 1980. And, as Al points out to Lindsey, the Sox won the World Series in 1912, 1915, 1916 and 1918 ("They were royalty, the elite," he says -- just like Arsenal were in their country from the early 1930s to the early 1950s) -- but the haven't won the World Series since 1918.
U.K.:
Before the match, Paul is taken by his father to a nearby chip shop, a place serving fish & chips: Fried, battered strips of fish, traditionally cod, and slices of potato, usually thicker than what we call French fries. Britain has chip shops the way we have burger joints, although burgers have since caught on there, while chip shops haven't yet caught on outside U.S. cities with a strong British expat community, like New York and, interestingly enough, Boston. (Both cities are heavily Irish, but the Irish also tend to like fish & chips.)
Like a pub (a British-style bar), a chip shop is generally a good place for discussing the upcoming game, and the team in general. At the dawn of the 1968-69 season, The Arsenal already have some of the players with whom they will win the 1970 Inter-Cities Fairs Cup (which became the UEFA Cup in 1971 and the Europa League in 2010) and the 1971 Double, and were coming of a season in which they had reached the Final of the League Cup, but lost it. (They would do so again that season.) They are not ready to contend by any means, but they are not, as is said by a middle-aged man named Frank that the Ashworths meet in the chip shop, "fucking rubbish."
Indeed, somebody didn't do their research: Frank says that, in "the last home game of last season," "they were rubbish, they were fucking rubbish!" Wrong: They defeated West Bromwich Albion, a West Midlands club, 2-1. West Brom had just won the FA Cup, so this was no small feat. Frank also speaks ill of midfielder Jon Sammels, who was a decent midfielder, going on to score 52 goals for the club, including the goal that clinched the Fairs Cup in 1970.
At the time, Stoke had 2 players from the 1966 England team that won the World Cup: Former Arsenal star George Eastham (whom the adult Paul later admits to his boss was "before my time") and goalkeeper Gordon Banks.
Upon his first sight of the Highbury pitch, his eyes widen, and he delivers his first smile of the story. The game doesn't go well at first, and the profanities spew forth from the stands, with one fan yelling that classic British curse, "For fuck's sake, Arsenal!" another yelling, "Sammels, you're a fucking idiot!" and still another yelling, "Sod yourselves!" (In the film, there are women in the stands. But in the book, Hornby wrote that what stuck with him in that first game was "the overwhelming maleness of it all.")
But Arsenal win, 1-0 -- or, with, as Andrew Mangan likes to say in his fantastic Gunners chronicle
Arseblog
, "that most classic of scorelines: One-nil to The Arsenal." In the 1st half, Arsenal were awarded a penalty, defender Terry Neill stepped up to take it, Banks deflected it, and, in the scramble, the ball came back to Neill, and he scored. Why a defender was taking penalties, I don't know; but, while unusual, it's not rare. Neill, later to manage Arsenal to the 1979 FA Cup, did score a few goals on penalties.
Paul's father wants to leave early to beat the traffic.
Paul: "But they might score again!"
Dad: "There is a remote possibility of that, yes; but it won't be this afternoon." (Seeing Paul look perplexed) "That's a joke. If you're going to be an Arsenal fan, you're going to have to get used to jokes like that."
Paul: "I will!"
In the book, Hornby mentions that his father was actually a fan of another club in the capital, West London side Chelsea, who, in the late 1960s, were considered one of the most fashionable clubs in England, much more so than Arsenal -- although, until the late 1990s, successes for them were few and far between. On September 14, 1968, Chelsea were away to another West London side, Queens Park Rangers (QPR), and beat them 4-0.
If the elder Mr. Hornby really was a Chelsea fan, and Chelsea were playing in West London, much closer to Maidenhead than Highbury is, why didn't he simply take Nick there? Hornby admitted in his essay on that first game that if his father had taken him to see any other club, he likely would have supported that club for the rest of his life. Considering that London is home to Chelsea, QPR, Arsenal's North London arch-rivals Tottenham Hotspur, East End club West Ham United, and yet another West London club, Fulham, and that all of these clubs were then more fashionable, and (at least in recent times) more successful than Arsenal, why did his father take him to see Arsenal? I suppose only the elder Mr. Hornby knew for sure. (Ticket prices, perhaps? That wouldn't be the case today: Since moving from the 1913-built Highbury to the new Emirates Stadium in 2006, Arsenal infamously have had the highest ticket prices of any "football club" in Britain.)
Highbury, as it would have appeared in Paul's youth. Photo taken from the Clock End,
the south side of the stadium, with the roofed, terraced North Bank, Paul's usual haunt, in the distance.
U.S.:
Like Paul at Highbury in 1968, Ben falls in love at first sight of the Fenway field. Hall-of-Famers Jim Rice and Dennis Eckersley appear in the film as themselves, putting on their old Red Sox uniforms and looking remarkably unaged, though Hall-of-Famer Carl Yastrzemski, taking batting practice, is played by an actor whose face is never seen.
"Yaz" on his 1978 Topps baseball card.
Unlike the British
Fever Pitch
, there is some questionable language in the U.S. version, but none of George Carlin's "Seven Words You Can Never Use On Television." Still, during the game, Uncle Carl calls then-Red Sox manager Don Zimmer a bum and, borrowing the nickname that former Sox pitcher Bill Lee had given him, a gerbil.
Fenway Park. I'm not sure about the date, but the left field wall
is no longer covered with ads, leading to the name "The Green Monster,"
and the gasoline ad over it still reads "Cities Service," the former name of CITGO,
so this has to be between 1947 and 1964. By the time of Ben's 1st game in 1980,
the sign would say "CITGO," and the center field scoreboard would have
been erected (it was done in 1976).
According to Al's narration, All-Star right fielder Dwight Evans hit 2 home runs, and the Sox won, though he doesn't mention the score. Evans did hit 2 homers in a Sox victory in 1980, over the Minnesota Twins on July 25 -- but that was in Minnesota, not at home. Most likely, the scriptwriters, Lowell Ganz and Babaloo Mandell, just made it up. (They also wrote the script for
City Slickers
, Billy Crystal's 1991 city-guys-in-a-Western-setting film with lots of baseball references.)
On the drive back home, in a darker echo of Paul's father telling him through a joke that Arsenal (then) aren't very good, Carl tells Ben, "Be careful, son: They'll break your heart." He was right, of course. The Sox heartbreaks of 1946, 1948, 1949, 1967, 1972, 1974 and 1975 were before Ben's time. And he wouldn't quite remember 1978 and "Bucky... Freakin' Dent," as he later cites to Lindsey. But he does experience 1986 and Bill... "Buckner... " And 1999, with the Sox' defensive meltdown and the questionable umpiring in their American League Championship Series loss to the Yankees. And 2003, with the 8th inning collapse and the Aaron Boone home run to give the Yankees the Pennant. But we don't see the 1999 and 2003 moments (the 2003 one is at least mentioned), although 1986 is referenced later in the story.
*
U.K.:
We next see Paul, still played by Aikman, it is in the 1971-72 season, the season following the Double campaign, when Arsenal are still very much fashionable, and Charlie George, scorer of the goal that won the previous season's FA Cup, is still sung (including by Paul in his dining room) as "the King of Highbury."
Charlie George and captain Frank McLintock with the Cup, after the Final.
How good were Arsenal in 1970-71? A better question to ask would be, "How deeply were they ingrained into their fans' memory?" Even though the 1988-89 team is in 1st place -- or "top of the League" -- at the season's midway point, Steve, clearly an Arsenal fan at least as long as Paul's been, is still under the spell of the most famous Arsenal squad of them all, one which, in the public memory, had surpassed the mighty 1930s team built by Herbert Chapman, and had not yet been replaced by the current group under George Graham or the later internationally-staffed superteam built by Arsene Wenger. Seeing Paul, playing as the current club in Subbuteo, leading him 4-0 while he plays as the '71 squad, he says, "This lot would never beat the Double team 4-0 in Subbuteo. It's just... I'm crapping it!"
Back to 1972: Now 14, Paul covers his formerly nearly-shaven head with a wild mop of red hair, and he looks remarkably like a junior version of Colin Firth. He badgers his mother into letting him go to Highbury on his own, and she finally relents.
(In the book, however, Hornby mentions that this was the early days of English football hooliganism, and he remarks that she shouldn't have let him go: "I could have been killed!" Later in the book, he mentions having been at Highbury for a match against West Ham in 1982, and seeing lots of violence, and later hearing that a West Ham fan had stabbed an Arsenal fan to death in the Arsenal station of the Underground, or the Tube, which is what London calls its subway system).
When Arsenal are paired with Reading, then a Division Two club and the actual closest Football League team to Maidenhead, in the 4th Round of the FA Cup, in a game scheduled for February 5, 1972 at Reading's Elm Park, she gets him a ticket for it.
But, not knowing these things at the time, she doesn't try to get it in the away section. Traditionally, in order to minimize crowd violence, football clubs put all the away team's supporters in adjoining sections, away from the home team's fans. In this case, which is not based on race or religion (at least, not outwardly), segregation is a good thing. Paul's Mum (whose name is also never revealed) tells him, "I just said, 'One, please,' and they gave me that." And the ticket is in the home part of the stands.
"I was surrounded by a load of country bumpkins," he later tells his mother and sister. When the locals press him about where he's from, he tells the truth, and a man says, "Maidenhead? Maidenhead in Berkshire? Two miles down the road?" Paul says, "More like six." (In the book, the man says it's four miles, while Nick says, "Nearer ten." It's actually fifteen.) The man says, "A bit nearer Reading than Arsenal, though, isn't it? You should be supporting your local team this afternoon!" He said it in a teasing manner, knowing one teenage boy wasn't going to cause trouble surrounded by Reading fans. But few things anger an Englishman more than someone choosing a big club like Arsenal, Liverpool, Manchester United or Chelsea over their local team.
Arsenal won, 2-1, on a goal by Pat Rice, a defender who, as his sister points out, "never scores, does he?" "First of the season," Paul says. (This is an error: It was his 2nd. Rice would later Captain the Arsenal team that won the 1979 FA Cup, and serve as an assistant coach from 1986 to 2012, and would even briefly be caretaker manager in 1996.) This is the only away game Paul is shown attending in the entire film.
On April 15 of that year, Arsenal were scheduled to play Stoke in the FA Cup Semifinal (after having beaten Stoke in the previous year's Semifinal), which is always played at a neutral site -- in this case, at Villa Park in Birmingham in the West Midlands, home to Aston Villa.
In the film, Paul's father had promised to take him, and then reveals on the morning that he didn't get the tickets. Paul is angry, and his father says, "We don't have to go to Arsenal every time I'm in London, do we? I thought we'd be beyond that stage now."
In one of the greatest lines I've ever heard associated with sports in any form, Paul sums up what every true fan believes: "We'll
never
be beyond that stage."
But in the book, Hornby tells a very different story: His father
did
get a pair of tickets, but couldn't go, and so Paul took a school friend up to Birmingham. The game ended 1-1, with Arsenal goalkeeper Bob Wilson getting hurt, and, with substitutions then limited by rule to a single player per game, and no goalie named as a sub, John Radford moved from forward to goal, with Ray Kennedy taking Radford's place. A replay was played 4 days later, at Goodison Park in Liverpool, home of Everton. Despite having backup Geoff Barnett in goal, Arsenal won, but lost the Final to Leeds United at London's original Wembley Stadium. (Don't blame Barnett for allowing the game's only goal: The diving header by Allan "Sniffer" Clarke was a great shot, and it probably wouldn't have been stopped by a healthy Wilson, either.)
Another difference: In the film, Paul tells his father, "McNab won't play. Bertie Mee wouldn't risk him." Bob McNab, the usual starting left back (and father of actress Mercedes McNab), had been injured. In the book, though, Hornby not only says that McNab did play, but that he saw him going in before the game, and asked him if he would play, and he said he would. Hornby noted that this was the first time an Arsenal player had ever spoken directly to him, and 1 of only 4 times it had happened prior to the book's publication.
Hornby did not attend the 1971 Final, which Arsenal won over Liverpool, but did attend the '72 edition. (In another flashback scene, Paul is shown watching the '72 Final on TV, grimacing over Clarke's winning goal.) He also attended the 1978 Final, which Arsenal lost to Ipswich Town; the 1979 Final, which they won in dramatic fashion against Manchester United; and the 1980 Final, which they lost to West Ham United. The film shows brief clips of some of these games, but makes no mention of whether Paul attended any of them, although, clearly, he didn't go to the '71 Final.
After 1980, Arsenal did not appear in another FA Cup Final through the book's 1992 publication; they have since won Finals in 1993 (over Yorkshire club Sheffield Wednesday), 1998 (over North-East club Newcastle United), 2002 (Chelsea), 2005 (Man United) and 2014 (Yorkshire club Hull City), and lost in 2001 (to Liverpool).
We also see a scene from April 22 of that season, with Arsenal home to West Ham, their first home game since Paul was denied the trip to Villa Park. This may be why he looks so determined as we see him preparing, to the tune of "Baba O'Riley" by The Who. (Their lead singer, Roger Daltrey, is an Arsenal fan, and I think he may have made an uncredited cameo in the film, as a middle-aged man in a raincoat, seated a row ahead of the Ashworths in the 1968 scene.) We see Paul putting on his scarves, walking out of the house, and then out of the Arsenal tube station, down the street, and onto the old North Bank terrace of Highbury.
Unlike the 1968 scene, filmed from Highbury's West Stand, this scene, and the terrace scenes from 1989, were filmed at Fulham's ground, Craven Cottage, because Arsenal had already complied with the post-Hillsborough Disaster, post-Taylor Report rule mandating all-seater stadiums, with no more standing-room admissions. Fulham, then in dire straits financially, had not yet done so, and so it still had a standing terrace where pre-Taylor Report scenes could be filmed. (The cash from the studio did help, and they were able to comply soon thereafter.)
One of the problems I have with this film is that, while there are some nice shots of Highbury's Art Deco exterior, we only get the one shot of its interior. And we get no scenes of any other London landmarks that most outsiders could identify, such as the Palace of Westminster (including the Big Ben tower), Tower Bridge, Buckingham Palace, or the as-yet-unbuilt Millennium Dome/O2 Arena and London Eye.
Arsenal won this 1972 game 2-1, with both goals scored by Alan Ball, who was with Lancashire club Blackpool in 1966 when he played on England's World Cup winners.
U.S.:
We see no intermediate scenes of Ben, and hear no mention of what happened in his life between 1980 and 2003. But, unlike the British version of the film, we get some wonderful shots of Boston, including the skyline, with the old and new John Hancock buildings, the Old North Church, Boston Common, Paul Revere's statue, the hardscrabble Italian neighborhood of the North End, where Ben lives in the film's "present," 2003-04; and the tony Back Bay, where Lindsey lives.
And while, as a Yankee Fan, I despise the Red Sox, I love Fenway Park, and there are some fantastic shots of the old Kenmore Square bandbox. The Farrelly Brothers made sure of this, getting all the necessary permissions from the ballclub and from Major League Baseball's office.
U.K.:
In 1989, Sarah reminds Paul, "You stopped seeing your father when you didn't need him to take you to the games anymore." But in the book, Hornby said that he reconciled with his father, and even took him, and his 2 younger half-brothers, to games at Highbury.
Paul's mother and sister are very much still alive in the film's "present," 1989. But we never see his father after 1972. Indeed, we don't even know if he's still alive in 1989 -- only that Hornby does not mention that his own father has died, so it can be presumed that he was still alive at the time of the book's 1992 publication.
U.S.:
Aside from Uncle Carl, the only other mention of his family that we get from adult Ben is that his father died 2 years ago -- but he says to Lindsey, "I just found out this morning, so it's been a rough 24 hours. You know, maybe I should get a cell phone." Since this is clearly a joke, we don't know if we can say for sure that the elder Mr. Wrightman is dead. He doesn't mention his mother, either.
Ben says in 2004 that he he inherited his 2 season tickets from Uncle Carl, and that he hasn't missed a Red Sox home game in 11 years. This means that Carl died in 1993, when Ben would have been 20 and in college, almost certainly in Boston.
*
U.K.:
We next see Paul in September 1988, at the age of 31, 20 years to the month after his first game at Highbury. He is teaching an English course at North London Comprehensive School, presumably not far from Highbury, and thus from his flat (or apartment, as we'd say), which is near the stadium.
In the book, Hornby mentions that he'd gotten into Cambridge University, where his love of literature led him to become an English teacher in real life. It was also in this period that he got very interested in the hard-rock scene, leading to a love of music that led to his novel
High Fidelity
, which was also Americanized into a film, starring John Cusack, and the action shifting from London to Chicago. (It also featured my beloved Catherine Zeta-Jones as one of the Cusack character's ex-girlfriends.)
Paul also coaches the school's Under-14 football side, so we know that this school is, as we'd say in America, a junior high school or a middle school. One thing that drives me crazy with the difference between British English and American English is that what they call a "public school" isn't what we'd call a "public school": It's what we'd call a "private school." Despite the school uniforms, North London Comprehensive is clearly what we'd call a "public school."
U.S.:
We next see Ben in October 2003, at the age of 30, when he is teaching a 9th grade math course at East Boston High School, so his students are a little older than Paul's. He is also an assistant coach for the school's baseball team.
Since we never hear anything about Ben from 1980 to 2003 -- except that his Uncle Carl died and left him the season tickets -- and there's no "real Ben" who wrote a memoir, the way we have for "the real Paul" -- we have no idea what led him to get interested in math (maybe it was through a love of baseball statistics?) or to become a teacher. But his students seem to hold him in the same high level of esteem in which Paul is held by his students, possibly because his pliable maturity allows him to deal with them on their level.
U.K.:
Paul's Highbury flat has some Arsenal memorabilia in it, but he hasn't decorated it like a teenage boy might, with posters on all the walls (just one bulletin board), memorabilia all over the place, and T-shirt after T-shirt as a replica of his favorite team's uniform hanging in his closet. He appears to own just one Arsenal shirt, a 1970s-era design with the Number 7 on the back, presumably in honor of that era's Arsenal star, Irish winger William "Liam" Brady, whom he, later in the film, calls "the greatest Arsenal player ever." (A bit of a stretch, even before Dennis Bergkamp and Thierry Henry came along.)
If you were welcomed inside, you'd know that this was the home of an Arsenal fan, but you'd presume he's relatively mature. Indeed, when Robert Parker, one of his students, who is also a top player on the team he coaches, and (like Paul was in 1968) the son of recently divorced parents, asks to go to the next Arsenal home game with him, and says his mother "won't let me go without a responsible adult," Paul says, "Oh, well, there you are: You see, Saturday's the one day of the week when I'm
not
a responsible adult. I turn into someone your age, only not as sensible as you."
U.S.:
Unlike Paul's flat, Ben's North End apartment is a total Red Sox shrine, complete with a wall covered with a mural of Fenway's 37-foot-high left-field wall, the Green Monster, with the scoreboard displaying the scoreline from Game 3 of the 1999 ALCS: Red Sox 13, Yankees 1.
Among his other club memorabilia is the "Impossible Dream" album about the Sox' 1967 Pennant season, the gruesome
Sports Illustrated
cover showing the damaged eye of the beaned Tony Conigliaro (cited by Al to Lindsey, "Tony C: Best young player in baseball. Takes one in the eye at 22. He's finished at 26!"), a phone in the shape of a baseball glove, Red Sox sheets, Red Sox pillowcases, a Red Sox shower curtain (so he's never away from the Sox, even in bed or in the bathroom), and a closet full of Sox T-shirts, with the names of players both current and long-gone. As Lindsey tells him, he's "a man-boy: Half-man, half-boy."
*
U.K.:
Paul's best friend is Steve, whose last name is never revealed. We don't know when they met: There's no mention of Steve having been one of the 4 other boys Paul was walking home with and trading player stickers with in 1972; but, by 1988, they have clearly been friends for quite some time.
Steve's job is also never revealed. There are 2 clues, and they don't help much: We never see Steve at Paul's school, so he's not a co-worker; and, when we first see him, it's a Monday night (September 26, 1988), and he's wearing a suit and a nice long coat, so, clearly, he makes enough money to afford that.
Steve appears to be unmarried. But we don't know much about him. In fact, we know more about his brother, whom he and Paul have gone to see play in a local league's football match. The brother isn't named -- Steve yells at him, "Oi! Number 9! You're a donkey!" (a common insult for a bad player in England), and the brother responds by flipping the bird. The brother was good enough to get a trial at Leyton Orient, an East London club that's never reached the first division, and turned it down, and now plays in a local league while he makes a bundle running a computer-related business.
The only other thing we know about Steve is that, on November 28, 1983, he slept with a woman named Caroline Walsh (We learn
her
last name, but not
his
!), and then the next day he got a raise at work, and thus "felt invincible" as he went to Highbury to see Arsenal play in the League Cup against West Midlands side Walsall, and then lost in one of the biggest upsets in club history. (Walsall went on to the Semifinal, where they took mighty Liverpool to a replay before losing. They had, even more famously, beaten Arsenal in the FA Cup in 1933, when Arsenal manager Herbert Chapman rested his stars to keep their League form. It worked: Arsenal won the League that season.)
Steve is played by Mark Strong. Unlike Firth, who had already appeared as Mr. Darcy in a film version of
Pride and Prejudice
, he was not especially well-known in America when the film came out in 1997. (Indeed, aside from Firth, none of the actors then were.) He has since developed a reputation for playing bald villains, including the main antagonist of the first Sherlock Holmes film with Robert Downey Jr. In that film, which takes place in 1891 (Tower Bridge, which opened in 1894, is shown under construction), his business holdings are said to include the Woolwich Arsenal -- the workplace of the men who, in 1886, founded what became the Arsenal Football Club. Although I can't prove it, that just
had
to be an inside joke.
U.S.:
Ben has 3 friends that he hangs out with. At the time, unlike Fallon, none of their portrayers were well-known at the time. None of the characters' last names are mentioned, and only one's job is.
As with Steve at his brother's soccer game, we first see Ben with 3 friends at a sporting event, except they're all playing in it: Touch football in the park.
Evan Hellmuth plays Troy, and after his first appearance, he is never again never seen without his beret with the Sox' familiar red B, possibly to hide encroaching baldness. (He's otherwise best known for his appearance in a commercial for Cars.com, in which he wears a lime-green beret: "A lime-green hatchback!") He seems to be the one that Ben spends the most time with. Willie Garson plays Kevin, a bald, bespectacled anesthesiologist. Armando Riesco plays Gerard, and, aside from his Red Sox fandom and his friendship with the other 3, we know nothing about him.
None of them gives any indication of being married -- although we get a hint of Garson's role as Stanford Blatch, Carrie's gay friend, on
Sex & the City
: In the climactic scene, Troy mentions that Lindsey pinched Johnny Damon's butt, and Garson's Kevin smiles and yells, "Yeah!" (Garson is openly gay in real life.)
*
U.K.:
Sarah Hughes is played by Ruth Gemmell. She is a history teacher, newly arrived at North London Comprehensive. She appears to be around Paul's age, and, to borrow Matthew Broderick's line from
Ferris Bueller's Day Off
, "is so uptight, if you stuck a lump of coal up (her) ass, in 2 weeks, you'd have a diamond."
While she doesn't say much about her dating history, Jo refers to her by what appears to be a college nickname, suggesting that she doesn't sleep with just any man: "Iron Knickers Hughes." (Knickers are what we would call underwear.)
That said, she is highly intelligent, enjoys teaching, and is a very fit jogger. I should note that, as an American, when I say, "fit," I mean, "in good physical condition." When the English say, "fit," they mean, "having a sexy body." The two frequently go together, but this is not set in stone. Paul does, however, say to Steve, "She's not unattractive." I agree... but she's no Drew Barrymore.
Sarah's place of origin is never mentioned. I can't place her accent, although Gemmell is from Darlington, in County Durham, in England's North-East, a place with a heavy Scottish presence as it's not far from the England-Scotland "border," and Gemmell is a Scottish name. The only reference we hear about her family is that she has a sister, who, in the film, is mentioned once, and is neither named, nor seen, nor mentioned again.
While their initial relationship is one of antagonistic co-workers, they come to realize that each is good for the other: He needs to grow up a little, and she needs to loosen up a little.
She starts off by not knowing much about football: She had overheard a conversation between Paul and a student's parent, and thought they were discussing a game between Arsenal and "Wolves United." Paul corrects her, and says, "It's just 'Wolves,' no 'United.'" While there are plenty of clubs in England with "United" as part of their name -- West Ham in East London (yeah, I know, that doesn't sound right), Manchester, Sheffield, Oxford, Leeds and Newcastle, to name a few -- the full name of the West Midlands club usually called "Wolves" is Wolverhampton Wanderers.
She later admits to Jo that, after hearing Paul and Steve talk about the game so much, some knowledge "sinks in after a while": That it's easy enough to remember that they're top of the League, that Alan "Smudger" Smith is the team's leading scorer, and that she recognizes David "Rocky" Rocastle when he is shown in a report on the local TV news.
U.S.:
Lindsey Meeks is played by Drew Barrymore. She is from Baltimore, home of a division rival of the Red Sox, the Baltimore Orioles. She doesn't seem to be a fan of theirs, or even to consider baseball a big deal. But, unlike her British counterpart, she knows enough about the sport in question to get one of Ben's jokes: He sends her an e-mail, saying, "Sending you a dozen roses for Valentine's Day." When she opens it, a bouquet of roses appears, and then the blooms all turn into heads of baseball legend Pete Rose, and she laughs.
Lindsey's parents still live in Baltimore (or, more likely, in its suburbs). Her father, Doug (played by
Hill Street Blues
and
Doogie Howser, M.D.
actor James B. Sikking), sells golf carts, and does well enough at it to afford a nice house and a country club membership. Her mother, Maureen (played by JoBeth Williams, best known as the mom in the
Poltergeist
films), was, like Ben, a teacher, and is now a principal.
Despite their achievements, they are not stuck-up, and, on a visit to Boston to see Lindsey, they do not immediately dismiss Ben simply because he's a teacher who doesn't make a lot of money. They find his Sox fandom ridiculous, but he wins them over by getting them a tee time at The Country Club, a famous golf club in Boston. (One of Ben's students is the son of a clubmember.)
Lindsey also has a sister, Donna, and she badly wants their parents to like Ben more than they like Donna's husband, whose name is not mentioned. Neither Donna nor her husband is ever shown in the film.
Both Lindsey and her parents keep a dog. Lindsey's dog, Ernie, likes Ben, until she breaks up with him after the argument following the "Gatsby Party" that forced him to miss the great Sox comeback over the Yankees. The next time Ernie sees Ben, he growls at him.
Unlike her British counterpart, she is not one of Ben's co-workers. Rather, she works in public relations in downtown Boston, and, since her job involves statistical models, she meets Ben because he thought a visit with such a person, working at such a company, would be a good field trip for his math students.
Like Sarah, she keeps in shape, but does so with 3 friends at a gym, not by jogging with just 1 friend. She's a little uptight, but not nearly as much as Sarah: She appreciates that Ben can be a little juvenile at times.
She's nearly 30 -- or, as she puts it to her friends, "I'm about to turn twenty-ten." She laments that she's never found the right guy. "I date poodles," she tells Ben on one of their early dates -- meaning that the men she dates turn out to be self-obsessed and high-maintenance. Her friends claim that the problem is that she dates men who are successful at work because they're so driven, and don't really allow for personal development -- "It's like you're dating yourself," says her friend Sarah (not to be confused with Ruth Gemmell's character), to which Robin adds, "Ding ding ding!" So while Robin thinks dating a teacher isn't a good idea, because he doesn't make much money, Molly and Sarah think Ben might be good for her.
Unlike Paul and Sarah, Ben and Lindsey hit it off immediately. This is probably because the baseball season runs from April to October, meaning that Ben and Lindsey meet after the Sox have been knocked out by the Yankees in "The Aaron Boone Game," so his attention is undivided. In contrast, the English football season runs from August to May, with the schoolyear running from September to June, and so Paul and Sarah meet while Paul is somewhat distracted by football.
This manifests itself in the U.S. version when, after dating all fall and winter, spring comes, and baseball season starts, and, while she goes along with it at first, she comes to resent Ben's Sox fixation, drawing a contrast between "Winter Guy" and "Summer Guy."
*
U.K.:
Like Paul, Sarah is seen with 1 friend. Holly Aird plays Jo. We don't know what Jo does for a living, although the first time Sarah invites Paul in, she says Jo is away, which could be a business trip. She also says that the apartment is Jo's, suggesting that she, unlike a teacher, makes enough money to pay for an apartment that is considerably nicer than Paul's.
Jo is acerbic. With a weird mixture of cynicism and delight, she can tell, before either Sarah or Paul can, where the relationship is going: Her first line in the movie is, "I've seen this film: You end up shagging on the carpet." When Sarah later says, "I owe you a new carpet -- well, at least, a new spare bed," Jo cheers and says, "I knew it! I knew it!" But she also misjudges Paul: At various times, she calls him "a yob," "the football hooligan" and "a sad and lonely bastard."
Single herself, Jo once dated a cricket player, so, clearly, she's not totally turned off by sports. But she doesn't know much about football. When Sarah mentions that she recognizes Rocastle on TV, and says, "Certain things sink in after a while," Jo asks, "What else has sunk in? Do you know who their best goal-hanger is, and where they are in the championship cup, and all that?"
Later, when the League title comes down to the final game between Arsenal and Liverpool, she says, "Now, I've heard of Liverpool. They're famous for being good, aren't they?" She gets that right (certainly, it was true all through the 1970s and 1980s), but then gets the names wrong: "Gary Lineker, Peter Shilton, all that lot?" She has Liverpool Football Club confused with the England national team. Shilton, a goalie who still holds the record for most games played for the national side, played most of his career for Nottingham Forest, which dueled with Liverpool for honors in the late 1970s and early 1980s. Lineker, a striker, probably best remembered for his time at Arsenal's arch-rivals Tottenham, at least played
in
Liverpool, but for the city's "other club," Everton.
U.S.:
Like Ben, Lindsey is seen with 3 friends. KaDee Strickland, later (as was JoBeth Williams) part of the cast of ABC's
Private Practice
, plays Robin. Ione Skye, daughter of 1960s British singer Donovan and sister of actor Donovan Leitch, and best known in America for
Say Anything...
, plays Molly. Marissa Jaret Winokur, star of the 2002 Broadway musical version of
Hairspray
(but not the 2007 film remake), plays Sarah.
Molly and Sarah are, from the first time they meet Ben, considerably more supportive of Lindsey & Ben's relationship. This is matched by the few scenes we see of their husbands. Unlike Jo, Lindsey's 3 friends are already married, though none has children yet. (Toward the end of the film, Molly reveals that she's pregnant.) Molly's and Sarah's husbands seem like nice guys, but Robin's husband Chris is an all-around jerk, actually offering to let Ben sleep with Robin in exchange for his season tickets.
We don't know what any of these women do for a living, but all 3 (especially Robin) seem to be doing very well. When Robin mentions that Ben is 30 years old and available, and suggests that there has to be a reason for this (which we, unlike they, already know to be his Sox mania), Sarah gives a hint as to her work, saying, "My company can do a credit check on him."
Molly figures out why Robin is not supportive: Whereas Molly and Sarah are much more secure in their personal and professional lives, Robin and Lindsey have always been very competitive, especially with each other. Early in their work lives, Robin had the upper hand, but Lindsey has since surpassed her. Unlike Lindsey, Robin has "the personal success, the marriage." So Robin, in her own mind, is "winning." But if Lindsey marries Ben, then, Molly reasons, between making more money and being tied on the marriage issue, Lindsey will be the winner, and Robin will be the loser, and she doesn't want to be the loser. Robin responds to Molly's theory by punching her out.
U.K.:
Jo warns Sarah about getting too deeply involved with Paul, citing her relationship with the cricketer: "Soon after Tim and I split up, I woke up one morning, and realized that I could remember his batting average from the previous season." (While in baseball, a batting average is hits divided by at-bats, in cricket, it's the total number of runs a player has scored divided by the number of times he has been out -- roughly comparable, though hardly equivalent, to a baseball player's slugging percentage.)
When Sarah protests that this remembrance "seems harmless enough," Jo says, "No! It's all a sinister form of male manipulation... You get colonized! Your native culture gets driven out, and replaced by stuff you don't like, and don't even want to know about. Men are like bloody missionaries: They bore you stupid until you cave in, and then they fuck off!" But, in the end, even Jo gets wrapped up in Arsenal's achievement.
U.S.: Robin assumes the Jo role, constantly warning Lindsey that Ben may not be the right guy. After staying out late at Fenway with Ben caused Lindsey to literally get caught sleeping on the job by her boss the next morning, Robin points out that the relationship is affecting her work. "You know what's happening here?" she says. "You're being colonized. You know, like in the old days, when the French and the English would go into Asia and Africa. They'd raise their flag, they'd impose their culture, and they'd colonize."
*
U.K.:
Paul says, "It's not easy to become a football fan. It takes years. But if you put in the hours, you're welcomed, without question, into a new family. Except, in this family, you all love the same people, and hope for the same things. What's childish about that?"
U.S.:
Ben tells Lindsey, "I like being part of something that's bigger than me -- than I. It's good for your soul to invest in something you can't control." And Lindsey tells Ben, "You're a romantic. You have a lyrical soul. You can love under the best and worst conditions."
He calls the fans in the seats around him "my summer family." He says, "This is a real family. The Red Sox don't get divorced." Except he's already contradicted that, by pointing out that Viv and Artie Belknap have been divorced for 20 years, but still go to the games together because neither one wants to give up their ticket. (What Ben didn't say is that the Red Sox and many of their players, including some club legends, have gone through "messy divorces." Just among players on their 2004 roster, this included Nomar Garciaparra in mid-season and, eventually, Manny Ramirez.)
U.K.:
In April 1989, Sarah mentions to Paul that they've been together for months now, and have never gone away together, and that she wants to. He doesn't want to, because it would mean going on the weekend, and he doesn't want to miss an Arsenal match -- for which, to be fair, he, as a season-ticket holder, has already paid.
U.S.:
In the winter of 2003-04, considerably earlier in the relationship than with Paul and Sarah, but before Ben has made the extent of his Sox mania known to Lindsey, they go away together, to Niagara Falls. It was chosen because it's not far from Toronto, where they did a lot of filming. In editing, this scene was moved up by a few months: Originally, it was part of a roadtrip the Sox made to play the Toronto Blue Jays, and a scene was filmed at the SkyDome (since renamed the Rogers Centre.
*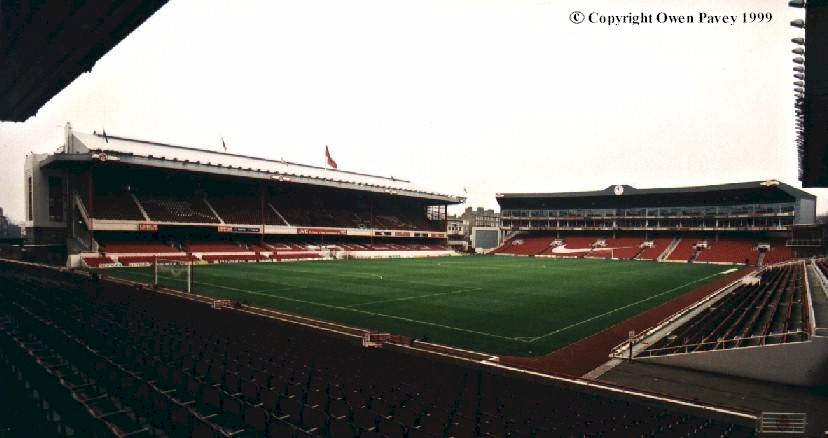 Highbury, as it appeared from 1993, after its conversion to all-seater,
until its 2006 closing. This photo was taken from the corner of the North Bank,
the side of the stadium from which Paul preferred to watch.
U.K.:
Sarah doesn't go to a match with Paul until April 15, 1989, the 33rd game of the 38-game League season. This is 6 months into their relationship. But the only real friend who's with them, on Highbury's North Bank standing terrace, is Steve. Arsenal beat Newcastle United 1-0, on a 2nd-half goal by Brian Marwood. But that's not the big story of the day.
U.S.:
Late in the winter -- about 5 months into their relationship, but there's been no games that count for the Red Sox in the interim -- after his season tickets arrive by mail, Ben gets down on one knee, and holds up the kind of jewelry case that suggests an engagement ring. Hey, this is a huge commitment for him. He opens the case, and reveals a ticket inside. He's inviting her to come to Opening Day with him. Although she clearly loves him, Lindsey seems a little relieved that he's not actually proposing marriage, and she says yes.
When they get to their seats, right behind the Red Sox dugout on the 1st-base line, Ben introduces Lindsey to the friends he calls "my summer family." Opening Day is shown to be a day game against the Dallas-based Texas Rangers. (In real life, the Sox' 2004 home opener was a 10-5 loss to Toronto.)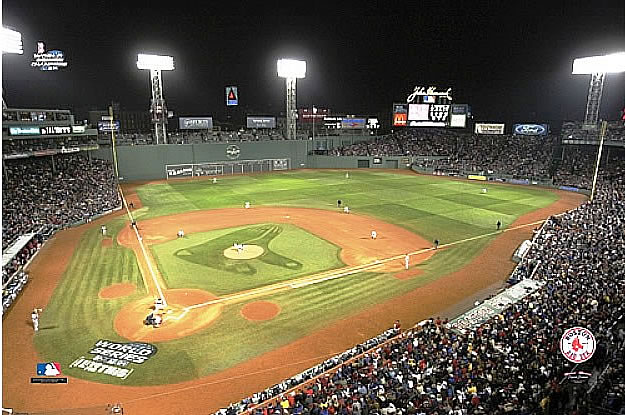 Fenway, during the 2004 World Series.
U.K.:
At halftime of the Arsenal-Newcastle match, Paul learns that something has happened at another game, the FA Cup Semifinal match between Liverpool and Nottingham Forest, played at the neutral site of Hillsborough Stadium in Sheffield, home of Sheffield Wednesday. All he knows at the time is what Steve tells him: "There's a bloke over there with a radio, reckons there's people hurt." In the book, Hornby mentions that snippets of what happened got around the North Bank, and by the time the game they were watching was over, they already knew there'd been deaths.
When Paul and Sarah get home, they see on TV just how bad it was: Due to a mistake in opening the wrong gate, people rushed in, and hundreds were crushed against the wire fencing that surrounded the field, used to prevent people from running onto the pitch. (The Arsenal board had refused to put up perimeter fencing at Highbury, and, as a result, lost the right to host FA Cup Semifinals.) Hundreds were hurt, and, as Paul and Sarah watch, they hear that 74 people are confirmed dead. The death toll would eventually reach 96, including 1 who was in a coma for 4 years before finally succumbing. (Hence, in the book, Hornby says 95.)
What became known as The Hillsborough Disaster was a turning point in English soccer: Standing-room areas were replaced by all-seater sections, which reduced seating capacity, which forced some teams (including Liverpool) to tear down those sections of the stadium and build new ones, while others (including Arsenal), realizing that their stadiums were now antiquated, to build entirely new ones. (Some, including London clubs Tottenham and Chelsea, rebuilt their stadiums one stand at a time, over 4 years, so as not to be forced out of their homes for a season or two.) Indeed, up until the early 1990s, as the Taylor Report, commissioned after the disaster, was released, Boston's Fenway Park and Detroit's Tiger Stadium were baseball's oldest active parks, opening on the same day in 1912, but most English soccer stadiums were older than that, many dating to the 1880s. Now, nearly every stadium in the Premier League is a construction, or a piece-by-piece reconstruction, of a stadium done in the 1990s and 2000s.
Closed-circuit TV cameras also began to cut down on violence, inside and out. It also helped that most of the original hooligans had gotten older, and grown out of their tendencies; while hooliganism hasn't completely gone away, it is significantly reduced, so that the areas in and around stadiums, underground (subway) stations, and intercity rail stations are no longer "no-go zones" on matchdays. Paul was wrong when said, "This doesn't change anything": So much had changed.
And yet, there are many who still long for the old days: In spite of all the improvements, some people miss the pre-Premier League times of lower ticket prices, stadiums (however inadequate for modern times) with character, and -- xenophobically -- mostly-British teams, without the influence of foreign ownership, where "a foreign player" was a Scotsman, a Welshman or an Irishman.
U.S.:
There is no analogous disaster -- indeed, not since the 1920s has there been a fatal stadium accident in North American sports. But, in July, Lindsey is struck by a foul ball, and sustains a concussion. The game is at Fenway, against Lindsey's hometown team, the Orioles. Submarine-style lefthander Mike Myers pitched to Oriole shortstop Miguel Tejada. But when the replay is shown on Fox Sports later, it's Tejada batting against a different pitcher. The Sox won.
In real life, the Sox and Orioles did play each other at Fenway in July, a game on the 21st and a day-night doubleheader on the 22nd. The nightcap on the 22nd is the only one of those games that the Sox won, and, while the scene was clearly filmed on that night, Myers did not pitch in that game: He wasn't acquired by the Sox until August 6.
Come to think of it, why was Lindsey wearing a jacket in July? I mean, I know New England weather can be difficult to predict -- Mark Twain, who lived the last few years of his life in Hartford, Connecticut, famously said, "In New England, if you don't like the weather, wait a minute" -- but a July night in Boston, cool enough to wear a jacket?
*
U.K.:
After the Newcastle match, and the news of the Hillsborough Disaster, Paul finds out that Sarah is pregnant -- and ambivalent about it. She doesn't know if she's going to keep the baby, and she isn't particularly keen on marrying Paul. Paul, however, thinks it's "brilliant" -- a word the British use for "super" or "wonderful." He now realizes that a promotion he'd been offered would be a great idea, due to the raise he'd get. He says they'll get a house together, big enough for a family of 3. Sarah thinks he's gone mad, and, foreshadowing Lindsey's "man-boy" remark, says, "My God, I'm impregnated by a 12-year-old!"
U.S.:
In early September, Lindsey thinks she might be pregnant. This leads to an argument over where their relationship is going. Ben buys a Red Sox onesie for the baby, who he initially calls "the player to be named later," only to hear from Lindsey a few days later that she's not pregnant.
*
U.K.:
From Paul's soliloquy, after his row with Sarah after seeing the news report about the Hillsborough Disaster:
Football has meant too much to me, and has come to represent too many things. See, after a while, it all gets mixed up in your head. You can't remember whether life's shit because Arsenal's shit, or if it's the other way around.
I've been to watch far too many games, and spent far too much money, fretted about Arsenal when I should have been fretting about something else. I've asked too much of the people I love.
Okay, I accept all that. Perhaps it's something you can't understand, unless you belong...
The great thing is, it comes again and again. There's always another season. You lose the Cup Final in May? Well, there's the 3rd Round to look forward to in January. And what's wrong with that? It's actually pretty comforting, if you think about it.
U.S.:
Ben, after Troy sees that the Yankees have clinched the American League Eastern Division title again, and asks, "Why do we inflict this upon ourselves?"
Why? I'll tell you why: Because the Red Sox never let you down. That's right. I mean, why, because they haven't won a World Series in a century or so? So what? They're here. Every April, they're here. At 1:05 or 7:05, there is a game. And if it gets rained out, guess what: They make it up to you! Does anyone else in your life do that? The Red Sox don't get divorced. This is a real family! This is the family that's here for you!
*
U.K.:
Paul misses a game to go house-hunting with Sarah. The house he selects? It's just down the block from his current flat: Instead of down the block from the stadium, it's the first house on Conewood Street, across Avenell Road from the stadium! "Can't afford anywhere else," he says. Sarah, invoking Arsenal's North London postal code: "N5's not the only place in the world, you know!" Paul: "Come on, Sarah, you know that's not true."
The Art Deco East Stand entrance, built in 1936, the only part of the stadium
that
remained standing after the land's conversion to the Highbury Square flats.
The game is an away game, though, at Middlesbrough, 250 miles from North London, up in the North-East of England, and "The Boro" aren't exactly rivals, certainly not on the level of Tottenham, or Chelsea, or Manchester United, or the team with whom Arsenal are battling for the title, Liverpool. So it's not like Paul was making a great sacrifice. Still, by selecting this house, he's showing that his Arsenal fandom is at least as high in his mind as his potential wife and child, meaning he hasn't made
that
much progress in the 7 months he's been dating Sarah. (In all fairness, as Paul points out, the house is also close to both work and a tube station.)
Paul and Sarah walk out of the house, which Sarah has rejected, just in time for Paul to turn on the radio, and, not listening to Sarah's suggestion of alternative places to live, hear the announcement that Martin Hayes has scored, producing what turns out to be a final score of, as the author of
Arseblog
puts it, "that most classic of scorelines: One-nil to The Arsenal."
After suggesting Creighton Avenue as a potential place to live, Sarah had been going further and further north with her suggestions: Bounds Green (in London), Watford (not far outside it, and with tube access), and Darlington, which is a short distance due west of Middlesbrough (and is Ruth Gemmell's real-life hometown). After Paul's reaction to Hayes' goal, she says, dripping with sarcasm, "Helsinki! Helsinki United are very good this season!"
Helsinki, the capital of Finland, is 1,500 miles from London, and as far north as Scotland's Shetland Islands, the northernmost point in the United Kingdom. The most successful soccer team in Finland is Helsingin Jalkapalloklubi (translated into English as "Helsinki Football Club"), usually referred to as "HJK Helsinki," and, while they won their league the previous year and would the next year (and, at this writing, have won it 6 straight seasons), they did not win it in 1989.
U.S.:
In order to make it up to Lindsey after their pregnancy-close-call fight, Ben agrees to go to a 1920s-themed party that Robin's husband is throwing for her birthday -- instead of the Sox' game that night, against the arch-rival Yankees. It's the first Sox home game he's missed in 11 years.
They have a great time, but, when they leave the hotel where the party is at, they find the parking-valet service has a radio tuned to the game, and the Yankees are smacking the Sox, 7-0. And Ben says the words he's been given many times by people who can't accept his fandom, but never expected to say himself: "It's only a game." They get back to Lindsey's apartment, and make love, and Ben calls it, "the best night of my life" -- even though he thinks the Red Sox have been pounded by the team he hates the most.
Lindsey gets hungry, and decides to get up and make a Spanish omelet. As she does, the phone rings. It's Troy, who Ben gave his tickets for the night, and Troy says that, in the bottom of the 9th, the Sox strung together 10 straight hits, and beat the Yankees 8-7: "The one game you missed? You missed
the greatest game everrrrrrrr
!" (Such a result did not actually happen in 2004.)
U.K.:
In the week following the open house next to Highbury, Paul interviews for the job, and, as he admits, "It didn't go brilliantly, did it?" He finds out the following Saturday that another teacher got the promotion. And then he and Steve go to see Arsenal lose 2-1 to Derby County, putting their title bid in jeopardy. Paul says, "This is the worst day of my life."
Sarah comes over afterwards, having heard that he didn't get the job. She tries to comfort him -- but he thinks it's about the game, and when she realizes that, they get into a hell of a to-do.
She tells him, "It's only a game." He yells: "Don't say that! That is the worst, most stupid thing anybody could ever say!" He points out that he's wanted Arsenal to win the League for "Eighteen
fucking
years!" And he asks, "Do you remember what
you
wanted 18 years ago? Or 10? Or 5? Was it to be head of year at North London Comprehensive? I doubt it."
Sarah says that she was a kid 18 years ago, and that if her priorities hadn't changed, something would have gone seriously wrong. As opposed to 18 years ago, "I don't want to marry David Cassidy!"
At least, in Paul's case, he
had
seen Arsenal win the title once; while Ben had seen the Red Sox "win the league" in 1986, they hadn't won the World Series since 1918 -- 86 years.
Then again, that might be the equivalent of Arsenal winning the UEFA Champions League, or the European Cup as it would have been known in 1989. They have never won that. Up until 1998, a team could only get into the tournament by being the champion of its national league the season before. Since the tournament only began in the 1955-56 season, and Arsenal only won the League once between 1953 and 1989, they had only been in it once: In 1971-72, they got to the Quarterfinals, before losing to the mighty Netherlands side Ajax Amsterdam, led by Johan Cruyff. Arsenal wouldn't play in the 1989-90 version, either, because of the 5-year ban from European play placed on all English clubs after the Heysel disaster. Arsenal's next participation was in the 1991-92 season, and they got knocked out in the second round by Benfica, the legendary team from Lisbon, Portugal. The closest they've come is in 2006, when they led the Final over Barcelona 1-0 in he second half, but lost, 2-1.
Sarah tells him that they've been pretending that the relationship is going to work out, and that it won't. She leaves him.
U.S.:
When Ben gets the call from Troy about the Sox' 8-run comeback, he tells Lindsey that the night is a disaster. He feels like he's being punished for putting her wishes ahead of the team. Lindsey says, "Earlier, you said it was only a game." He doesn't yell like Paul does, but his contradiction is just as harsh, and nearly word-for-word: "Twenty-three years, I've been going. Twenty-three years! Do you remember what
you
wanted 23 years ago? How about 10? How about 5?"
Lindsey says, "Twenty-three years ago, I was 7, and I wanted to marry Scott Baio, and if I still wanted to marry Scott Baio, I'd think there was something seriously wrong with me." She kicks him out: "You broke my heart," Ben.
U.K.:
After Sarah leaves, Paul is sitting at home, watching a sitcom, with the remains of a pizza dinner at his side. His mother calls, and he does his best to cover up what happened.
U.S.:
A few days after getting dumped, Ben goes to Fenway with Troy, and gives his little speech about how the Sox are "a real family." And says he's strong enough to take the Sox yet again finishing 2nd to the Yankees, "Because I am bulletproof!"
And yet, the scene shifts to Ben, sitting at home, with the remains of a chicken-wings dinner at his side, watching his videotape of Game 6 of the 1986 World Series, repeatedly rewinding and replaying the Bill Buckner error that allowed the Mets' winning run to score, wallowing in his own misery.
U.K.:
Arsenal's home game against Derby was supposed to be the season finale, but the Hillsborough tragedy pushed the schedule back. They can only work a draw to South London club Wimbledon in their new home finale. So, the way it works out, the only way Arsenal can win the League is to win the season finale, on May 26, 1989, away to Liverpool -- where they hadn't won in 15 years -- by 2 goals. Winning by 1 goal won't be enough, as they will be tied with Liverpool on overall points, and the 1st tiebreaker, goal difference, will still favor Liverpool.
Paul and Sarah discuss it after school, but they make no effort to reconcile.
U.S.:
The Red Sox do make the American League Playoffs as the Wild Card (only 1 Wild Card per League at the time), and sweep the Los Angeles Angels of Anaheim to advance to the AL Championship Series against, of course, the Yankees. And the Yankees win the 1st 3 games, including a 19-8 pounding in Game 3 at Fenway.
After the game, Ben and his friends see 3 Sox players drinking at the same bar: Captain and catcher Jason Varitek, center fielder Johnny Damon and right fielder Trot Nixon (who play themselves in the film). Troy, Kevin and Gerard are furious that these guys are just casually drinking after one of the most humiliating defeats in franchise history. But Ben realizes that, even for seasoned professionals, the game isn't everything. He decides to try to reconcile with Lindsey.
But Lindsey isn't having it: She thinks that the only reason Ben is making an effort to get her back is that the Sox have their backs to the wall, and the season is about to end: "This is Winter Guy talking. I already know I like Winter Guy. It's Summer Guy that broke my heart." Ben walks away in tears, knowing he's lost her, seemingly forever.
*
U.K.:
Sarah is invited to an end-of-schoolyear party by one of her students, and, as Paul did earlier, she compares Sarah to manager Graham: Although she can be hard on her students, under her leadership, they learned, and they excelled. By this point, she's checked the TV, and has seen Arsenal go up 1-0 on a goal by Smith. She finally begins to get what everyone else sees in the club, and heads for Paul's flat.
Which is where Paul and Steve are watching the game, and, while Steve is still optimistic with the game 0-0 at halftime, Paul is convinced that it's hopeless:
Paul: "You're living in cloud cuckoo land! Join the real world!"
Steve: "In the real world, it's 0-0 at halftime!"
Paul: "Might as well be 8-0."
Steve: "Jesus, Paul, you need medical help! You've got some kind of disease that turns people into miserable bastards!
With the game headed for stoppage time, Sarah rings the doorbell. Not knowing who it is, Paul, convinced that this is the worst 1-0 win in the history of sports, opens the window and curses out his as-yet-unidentified visitor.
Then Michael Thomas scores the epochal goal that wins the League in the last minute of the last game of the season, and everyone goes nuts: Paul, Steve, Paul's mother, Robert Parker and his mother, even Jo manages a fist-pump and a "Yes, yes, yes!" When the whistle blows, the necessary 2-0 win in the books, everyone comes out of their houses, and Sarah gets swept up into a massive party in the streets. (A notable error: The game, played on a rare Friday night for British soccer, kicked off at 8:05 PM for TV coverage, thus was played entirely at night, but the film's postgame celebration begins while it's still daylight.)
Sarah sees Paul, and tells the taxi driver who took her in that she's never seen him so happy. Paul sees her, walks over to her, and kisses her as if nothing had ever gone wrong.
U.S.:
On October 17, 2004, Lindsey gets her promotion, but finds out from Robin that her husband Chris is with Ben at Game 4 of the ALCS, and that Ben is selling his Red Sox season tickets to him for $125,000 -- $25,000 more than a price Ben has once rejected, and also the price for which the great Babe Ruth was famously sold from the Red Sox to the Yankees in the 1919-20 off-season.
Ben's "summer family" begs him not to do it, but, like Paul had all through the Anfield Finale, he's given up on the Red Sox: "If I keep these tickets, all I'm going to be reminded of is what I lost for them."
Lindsey realizes that the Red Sox are to Ben what her job is to her: "It's the only place where I feel like I know what I'm doing. It's... safe. Oh my God." She leaves the celebration. She manages to get into Fenway (it costs her $600), and when she borrows binoculars and sees Ben about to sign the ownership transfer papers, she jumps onto the field, runs across it, hides behind Johnny Damon and grabs his butt, eludes security guards, and gets to Ben's seat, and tells him, "If you love me enough to give up your seats, I love you enough to not let you!" And she tears the papers up. (Then she goes to jail, where, presumably, Ben bails her out.)
That final scene is ripe with errors. First, the broadcast would not have shown her on TV: The networks do not show people running onto the field, to discourage others from doing it. The security guards would never have let her reach the infield stands, let alone stand and talk to Ben. Finally, the Green Monster scoreboard clearly depicts a game against Tampa Bay, in the top of the 5th inning, rather than a Playoff game; the only other game played that day was Game 4 of the National League Championship Series.
U.K.:
Since the film was made in 1996, by which point manager Graham and many of the players from the 1989 side had left The Arsenal, Hornby and the producers knew how the movie would end. So if you were a British citizen, watching the film as it was released in April 1997, you knew that Arsenal would win.
U.S.:
Since the film was made in the summer of 2004, when it was still believed that there was no way in hell the Red Sox could win the World Series (due to the supposed "
Curse of the Bambino
," the result of the Red Sox' sale of Ruth to the Yankees), it was generally assumed by the Farrelly Brothers and the writers that, although they could make Ben and Lindsey get back together, the movie's ending wouldn't be happy for the team.
(In the 1961-62 season, after becoming the first team in the 20th Century to "do The Double," Arsenal's arch-rivals, Tottenham Hotspur, signed star forward Jimmy Greaves. While he helped them win 2 FA Cups and a European Cup Winners' Cup, "Spurs" haven't won he League since. But nobody in England talks about a "Curse of Greavsie." In 1991, Spurs won the FA Cup, beating East Midlands club Nottingham Forest, but star midfielder Paul Gascoigne, trying to make a dirty tackle, broke his own leg instead. Spurs had already agreed to sell him to Rome-based club Lazio. The deal didn't work out for either club, and Spurs haven't won anything since, except for 2 League Cups. But nobody in England talks about a "Curse of Gazza.")
But as filming was wrapping up, and the Red Sox clinched the Wild Card berth in the American League Playoffs, somebody asked, "What if the Red Sox
do
win the World Series?" The Farrellys called the MLB offices, and made arrangements to allow them to film Fallon and Barrymore on the field in the moments after the Sox clinched.
So it was written into the film that Al Waterman's narration states that, right after Lindsey tore up the transfer papers, the Sox made their 9th inning comeback, won Games 4 and 5 in extra innings at Fenway, Curt Schilling won Game 6 at Yankee Stadium pitching with a sutured ankle and a bloody sock, the Sox clobbered the Yankees in Game 7 to win the Pennant, and then swept the St. Louis Cardinals in 4 straight. On October 27, 2004, The Red Sox beat the Cards in Game 4, clinching their 1st World Championship in 86 years, and Fallon and Barrymore were on the field, in character.
Al all but credits Lindsey taking Ben back with being the reason the Sox turned it around. At the time, who knew that the real reason was that the Sox were full of steroid cheaters? Well, the Sox themselves knew it.
*
U.K.:
When Paul finds out Sarah is pregnant, he suggests Liam as a name, if it's a boy. It's a good name, he says, but also says, "It's only the name of the greatest Arsenal player ever." Sarah doesn't give voice to an opinion on the name -- or on whether Liam Brady is the greatest Arsenal player ever.
The story ends on the night of the Anfield Finale. It certainly appears that Paul and Sarah have reconciled, and that they are destined to get married and have the baby. Presumably, Liam Ashworth -- if, that is, the child was a boy -- would have been born near the end of calendar year 1989, and would now be 25 years old. Paul and Sarah would be in the latter half of their 50s, and possibly still teaching, assuming that neither one of them became rich and famous, such as through Paul completing his analogue to Hornby and writing a memoir of his football fandom.
Would Paul have pushed Liam into supporting Arsenal? Almost certainly. Would Liam have become a good player? If so, he would have inherited his athletic genes from his jogging mother, not his soccer-coaching father.
U.S.:
At the end of the film, no mention is made of a wedding, but Al narrates that, now, Lindsey actually is pregnant, and has apparently accepted Ben's wish to name the child after one of the Red Sox' 2 greatest legends: "You know that little 'player to be named later'? Ben says, if it's a boy, they'll name him Ted Williams Wrightman. If it's a girl, Carla Yastrzemski Wrightman. Let's all pray for a boy!"
Ben and Lindsey would now be 41 years old, and little Ted/Carla would be 9, turning 10 in Summer 2015. Oh boy, that means Ben would have had to miss Sox games to be with Lindsey -- even if the baby was born during a roadtrip or the All-Star Break, he missed some home games for the first month or so!
*
My verdict on the U.K. version:
Putting aside my bias (I love The Arsenal)...
I have never seen a movie that does a better job of explaining what it's like to be a fan of a sports team -- in any sport, in any country. It captures both the agony and the ecstasy. But it also shows us that Bill Shankly, the Liverpool manager of the 1960s and the early '70s, was wrong: Neither football/soccer nor any other sport is more important than life and death. Nick/Paul was right: "I have my own life now, and my own successes and failures aren't necessarily tied up with theirs. And that's got to be a good thing... I suppose."
I do have 3 flaws I wish to cite. I wish there had been more game footage, and more shots of the interior of Highbury, and of London itself. Really, this story could have been rewritten for any number of teams: Liverpool the same year (they did rebound from the Hillsborough Disaster to win the FA Cup, after all); Liverpool in the season after the Heysel Disaster, 1985-86 (when they won what remains their only Double); Brian Clough's teams, either Derby County in 1972 or Nottingham Forest in 1978; Aston Villa of 1981, when they won their 1st title in 71 years; Everton of 1985, when they won the League and the European Cup Winners' Cup, only to be denied the chance to play in the 1985-86 European Cup due to the Heysel ban, which had nothing to do with them; or even the Blackburn Rovers season of 1994-95, not long before filming started, in which they won the League for the 1st time in 83 years, and did so in dramatic fashion.
Another flaw is that I wish they had shown more of younger Paul, including how he and Steve met. I'd like to think they met at Wembley during the 1979 FA Cup Final, in which Arsenal threw away a late 2-0 lead against Manchester United, only to win it anyway, 3-2. And Sarah's transition to being furious with Paul to returning to him -- especially after his window tirade -- seems a bit forced.
But, overall, the film is a good balance of comedy and drama, the acting is good, and the story is a classic. On a scale of 0 to 10, 0 being a typical Tottenham run-in, and 10 being the Michael Thomas goal, I give it an 8.
My verdict on the U.S. version:
Putting aside my bias (I love the Yankees and hate the Red Sox)...
The acting is good, and it never feels like anybody's performance is forced. Lindsey's transition from resenting Ben to coming back to him feels much more real than Sarah's with Paul. Since this film is much more of a comedy (the Farrelly Brothers' specialty), the shift to drama after the Sox comeback (the 7-0 one, not the 3-0 one) feels strong, and the turnaround at the end much more real. While Sarah is only angry at Paul, Lindsey expresses both anger and sadness at Ben, which gives her turn back to him a bit more punch. And the shots of Boston, and Fenway in particular, are fantastic.
That said, the Farrellys specialize in silly movies, including in gross-out humor, and this film has a high silliness quotient. Which would be fine, if they were making a spoof film like
Airplane!
or one of Mel Brooks' comedies. A parody of sports-underdog films really hasn't been made (spoofs of pretty much every other genre have), and this was never intended to be one.
But the silliness is a bit excessive. "Yankee Dancing." Robin punching Molly. "Hey, ump, get off your knees, you're blowing the game!" Ben putting the moves on a concussed Lindsey. The scene with Lindsey trying to hide her looking for her shoe from The Third Wilson Brother. Ben complaining (and exaggerating) about Lindsey's criticisms while coaching the JV baseball team. Chris' birthday poem for Robin. Although, I have to admit, Sarah's "Then why don't you dress better?" line to Robin is a classic.
The Farrellys weren't trying to remake the U.K. version, and they weren't trying to make a great film. They were trying to make a fun movie, and they succeeded. Although, as a Yankee Fan, I consider this to be a horror film. But, you know, Red Sox fans seem to hate it, because it makes them look like a bunch of childish nitwits. As Bill Murray would say, "So I got that going for me, which is nice." (But then, as a Cub fan, Murray could have made a movie like this.) On a scale of 0 to 10, 0 being Game 7 of the 2004 ALCS, and 10 being Game 7 of the 2003 ALCS, I give it a 7. Good, but not as good as the U.K. version.
Would I recommend the U.K. version to U.S. viewers? Absolutely. You'll agree with me that there's never been a better expression of what being a fan is like.
Would I recommend the U.S. version to U.K. viewers? No. While you don't have to know much about baseball to enjoy it, it's not really about being a fan. It's about being a fan of a particular team. One that British viewers are unlikely to care about. Especially now that the Fenway Sports Group also owns Liverpool Football Club, and, pretty much anybody who doesn't love Liverpool hates them.
But then, that's also true of Arsenal. And the Red Sox. And the Yankees.