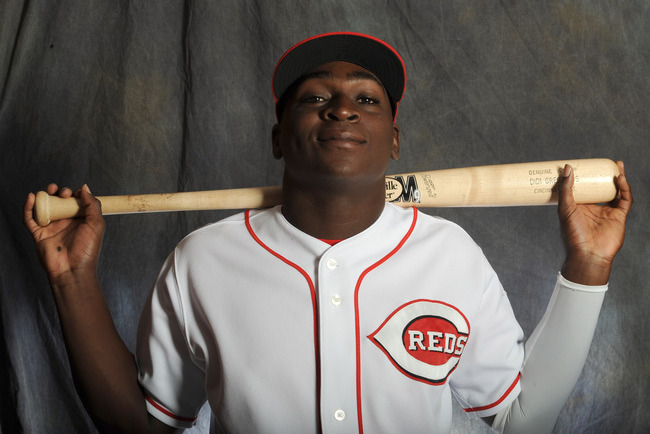 According to Andrew Marchand of ESPN New York:
The Yankees on Friday announced that they have acquired Gregorius from the Diamondbacks in a three-team trade that also involves the Tigers. Right-handed pitcher
Shane Greene
was traded from the Yankees to Detroit, while Arizona received left-handed pitcher
Robbie Ray
and minor league infielder Domingo Leyba from the Tigers.
Gregorius hit .226 with six homers and 27 RBIs in 80 games with the Diamondbacks in 2014. Greene was 5-4 with a 3.78 ERA as a rookie last season.
The Yankees would have Gregorius and
Brendan Ryan
as shortstops on their roster.
Gregorius, who is from the Netherlands, is known as a good defender, but there are questions if he will be able to hit consistently enough in the big leagues. In 191 games, he is a .243 career hitter.
Those are the basics. I've already seen people rave about this new shortstop. Given that starting pitching, if healthy, is actually a strength for the Yankees, I'm not going to miss Greene much.
But who is our new acquisition?
*
Mariekson Julius Gregorius was born on February 18, 1990 -- which will make him 25 years old next Opening Day -- in Amsterdam, the capital city of the Kingdom of the Netherlands. (Note: Contrary to popular misconception, "Holland" is not interchangeable with "the Netherlands." Holland is only part of the country, just as England is only part of Great Britain.)
The Kingdom of the Netherlands includes territories in the Caribbean, including "the Country of Curaçao," which has a population of about 150,000. This is where Gregorius' parents are from, and where he maintains his residence, probably due to its proximity to North America. Although it is a very mixed society in terms of ethnicities, the overwhelming majority of residents, including the Gregorius family, identifies as "black." I mention this only for descriptive purposes, not to make a judgment, positive or negative.
Notable natives of Curaçao include former Yankees Andruw Jones and Hensley "Bam Bam" Meulens, Randall Simon, and Jurickson Profar, who played on their team that won the 2004 Little League World Series. They also include Gregory van der Wiel, a star player at soccer team Paris Saint-Germain. Curaçaoans play for the Netherlands in international competitions, including the Olympic Games, the World Cup soccer tournament, and the World Baseball Classic -- and, in the latter, the Dutch team relies heavily on their Caribbean players due to their ability to play in all seasons due to the climate.
Gregorius -- I can't find any reference to where the nickname "Didi" came from, but it clearly didn't come from "Mariekson," "Julius" or "Gregorius" -- is listed as being 6-foot-2 and 205 pounds, so he's in the modern "big shortstop" mode of Derek Jeter, Alex Rodriguez, Nomar Garciaparra, and the pioneers of this role, Cal Ripken and Robin Yount.
He was signed by the Cincinnati Reds in 2007, and made his major league debut with him on September 5, 2012, at Great American Ballpark in Cincinnati. Batting 8th, playing shortstop, and wearing Number 25, he went 0-for-4, as Roy Halladay pitched very well for the Philadelphia Phillies, who beat the Reds, 6-2.
The Reds traded him to the Arizona Diamondbacks after the 2012 season, and he spent 2013 and 2014 with the Phoenix club, as their main shortstop. He wore Number 1 there, but that number is retired by the Yankees for Billy Martin; and 25 is worn by Mark Teixeira. So he'll need a new number as a Yankee.
He hit decently in 2013, but missed the 1st 2 months of the 2014 season due to injury, and never really got untracked with the bat. He's a lefthanded hitter, so Yankee Stadium should help him, but he hasn't shown much power. Granted, Chase Field is a pitcher's park, so it's not clear how much power he really has. So his hitting is a question mark.
He's a solid fielder, though, and versatile: In what amounts to 2 full seasons in the majors, he's played 173 games at shortstop, 11 at 2nd base and 2 at 3rd base.
I can't find much about his personal interests, although
he appears to be something of an artist
, and showed some respect for Jeter in a sketch he made public.
I can find no information as to whether he's married or has children. However, I also can't find any information about him being a disciplinary problem. Apparently, the reason the D-backs made the trade has nothing to do with him, and everything to do with needing pitching, as Greene had a good (though hardly great) rookie season for the Yankees and, at age 26, won't be a kid in their rotation.
So this sounds like a trade the Yankees could afford to make. Perhaps the line to use on Gregorius is the one Joe Torre used when Scott Brosius became the new 3rd baseman in 1998: Just field your position well, and I won't care if you hit .200. Which is about what Brosius hit the season before in Oakland. But he hit .300 for the Yanks, had nearly 20 homers and 100 RBIs, fielded like a genius, and was the MVP of the World Series.
Now, no one's expecting Didi to do anything like that in his first season in Pinstripes. But if he fields well, and hits, say, .250, and drives in 40 to 60 runs from the 8th or 9th spot in the order, I would take that, and I think Joe Girardi would take that, too.
Two things are certain: The New York-area tabloids are going to love his nice, short nickname, and we're going to see "DIDI" in headlines, especially on the back page; and Yankee broadcaster John Sterling is going to come up with someone catchy. It might be based on his nickname: "Didi-licious!" Or it might be based on his last name: "Gorgeous Gregorius!"
At the very least, he looks like an interesting player, and a better one than the man who looked until today like he'd be the Yankees' starting shortstop in 2015, Brendan Ryan.