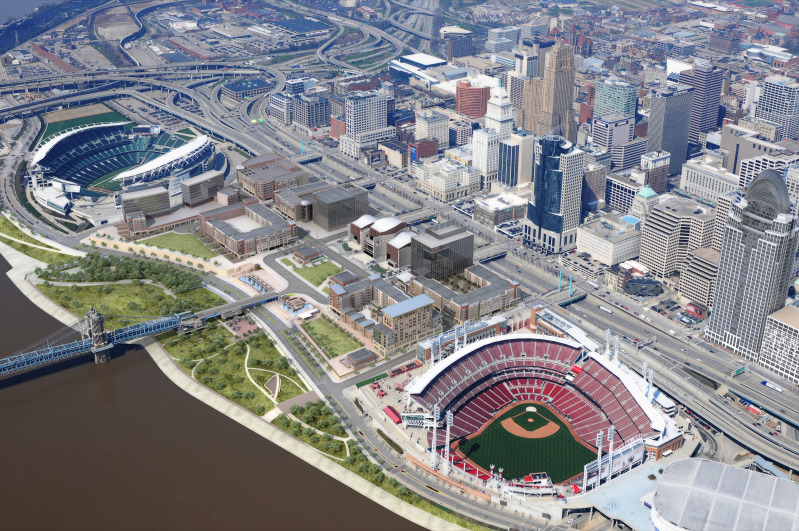 This Saturday night, the Jets will play an exhibition game in Cincinnati against the Bengals, while the Mets are 3 weeks away from going there to play the Reds.
Last season, due to circumstances beyond my control, the Reds were the only MLB team I didn't get to do an updated edition for. I was able to do 28 teams in 2012, and 29 in 2013. This year, the Reds will be the 28th. They were supposed to be the 30th and last, but with New York teams in 2 different sports going there in such a short period of time, I decided to do both at once. Having just started doing it for other sports, this will be the first time I've done it for 2 sports at once.
Disclaimer: While I have been to Cleveland, and I have seen games at Jacobs/Progressive Field, I have never been to Cincinnati, so none of this information is firsthand. But some of it comes from the Reds' and Bengals' own websites, so I would tend to believe it.
Before You Go.
Cincinnati can get really hot in the summer -- and, football game or not, August 16 is still in summer. The
Cincinnati Enquirer website
is predicting mid-80s for Saturday afternoon, and mid-60s for the evening, with a 15 percent chance of rain. So it should be great baseball weather; football weather, maybe at night.
Cincinnati is in the Eastern Time Zone, so you won't have to set your clocks back.
Tickets.
Great American Ball Park -- yes, 4 words -- seats 42,319 people. The Reds are averaging 31,334 per home game this season, a slight increase over last season. So tickets should be available; whether they're good tickets is for you to decide.
Despite their frequent claims of a "family atmosphere," the Reds' tickets are not cheap. Infield Boxes will go for $86, Field Boxes (down the foul lines) for $59, Mezzanine and View Box seats for $49, and View Level (uppermost in the stadium) for $39. The right field bleachers go for $51. In honor of a similar section at the old Reds' ballpark, Crosley Field, these bleachers are known as the Sun Deck for day games and the Moon Deck for night games. Terrace Outfield (left field) are $46, and the upper deck of the left field bleachers are $313.
The Bengals averaged 63,297 fans last season, close to a sellout. But, this being a preseason game, tickets should be available. In the 100 level, sideline seats will go for $103, and end zone seats for $88. In the 200 level, sidelines will be $88 and end zones $73. In the 300 level, there are only sideline seats, and they go from $72 to $88.
Getting There.
It's 641 miles from Times Square in New York to Fountain Square in Cincinnati, and 650 miles from Citi Field to Great American Ballpark.
Flying may seem like a good option, and don't let the fact that Cincinnati-Northern Kentucky International Airport is in Florence, Kentucky fool you, it's just 13 miles southwest of downtown, a little closer (and in the same direction) than Newark Airport is to Midtown Manhattan. And you can get a round-trip ticket for under $800. But you'd have to change planes, possibly in Charlotte, possibly even in Chicago -- meaning you'd have to overshoot Cincinnati to get there.
Greyhound's run between the 2 cities is not good, a 16-hour ride that costs $257 round-trip (but it can be dropped to $142 with advanced-purchase) and forces you to change buses in either Cleveland or Columbus. The terminal is at 1005 Gilbert Avenue, less than a mile northeast of Fountain Square. Take the Number 11 bus to get downtown.
Amtrak's run to Cincy is problematic as well, as it only offers service out of Penn Station to Cincinnati every Wednesday, Friday and Sunday, and it'll take over 18 hours, from 6:45 AM until 1:13 AM outbound and from 3:27 AM to almost 9:56 AM back, and cost a whopping $728 round-trip -- you'd be better off flying, even if you did have to change planes in Chicago. Union Terminal, now also a museum and shopping mall, is at 1301 Western Avenue, about a mile and a half northwest of downtown. And you'd have to walk 5 blocks to Linn & Clark Streets just to get to the closest downtown bus (Number 27).
If you decide to drive, it's far enough that it will help to get someone to go with you and split the duties, and to trade off driving and sleeping.
You'll need to get on the New Jersey Turnpike. Take it to Exit 14, to Interstate 78. Follow I-78 west all the way through New Jersey, to Phillipsburg, and across the Delaware River into Easton, Pennsylvania. Continue west on I-78 until reaching Harrisburg. There, you will merge onto I-81. Take Exit 52 to U.S. Route 11, which will soon take you onto I-76. This is the Pennsylvania Turnpike, the nation's first superhighway, opening in 1940.
The Turnpike will eventually be a joint run between I-76 and Interstate 70. Once that happens, you'll stay on I-70, all the way past Pittsburgh, across the little northern pandhandle of West Virginia, and into Ohio all the way to the State Capitol of Columbus. Then leave I-70 at Exit 99 and get on Interstate 71 south to Cincinnati.
If you do it right, you should spend about an hour and 15 minutes in New Jersey, 5 hours and 30 minutes in Pennsylvania, 15 minutes in West Virginia, and about 3 hours in Ohio. That'' about 10 hours. Counting rest stops, preferably halfway through Pennsylvania and just after you enter Ohio and around Columbus, and accounting for traffic in both New York and Cincinnati, it should be no more than 14 hours, which would save you time on both Greyhound and Amtrak, if not flying.
Once In the City.
Founded in 1788, Cincinnati was named by Arthur St. Clair, then Governor of the Northwest Territory. He was a member of the Society of Cincinnati, an organization that was a tribute to George Washington, then called "the New Cincinnatus." Cincinnatus was, like Washington, a farmer who had previously led his country in battle, in his case ancient Rome, and was called back to lead the nation as a whole. He did, and defeated the Aequians in battle, and then, just 16 days after he took charge, resigned and retired to his farm.
Germans were among the first settlers, which explains why the city had a strong brewing tradition, and why the 1882 version of the Cincinnati Red Stockings founded the original American Association, known as "The Beer and Whiskey League" because, unlike the National League, they refused to prohibit the selling of alcohol in their stadiums. Even in the early 20th Century, sportswriters would refer to that team's descendant, the Reds, as "the gingery Germans of Zinzinatti." Like Notre Dame's nickname of "The Fighting Irish," the nickname no longer has much ethnic relevance; unlike "The Fighting Irish," however, it's not still used.
Cincinnati is one of the smallest markets in the major leagues, with the city being home to just 298,000 people -- if you count Tampa and St. Petersburg as one city, it's the smallest in the major leagues. The metropolitan area is home to only 2.2 million people, making it the 2nd-smallest, ahead of only Milwaukee. It's 28th in the NFL.
Despite this, and despite having lost their NBA team in 1972 and never regained it, Cincinnati has never been in serious danger of losing either the Reds or the Bengals. While the Reds were targeted by cities looking to get into MLB in the 1950s and '60s, the city was proactive in stopping them, and the construction of Riverfront Stadium made sure the teams were set to stay for the rest of the 20th Century. The construction of replacements for Riverfront has made sure the teams are set to stay for at least the 1st half of the 21st.
In spite of the city's willingness to drink, it's one of the most conservative cities in America, home to the Taft political family that has now seen 5 straight generations achieve high office. Alphonso Taft was Attorney General under Ulysses S. Grant. His son, Charles Phelps Taft, was a Congressman who owned the Philadelphia Phillies and later the Chicago Cubs. Another son, William Howard Taft, was Secretary of War under Theodore Roosevelt, was elected to replace TR as President in 1908, and became the only President also to serve on the Supreme Court, as Chief Justice no less. His cousin, Kingsley Taft, was Chief Justice of the Ohio Supreme Court.
His son, Robert Taft, was a power in the Senate, so conservative he was known as "Mr. Republican" in opposition to Franklin Roosevelt and Harry Truman, serving as Majority Leader at the time of his death in 1953. Another son of William Howard, Charles Phelps Taft II, was Mayor of Cincinnati in the 1950s, and became known as "Mr. Cincinnati." Robert's son, Robert Taft Jr., served in both houses of Congress. Another son, William Howard Taft III, was U.S. Ambassador to Ireland in the 1950s. William III's son, William IV, was a Deputy Secretary of Defense, and his wife Julia was an Assistant Secretary of Defense. And Robert Jr.'s son, Bob Taft (Robert Alfonso Taft III), was Governor of Ohio in the 2000s.
Cincinnati's conservatism is reflected in the Reds' long-standing policy banning facial hair, considerably stronger than that of George Steinbrenner in liberal New York, who at least allowed mustaches.
And if you watched the TV show
WKRP in Cincinnati
(1978-82), you noticed that station owner Mama Carlson (Carol Bruce) only made the switch from "beautiful music" to rock and roll in 1978 because the station was losing money, and even her son, Arthur "Big Guy" Carlson (Gordon Jump), while willing to manage a rock station, was hopelessly square -- though not as square as newsman Les Nessman (Richard Sanders). Things hadn't changed much in the century or so since Mark Twain remarked that if the world came to an end, it would take Cincinnati 20 years to notice.
Vine Street is the street address divider between East and West, with the North-South streets' addresses increasing as you go north from the Ohio River. The "beltway" is Interstate 275, and it goes into Kentucky and Indiana, as well as Ohio. The sales tax in the State of Ohio is 5.75 percent, rising to 6.5 percent in Hamilton County, including the City of Cincinnati.
The Tyler Davidson Fountain, a.k.a. "The Genius of Water," is located in Fountain Square, 5th & Vine Streets. Henry Probasco, a Cincinnati businessman, had the statue and fountain made to honor his late brother-in-law and business partner.
It was dedicated in 1867, with a base reading, "TO THE PEOPLE OF CINCINNATI," and is turned off in the Winter, being turned back on for the Reds' Opening Day. It can be seen in WKRP's opening sequence, although a renovation led to its being moved elsewhere in the square in 2006.
ZIP Codes for Cincinnati start with the digits 452, and the Area Code is 513. Cincinnati does not have a subway: Construction of a system began in the 1910s but was abandoned in the 1920s, and occasional attempts to try again, using the existing tunnels, have never gotten anywhere. Cincinnati Metro buses have a one-zone fare of $1.75, and $2.65 outside the City but within the County.
Going In.
Reds.
Great American Ball Park ("ball park" as 2 words, and named for the insurance company owned by former Reds owner Carl Lindner Jr.), opened in 2003, is separated from downtown by I-71/U.S. Route 50, and is right on the Ohio River. Although, like Arm & Hammer Park in Trenton, the park is close enough to the river that a very strong player could hit a fair ball into it, unlike in Trenton as of yet this has not happened in an official game.
The Southbank Shuttle leaves from 5th & Vine Streets in Fountain Square, although the park is basically close enough to walk to from anywhere in downtown. The park's official address is 100 Joe Nuxhall Way, named for the 1950s-60 Reds reliever and longtime broadcaster who died in 2007. Officially, the streets around it are 2nd Street (3rd base) to the north, Broadway Street (left field, and, no, that's not "Broadway," it's "Broadway Street") to the east, Mehring Way/U.S. Route 27 (right field) to the south and Main Street/Joe Nuxhall Way (1st base) to the west. Extending from the 1st base side is Pete Rose Way. The official address is 100 Joe Nuxhall Way.
Parking in Cincinnati is cheap. Most parking meters are free after 6:00 PM, and there's a garage on 6th Street between Broadway & Sycamore that charges only $2.00.
You'll be most likely to enter by 2nd Street or Pete Rose Way. You'll see a limestone carving of a kid in a baseball uniform looking up at grownup players. These statues are known as The Spirit of Baseball. They also have a mosaic paying tribute to the 2 most famous baseball teams from Cincinnati, which I'll get to when I discuss Team History Displays.
The ballpark faces southeast, away from downtown and the city's skyscrapers. But the park's openness does provide a nice view of the river and the Kentucky shoreline beyond. The scoreboard has a steamboat motif known as the Power Stacks. The field is natural grass. The foul lines are rather close, 328 to left and 325 to right. However, the alleys have respectable distances, 379 to left and 370 to right, and center field is 404.
Adam Dunn hit the longest home run in the park's history, a 535-foot shot in 2004. Mark McGwire hit the longest at Riverfront Stadium, a 473-foot shot in 2000. The longest at Crosley Field isn't clear, but most sources cite a 1967 drive by Jimmy Wynn, a native of nearby Hamilton, Ohio: Then with the Houston Astros, "the Toy Cannon" (he was only 5-foot-9 but had a lot of power) cranked one over the left-center-field scoreboard (58 feet high), and it landed on Interstate 75, the Mill Creek Expressway. This was probably at least 475 feet.
Bengals.
Like most football stadiums, Paul Brown Stadium (nicknamed PBS, named for the franchise's founder, 1st owner and 1st head coach, and before that the legendary coach of the Cleveland Browns) runs (more or less) north-south. Since it's right on the river, you're most likely to come in at the north end. Parking can be found nearby for as little as $3.00. Tailgating is permitted in these lots.
The stadium is bounded by Pete Rose Way, Elm Street, Mehring Way and Central Avenue. The official address is 1 Paul Brown Stadium. It is almost fully-enclosed, and doesn't offer much of an outside view. The field is artificial.
UPDATE:
On September 12, 2017, Thrillist had an article ranking all 31 NFL stadiums.
Paul Brown Stadium ranked 19th, in the bottom half, but 1 ahead of arch-rival Cleveland:
A game at PBS has to be contextualized with the experience of attending a game at its predecessor, Riverfront Stadium, a Soviet-style concrete and artificial turf dual-sport monolith that hosted a decade and a half of execrable play from the home team. (Mike's note: Meaning the Bengals, not the Reds.) By contrast, the new place offers pigskin perestroika. Sight lines are good, the tailgating is on point, and by NFL standards, tickets and concessions are relatively inexpensive.
Food.
Being in Big Ten Country, where tailgate parties are practically a sacrament, you would expect the Cincinnati ballpark and stadium to have lots of good options. In the Reds' case, not really: The options are plentiful, but I wouldn't recommend them. That traditional Midwestern favorite, the bratwurst, is sold at Queen City Brats, behind Section 514 in the upper deck. A stand called State Fair is at Section 130, and sells tradition state/county fair stuff like corn dogs, fried doughnuts and funnel cake -- check that, "funnel cake fries."
If your stomach is strong enough for that stuff, you may be prepared for this: Not only does Cincinnati, like Detroit, favor the "cheese coney," a hot dog with chili and cheese on it, but they like chili over… spaghetti. Huh? Cheese coneys are sold at Skyline Time stands at Sections 103, 116, 130, 519 and 534.
The 4192 Bar, named for Rose's record-breaking hit, is behind Section 306. Another section named for Rose, Pete's Head First Dogs, is at 512. (Apparently, MLB can prevent Rose from working for the Reds, or any other team, but they can't control who the Reds name facilities after.) Doggy's Dogs, a hot-dog stand named for the nickname of Tony Perez, is behind 525. Frank's Franks, named for Frank Robinson, are at 113, 143 and 531. Roebling Dogs, named for the family that built the old suspension bridge near the ballpark before moving to New York and building the Brooklyn Bridge, is at 112 and 130.
There's a Bob Evans restaurant (the chain is headquartered in Ohio) at 516. And the Machine Room, named for the 1970s "Big Red Machine," is at Suite Level -- which you're unlikely to even see. What you may see, at 130 or 514, is a stand called Penn Station, but this is no reference to New York. Indeed, it's closer to a Philadelphia-style stand, selling cheesesteaks.
As for the Bengals, they also have the usual ballpark fare, and cheese coney stands on all levels. At Section 104 is the Pigskin Pub, a bar with an Irish theme.
Team History Displays.
The Bengals' history has been erratic: They've been good the last couple of years, and were usually good in the 1970s and '80s. But for most of the 1990s and 2000s, they were downright dreadful. And they don't do a very good job of showing their history.
They've retired only 1 number, that of the first player the team ever signed, and who lasted the franchise's 1st 12 seasons: Number 54, center Bob Johnson. The 7 of Long Island native (and childhood Jet fan and later Jet quarterback) Boomer Esiason and the 78 of Hall of Fame offensive tackle Anthony Munoz are not currently being worn, but are not officially retired, either. Munoz remains the only player to have played at least 5 seasons with the Bengals and be elected to the Pro Football Hall of Fame.
In 2007, the Bengals asked their fans to select a 40th Anniversary Team. For better or for worse, they chose:
Offense: Quarterback Carson Palmer, running backs James Brooks and Ickey Woods, receivers Chad Johnson and T.J. Houshmandzadeh, tight end Dan Ross, center Rich Braham, guards Max Montoya and Dave Lapham, and tackles Anthony Munoz and Willie Anderson.
Defense: Ends Justin Smith and Ross Browner; tackles Tim Krumrie and Mike Reid; linebackers Reggie Williams, Takeo Spikes and Brian Simmons; cornerbacks Ken Riley and Lemar Parrish; and safeties David Fulcher and Solomon Wilcots.
Special Teams: Kicker Shayne Graham and punter Lee Johnson.
Munoz was named to the NFL 75th Anniversary Team in 1994, and to the NFL Network's 100 Greatest Players in 2010 -- Number 12, the highest-ranking offensive lineman. He and receiver Charlie Joiner (better known as a San Diego Charger) were named to
The Sporting News
' 100 Greatest Football Players in 1999.
The Reds display their history much better. Outside the park is The Mosaic, honoring Cincinnati's 2 most famous baseball teams: The 1869 Red Stockings, baseball's 1st openly professional team (though the current Reds have no official connection to this club, which was disbanded after the 1880 season) and the 1970s Reds, the Big Red Machine of Rose, Perez, Johnny Bench, Joe Morgan, Dave Concepcion and manager Sparky Anderson. A tribute to Rose is on the back of the left-field scoreboard, known as the 4192 Mural for his record-breaking 4,192nd career hit, which he notched at Riverfront Stadium on September 11, 1985. (A revision of records shows that Ty Cobb actually had 4,189 career hits, not 4,191, and this was known as early as 1981; however, MLB hadn't yet official changed it by 1985. If they had, Rose would have broken the record earlier, on the road.)
The Power Stacks have 7 bats on them, totaling 14, a way of acknowledging Rose's Number 14, even though the Reds are not permitted to retire that number due to Rose's banishment. (It's only been issued once since, in the brief 1997 callup of Pete Rose Jr., who's had his own problems but has never been banned from the game. The street named Pete Rose Way is outside the ballpark, and MLB and Commissioner Bud Selig have no say in what the street can be named.)
The team's officially retired numbers are shown behind home plate, at press box level: Bench's 5, Morgan's 8, Anderson's 10, Concepcion's 13, Robinson's 20, Perez's 24, the 1 of 1961 Pennant-winning manager Fred Hutchinson (who died of cancer in 1964 shortly after nearly leading them to another Pennant), the 11 of 1990s-2000s shortstop Barry Larkin, and the 18 of 1950s slugger Ted Kluszewski.
Phillies legend Mike Schmidt grew up in nearby Dayton, Ohio, while Robinson was starring for the Reds in the late 1950s and early 1960s, and wore 20 in tribute to him. Along with Willie McCovey and Reggie Jackson wearing 44 in honor of Hank Aaron, and Al Kaline wearing 6 in honor of Stan Musial, as far as I know it's the only number in baseball retired in honor of a player who wore it in tribute to another player's number that ended up retired. (Troy Tulowitzki has admitted to wearing Number 2 in honor of Derek Jeter, but he is currently still active, and it remains to be seen whether the Colorado Rockies retire it for him.)
Logos of microphones in honor of broadcasters Waite Hoyt, Joe Nuxhall and Marty Brennaman are placed alongside the retired numbers. Nuxhall, like Jimmy Wynn a native of Hamilton, was in high school, just short of his 16th birthday, when the manpower shortage of World War II made the Reds desperate enough to sign him, and make him the youngest player in major league history, on June 10, 1944. It didn't go so well: He got shelled in his one and only appearance. This did not deter him, though: After graduation, he remained in the Reds' minor-league system, worked his way back, and pitched for them from 1952 to 1960, including their near-miss season of 1956, when he made his 2nd straight appearance on the NL All-Star team. But they traded him, and he missed their 1961 Pennant. He came back, retiring in 1966, and went into the broadcast booth.
Nuxy wore Number 39 for most of his Reds career, but the number has not been retired for him; it is currently worn by backup catcher Devin Mesoraco. Nuxy would conclude a broadcast by saying, "This is the Old Lefthander, rounding third and heading for home." Kind of an odd signoff, considering he was a pitcher... and is best remember outside of Cincinnati not for being old (he wasn't quite 38 when he pitched his last game), but for being in a major league game when he was 15 years old.
Hoyt was also signed to his first pro contract at age 15, by the New York Giants out of Brooklyn's Erasmus Hall High School. He made his big-league debut with the Giants in 1918, shortly before turning 19. But they sent him to the Red Sox, who made him one of several players they sent to the Yankees, and he became a Hall-of-Fame pitcher throughout the 1920s. He would return to the Giants in 1932, and closed his playing career with his "hometown" Dodgers in 1938. He won 237 games, but after he joined Alcoholics Anonymous -- one of the first pro athletes to admit having done so -- he said he would have won 300 if not for his drinking. I believe him. He broadcast for the Reds from 1942 to 1972, and was so popular that the team released 2 record albums of his rain-delay stories,
The Best of Waite Hoyt in the Rain
. Born in 1899, he died in 1984.
Brennaman, who was recently honored with the Hall of Fame's Ford Frick Award for broadcasting, actually started in the Mets' organization, doing 3 years with the team then known as the Tidewater Tides, as he is a native of the Norfolk area. He has been the Reds' main voice since 1974, the middle of the Big Red Machine years. His postgame tagline, in the event of a Cincinnati victory, is "And this one belongs to the Reds!" His son Thom Brennaman has joined him as a Reds broadcaster, after having been part of the inaugural broadcast team of the Arizona Diamondbacks.
Outside the main entrance is Crosley Terrace, a reference to Crosley Field, with statues of Crosley-era stars Nuxhall, Kluszewski, Robinson and 1930s-40s catcher Ernie Lombardi, a Hall-of-Famer and one of the best-hitting catchers ever, but whose Number 4 has never been retired by the Reds.
The team has a Cincinnati Reds Hall of Fame and Museum, located on the west side of the park on Main Street. Oddly, the Reds have more players in their team Hall of Fame than any other – in fact, more than any team in the 4 North American major league sports except the Green Bay Packers: 85.
Two of the 1869 Red Stockings are in, the brothers Harry and George Wright (not to be confused with the Wright Brothers from Southern Ohio who invented the airplane in 1903, these Wright Brothers invented professional baseball). They are in the Baseball Hall of Fame in Cooperstown, as are 2 of the 6 other players in the Reds Hall from the 19th Century, Bid McPhee and Sam Crawford. So is turn-of-the-20th-Century 1st baseman Jake Beckley. Not in the Cooperstown Hall is Billy "Dummy" Hoy, a deaf player who was supposedly the inspiration for umpires' hand signals for balls and strikes, and who threw out the first ball at a 1961 World Series game between the Yanks and Reds, at age 99, then the oldest ex-player ever. (Sadly, he didn't quite make it to 100.)
The Reds Hall has 8 members of their 1919 World Champions, including Cooperstowner Edd Roush, possessor of the most lauded outfield arm of his era, and who lived until 1988 insisting that the Reds would have beaten the Chicago White Sox in that World Series even if the "Black Sox" had played on the level. (He had a case: The Reds won 95 games that season, the White Sox only 88.)
The Reds that won the 1939 Pennant and the 1940 World Series have 13 members in the team Hall, including Lombardi. Between the 1940 and 1961 Pennants, their honorees Ewell Blackwell, who won 16 straight games including a no-hitter and nearly a 2nd straight in 1947, and later pitched for the Yankees; and Kluszewski and Nuxhall.
From the 1961 Pennant, they have 13 members, including Robinson, Hutchinson, and Gus Bell, who became an original Met the next season and whose son Buddy and grandson David became big-league stars as well. (Each of them had David as their real name.)
Lee May, in this Hall but not the Cooperstown one, was on their 1970 and 1972 Pennant winners but not the 1975 & '76 World Champions; that team has 16 members, including Rose, Bench, Morgan, Perez, Concepcion, Anderson and future Yankees Don Gullett and Ken Griffey Sr.
Between the 1976 and 1990 World Championships, they honor 2 pitchers: Yes, Met fans, Tom Seaver is in the Cincinnati Reds Hall of Fame, and Mario Soto; shortstop Ron Oester and outfielder Dave Parker, a Cincinnati native. From the 1990 champs there are 5 honorees: Barry Larkin, Eric Davis, Tom Browning, Jose Rijo and Chris Sabo. They've also inducted more recent players Ken Griffey Jr. and Sean Casey.
Robinson, Rose, Bench, Morgan, Seaver and Griffey were named to
The Sporting News
' 100 Greatest Baseball Players in 1999. The same year, Rose, Bench and Griffey (then still active and not yet having played for the Reds) were named to the Major League Baseball Hall-Century Team.
A statue of Bench is at the entrance to the Reds Hall of Fame, calling him "Baseball's Greatest Catcher." To turn Sparky Anderson's words from the 1976 World Series about Thurman Munson on their head, Don't embarrass anybody by comparing him to Yogi Berra.
As far as I know, there is no notation in the seating area for the Reds' 10 Pennants: 1882 (in the American Association, the rest in the National League), 1919, 1939, 1940, 1961, 1970, 1972, 1975, 1976 and 1990; or for their 5 World Series wins: 1919, 1940, 1975, 1976 and 1990.
Stuff.
Clubhouse stores are located all over GABP. The usual items that can be found at a souvenir store can be found there.
With the 1970s nostalgia wave in full flower now, books about the Reds teams of that decade, known as the Big Red Machine, have come out. Tom Adelman's
The Long Ball
tells of the 1975 season, and how the Reds and the Boston Red Sox went through them on their way to their meeting in an epic World Series. There's
The Machine: A Hot Team, a Legendary Season, and a Heart-Stopping World Series: The Story of the 1975 Cincinnati Reds
, by Joe Posnanski; and
The 1976 Cincinnati Reds: Last Hurrah for the Big Red Machine
, by Doug Feldmann, a tribute to the only team ever to go undefeated in a baseball postseason of more than 1 round (7-0; the 1999 Yankees went 11-1).
There's also
Before the Machine: The Story of the 1961 Pennant-Winning Reds
by Mark J. Schmetzer and Greg Rhodes, issued on the 50th Anniversary of that team. A contemporary book about that team,
Pennant Race
, was written by one of their pitchers, Jim Brosnan, who had previously written about a less successful season with the St. Louis Cardinals in
The Long Season
. Jim Bouton's Ball Four was clearly influenced by Brosnan, who died a few weeks ago.
Available DVDs include
Cincinnati Reds Memories
, the official World Series highlight films of 1975, '76 and '90 (1919 and '40 preceded the establishment of official films), and a box set of the 1975 Series, including every Series game (yes, including the legendary Game 6 that the Red Sox lost) and a few bonuses from that era.
As for the Bengals, in 2008 Mary Schmitt Boyer published
Welcome to the Jungle: Everything You Need to Know to Be a Bengals Fan
.
During the Game.
You do not have to worry about wearing Met gear in Great American Ball Park. Just because the sight of the Reds' "Wishbone C" logo still makes Met fans remember the 1973 NLCS fight that Rose picked with the far smaller Bud Harrelson doesn't make Reds fans hate the Mets. Though they do tend to not like New York, for reasons beyond baseball. But unless you're wearing Cleveland Browns gear to a Cincinnati Bengals game, University of Michigan gear to an Ohio State University sporting event, or gear of either side of the local college basketball rivalry -- the University of Cincinnati or Xavier University -- to the other school's home game, people from Cincinnati aren't going to go out of their way to be obnoxious to you, let alone violent.
The Reds don't have any notable in-park fans, although Harry Thobe, a sharp-dressed man who wore a straw hat and carried a megaphone, was a longtime denizen of Crosley Field, sort of a Midwestern Hilda Chester, Freddy Sez or Cow-Bell Man. Nor do they have many celebrity fans, although George Clooney is one, coming from Lexington, Kentucky, 83 miles away. True, that's about as close as Northeast Philadelphia is to Midtown Manhattan, but the Reds are still the closest major-league team, unless (as is incredibly unlikely) Louisville gets back into the majors for the first time since 1899.
The Reds were one of the first teams to have a mascot, Mr. Red. He served as the team's logo for a long time before becoming a man in a costume on the field. There is a retro version called Mr. Redlegs, which matches the team's logo from the 1950s when, due to McCarthyism, being called "Reds" was considered un-American. This version had a 19th Century-style mustache, reminding people that Cincinnati was the birthplace of professional baseball (though, again, this Reds team, which began in 1882, is not the same team as the 1869 one). A female mascot, Rosie Red, and a furry red… thing called Gapper have joined Mr. Red.
During the 7th Inning Stretch, following "Take Me Out to the Ballgame," the Reds play "Twist and Shout" -- the Beatles' version, possibly in honor of their 1966 concert at Crosley. This is a little odd, since the vocal group that originated the song, the Isley Brothers, were from Cincinnati. James Brown and some other big-time musicians were also associated with Cincy-based record companies. And George's aunt Rosemary Clooney got her start there as well. But Cincinnati is simply not a very hip town – and those rural natives of Southern Ohio, Northern Kentucky, Southeastern Indiana and Western West Virginia like it that way.
The Bengals have a chant: "Who dey? Who dey? Who dey think gonna beat dem Bengals?" It appears to have debuted during the 1980 season, possibly a reflection of "Hudy," a product from the Cincinnati-based Hudephol Brewing Company. However, New Orleans Saints fans claim their "Who Dat?" predates Cincinnati's "Who Dey?" Cincinnati fans say otherwise. It's not clear who is right. The Bengals' man-in-a-tiger-suit mascot is named Who Dey. Their cheerleaders are called the Ben-Gals.
According to the Bengals' website, when troublesome fans threaten to ruin Cincinnati's self-proclaimed family atmosphere, there's a Jerk Line to report them: "Fans wishing to report poor fan behavior during Bengals games at Paul Brown Stadium may do so by calling the Jerk Line at 513-381-JERK. Fans using too much foul language will first get a warning from stadium security. Those who continue could be ejected and have their season tickets and personal seat licenses revoked. More serious offenses could lead to arrest."
They were reminded of this d
uring a 1989 game at Riverfront Stadium. Bengals fans began throwing stuff onto the field. Bengals coach Sam Wyche got a microphone, and told the fans, "Will the next person that sees anybody throw anything onto this field point 'em out? And get 'em outta here! You don't live in Cleveland! You live in Cincinnati!" and got a standing ovation.
UPDATE: From September 1 to 7, 2017, during the NFL National Anthem protest controversy,
FiveThirtyEight.com
polled fans of the 32 NFL teams, to see where they leaned politically. Bengals fans were said to be split right down the middle, with only 6 teams -- Tennessee, Buffalo, Jacksonville, Dallas
, Houston, and, most conservative of all, Tampa Bay -- being more conservative.
After the Game.
Downtown should be safe, but stay downtown. Cincinnati does have a bit of a crime problem. In 2001, there was a race riot there, something rarely seen in America since the 1960s (although what's going on outside St. Louis right now is already worse than what happened in Cincinnati then).
I can find no references to well-known postgame bars, or to places where New Yorkers gather in or around Cincinnati. The sites that usually list bars for football fans in exile don't seem to have references to where Yankees, Mets, Giants or Jets fans go when they live near Cincy.
If you visit Cincinnati during the European soccer season, which is about to get underway, the main "football pub" in town is Rhinehaus.
119 E. 12th Street and Clay Street, in the neighborhood called Over-The-Rhine, or OTR, just north of downtown.
Bus 19, or Streetcar to Washington Street.
Sidelights.
Cincinnati may have only 2 major league teams now, and one of those (the Bengals) has been a joke for most of the last 20 years.
UPDATE:
On February 3, 2017, Thrillist made a list ranking the 30 NFL cities
(New York and Los Angeles each having 2 teams), and Cincinnati came in 25th, in the bottom quarter:
All the forced niceness of a
good Midwestern upbringing
combined with just a hint (or more than a hint, depending on who you're dealing with) of Kentucky redneck that made its way across the river... A
ny place where the local cuisine of note is meat-like nightmare sludge with notes of cinnamon can only climb so high.
But it's a pretty good sports town, and here's some of the highlights:
* Site of Riverfront Stadium. The home of the Reds from 1970 to 2002 (known as Cinergy Field in its final years) and the NFL's Bengals from 1970 to 1999 was across Main Street from its baseball replacement, bounded also by 2nd Street, Mehring Way and Vine Street. Here, the Reds reached the postseason 9 times, winning 5 Pennants and 3 World Series. The Bengals made the Playoffs here 7 times, winning the AFC Championship in 1981 (beating the San Diego Chargers in what is officially listed as the coldest game in NFL history) and 1988 (on both occasions, going on to lose the Super Bowl to the San Francisco 49ers). Riverfront was a pioneer in artificial turf, the first outdoor stadium in either MLB or the NFL to have it, and the first to host either league's postseason on it.
The National Underground Railroad Freedom Center is now on the site. And just beyond it is the John A. Roebling Suspension Bridge, opened in 1866 and named for its designer, who used it as the basis for his greatest achievement, the Brooklyn Bridge. The bar and restaurant district on the Covington, Kentucky side of the bridge is known as Roebling Point.
* U.S. Bank Arena. Formerly known as the Riverfront Coliseum, this building went up across Broadway from Riverfront Stadium (and can be seen from Great American Ball Park) in 1975, and has hosted minor league hockey ever since, including the current Cincinnati Cyclones.
The Cincinnati Stingers of the World Hockey Association played here from 1975 to 1979. They reached the Playoffs in 1977 and 1979, but were not invited to join the NHL. Hall-of-Famers Mark Messier and Mike Gartner made their "major league" debuts here, and, as such were named to the WHA All-Time Team.
The University of Cincinnati basketball team played home games here from 1976 to 1987 -- though, contrary to what I had previously posted, rivals Xavier University never used it as a home court. It hosted the NCAA's hockey Final Four, a.k.a. the Frozen Four, in 1996. Elvis Presley sang there on March 21, 1976 and, just before his death, on June 25, 1977.
Unfortunately, the arena is best known for the tragic events of December 3, 1979, when 11 fans were killed and 26 others were injured, when fans rushed in for "festival seating" for a concert by The Who. This event was immortalized shortly thereafter in an episode of
WKRP in Cincinnati
, ordinarily one of the funniest situation comedies of its time and easily the best TV show set in the city.
It's unlikely that Cincinnati will get a new team for this arena anytime soon. The metro area would rank 26th in population among NBA markets, and 23rd in the NHL. (UPDATE: The arrival of Las Vegas for the 2017-18 season means hey would be 24th.)
* Crosley Field. Three different ballparks were at a location bounded by Findlay Street, Western Avenue, Liberty Street and Dalton Avenue, a convenient location for teams coming into the city through the Union Terminal: League Park from 1884 to 1901, the elaborate Palace of the Fans from 1902 to 1911, and third from 1912 to 1970. First named Redland Field, appliance executive Powel Crosley renamed it for himself when he bought the Reds in 1934.
Here, the Reds won the Pennant in 1919, 1939, 1940 and 1961, winning the World Series in 1919 and 1940. The Yankees clinched World Series wins here in 1939 and 1961. Bush Stadium, the former home of the Triple-A team in Indianapolis, stood in for it and Comiskey Park in
Eight Men Out
, the film about the Black Sox scandal.
Best known as the first big-league ballpark with lights, in 1935, it had an infamous incline, a.k.a. the "terrace," that was trouble for left fielders; a building behind left field with an ad for the Superior Towel and Linen Service, nicknamed the Laundry Roof, which was torn down in 1960 to make way for Interstate 75 and a rerouted U.S. Route 52, the Mill Creek Expressway; and a right field bleacher section known as the Sun Deck for day games and the Moon Deck for night games.
Crosley was also home to an NFL team named the Cincinnati Reds in 1933 and '34. There was also a Cincinnati Celts, pronounced with a hard C unlike the Boston basketball team, that played in the NFL from 1920 to 1923, but they were a traveling team, playing no home games.
The Beatles played at Crosley on August 21, 1966, and the Cincinnati Pop Festival was held there on June 13, 1970, featuring Iggy & the Stooges, Mountain, Grand Funk Railroad, Alice Cooper, Traffic, Bob Seger and Mott the Hoople.
The park was demolished in 1972. An industrial park now stands on the site, a 15-minute walk from Union Terminal. The Number 27 and 49 buses will get you Linn and Findlay, a 7-block walk (counting I-75) from the site.
As for the original 1869 Red Stockings, they played at the Union Cricket Club Grounds, a field with a stand for about 4,000 people. The Union Terminal was built on the site, so if you do come into Cincinnati by train, you're already on the birthplace of professional baseball.
* Nippert Stadium. Home to the University of Cincinnati's football team since 1924, and the original home (1968-69) of the Bengals, this ground has been extensively remodeled, so that it has few of the difficulties of being an old stadium, but also none of the look and atmosphere of one. 99 W. Corry Street, at Backstage Drive, on the UC campus. Number 17 or 19 bus.
UPDATE: On August 15, 2015, pro soccer came to the Queen City of the Midwest, as Reds owner Carl Lindner founded FC Cincinnati. They use Nippert as their home field, and their manager is John Harkes, a native of Kearny, New Jersey, mainstay of the U.S. soccer team in the 1980s and '90s, and a star at English club Sheffield Wednesday. They play in the United Soccer League, the 3rd tier of American soccer. For now, the closest Major League Soccer team to Cincinnati is the Columbus Crew, 111 miles from Fountain Square.
Fifth Third Arena (formerly the Myrl H. Shoemaker Center), new home of the UC basketball team, is adjacent. It seats 13,176 and opened in 1989. The baseball stadium is also adjacent, and it's named after former Reds owner, cheapskate and Nazi sympathizer Marge Schott. Apparently, the University thought her money was as good as anyone else's. Then again, they also stood by coach Bob Huggins for years, despite his recruiting violations and drunken driving.
* Cintas Center. Opening in 2000, this is the new home of Xavier University basketball. Its tight quarters, seating only 10,250, make it one of the toughest arenas in the country. And when the Xavier Musketeers and the UC Bearcats play each other, well, let's just say you should pick another game to attend. Since there's no other intracity rivalry of any consequence (unless you count high school football), this game gets the kind of treatment that Duke-North Carolina, Louisville-Kentucky, and English soccer "derbies" get. As the great college football broadcaster Keith Jackson would say, "These two teams just... don't... like each other." 1624 Herald Avenue at Clenay Avenue, on the XU campus. Number 4 bus.
* Cincinnati Gardens. Seating 10,208 people, this is now one of the oldest surviving indoor sports arenas in North America, opening in 1949 and hosting the NBA's Cincinnati Royals from 1957 to 1972. Oscar Robertson and Jerry Lucas went from here to Hall of Fame careers, although neither won a title with the Royalj. (The Big O did so with the 1971 Milwaukee Bucks, Lucas with the 1973 Knicks.) The Royals moved to Kansas City (and, due to the baseball team having the same name, became the Kansas City and eventually Sacramento Kings).
A succession of minor league hockey teams has played here, and it has hosted arena football, too. Heavyweight Champion Ezzard Charles, a city native known as the Cincinnati Cobra, defended the title here against Nick Barone on December 5, 1950. The Gardens played host to the Beatles on August 27, 1964; and to Elvis on November 11, 1971 and June 27, 1973.
2250 Seymour Avenue at Langdon Farm Road, on the northeast side of town, near the Seymour Plaza, Swifton, and Hillcrest shopping centers. Number 43 bus.
Currently without an NBA team,
a recent New York Times article
shows basketball allegiances around the country. Since most people in Southern Ohio would rather vote for a Democrat than support a Cleveland-based team, the Cavaliers are not popular here, and probably won't be even with LeBron James back. The Miami Heat, Los Angeles Lakers and Chicago Bulls are the top 3 choices, although the Heat will probably fall off a bit without LeBron. The closest NBA team is the Indiana Pacers, 112 miles from Fountain Square. The closest NHL team is the Columbus Blue Jackets, 107 miles away, and, like the Cavaliers but unlike the Pacers, at least in Ohio. The closest Major League Soccer team is the Columbus Crew.
It's 109 miles from downtown Cincinnati to Ohio State, 82 miles to the University of Kentucky, 103 miles to the University of Louisville, and 130 miles to Indiana University. And it's 52 miles from downtown Cincinnati to the University of Dayton, whose 13,435-seat University of Dayton Arena (I know, not a very imaginative name), opened in 1969, has hosted more NCAA Tournament games that any other building: 107. (No Final Four has ever been held in Ohio, and none probably ever will, unless they end up putting a dome on Paul Brown Stadium, FirstEnergy Stadium in Cleveland, or Ohio Stadium in Columbus.)
Elvis sang at the University of Dayton's old Fieldhouse on May 27, 1956, and at its "new" Arena on April 7, 1972; October 6, 1974; and October 26, 1976. He also sang at the Hobart Arena in Troy, 77 miles north of Cincinnati and 23 miles north of Dayton, on November 24, 1956.
The Dayton Triangles were an early pro football team, playing from 1913 to 1929, first in the Ohio League -- winning the title in 1913, 1914, 1915 and 1918 -- and then from 1920 to 1929 in the NFL. They were named for Triangle Park, at the confluence of the Stillwater and Miami Rivers, where they erected a 5,000-seat stadium. The Jim Nichols Tennis Center is now on the site. 2424 Ridge Avenue.
But from 1923 onward, they only won 5 games, as the better players didn't want to go to a city as small as Dayton. (Green Bay, the only surviving small city from the NFL's early days, had... other forms of entertainment to lure players.) Then they became... a New York team, being bought by Bill Dwyer, owner of hockey's New York Americans, moved to Ebbets Field and becoming the NFL version of the Brooklyn Dodgers.
Through a convoluted series of transactions, today's Indianapolis Colts are descended from the Dayton Triangles, though not officially recognized as such by the NFL. In other words, if the Colts tried to put up banners saying "World Champions 1913, 1914, 1915, 1918," the NFL wouldn't count it.
* Spring Grove Cemetery. If you're a visiting Met fan, you won't care about this. But if you're a visiting Jet (or Giant) fan
and
a Yankee Fan, Spring Grove is the final resting place of Yankee Hall-of-Famers Miller Huggins (a Cincinnati native who played for the Reds) and Waite Hoyt (who broadcast for the Reds.) 4521 Spring Grove Avenue. Number 20 bus to Winton Road & Froome Avenue, then a left on Gray Road.
Weeb Ewbank, the only man to coach the Jets to a Super Bowl win, is buried at Oxford Cemetery in Oxford, home to his alma mater, Miami University. (Not the one in Florida -- this Miami came first.) 4385 Oxford Millville Road, about 40 miles northwest of Cincinnati.
Cincinnati isn't a big museum city, but it is a Presidential birthplace, very nearly a Presidential birthplace twice over, and a Presidential burial place. The William Howard Taft National Historic Site, where the 27th President of the United States and the 10th Chief Justice of the Supreme Court of the United States was born and lived the first 25 years of his life, is at 2038 Auburn Avenue on the north side of town. The same Number 43 bus that would take you to Cincinnati Gardens would take you there.
The tomb of William Henry Harrison, the 9th President, who famously won the Battle of Tippecanoe against Indians (not the Cleveland variety) in 1811 and died only a month after becoming President in 1841, is 16 miles west of downtown in North Bend. A 10-minute walk from the Tomb is a house at Symmes & Washington Avenues, where "Old Tippecanoe" lived, and his grandson Benjamin Harrison, the 23rd President (1889-93), was born. The Number 50 bus will get you within 2 miles of these sites.
The 1856 Democratic Convention was held at Smith and Nixon's Hall, at 10th & Vine Street downtown. The Renaissance Cincinnati Downtown Hotel is on the site today. Former Secretary of State James Buchanan was nominated for President, and he won, but his Administration was possibly the most disastrous in the nation's history.
The 1876 Republican Convention was held at Exposition Hall. Ohio's sitting Governor, Rutherford B. Hayes, was nominated for President, and "won" the election in "The Fraud of the Century." But the Hall had a bad roof, and was replaced. Cincinnati Music Hall opened in 1878, and in 1880 the Democrats held their Convention there, nominating Civil War General Winfield Scott Hancock, who lost an incredibly close race to Congressman James Garfield. Music Hall still hosts concerts. 1241 Elm Street at 14th Street, downtown, across from Washington Park.
As I mentioned, the Underground Railroad Museum is on the site of Riverfront Stadium, between the ballpark and the football stadium. Since Cincinnati was on the north side of a river between the free State of Ohio and the slave State of Kentucky, it was a major point on the Underground Railroad. The Cincinnati Museum Center is on the grounds of the Union Terminal.
The Cincinnati Art Museum is at 953 Eden Park Drive, in Johnston Park. The Taft Museum of Art is closer to downtown, at 316 Pike Street. The Number 1 bus will take you to each of them.
The tallest building in Cincinnati is the Great American Tower at Queen City Square, at 660 feet and opening in 2010. 301 E. 4th Street. It surpassed the Carew Tower, a 574-foot Art Deco building at 441 Vine Street, which had been the tallest in town since 1931.
The transmission tower seen at the beginning of WKRP in Cincinnati belonged to the city's NBC affiliate, WLWT-Channel 5, even though the show was on CBS. The tower has since been dismantled. The building shown as the home of WKRP and referred to on the show as the Osgood R. Flimm Building is the Cincinnati Enquirer Building at 617 Vine Street, just off Fountain Square, so it was (and remains) a media center in real life.
The show was created by Hugh Wilson (who also wrote the opening theme song, sung by Steve Carlisle, and directed the Police Academy movies), and was based upon his experiences working in advertising sales at an Atlanta Top 40 station, with the Gary Sandy character of Andy Travis based on himself. The New WKRP in Cincinnati, which ran in syndication from 1991 to 1993, featured some of the original characters, while the others were each brought back as guest stars at least once.
Cincinnati did have, and still has, a radio and a TV station with the call letters WKRC. CBS owns it now, but didn't when WKRP was running. WKRC's AM frequency is 550.) In 2008, an unrelated independent TV station in Cincinnati, WBQC-LD, took advantage of local nostalgia for the sitcom, promoting its conversion to digital broadcasting by rebranding as "WKRP-TV in Cincinnati."
As far as I can tell, the only other TV show set in Cincinnati has been
Harry's Law
, starring Kathy Bates as lawyer Harriet "Harry" Korn, which was recently canceled after 2 seasons. Aside from
Eight Men Out
(filmed, as I said, in Indianapolis), the best-known movie set in the city was
Rain Man
. A few other movies had scenes filmed there, including the sports-connected films
Summer Catch
,
Seabiscuit
and
Mr. 3000
.
*
Cincinnati calls itself the Queen City of the Midwest, and thinks of itself as a good, solid, family town. Read: They'd rather slit their economic throats and condemn their women to no say in if and when to have a child than vote for a liberal. After all, the last time they elected a liberal Mayor was… Jerry Springer. (No joke.)
But it's a good sports town, and a Reds or Bengals game is well worth the trip.