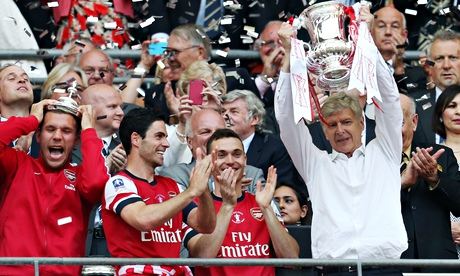 Yesterday was a long day, with a Yankee win, a Red Bulls loss, the Rangers scoring 7 goals more than they should have in Game 1 of the NHL Eastern Conference Finals, a horse whose name I can't remember at the moment (was it "California Chrome"?) winning the Preakness Stakes to move within one win of the Triple Crown, and Arsenal coming from 2-0 down to win the FA Cup.
There were celebrations over that Cup win. And I was in one of them.
I'll deal with the Yankees tonight, after this weekend series is completed. I'll have more to say about Arsenal after that.
I'm still shaking off the effects. Yesterday was a long and magnificent day. Even with the Red Bulls loss and the Scum win: If those were the prices I had to pay to have Arsenal win the FA Cup, I am glad to pay them. It was magnificent.