I support a team that was once symbolic of excellence in its sport in its country.
But that team has recently fallen on hard times.
That is, hard times by its standards. By most teams' standards, what my team has gone through in the last few years would be considered "the good old days."
To make matters worse, this team has new owners who are determined to cut costs after previous ownership spent money like it was no big deal
This has helped other teams with fabulously wealthy owners spend like crazy, and overtake my team for league honors.
It doesn't help that my team has a business manager who seems to be okay with ownership's desire to spend less.
It also doesn't help that my team has a field manager whose tactics are highly questionable, who has won before, but now seems puzzled by the changes in the game, and who seems too set in his ways, too committed to his old philosophy, too committed to certain players who haven't been getting the job done, and too willing to let good players go, to move the team forward.
In addition, some of my team's big-game opponents have engaged in blatant cheating, and have really not been punished for it, even though everybody knows it. Yet it is my team that gets accused of cheating, more than any other.
Everybody knows it our opponents cheat and play dirty, but few of them care. The national media seem to be against my team, and revel in their near-misses.
And the new stadium that was recently built? It's huge, and it's comfortable, and it's a great theater for a great team. But it's pricing the average fan out of regular attendance. And the rich fans who get the best seats don't seem to be into it the way the hard-core fans are.
Of course, the team does still contend for honors, but injuries to lots of players haven't helped. Injuries to great attackers, injuries to great defensive players, injuries to men who are seen as team leaders, injuries to role players, injuries to young players who thus have not gotten a fair chance to develop into the players they were expected to become... True, every team has injuries, but with my team, it never seems to stop. And while the field manager usually seems to find the right role player to fill in, it never seems to be enough.
And a change back to the old successes doesn't seem to be soon in coming.
The team I speak of, of course, is the New York Yankees.
Or... Is it the Arsenal Football Club?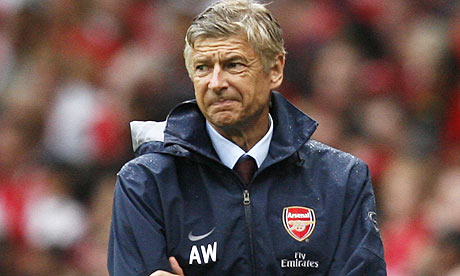 Since winning the World Series in 2000, their 4th title in 5 years, the Yankees have played 13 seasons, reaching the American League Championship Series 7 times, which is good, but the World Series just 3 times, and winning it only once. In that time, 3 teams have won 2 World Series: Boston, St. Louis and San Francisco.
Since winning the FA Cup in 2005, their 7th "major trophy" in 8 years (and just missing 3 others), The Arsenal have played 8 seasons, and while they've reached the Champions League Final once, the CL Semifinal one other time, the FA Cup Semifinal once, the League Cup Final twice, and twice made serious runs at the Premier League title, and have qualified for the CL every season by finishing no lower than 4th, they haven't won another trophy, and haven't finished higher than 3rd. In that time, only 2 English teams have done better than the Pride of North London: Manchester United and cross-London team Chelsea. Manchester City have done better in the last 3 years, but not in the 5 before that.
Since the death of George Steinbrenner, his sons Hank and Hal and daughters Jennifer and Jessica seem determined to beat the one thing Dear Old Dad never beat: The luxury tax threshold, which, for this season, will be $189 million. That's still a lot, and, at the moment, the only team, other than the Yankees, projected as spending more than that is the Los Angeles Dodgers.
Still, Yankee fans, used to their team spending whatever they thought it would take to win, are distressed: The biggest reason to root for the Yankees is that, more than any other team, they were trying to win. Every team has owners whose wealth, by most people's standards, would be insane. Every owner can afford to spend as much as the Yankees do; most choose not to even come close. It's why, as much as I hate the Red Sox, I respect owner John Henry and his management team: They, too, are trying to win first and make money second, knowing that winning will make money. So many team owners, such as David Glass of the Kansas City Royals, are richer than the Steinbrenners, but keep payrolls low so as to minimize cost. Essentially, they are okay with their teams not making the Playoffs.
Glass was an already wealthy man who married into the Walton family of Wal-Mart treachery, so he can spend whatever he wants; he just doesn't spend enough. This is also true of Stan Kroenke: He made his money in real estate before marrying a daughter of Bud Walton. (Glass married a daughter of Sam Walton, making he and Kroenke cousins-in-law.) Kroenke has been sole or part owner of teams that have won league titles in 3 different sports: The 1996 and 2001 Colorado Avalanche of the NHL, the 1999 St. Louis Rams of the NFL, and the 2010 Colorado Rapids of MLS -- meaning he's won a league title in soccer, the sport played by Arsenal. He became a part-owner of Arsenal in 2007 and controlling owner in 2011.
But Arsenal fans have seen manager Arsene Wenger spend amounts that would have seemed big when the club were winning, but seem small in comparison to what Chelsea, the Manchester clubs, and once-great but now struggling Liverpool (owned by the Red Sox' owners) are spending. At games, they yell at Wenger, "Spend some fucking money!" Other fans think it's not Wenger's fault, and yell, "Sack the board!" Like Liverpool, whose previous owners were also Americans (George Gillette of the Montreal Canadiens and Tom Hicks of the Texas Rangers and Dallas Stars), they think "Yanks" know "fuck all" about "football" and shouldn't be involved in "England's game."
In North American sports, especially after World War II, the manager (baseball or soccer) or head coach (football, basketball or hockey) is almost never the same person as the general manager (GM). It's too much work for any one man. The last man to be both head coach and GM and win a "World Championship," as far as I know, was Whitey Herzog, who got the St. Louis Cardinals to win the 1982 World Series, and won 2 more Pennants, losing the Series in Game 7 both times. It's been tried in the NBA and the NHL, frequently on an interim basis until a new head coach can be hired, but it hasn't worked.
In the NFL, a Super Bowl-winning coach can fall out with ownership, and be offered the head job at another team, but he'll remember what happened with his last team, and tell his prospective new boss, "I'll take the job on one condition: I want it all. I want full control. Make me not just the head coach, but the GM, too. Give me complete control over player personnel decisions. Otherwise, I'll stay retired, or go into broadcasting."
This has almost worked: Bill Parcells, after winning 2 titles with the Giants, got the New England Patriots to a Super Bowl and the Jets to within one game of one, and got the Dallas Cowboys to the Playoffs, but couldn't go all the way. Mike Holmgren, after winning a title with the Green Bay Packers, got the Seattle Seahawks into a Super Bowl, but couldn't win it, and is now president of the Cleveland Browns, who are no closer to respectability than when he arrived. Jimmy Johnson, after winning 2 titles with the Cowboys, got the Miami Dolphins into the Playoffs, but couldn't even get them to an AFC Championship Game.
But in soccer, both jobs, head coach and GM, are held by a single "manager." And, with the amount of money ratcheting up the pressure, and the pushiness of the European media, it's too much for any one man. Unless you pay off the refs like Man United's Alex Ferguson does. Even Jose Mourinho, who revived Chelsea, has bounced around; he's been successful in his native Portugal, England, Italy and now Spain, but he never stays anywhere for very long, because the image he's created for himself as "The Special One" has been turned by the media into both a blessing and a curse.
And even if Arsenal boss Wenger were making the right acquisitions, his in-game decisions make Arsenal fans wonder if he's reading from a binder, as Yankee manager Joe Girardi is often doing. Just as Girardi will tweak his lineup with what-the-hell moves, Wenger tinkers with his starting XI with positioning that most fans simply don't get. He has stuck with players long since proven inadequate, because, unlike the last great Arsenal manager, George Graham, he simply doesn't have the ruthlessness. How many times did he have to see mistakes by Manuel Almunia, Abou Diaby, Carlos Vela, Denilson Pereira Neves, Alex Song, Mikael Silvestre, Sebastien Squillaci, Johan Djourou, Gael Clichy, Emmanuel Eboue and Nicklas Bendtner before he realized that these players simply were not Arsenal quality? (Incredibly, Diaby and Squillaci are still on the active roster; while Vela, Denilson, Djourou and Bendnter are on loan, and thus are still, officially, Arsenal property. Why?)
Giving it a little more thought, a better comparison for Wenger would be to the last Yankee manager, Joe Torre. Each man began running the club in question in 1996. In Torre's first 8 seasons: 8 Playoff berths, 6 American League Pennants, 4 World Championships; in his last 4 seasons, with some odd lineups and pitching changes (including trusting several inadequate relievers way too much), 4 Playoff berths, only 1 trip to the AL Championship Series, no Pennants.
In Wenger's first 9 seasons: 3 League titles, 4 FA Cups, 1 Champions League Final, finished 3rd in his first season and then never finished lower than 2nd; in the 7 seasons since, since he began the youth project by letting Patrick Vieira go and building the team around unfaithful servant Cesc Fabregas (including trusting several inadequate players way too much), 1 CL Semifinal, 2 other CL Quarterfinals, 1 FA Cup Semifinal, 2 League Cup Finals, and 3rd or 4th every year, and may not even finish that high this year. Still qualified for the CL every season except his first, although that streak may end this year.
The replacement of Torre with Girardi is also a wakeup call: Girardi's first season, 2008, was the Yankees' first season since 1994 -- since 1993 if you remember that '94 was the year the Strike led to the postseason's cancellation -- that the Yankees didn't make the Playoffs. Understandable, since there were problems Girardi couldn't erase in 1 year. Then he won the 2009 World Series. Back to normal, right? Wrong: The Yankees lost in the ALCS in 2010 and '12, and in the AL Division Series in '11, all while Girardi made some mistakes that were rather Torresque.
In other words, replacing Torre, which so many Yankee Fans wanted in 2006 and '07, may not have been the best idea; replacing Wenger, which so many Arsenal fans have wanted since 2010, is no guarantee of restoration, either. Especially since, as with the Yankees of 1982-95, the Arsenal performance before Wenger wasn't so hot. Yes, there were 6 trophies in 8 years, but the last 5 pre-Wenger seasons, including 3 of those trophies, Arsenal finished 4th, 10th, 4th, 12th and 5th in the League, which, if Wenger had done it, would make the "Wenger Out Brigade" demand that Le Boss be sacked, tarred-and-feathered, shot and hanged -- not necessarily in that order.
Not that I have
no
problem with Wenger. My main problem with him is his lack of ruthlessness, a trait he shares with Torre and Girardi. He won't make substitutions when he needs to, and then frequently makes the wrong substitutions. And, just as Torre did with Paul Quantrill, Scott Proctor and Kyle Farnsworth, and Girardi has done with Boone Logan, Wenger's stuck too long with players who would never have made the starting XI on his better teams, even in place of injured starters.
Usually, the first of the 3 substitutions that are allowed per game (and, like MLB but unlike the NFL, the NBA and the NHL, once a player leaves a game, he can't go back in) doesn't come until at least the 70th of the regulation 90 minutes. He'll let a player who's been making mistakes all game long stay in, and when the first substitution is finally made, he'll take off a completely different player -- even if the player he's sending in can also play the position of the player who's been crapping it.
Only once have I ever seen Wenger replace a player at halftime for reason other than injury: Denilson. Emphasis on the NIL. Not to be confused with the Denilson who starred with Brazil's 2002 World Cup winners, this one is the worst player Arsenal have had since I started watching in 2008. He was once the Captain of Brazil's Under-17 national team, but hasn't played for Arsenal since the close of the 2010-11 season, having been on loan to his former club Sao Paolo since then.
(To be fair, Graham often took it too far, marginalizing and/or selling good players too soon: Kenny Sansom, Niall Quinn, Martin Hayes, John Lukic, David Rocastle, Michael Thomas. In some cases, it paid off; in others, it didn't.)
Some Arsenal fans like to say of Wenger, "His tactics are shit." Funny, but they didn't seem to think his tactics were shit when he won the League and the FA Cup in 1998 (this is known as "Doing The Double"), nearly won the League again in 1999, finished 2nd and reached the UEFA Cup Final in 2000, finished 2nd and reached the FA Cup Final in 2001, won another Double in 2002, narrowly missed yet another Double but still won the FA Cup in 2003, went through an entire League season undefeated in 2004 (the only time it's happened since 1889), won the FA Cup in 2005 and reached the CL Final in 2006.
They say he doesn't know about defense (or "defence" as it would be spelled over there). They say he only won what he won because inherited "Graham's back four": Right back Lee Dixon, left back Nigel Winterburn, and centrebacks Tony Adams and Steve Bould, plus reserve centreback Martin Keown. Sometimes they say "Graham's back five," counting goalkeeper David Seaman.
Let the record show that, under Graham, the 2-3-5-6 of Dixon, Winterburn, Bould and team Captain Adams won 2 League titles (1989 and '91), each of the domestic cups (FA Cup and League Cup) once (a "Cup Double" in 1993, the first time it had ever been done), and the 1994 European Cup Winners' Cup (a competition that is no longer played). Adams had also been around for an additional League Cup in 1987, with the others acquired over the next 2 seasons. Seaman came along for the '91 League title, and also won the Cup Double and the Cup Winners 'Cup.
But they won the Double under Wenger. Seaman, Adams and Dixon won another Double under Wenger. Adams and Dixon then retired, but Seaman won another FA Cup under Wenger. In other words, Graham's players not only had their careers salvaged by Wenger, but they won more under Wenger than they did under Graham. And Wenger managed to replace each of them with a player of similar quality: Bould in 1999 with Keown, Winterburn in 2000 with Ashley Cole, Adams in 2002 with Sol Campbell (Sol pretty much took Adams' place in the 2001-02 season), Dixon in 2002 with Lauren Etame Mayer (usually just called "Lauren"), Seaman in 2003 with Jens Lehmann, and the retiring Keown in 2004 with Kolo Toure (who had pretty much forced Keown into retirement the year before, much the same way that Sol had led Adams to do).
True, Wenger has had trouble replacing those defenders, but goalie Wojciech Szczesny, right back Bacary Sagna, left back Kieran Gibbs and centrebacks Laurent Koscielny and Per Mertesacker are as good as anyone in the League, and reserve right back Carl Jenkinson and left back Nacho Monreal are good and getting better. The real problem, aside from the injuries, is centreback Thomas Vermaelen, a disappointment who has the enthusiasm of a Captain, but not the leadership ability, and never should have been appointed to the post.
Another issue, besides keeping the wrong players, is the players they let go. In the Yankees' case, this is less Girardi's fault and more GM Brian Cashman's. He shouldn't have let catcher Russell Martin go, especially after letting catching prospect Jesus Montero go to get pitcher Michael Pineda, who's been hurt and hasn't pitched in Pinstripes at all. He may also have let pitcher A.J. Burnett get away too soon. And say what you want about Melky Cabrera's steroid use, but the Melkman was a big reason why the San Francisco Giants won the World Series last year.
Wenger always seems to find players to replace the good ones who whine their way out, but he keeps letting those players whine their way out. Whether it's over money or their perception of the club's "ambition," Wenger has lost Ashley Cole to Chelsea in 2006, Thierry Henry to Barcelona in 2007, Mathieu Flamini to AC Milan and Aleksandr Hleb to Barcelona in 2008, Emmanuel Adebayor and Kolo Toure to Manchester City in 2009, Cesc Fabregas to Barcelona and Samir Nasri and Gael Clichy to Man City in 2011, and Robin van Persie to Man United in 2012. It can be argued that some of those -- Flamini, Hleb, Kolo, Nasri, and now even Cesc at his boyhood club -- have been marginalized, and that it would have been better for them, at least as individuals, if they had stayed. But the team successes enjoyed by all but Adebayor (who was loaned out by Man City and then sold to Tottenham before City won the 2011 FA Cup and the 2012 Premier League title) shows that, at least as far as the "ambition" argument goes, they were right. Hell, in 2012, even Eboue won a League title, in Turkey with Istanbul club Galatasaray.
*
The cheating? It's not just the Boston Red Sox who have used performance-enhancing drugs, and beanballs and other forms of purposeful attempts to injure, to stop the Yankees, but the Sox, more of an arch-rival to the Yankees than the Mets (or even the Baltimore Orioles, who are slightly closer than the Sox to the Yankees in terms of distance) could ever be, have been getting away with it for about 15 years. Steroids by David Ortiz and Manny Ramirez, and suspected use of them by Pedro Martinez, Kevin Millar, Trot Nixon, Mark Bellhorn and Bill Mueller. Beanballs from Pedro, Bronson Arroyo, Daisuke Matsuzaka, Jon Lester and John Lackey.
Look at some of the Yankees' other postseason opponents: The 1995-2001 Seattle Mariners (widely suspected with Jay Buhner and the young, pre-Yankee A-Rod), the 1996-97 Orioles (proven with Rafael Palmeiro and suspected with Bobby Bonilla and Brady Anderson), the 1997-98 Cleveland Indians (proven with Manny and Matt Williams), the 1996-99 Texas Rangers (proven with Juan Gonzalez and widely suspected with Ivan Rodriguez), the 2000-02 Oakland Athletics (proven with both Giambi brothers, future Yankee Jason and Jeremy), the 2000 Mets (widely suspected with Mike Piazza), the 2001 Arizona Diamondbacks (proven with Williams, widely suspected with Luis Gonzalez), the 2003 Florida Marlins and 2006 Detroit Tigers (both with the aforementioned Ivan Rodriguez). If the Yankees have used PEDs to succeed, their opponents have used them more to stop them.
In Arsenal's case, the 2 clubs most successful against them, Manchester United and Chelsea, have had lots of players guilty of diving, dropping to the ground when there has been no contact against them, especially in the penalty area, which (they hope) leads the referee to award a penalty kick. Those teams have had referees let their players get away with vicious fouls, while giving their opponents yellow cards (warnings) and red cards (throwing them out of the game, either through a 2nd yellow or a foul deemed to be so bad it deserves a "straight red") for fouls for which the punishment most certainly does not fit the crime. Man United have also had plenty of offside goals ruled good, and opponents' legitimate goals ruled offside. And Man U's tendency to receive phony penalties, and to have their opponents denied stonewall penalties, especially at their home ground of Old Trafford (a.k.a. Old Trashdump and Old Tramshed) is legendary. Like the Yankees, the Cowboys, the Los Angeles Lakers and the Detroit Red Wings, Man U are the most loved club in their sport, but also the most hated, and there are more people who hate them.
But the Man U haters are only on the streets and in the pubs. Not in the media. Just like ESPN and Fox Sports have pandered to Yankee-haters to get better ratings, British broadcasters and studio pundits, and now American soccer coverers, have been sucking Sir Alex's dick for years, overlooking the gifts his team gets, and taking in stride the kind of peccadilloes, onfield and off, that they would shred those players for if they were with Arsenal.
After all, Wayne Rooney cheats on his wife while she's pregnant, pushes referees, curses at referees and TV cameras, and dives, dives, dives to win game-deciding penaltie, but he's Man U, and he's English, so they forgive everything. But when Eduardo da Silva, now playing in the Ukraine, got bumped in a Champions League game against Glasgow club Celtic in August 2009 and went down as if he'd been hammered, the entire British media, seeing an Arsenal player and a foreigner (he's from Brazil but a citizen of Croatia) called him a diver and a cheat.
Everywhere Arsenal went that season, the old chant went up: "Same old Arsenal, always cheating!" Which is total bullshit. (By the way, that Robert Pires dive against Portsmouth, early in the 2003-04 season that won a draw-salvaging penalty, making the "Invincibles" season possible? There was major contact. It was not a dive.)
*
The new Yankee Stadium may look a lot like the original Stadium did in before its 1973-76 renovation, but the spirit of the old place seems not to have made it across the street. "The Moat," the walkway between the hideously expensive seats and the merely ridiculously expensive ones, might as well be an enclosure, for how it insulates the guys who are merely taking clients to a game to impress them and get a better business deal from the real fans.
Likewise, Arsenal's former home, officially named Arsenal Stadium but known by its neighborhood as Highbury, was a monument of both architecture and on-field success. But after the Hillsborough Disaster of 1989 led to the deaths of 96 Liverpool fans and injuries to 600 or so others, and the 1993 Taylor Report making recommendations to prevent another such disaster ruled that all English stadiums had to be made all-seater, thus taking out the "standing terraces" that included Highbury's famed ends, the North Bank and the Clock End, Highbury's capacity was reduced from over 73,000 to about half that, 38,419 -- not much more than Fenway Park now holds.
A new stadium had to be built to hold Arsenal's crowds and the people already on the season-ticket waiting list. So, just 500 yards away, a new stadium went up, named the Emirates Stadium after the United Arab Emirates airline who bought the naming rights to the stadium and the sponsorship rights to the club's jerseys (having previously been on Chelsea's shirts). The Emirates -- called Ashburton Grove after the street that used to exist there, or "New Highbury," by people who hate corporate names or are mistrustful of Middle Eastern dictatorships, royal or otherwise -- seats 60,361, making it the 2nd-largest club soccer stadium in Britain, behind Man U's 75,000-seat Old Trafford.
But opponents, as they did with the old stadium (because it comes close to rhyming with "Highbury"), have called the new stadium "The Library," for how quiet it seems. As if fans of Tottenham, Chelsea and Man United would know what the inside of a library sounds like, the illiterate mugs!
But they do have a point: The atmosphere at the Emirates is considerably less than it was at Highbury. Arsenal's traveling support often seem to be louder than not just the opponents' home fans, but their own home fans.
The same is true of existing stadiums that were redeveloped after the Taylor Report, especially Old Trafford and Chelsea's Stamford Bridge: Where once, visiting fans had to be afraid of the home fans, in each case with hooligan or even fascist reputations, "beating the seven shades of shit out of you," the marketing of the newness of the stands, and the newer, "gloryhunting" fans that the success those clubs have had since, has taken much of the sting out, to the point where, even if you get into the successors to Old Trafford's Stretford End and Stamford Bridge's "Shed," the biggest threat you face is the home team cheating your team out of points. True, the higher prices (not to mention the hoolies of the 1970s, '80s and '90s getting older and giving it up) have kept out most (but not all) of the rougher element, and have led to more comfortable seats, wider walkways, and better concession and bathroom facilities, just like the post-1992 Camden Yards-style ballparks in America. But so much of the good part of the atmosphere has been lost.
*
And then there's the injuries. Last year, the Yankees got to the American League Championship Series despite injuries to 3rd baseman Alex Rodriguez, 1st baseman Mark Teixeira, left fielder Brett Gardner (missed nearly the entire season), catcher Russell Martin, designated hitter Eric Chavez (who filled in a bit for A-Rod at 3rd), starting pitchers CC Sabathia, Ivan Nova, Andy Pettitte and Michael Pineda (only the latter 2 missed significant time, Pineda the entire season), setup reliever David Robertson, and closer Mariano Rivera (nearly the entire season). True, the Yankees don't seem to get beat by injuries every year, but last year, they sure did, especially after shortstop and Captain Derek Jeter broke his ankle in Game 1 of the ALCS -- not that we Yankee Fans were all that confident of beating the Detroit Tigers, anyway.
And now, in preseason, Teixeira and center fielder Curtis Granderson have injuries that look like they'll keep the players out until early May, while A-Rod's hip surgery, delayed since last season, will keep him out until at least the All-Star Break in mid-July -- if, that is, the Yankees, heeding the warnings of another steroid controversy with him, don't get rid of him before that.
In Arsenal's case, it seems to happen every year. In 2006, Dan Smith of Sunderland made a straight-red-card tackle on Abou Diaby, who has had recurring injuries ever since and has never lived up to the potential that lots of Arsenal fans think he has. (Having seen Diaby pass to the opposition too many times, I'm not sure he ever had that potential.) In 2008, Martin Taylor of Birmingham City made a straight-red-card tackle on Eduardo da Silva, breaking his leg and keeping him out of action for a year. Eduardo was never the same, appearing to be afraid to move forward with the ball -- literally, intimidated. In 2010, Ryan Shawcross of Stoke City made a straight-red-card tackle on Aaron Ramsey, breaking his leg and putting him out for a year. Only recently has Ramsey gotten back to his former potential. Stoke punished Shawcross for this despicable action by making him team Captain.
From 2005 to 2011, Arsenal's 2 best young talents, and eventually their 2 best players, Spanish midfield maestro Cesc Fabregas and Dutch striker Robin van Persie were constantly hurt, often at the same time, resulting in losses that should have been easy wins. Instead of being grateful to Wenger and the club for standing by them when they could have been tossed on the scrapheap, Fabregas allowed himself to be "tapped up" by his childhood club Barcelona, and refused to play in the first few games of the 2011-12 season, in August, as the summer transfer window closed on the 31st, forcing him to be sold to Barca for far less than he should have been; and van Persie, over the course of that season, refusing to sign an extension to the contract that ran through the end of the 2012-13 season, and announcing on his personal website that he wasn't happy with the direction the club was taking.
And instead of doing what Fabregas and the legendary Thierry Henry had done, going to a club in a different country and thus a different league, van Persie wanted to go to the most successful club in England, Manchester United. This has led me to call him Robin van Rat and the author of
Arseblog
, the funniest if not the best Arsenal blog, to call him The Dutch Skunk. ("Arseblogger," an Arsenal fan from Dublin, does not forgive and does not forget: He still calls Ashley Cole "Cuntley Cunt," and Frank Stapleton, a great striker who left Arsenal for Man U in 1981, when Man U were good but not yet the juggernaut they would become, "Staplecunt" -- 32 years later.)
There was a point late in the 2010-11 season when Arsenal had all 4 goalkeepers unavailable. Starter Wojciech Szczesny was injured. Second-stringer Lukasz Fabianski, who isn't very good, was also injured. Third-stringer (now second) Vito Mannone was on loan. And fourth-stringer Manuel Almunia, who had a few great games as starter between 2008 and 2010 but had since proven himself incapable handling Premiership pressure, had been put back in as a starter, because there was no other choice besides reserve team goalie James Shea, not yet 20. This led Wenger to bring back the goalie he had unceremoniously sold in 2008, despite being one of the 2004 Invincibles, German lunatic/genius Jens Lehmann, who had already retired. Mad Jens was only supposed to be an emergency backup. And then Almunia got hurt in warmups for a home match against Blackpool. And Jens had to play. He held Blackpool to 1 goal and Arsenal won. At 41, Jens became the oldest player for Arsenal in a League match, and missed by 8 days becoming the oldest player for Arsenal in any kind of match. (He stayed through the end of the season and then retired again.)
There was a point early in the 2011-12 season when Arsenal had all four fullbacks out with injury: Right backs Bacary Sagna and Carl Jenkinson, and left backs Kieran Gibbs and Andre Santos. Thomas Vermaelen was moved over to the left, and Johan Djourou over to the right. This, plus the Fabregas and Samir Nasri whineouts in the days leading up to the end of the summer transfer window, making them unavailable for the game, led to an 8-2 shellacking by Man U at Old Trafford. (And yet, the traveling Arsenal fans stayed the entire game, and 5,000 of them outsang 70,000 Man U fans. Whereas, later that year, when Man City beat Man U 6-1 at Old Trafford, the Man U fans headed for the exits when it was only 3-1 early in the 2nd half. This is why Man U's home support is called "70,000 muppets.")
Tomas Rosicky wrecked a hamstring tendon in 2008, and missed the entire 2008-09 season, and has never been the same, frequently being injured. Jack Wilshere, Arsenal's great English hope, hurt his ankle in a preseason match in 2011, and missed the entire season and the beginning of this one, although he has come back with a vengeance: Unlike Diaby, Eduardo, Ramsey and Rosicky, he's actually gotten better. Theo Walcott has been frequently injured. So has Thomas Vermaelen, once hailed as "The Verminator," a cyborg from the future who was going to destroy opposing strikers; instead, he's been a pussycat -- and I'm not sure about the "cat" part. Gibbs gets hurt a lot, too. So does Djourou, currently on loan.
*
Questionable management in the boardroom. Questionable management from the bench. Cheating opponents. A new stadium that seems to suck out the atmosphere. Injuries, injuries and more injuries. Not enough success by the standards to which the team's fans had become accustomed. And a change back to the old successes doesn't seem to be soon in coming.
The New York Yankees have become a lot like the Arsenal Football Club. What Arsenal has called "the Arsenalisation of the Emirates Stadium," putting up the murals of club legends on the outside of the stadium and dedicating statues to a few of them, has not restored the atmosphere. Now, the Yankees are undergoing "Arsenalisation." (Or "Arsenalization," as we would spell it here.)
There is one significant difference. Arsenal's arch-rivals, 5 miles away, are Tottenham Hotspur. They haven't finished ahead of Arsenal in the League in 18 years, haven't won a major trophy in 22 years (since the 1991 FA Cup, they've won just 2 League Cups), and haven't won the League in 52 years. Yet they still claim that they're not only the "real team" in North London, but that they're better. They have yet to prove it in this generation.
Contrast that with the Yankees' local rivals, the Mets, 10 miles away. They haven't won the World Series in 27 years, and have still been playing after the Yankees have been eliminated from the postseason only once in the last 25 years. And while Met fans claim to be "the real New York team," a sense of purity that they really don't deserve, they know damn well their club is never going to be the equal of the more successful team.
I've called Met fans stupid, but they ain't
that
stupid.
I have often called Tottenham "the Mets of London." But that's not fair.
Since April 17, 1961, when Tottenham last clinched a League title, and the Mets existed only on paper, a year away from making their on-field debut, the Mets have won their League 4 times. Tottenham, none.
And while Met fans tore up the field at Shea Stadium when they won the 1986 National League Eastern Division title -- mounted cops stopped them from doing so when they won the World Series at home a month later -- they've never rioted outside the stadium. Tottenham fans did so in August 2011.
Even Red Sox fans aren't that bad.