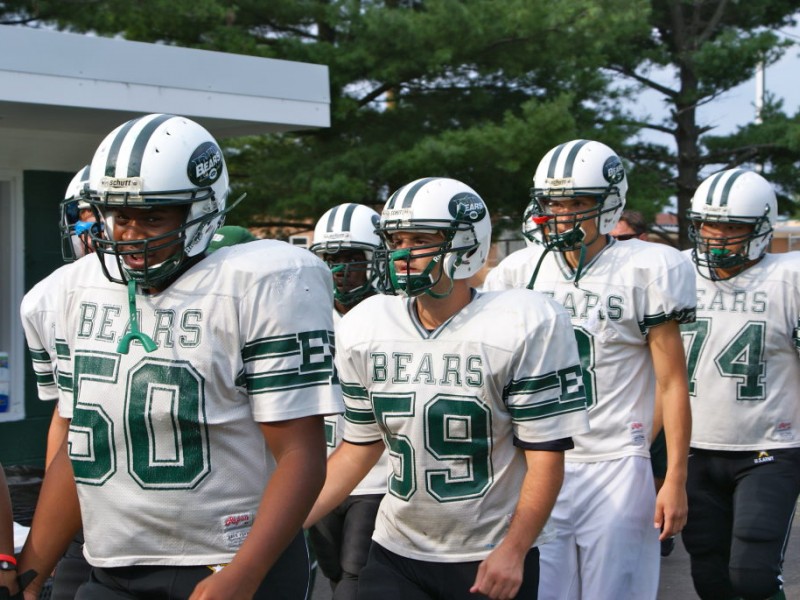 Well, the Good Guys lost the Thanksgiving game. Again.
The Big Green had beaten the Purple Bastards in 2 of the last 5 seasons, and the game was at home. But who was kidding who? East Brunswick lost our 1st 8 games before winning a consolation game, and Old Bridge came in at 4-5, with their 5 losses all at the hands of teams that made the Playoffs -- as if E.B. hadn't lost to 4 of those same teams!
The Purple Bastards jumped out to a 40-7 lead, before we made the final score 40-20, with 2 incredibly meaningless touchdowns.
And Old Bridge's coach spoke of an 8-1 junior varsity and a good sophomore class.
My fellow EBHS grads, enjoy that 2009 State Championship, that 2010 Playoff berth, and those 2006 and 2010 wins over The Scum, because it may be some time before we get any more of those!
What a lousy way to end our 50th Anniversary season of football, 1961-2011.
Now the countdown to the next Battle of Route 18 starts.
I hate Old Bridge. I really, really hate 'em.
Come on, Rutgers, beat UConn tomorrow. Clinch that first-ever Big East Championship -- even if it does turn out to be only a Co-Championship, it's a title, the first.
The Devils are playing the Islanders at the Nassau Coliseum, in a Day After Thanksgiving matinee right now -- no score in the 2nd. First half of a home-and-home series that concludes tomorrow afternoon at the Prudentail Center.
*
Hours until the Devils play another local rival: 21, tomorrow night, again against the Islanders, at the Prudential Center. The first game against The Scum isn't until Tuesday night, December 20, at the Prudential. The next game against the Philadelphia Flyers is a Saturday matinee on January 21, 2012, at the Prudential Center.
Hours until Rutgers plays football again: 21, tomorrow afternoon, at the University of Connecticut's home field, off-campus, at Rentschler Field in East Hartford.
Hours until Arsenal play again in a competitive match: 21, tomorrow afternoon (morning my time), against another capital club, Fulham of West London, including American star Cliff Dempsey. Former Tottenham manager Martin Jol is now the Fulham manager, but, since he is no longer the Tottenham manager, officially, his mother is cleared of being a whore.
Days until the next North London Derby: 92, on Saturday, February 25, at New Highbury. Just 3 months. However, this game would be moved if Arsenal advance to the Carling Cup (League Cup) Final, to be held the next day at London's new Wembley Stadium. Arsenal play Manchester City in the Quarterfinals this coming Tuesday. The other teams still in it: Manchester United vs. Crystal Palace (South London), Chelsea (West London) vs. Liverpool, and Cardiff City (Wales) vs. Blackburn Rovers (Lancashire in England's North-West).
Days until the Red Bulls play again: 120, presumably on Saturday night, March 24, 2012, opponent and location to be determined. Just 4 months. I'm still pissed off that David Beckham and especially that Tottenham cunt Robbie Keane won the MLS Cup with the Los Angeles Galaxy this past Sunday.
Days until the Yankees' next Opening Day: 132, on Friday afternoon, April 6, 2012, at Tropicana Field in St. Petersburg against the Tampa Bay Rays. A little over 4 months.
Days until the Yankees' home opener: 140, on Friday afternoon, April 13, 2012, against the Whatever They'll Be Calling Themselves Next Season Angels of Anaheim.
Days until the last Nets game in New Jersey: 145, on Wednesday night, April 18, 2012, against the Chicago Bulls, at the Prudential Center. Under 7 months before New Jersey no longer has an NBA team. This is, of course, contingent on the current NBA lockout not rearranging the schedule.
Days until the next Yankees-Red Sox series begins: 147, on Friday night, April 20, 2012, at Fenway Park in Boston. Under 5 months.
Days until the 2012 Olympics begin in London: 242 (July 27). About 10 months.
Days until East Brunswick High School plays football again: 294, on Friday, September 14, 2012, opponent and location to be determined.
Days until the next East Brunswick-Old Bridge Thanksgiving clash: 365. 2012 is a Leap Year, hence the extra day.
Days until Super Bowl XLVIII at the Meadowlands: 826 (February 2, 2014). A little over 8 months.
Days until Alex Rodriguez collects his 3,000th career hit: 604 (estimated around July 20, 2013). About 20 months.
Days until Alex Rodriguez hits his 700th career home run: 877 (estimated).
Days until Alex Rodriguez hits his 756th career home run to surpass all-time leader Hank Aaron: 1,711 (estimated).
Days until Alex Rodriguez hits his 763rd career home run to become as close to a "real" all-time leader as we are likely to have: 1,742 (estimated -- estimating 28 home runs a year, he should get it late in the 2016 season, maybe around September 1, at age 41).