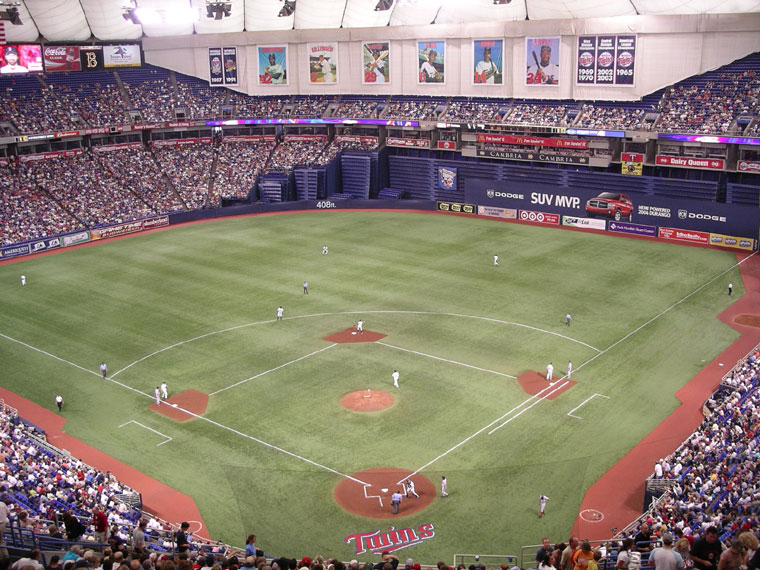 The Yankees are on an absolute tear. Yesterday's win over the Minnesota Twins was their 8th straight road win, and 11 out of 13 overall. Even when they're getting bad starts from their pitchers, they're getting away with it because the bullpen puts out the fire and the bats come alive.
The Yanks swept the Twins, and since the Twins are building a new ballpark that opens next season, and there are no more trips to the Twin Cities scheduled for this season, this was the Yankees' last game ever in the hated Metrodome.
Unless, of course, the 2 teams meet in the Playoffs -- which could very well happen. The Yankees are now tied for 1st place in the AL East, while the Twins, although only at .500, are only 4 games out of 1st in the AL Central.
The Twins have reached the Playoffs 5 times in the last 7 seasons, and on 2 of those occasions they faced the Yankees -- although the Yanks won both of those series, and the Twins haven't won a Pennant since their 1991 World Championship season. The Metrodome's legendary ability to hold in sound hasn't helped them in October since the first Bush Administration.
The Yanks now head out to the Coast to play the -- uh, what are they calling themselves this year? Oh yeah: "The Los Angeles Angels of Anaheim." Hey, it's not "The New York Giants of East Rutherford," is it? Or "The San Francisco Sharks of San Jose"? Or "The Detroit Pistons of Auburn Hills"? Or "The Dirty Filty Rotten Cheating Boston Patriots of Foxboro"?
The Angels have had the Yankees' number pretty much since they got good in the early 1970s, but are dealing with injuries right now, so maybe the Yanks can take 2 of 3 in this last series before the All-Star Break.
The Mets? Oy, better you shouldn't ask. Now 4 games under .500, in 4th place (out of 5)... but only 5 1/2 games out of first in the NL East, 6 1/2 out of the Wild Card. Their season's not over yet... but their injuries have left them seriously diminished, and that's not just a Yankee Fan talking: That's reality.