John Fitzgerald Kennedy was born in Brookline, Massachusetts on May 29, 1917. He was elected President of the United States on November 8, 1960, 50 years ago this month. He was assassinated in Dallas, Texas on November 22, 1963, 47 years ago today.
On May 16 of this year, it had been 46 years, 5 months and 24 days since his death. Meaning he has now been dead longer than he was alive.
I don't remember either Jack or Bobby Kennedy (who will be dead longer than he was alive this December 23) as a living, breathing, acting, achieving, dreaming public figure. I only know them as martyred heroes. Nor do I remember Ted Kennedy as an untainting public figure: The Chappaquiddick accident (and, yes, it WAS an accident) happened 5 months before I was born.
I don't know what it was like in those 10 years and change from November 22, 1963 to August 9, 1974, when the nation had to suffer through Vietnam, race riots and Watergate. Whether JFK would have made it different, I don't know.
I do know that all 3 Kennedy brothers were big sports fans. JFK threw out the ceremonial first ball on Opening Day in Washington all 3 Aprils he was in office. This included 1962, when the Washington Senators opened (after the NFL's Washington Redskins had already played their first season there the fall before) District of Columbia Stadium. Just 7 years later, D.C. Stadium would be renamed for his brother, Robert F. Kennedy Memorial Stadium. (Or "RFK Stadium.")
JFK liked attending the Army-Navy Game at Municipal Stadium in Philadelphia -- which, after his assassination, would be renamed for him. As Presidents traditionally did, so as not to be seen as "taking sides," he sat on the side of the stadium where Army's bench was for one half and the Navy side for the other. But, just as his predecessor, Dwight D. Eisenhower, was an Army General in World War II and people joked he couldn't truly be neutral in the game, JFK was a Navy hero in the same war, and probably also wasn't exactly impartial.
Tossing the coin at the 1961 Army-Navy Game.
Oldest brother Joseph P. Kennedy Jr. played football at Harvard University. Jack didn't make the varsity. Bobby did, scoring a touchdown against Western Maryland, but injuring his ankle. He hadn't yet won his varsity letter, and, in those days, the only way you could was by playing in The Game. Harvard vs. Yale. So it entered into the Kennedy myth that "Bobby Kennedy played in the Harvard-Yale game with a broken leg." No, not a broken leg, but an injured ankle. He got his letter.
"Some men see Yale beating Harvard, and say, Why?
I dream of beating Yale, and say, Why not?"
Or something like that.
In a twist of fate, his brother would be assassinated on the anniversary: November 22, 1947. Despite whatever contributions Bobby could have made, Yale won, 31-21 at the Yale Bowl in New Haven, Connecticut.
On November 19, 1955, Ted, easily the best player of the brothers, played two-way end (today, we would call it "tight end" and "defensive end," although in the two-platoon system then taking over football he most likely would have been either a tight end or a linebacker), and caught a pass and took it in for a touchdown in the Yale game.
Ted at Harvard Stadium
What the Kennedy legendeers (myself sometimes included) don't like to say is that it was the only Harvard touchdown of the day; that Ted dropped a pass in the end zone earlier, which might have made a difference; and Yale won, 21-7, also at the Yale Bowl.
This past Saturday, at Harvard Stadium, Harvard beat Yale 28-21, but Yale still solidly leads the all-time series between them, 65-53-8. (UPDATE: Through the 2016 season, Yale's lead is 66-59-8.)
When the Red Sox had their "Impossible Dream" season in 1967, the final series of the year was between the Sox and the Minnesota Twins at Fenway Park. Ted had invited Vice President Hubert Humphrey, Minnesota's once and future Senator, to watch the games with him and the now-ailing former Ambassador Joseph P. Kennedy Sr. Bobby wasn't there that weekend, but the TV cameras caught Ted and Hubert sitting together talking about the game.
Interviewed for
Impossible To Forget
, a 40th Anniversary DVD about that season, Ted said that it was the last summer that he and Bobby were together, and that it made them and their father very happy to see the Red Sox win that Pennant.
When Fenway Park opened on April 20, 1912, throwing out the first-ever first ball was the Mayor of Boston, John F. "Honey Fitz" Fitzgerald, father of Rose, mother of the four Kennedy brothers. In 2009, with Ted battling a brain tumor, the Red Sox invited him to throw out the first ball on Opening Day. Weakened by his battle and 77 years, Ted threw a soft toss to new Hall-of-Famer Jim Rice right in front of the mound.
A little more than 4 months later, Ted joined his brothers, his parents, 3 of his nephews (JFK Jr. and Bobby's sons David and Michael) and all but one of his sisters -- Jean is the only one of the 9 still alive.
*
The 1963 Army-Navy Game had been scheduled for Saturday, November 23. It was postponed. Most college games were postponed. But the Nebraska-Oklahoma rivalry went on as scheduled. (Nebraska won, 29-20.)
When the announcement that JFK was dead reached us at 2:38 PM Eastern Time on November 22, it was a Friday afternoon, and decisions had to be made to play or postpone games. Here in the New York Tri-State Area, the Nets, Islanders and Devils did not yet exist. The Yankees and Mets were in the off-season, so they were not affected. The Rangers were not scheduled for that night. The Knicks were, and, for the 1st time in the franchise's 17-year history, one of their games was postponed.
East Brunswick High School was supposed to play football on the Saturday, against neighboring Sayreville. The game was postponed, and, for the first time in the then-new school's 3-year football history, a game was played on Thanksgiving. E.B. won, 13-12. We always beat Sayreville, losing to them only once from our football debut in 1961 until 1990. Since then, they've had our number, including this season, although we did beat them on the road in the Playoffs last season.
Anyway, E.B. did not play on Thanksgiving Day again until 1978, because our athletic director at the time, Jay Doyle, for whom our stadium would be named after his 1972 death, didn't like the idea. Maybe he was right: From 1984 onward, we've only won on T-Day twice.
The Giants and Jets were, from 1960 to 1969, in separate leagues. American Football League Commissioner Joe Foss was the leading Marine Corps flying ace of World War II (26 shootdowns), a winner of the Congressional Medal of Honor, and a Governor of South Dakota. His political career ended in 1958 when, rather than run for a 3rd term as Governor, he ran for Congress, and was defeated by another WWII pilot, bombardier George McGovern. After his tenure as AFL Commissioner, he became the President of the National Rifle Association. He died in 2003, age 84.
In 1993, interviewed by CBS Sports on the 30th Anniversary of the assassination, Foss made it clear: "The vote of the owners was unanimous: The show must
not
go on." Although he was a Republican (being rich guys, sports owners tend to be conservative, even nice guys like Pittsburgh Steelers founder Art Rooney and his sons who now run the team), Foss was an American first, and decided that the right way to honor the fallen President was to postpone that week's slate of AFL games.
The owners of the 8 teams the League then had all agreed: Lamar Hunt of the Kansas City Chiefs (a Dallas native and the AFL's founder), Billy Sullivan of JFK's hometown Boston Patriots, Ralph Wilson of the Buffalo Bills, Gerald Phipps of the Denver Broncos, Bud Adams of the Houston Oilers, Wayne Valley of the Oakland Raiders, Barron Hilton of the San Diego Chargers, and Leon Hess and Sonny Werblin of the New York Jets.
The National Football League was a different story. Having less than 48 hours to decide, Pete Rozelle, in only his 4th season as Commissioner, made a phone call to Pierre Salinger, who had been his roommate at the University of San Francisco, and was now the White House Press Secretary and close to the Kennedy family. Salinger said that JFK wouldn't have wanted the games canceled just because he was dead. So Rozelle said the games would go on.
Sports Illustrated named him Sportsman of the Year for 1963
for his handling of both the JFK situation and the gambling scandal
involving Paul Hornung of Green Bay and Alex Karras of Detroit.
Rozelle and Salinger were both still alive when CBS did that anniversary piece on the games that went on in 1993. Sam Huff, then one of the NFL's top defensive players with the New York Giants, soon to join the Washington Redskins, and now a longtime broadcaster for them, thinks it was a mistake.
As the most famous living athlete in the State of West Virginia (even more, at that point, than basketball star Jerry West), he had campaigned with JFK in the 1960 West Virginia Primary, which was so crucial to his winning the nomination. In that CBS retrospective, Huff said Rozelle and Salinger made a mistake: "I think it should have been Jackie's call."
Jacqueline Kennedy was truly remarkable in how she put her husband's funeral together under the most trying of circumstances. But, at that point, I don't think she would have given a damn whether football games were played that Sunday or not.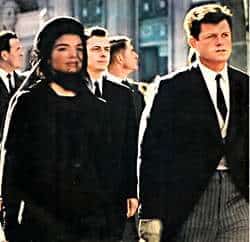 Jackie with Ted. Bobby would have been on the other side of her,
but was cropped out of this photo for some reason.
And in that retrospective, they included an interview done with Rozelle upon his retirement as Commissioner in 1989. In it, he admitted that letting the games be played was his biggest mistake on the job. Rozelle died in 1996, age 70.
*
Was it a mistake to play? I'm not so sure. Maybe you believe it was, or not; maybe what you're about to read will change your mind, or not.
Top 5 Reasons You Can't Blame Pete Rozelle for Not Postponing NFL Games After the JFK Assassination
5. Timing.
Rozelle had under 48 hours to make the choice. He said that some of the teams were already on, or getting on, the airplanes that would take them to the cities where their games had been scheduled. Had the shooting happened the day before, Thursday, it might have been a different story. Rozelle had to make a decision, almost literally, on the fly.
4. The Kennedy Mystique.
Football, had been the Kennedy family's game. From Bobby and Ted making the Harvard varsity to the touch football games at Hyannis and Palm Beach, they reveled in the sport. It was a tribute to them, the way it wouldn't have been if, say, basketball legend Bill Bradley had become President and faced a murderous end to his Administration.
3. Official Recognition.
Sam Huff had a point: Jackie Kennedy giving the go-ahead to Commissioner Rozelle would have been better, having more moral authority, than Pierre Salinger giving it. But word
had
been received from the White House. Short of Jackie herself, or Bobby, saying, "Go ahead and play," that was as official as it could get.
Indeed, the next season, Bobby visited the locker room at an Eagles game, and, quarterback King Hill remembers, "He came into our locker room, and went around shaking our hands. He said he appreciated us playing the games that weekend." Given that, it is quite hard to imagine JFK saying, "Don't play the games."
For the record, the start of the 1968 baseball season was delayed after Martin Luther King was killed on April 4, but that was mainly due to the race riots more than the man's death. Still, it was a good idea. When Bobby was killed on June 5, 1968, died on the 6th, and buried on the 8th, no games were postponed.
On December 7, 1941, it was a Sunday, and that day's NFL games were already underway when word was received that Pearl Harbor was attacked. (The attacks happened at around 8:00 in the morning Hawaii time, which was 2:00 in the afternoon East Coast time.) Only 3 MLB games were scheduled for May 4, 1970, the day of the Kent State Massacre, and a full slate was played the next day.
Games were called off for 10 days after the earthquake that struck during the 1989 World Series. Earlier that year, in England, a tragedy at an FA Cup Semifinal postponed Football League games for 2 weeks, but the season did resume.
Only after the terrorist attacks September 11, 2001 has the NFL ever postponed a week's slate of games, and baseball pushed back the remaining games for that week as well. Most people seemed to think that one week's delay was enough, and sport helped us to heal.
2. The Games Weren't Televised.
CBS, then the NFL's sole carrier, went all-Kennedy-all-the-time, and didn't even send broadcast crews to the stadiums. The games were filmed by NFL Films, which caught a banner outside Yankee Stadium saying, "Kennedy Dead, the Game Goes On, Shame." But anybody who was watching TV that weekend was watching funeral coverage, not football.
1. People Wanted a Distraction.
I talked to someone who was a senior at East Brunswick High when it happened, and he told me that playing those games was the best thing that could have been done. For 3 hours, people could think about something other than the saddest thing that had ever happened to their country in their lifetimes.
Under a million people actually went to the games, but a few million listened on the radio, including many around here who listened to the Giants. The actual funeral would be the next day, Monday, November 25, and the people could pay proper respect that day.
*
In case anyone still cares, here's the results of the NFL games for November 24, 1963:
* The St. Louis Cardinals upset the New York Giants, 24-17, at Yankee Stadium in New York.
The pregame moment of silence
* The Washington Redskins upset the Philadelphia Eagles, 13-10, at Franklin Field in Philadelphia. The Eagles had a nasty fight in the locker room the day before, with their emotions on edge. It was because one player (whose name I won't mention) refused to go along with the team's plan to have every player contribute $50 to the family of Patrolman J.D. Tippit, the Dallas police officer who was the other man killed by Lee Harvey Oswald that day. (Of course, I still have my doubts that Oswald killed JFK, or, if so, that he acted alone; but it seems pretty clear the guy
was
a cop killer, and therefore scum.)
* The Cleveland Browns beat the Dallas Cowboys 27-17, at Cleveland Municipal Stadium. In a gesture that may shock Browns fans, used to seeing him as an inhuman monster, Browns owner Art Modell asked the public-address announcer to refer to the visitors as "the Cowboys," and not mention the name "Dallas," for fear of retribution against the representatives of the city where the President had been murdered.
* The Pittsburgh Steelers and the Chicago Bears played to a 17-17 tie at Forbes Field in Pittsburgh. The game was sold out, although that wasn't hard, as Forbes Field only had 35,000 seats. The Bears would go on to beat the Giants in the NFL Championship Game; in the AFL, the San Diego Chargers would beat the Boston Patriots.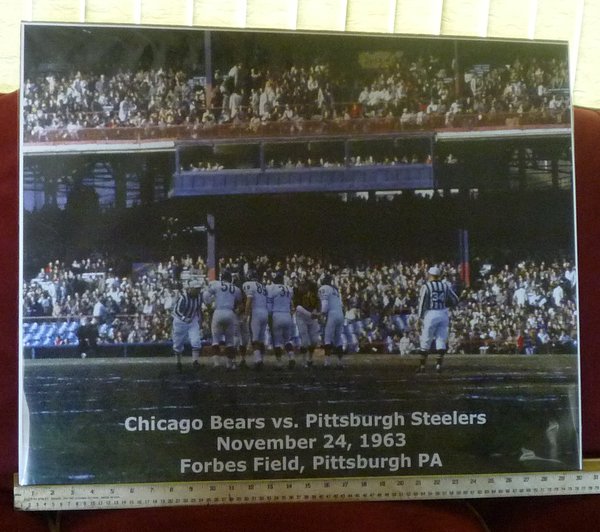 * The Green Bay Packers beat the San Francisco 49ers, 28-10, at Milwaukee County Stadium, where the Packers played 2 home games a year from 1953 to 1977, and 3 a year from 1978 to 1994. Perhaps because the Packers were 120 miles from their Green Bay base, this was one of 3 games
not
sold out that day.
* The Los Angeles Rams beat the Baltimore Colts, 17-16 at the Los Angeles Memorial Coliseum. Because the Coliseum then seated about 100,000 people, this one was not a sellout. Jack Pardee of the Rams, a Texan, would later say that his car, with Texas plates, had been vandalized.
* And the Minnesota Vikings beat the Detroit Lions, 34-31, at Metropolitan Stadium in Bloomington, Minnesota. This was the other non-sellout.
*
"I think it's time America started moving again," John F. Kennedy said on the campaign trail, 50 years ago.
He was right then. He is right now. If only our government would listen. The ball has been handed off to you, President Obama. The way you've been carrying the ball hasn't been working. Try something else, because we know what happens when the other side has the ball.
The Kennedy vision has outlived its visionary, but it cannot survive if we choose to forget. We must choose to remember.